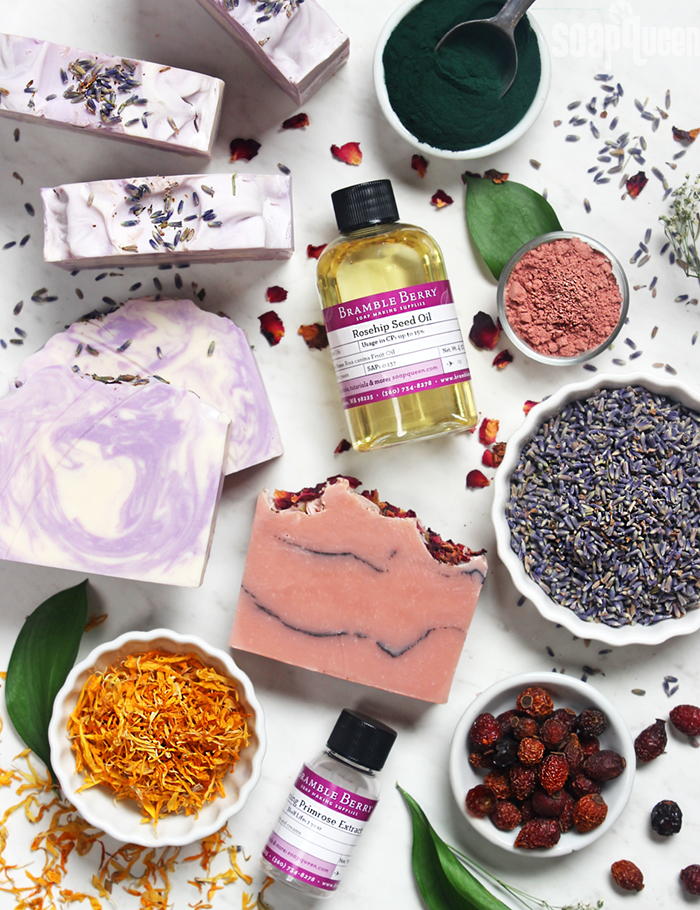 If you run out of ideas for your next handmade project, there are plenty of sources for inspiration. You can check out the #SoapShare tag on Instagram, head over to Pinterest, or visit your favorite blog. Sometimes, the easiest way to get ideas is to head outside. Nature is full of beautiful color and scent combinations. Check out the floral tutorials below for inspiration on your next spring project.
Rose Quartz Cold Process Soap
Rose Quartz Fragrance Oil is a new addition to the Bramble Berry line and it's already an office favorite. It's a twist on a traditional rose scent with notes of bergamot, orange zest, grapefruit, and sandalwood. The bright citrus and floral notes are a perfect fit for the Rose Quartz Cold Process Soap. It has a simple pink and white swirl design and it's topped with shimmery Snowflake Sparkle Mica and medium pink sea salt.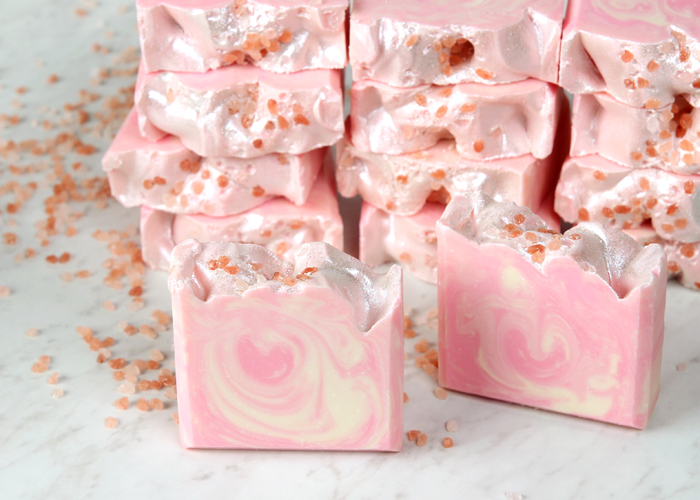 Rose Clay and Charcoal Cold Process Soap
This tutorial highlights the versatility of a pink color palette. While the Rose Quartz Cold Process Soap is soft and feminine, the Rose Clay and Charcoal Cold Process Soap is rustic and natural. The base is colored with rose clay and accented with an activated charcoal pencil line, and scented with Rosehip Jasmine Fragrance Oil. Finally, it's topped with rose petals.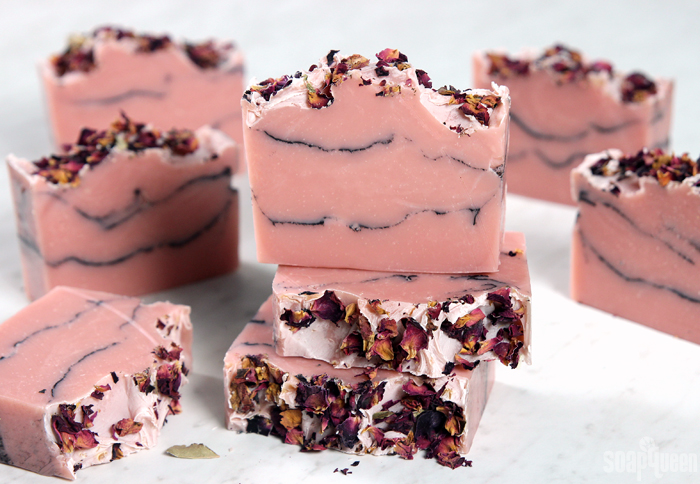 Charcoal and Rose Clay Spa Bar
Rose clay and activated charcoal look great in melt and pour soap as well. The Charcoal and Rose Clay Spa Bar features a layered design and a spa-inspired blend of sandalwood, rose absolute, and red Brazilian mandarin essential oils. The bars also feel luxurious because they're made with Shea Melt and Pour Base. Shea butter is known for its moisturizing properties, read more about it here. See how to make these luxurious bars on Soap Queen TV or click play below.
Soothing Floral Bath Salts
Bath salts are another way to enjoy a spa experience at home. Stepping into a warm bath filled with medium Dead Sea salt, fine Dead Sea salt, and Epsom salt can help you relax and unwind. The Floral Bath Salts also contain rose petals, lavender buds, and calendula, so it feels like you're bathing in a mountain stream. To ensure the bath smells as good as it looks, the salts have a fresh blend of Orange Blossom Candle and Soap Fragrance Oil and Lavender 40/42 Essential Oil.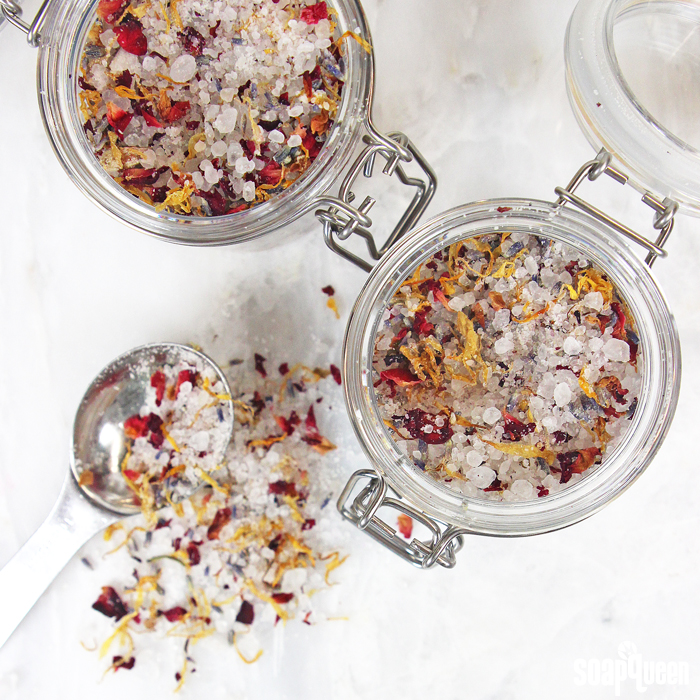 Heavenly Lilac Bath Truffle
If you love bath bombs in the tub, check out the Heavenly Lilac Bath Truffles. They have more cocoa and shea butter than a traditional bath bomb, which makes them extra moisturizing. The truffles have a soft pink color, Lilac Fragrance Oil, and rose petals on top. Once you pop on the free printable label, they're ready to gift to loved ones. Make sure to keep a few for yourself for some much needed rest and relaxation.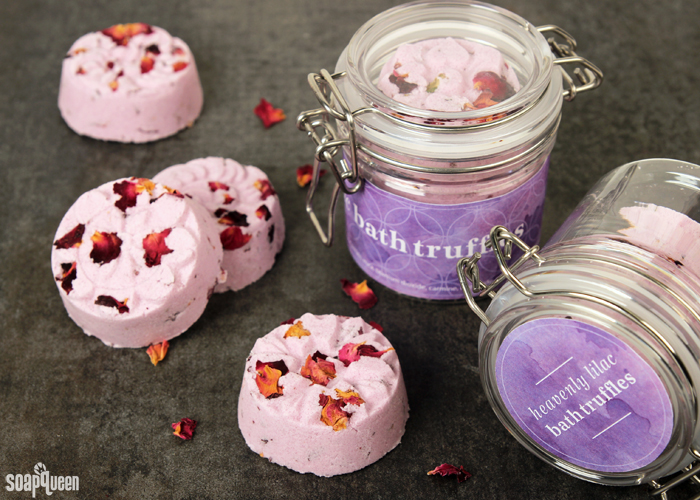 DIY Lavender Clay Face Mask
Why let the spa experience stop after your bath? Follow it up with the DIY Lavender Clay Face Mask. It's designed specifically for dry skin and has a moisturizing combination of argan oil, avocado oil, and evening primrose extract. The mask also contains kaolin clay, which feels silky on the skin, and purple Brazilian clay to add a soft lavender color. The perfect scent for the mask? Lavender 40/42 Essential Oil of course!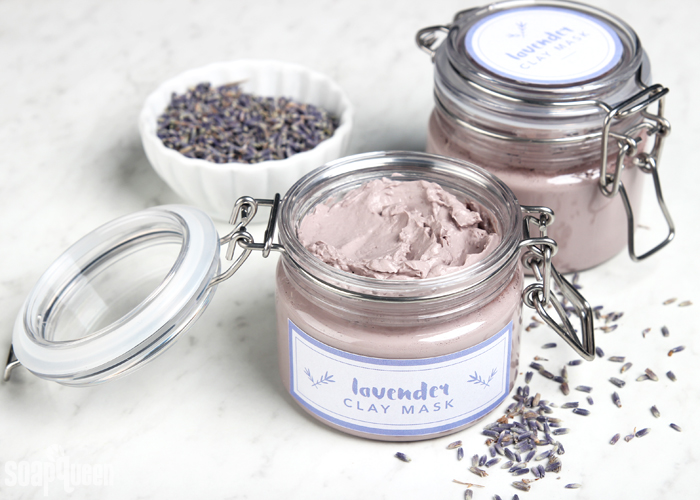 Lavender and Lemongrass Hot Process Soap
Lavender buds add a beautiful finishing touch to handmade products like the Lavender and Lemongrass Hot Process Soap. The purple lavender, green zeolite clay, and spirulina powder create a lovely spring color palette. Continuing the natural theme, the bars have lemongrass and Lavender 40/42 Essential Oil. Learn how to make them on Soap Queen TV or check out the video below. 

Chamomile and Coconut Oil Body Balm
If you're looking for more natural options, chamomile is a great choice. It has been used in skin care for centuries. In the Chamomile Body Balm, it's infused in coconut oil. The infused oil is then mixed with yellow beeswax and olive oil. The end result is a skin-loving balm that helps moisturize dry skin. It feels especially amazing on elbows, feet, and hands.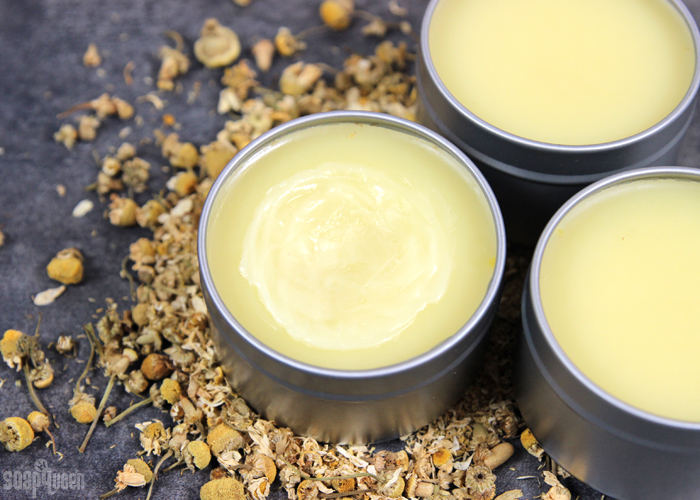 Rosy Red Lip Gloss
To add some moisture and shine to your lips, give the Rosy Red Lip Gloss a try. The key to creating a gloss is cera bellina wax. It has a unique gel-like texture that gives the recipe a smooth, spreadable feel. To add shine and moisture, the recipe contains castor and jojoba oil. The gloss also adds a light wash of Merlot Sparkle and Rose Pearl Mica and the fresh scent of Passionfruit Rose Fragrance and Flavor Oil to the lips.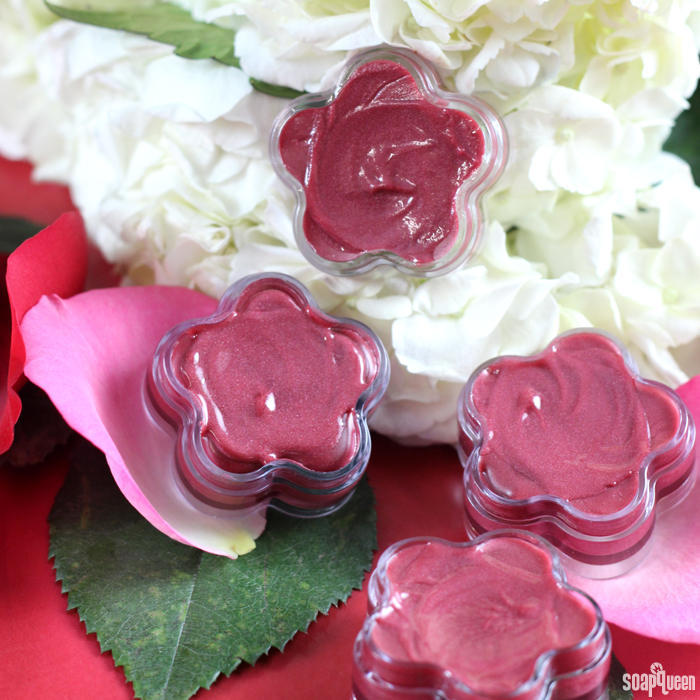 Sunflower Cold Process Soap
If you're in the mood for something bright and cheerful, you'll love the Sunflower Cold Process Soap. The Sunflower Mold creates adorable bars that fit perfectly in your hand. To complement the shape, it's colored with Fizzy Lemonade Colorant and Yellow Oxide and scented with Sunflower Fragrance Oil. Even if it's still snowing outside, your soaping area will feel like spring.