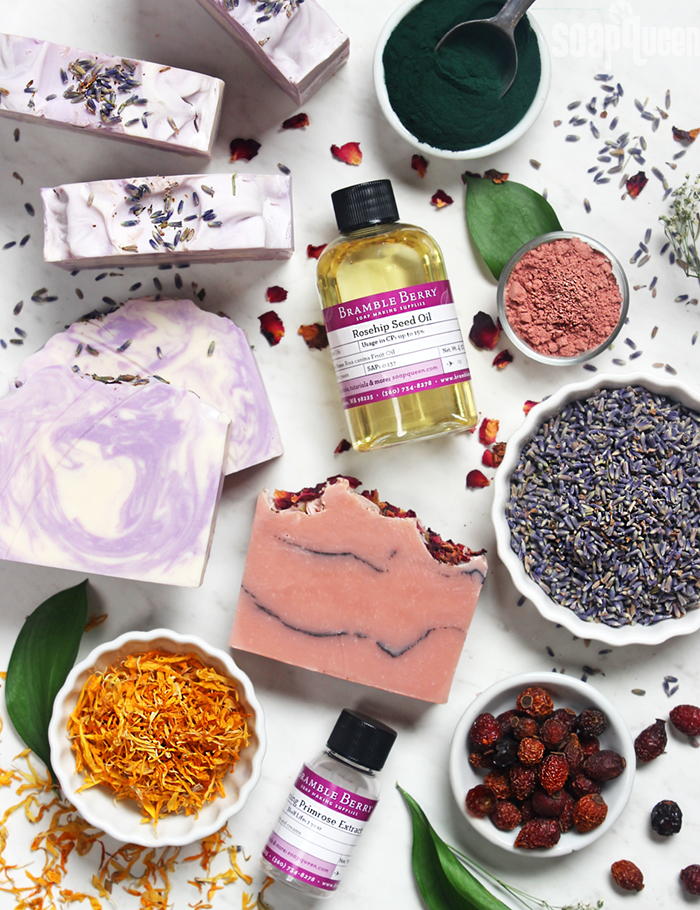 If you run out of ideas for your next handmade project, there are plenty of sources for inspiration. You can check out the #SoapShare tag on Instagram, head over to Pinterest, or visit your favorite blog. Sometimes, the easiest way to get ideas is to head outside. Nature is full of beautiful color and scent combinations. Check out the floral tutorials below for inspiration on your next spring project.
Rose Quartz Cold Process Soap
Rose Quartz Fragrance Oil is a new addition to the Bramble Berry line and it's already an office favorite. It's a twist on a traditional rose scent with notes of bergamot, orange zest, grapefruit, and sandalwood. The bright citrus and floral notes are a perfect fit for the Rose Quartz Cold Process Soap. It has a simple pink and white swirl design and it's topped with shimmery Snowflake Sparkle Mica and medium pink sea salt.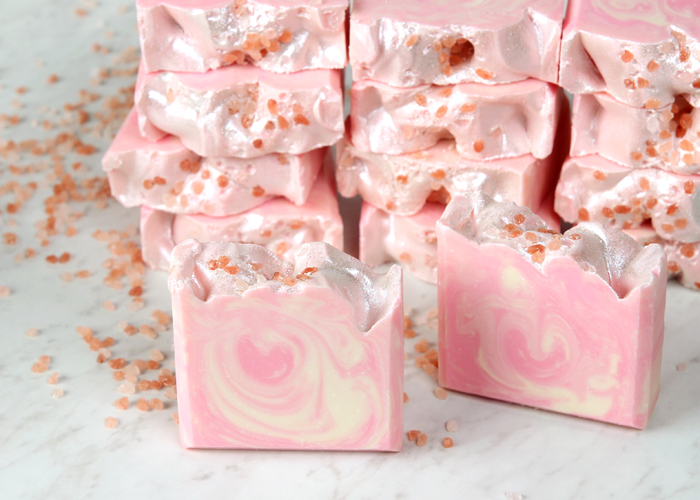 Rose Clay and Charcoal Cold Process Soap
This tutorial highlights the versatility of a pink color palette. While the Rose Quartz Cold Process Soap is soft and feminine, the Rose Clay and Charcoal Cold Process Soap is rustic and natural. The base is colored with rose clay and accented with an activated charcoal pencil line, and scented with Rosehip Jasmine Fragrance Oil. Finally, it's topped with rose petals.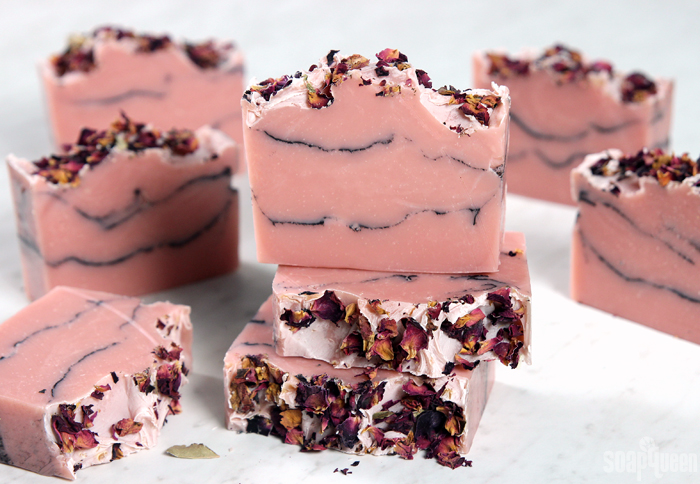 Charcoal and Rose Clay Spa Bar
Rose clay and activated charcoal look great in melt and pour soap as well. The Charcoal and Rose Clay Spa Bar features a layered design and a spa-inspired blend of sandalwood, rose absolute, and red Brazilian mandarin essential oils. The bars also feel luxurious because they're made with Shea Melt and Pour Base. Shea butter is known for its moisturizing properties, read more about it here. See how to make these luxurious bars on Soap Queen TV or click play below.
Soothing Floral Bath Salts
Bath salts are another way to enjoy a spa experience at home. Stepping into a warm bath filled with medium Dead Sea salt, fine Dead Sea salt, and Epsom salt can help you relax and unwind. The Floral Bath Salts also contain rose petals, lavender buds, and calendula, so it feels like you're bathing in a mountain stream. To ensure the bath smells as good as it looks, the salts have a fresh blend of Orange Blossom Candle and Soap Fragrance Oil and Lavender 40/42 Essential Oil.