Treat Yourself to a Home Spa
From the cobblestone streets of Paris to the watery canals of Venice, Bramble Berry is bringing the treasures of old world Europe a little closer to home this summer. Starting tomorrow and going through August 2nd, we'll introduce a variety of new tutorials that make up our Home Spa collection. Expect plenty of soothing, exfoliating and skin-pampering items with artisan ingredients such as Pink Himalayan Sea Salt, Evening Primrose Extract, Mango Butter and delicate blends of fragrance and essential oils. Escape and indulge without leaving home!
In addition to newsletters and tutorials, look out for special Mid-Week Mayhem coupons and exclusive offers. On Tuesdays, Wednesdays and Thursdays throughout the promotion, we'll release a coupon code good for just 24 hours. Find out about the day's discount on Facebook, Instagram, Twitter, Tumblr, Google+, Bramble Berry's home page and the Soap Queen Blog.
Newsletter subscribers will receive bonus tutorials and get the full schedule of Home Spa-related sales in advance, so if you aren't signed up already, head over to Bramble Berry and enter your email address on the right hand side. Don't forget to click through the confirmation email to activate your subscription, and be sure to check your spam filter for emails from info(at)brambleberry(dot)com.
We'll be tagging all Home Spa projects with #HomeSpa, and we encourage you to do the same! As you create projects, tag them with #HomeSpa then share them on Facebook, Instagram, Twitter or Pinterest. We will add our favorites to our Bramble Berry Home Spa board on Pinterest.
We've created a unique fragrance oil blend and a unique essential oil blend to choose from for each Home Spa project. Each recipe below makes enough for all six projects, and we encourage you to experiment to see which blend (or blends!) you like best.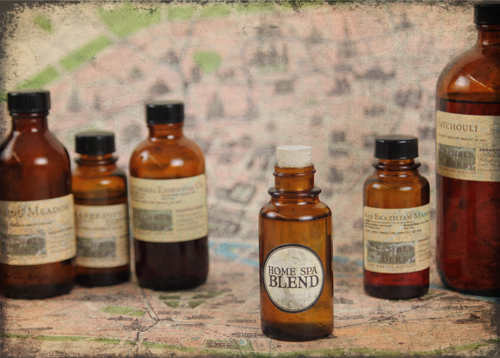 Scent Blends
Spring Meadow Blend (about 4.5 oz total)
2.0 oz. Spring Meadow Fragrance Oil
1.0 oz. Orange Peel Fragrance Oil
1.0 oz. Lavender Fragrance Oil
0.4 oz. Patchouli Fragrance Oil

Click Here to get everything you need to make the Spring Meadow Blend.
Essential Oil Blend (about 4.5 oz. total)
2.0 oz. Red Brazilian Mandarin
1.0 oz.Grapefruit Essential Oil
1.0 oz. Hungarian Lavender Essential Oil
0.4 oz. Patchouli Essential Oil

Click Here to get everything you need to make the Essential Oil Blend.
If the Patchouli in either blend is too strong for your taste, reduce the amount to .2 – .3 oz. Don't forget that this will yield less total oil, so factor that in when scenting your recipes!
We are stirring up a little mayhem at Bramble Berry – so relax and enjoy it! The fun starts tomorrow…
10 Responses to "Treat Yourself to a Home Spa"
Leave a Comment
(Your email address will not be published)