If you're a new soaper, the amount of resources, guides and tutorials to sift through can seem overwhelming. To make things seem a little less daunting, we're collecting the best resources from around the Bramble Berry network. We're always excited to welcome new soapers in our community, and hopefully this post will serve as a hub of information to get you on the right track.
Some of you may remember the "choose your own adventure" books that were popular 90s. Well, think of this post in the same way! If you want to start soaping, you'll need to figure out whether you want to tackle melt and pour or cold process soapmaking. Both methods of soapmaking have their own set of techniques, challenges and new things to explore, and there is certainly no reason you can't master both. We just recommend starting with one so you can focus your learning. Get ready to dive in, immerse yourself in information and choose your own soapmaking adventure!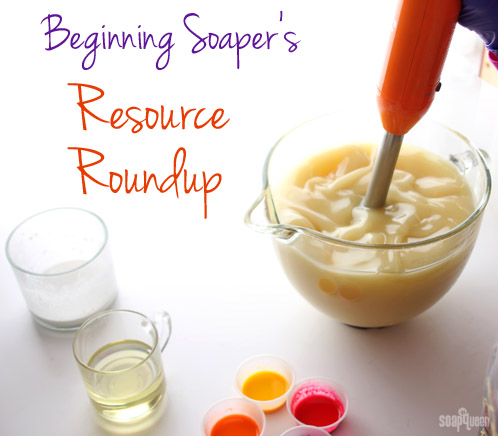 Soap Queen TV
Soap Queen TV is a wonderful resource with more than 100 videos on making cold process, melt and pour, bath bombs and more. The Basics of Cold Process Soapmaking is a must see for anyone curious about the wonderful world of CP. The series includes everything from lye safety information to using colorants and fragrances.
Soap Queen TV: Cold Process for Beginners
If melt and pour is more your style, we've got a series on that too! From using fragrance oils and additives to preventing common melt and pour problems, this series will give you a solid foundation of basic skills so you can become a melt and pour pro.
Soap Queen TV: Melt and Pour Basics
Soap Queen Blog
And the resources don't stop there. Below is a collection of the best resources on the Soap Queen blog to help get you started.
Free Beginner's Guide to Cold Process
Free Beginner's Guide to Melt and Pour

Cold Process specifics
If you've chosen the cold process route, the following posts will become your best friend. They cover everything from the properties of various oils to how to formulate your own recipes.
Formulating Cold Process Recipes
Cold Process tutorials on the Soap Queen blog
Cold Process Troubleshooting
Don't be discouraged if you have a few batches of CP that do some strange things. The following posts are great for diagnosing any soapy problems.
Why did my soap turn brown?: An explanation of vanilla discoloration
Explaining and Preventing Soda Ash
Melt and Pour specifics

Melt and pour is easy to learn yet difficult to master, but the following blog posts will help you become a melt and pour master in no time.
Talk it out Tuesday: Melt & Pour
Natural Colorants for Melt & Pour
My Melt and Pour is weeping! An explanation of glycerin dew
Using Silicone Molds with Melt and Pour
Using Oxide Colorants in Melt and Pour
Working with water soluble paper
Tips for Cold Process and Melt & Pour
There are a few posts that can be useful for whatever craft you're making, not just soap. These posts cover everything from making soapy calculations to understand the difference between 'natural' and 'organic' products.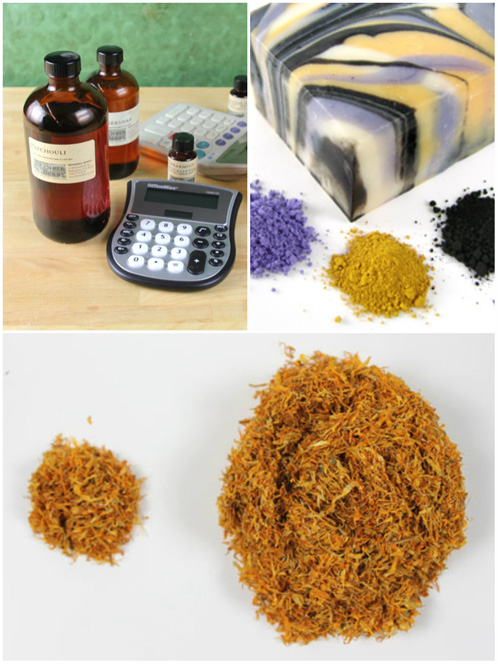 Using the Fragrance Calculator (top left)
Talk it out Tuesday: Colorants (top right)
Even with all of these resources, sometimes you may want a little personalized help. In that case, head over to the Teach Soap Forum, where a community of experienced crafters and soapers discuss topics ranging from cold process troubleshooting to gearing up for your first craft show. There's also the Bramble Berry Facebook page, where our social media team helps soapers answers questions seven days a week. Finally, from 10 a.m. – 3 p.m. Monday through Friday, you can chat live with a Bramble Berry representative who can walk you through any problems or questions in real time.
We're excited for you to join our ever-growing community of soapers and crafters. It may seem daunting at the start, but we guarantee you'll have support at every turn. Happy soaping!