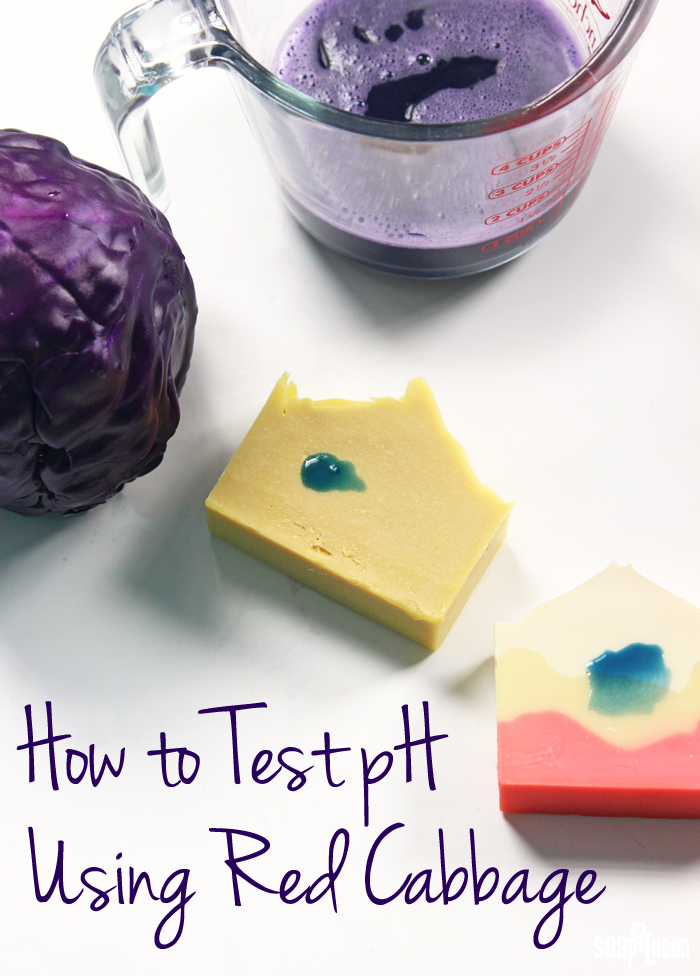 Making cold process soap successfully requires precise measurements of lye and oil. If too much lye is used the soap will be lye heavy, which can irritate or even burn the skin. Lye heavy soap will have a higher pH than perfectly balanced cold process soap. If you are worried that your soap is lye heavy, there are several techniques to test the pH and discover if it is safe to use on the skin. One of which includes using something you may already have in your fridge…red cabbage!
What is pH and what does it have to do with soap? The pH scale measures how acidic or basic a substance is. The scale ranges from 0 to 14. A pH level of 7 is considered neutral. A pH higher than 7 is considered basic or alkaline, and pH level of below 7 is acidic. Cold process soap is naturally alkaline with a pH of around 9-10. This pH helps to gently clean the skin.



Sodium hydroxide lye has a pH of about 14, putting it at the very top of the pH scale. When too much lye is used in the soap, the pH level will rise from the normal level of 9-10, and can become closer to 11-14. Why is this? Simply put, when too much lye is used there is not enough oil to turn it into soap. This lye is "free-floating" in the soap which increases the pH level. Soap with high pH will irritate or burn the skin and should not be used.
If you do end up with lye heavy soap, one way to recycle it is to turn it into laundry soap. Check out this blog post for three different recipes for laundry soap. If your soap was made recently, you can add missing essential fatty acids (oils you shorted in the original recipe) and use the Hot Process Hero method to "cook" the soap to the balanced pH level. This method will only work within 24 hours of making your soap. Hot Process Hero also a great method to fix batches that have separated or seized.
There are a few different ways to test for lye heavy soap. One of the most common is to use pH strips. To test cold process soap, simply wet the soap with distilled water and rub your hands on the soap to form bubbles. Place the pH strip on the wet soap to get a pH reading. If you don't have pH strips on hand, the "zap test" is another method to test pH. Place the bar of soap onto the tip of your tongue. If you feel a slight zap feeling (similar to licking a battery), this means your soap is lye heavy. Please note that pH strips do not work if you're using tap water; only use distilled water for this methods.
The old-timers tongue test is an effective way to test for excess lye. If you lick your soap and it 'zaps', you know it's lye heavy. If your soap initially zaps after taking it out of the mold, don't panic. Wait the full 4 to 6 week cure time before retesting. Hopefully in 4 to 6 weeks, your soap will taste like… soap! Often fresh soap gives a little zing as it finishes its curing and drying process.
Don't have pH strips, and don't want to lick soap? Red cabbage (aka: purple cabbage) is an effective pH indicator. When the juice of red cabbage is placed onto soap, it changes color depending on the pH level. To prepare the juice, roughly chop a 3-4 leaves of the cabbage. Place the cabbage in a large bowl and add about 1 cup of distilled water. Distilled water is extremely important – if the water is not distilled, the test will not work. Tap water can have microbes or bits of metal in it, which will affect the test results.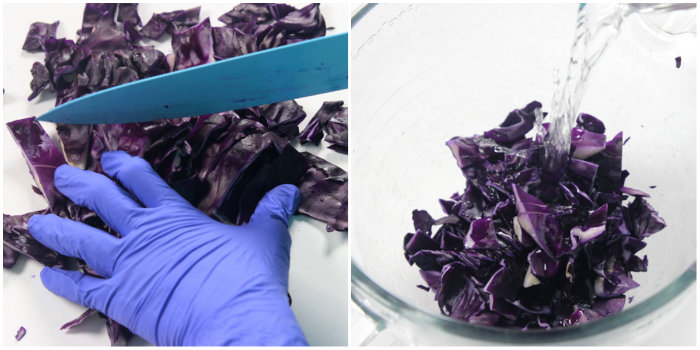 Use a stick blender to puree the cabbage. You can also place the cabbage into a blender, or use a juicer if you have one. Once blended, strain out the cabbage pieces and discard.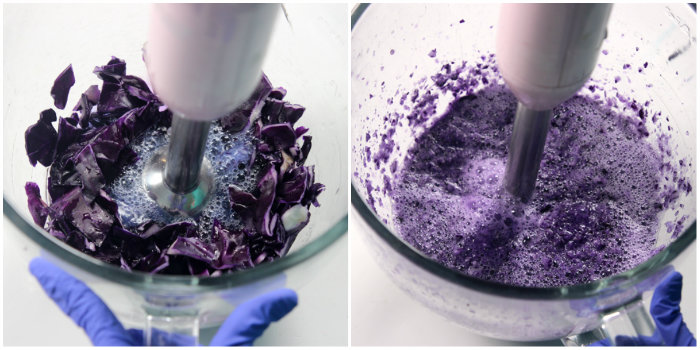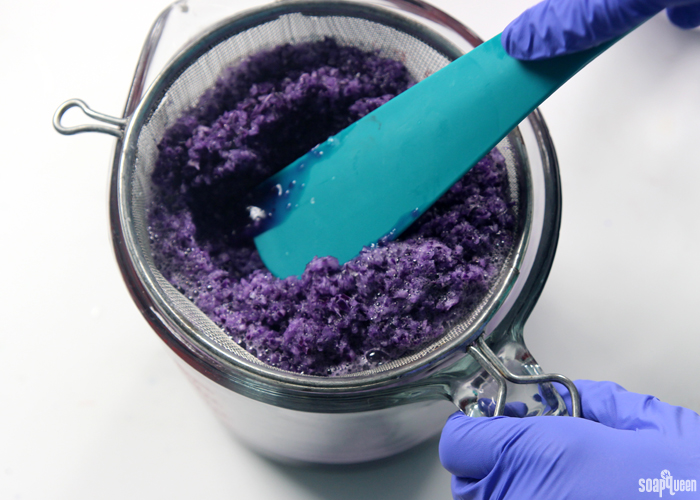 Once you have the cabbage liquid, it's ready to use! Using a dropper or spoon, place a small amount of the juice directly onto your soap. Within seconds, the purple juice will begin to change color. Red cabbage contains a pigment molecule called flavin that changes color depending on the pH level of various substances. If the pH is a safe level for soap (8-10) the purple liquid will quickly change from purple to blue.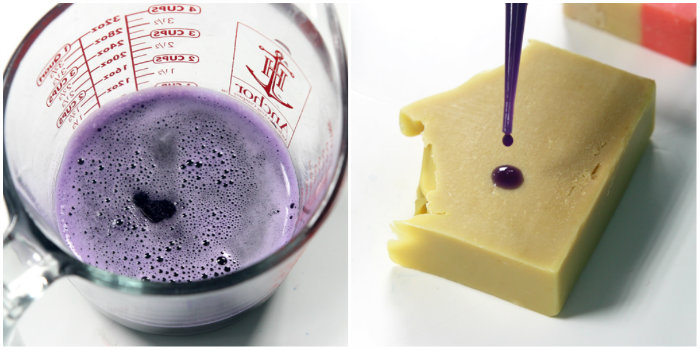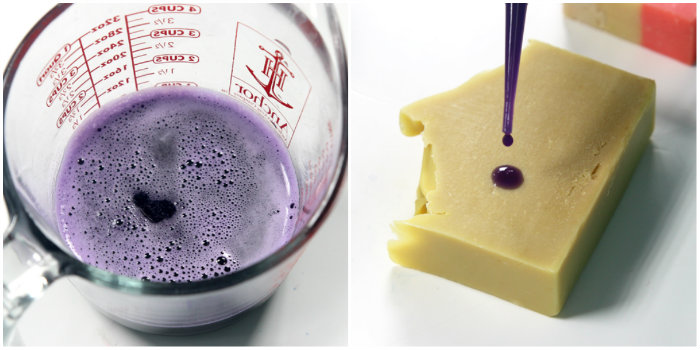 Below is a soap made just a few days before testing (left), while the other soap has cured for about three weeks. You can see that neither soaps are lye heavy, as the color has changed from purple to blue. As you can see, this test works well for freshly made soap, as well as soap that has cured for several weeks.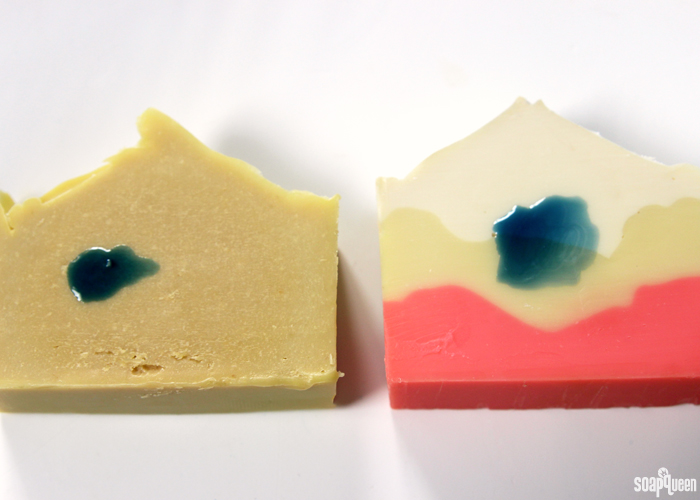 If soap is lye heavy, the purple cabbage juice will turn from purple to green or yellow. The soap below contains 1% excess lye. Notice the green color. Over an 8 hour period, this green tone changed from the deep green shown here to a lighter yellow.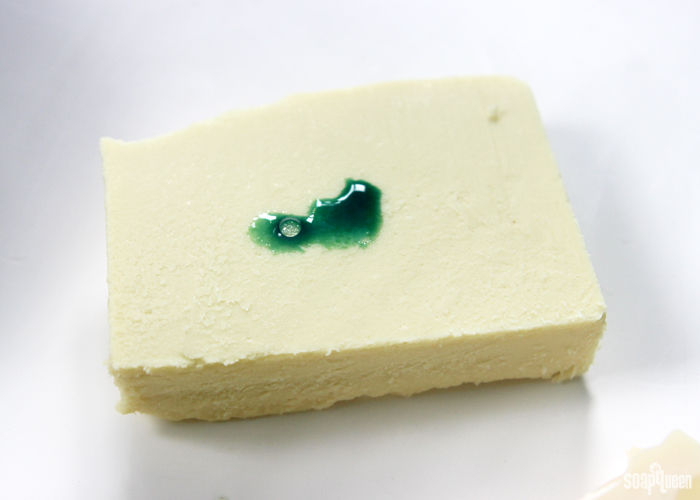 Below is the same lye heavy soap as above; notice how the green color has become a lighter hue. On the right, is a soap made with only 1% super fat. The red cabbage juice quickly turned from a deep purple color to a blue.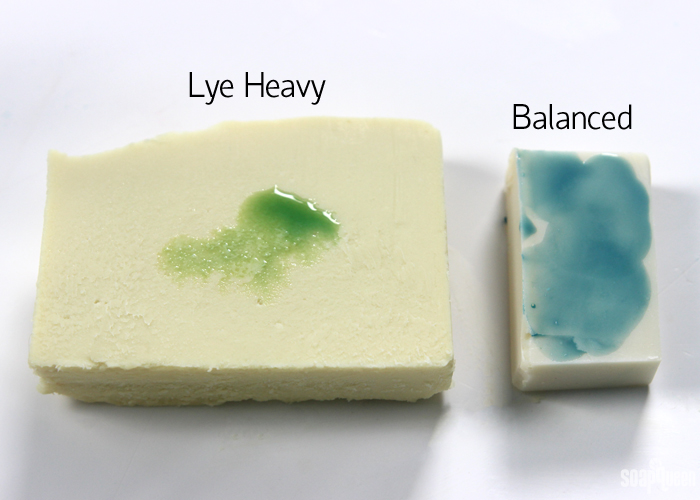 This method of testing the pH level of soap is a lot of fun, and would make an good learning-activity project if you have kiddos. (Side note: Did you know I wrote an entire book of activities for kids around soap? It's designed to be a supplement to a home-schooling program. Check it out here). Once the cabbage juice is made, it can be left in a airtight container in the fridge for about a week. Have you ever ended up with a lye heavy batch of soap? It happens to the best of us. Luckily, there are plenty of ways to test before using it on the skin.