Color has the ability to change one's mood and inspire. I love working with vibrant hues when soap making; colorful projects always put a smile on my face. If you're going to make multicolored soap, why not go all out and use rainbow colors? The combination of red, orange, yellow, green blue and purple (and sometimes indigo!) is universally loved and screams happiness.
Starting tomorrow, keep your eyes on the blog for a full week of rainbow inspired projects! Each day will highlight one color of the rainbow, starting with red and ending with purple. Each project will also include one colorant and fragrance on sale for that day. Pictured below are all six projects…be on the lookout for the final project featuring a complete rainbow color palette.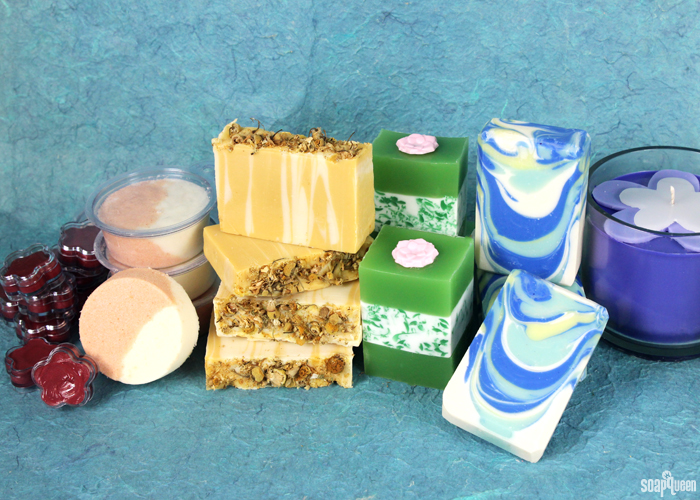 If the gloomy winter weather has you feeling blue, these rainbow inspired projects will surely bring some much needed cheer. One of my all time favorite projects, the Rainbow Squirty Swirl Cold Process uses squeeze bottles to create a unique and colorful effect. Each squeeze bottle is filled with a different rainbow hue and squirted into the mold one color at a time. The addition of white soap gives the layers contrast. If you'd like to see this technique in action, the Cotton Candy Cold Process tutorial on Soap Queen TV shows you how.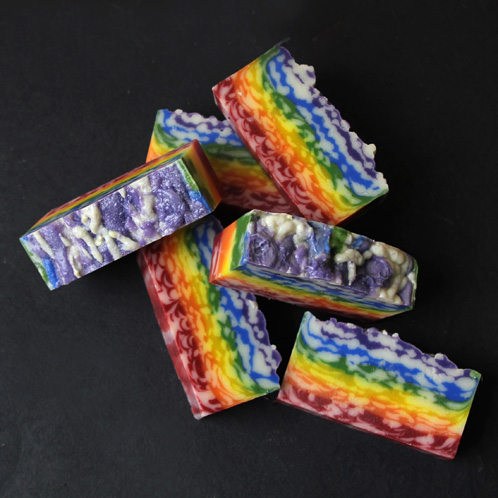 Above: Rainbow Squirty Swirls
When making rainbow hued projects, the addition of white or black helps the colors pop. In the Over the Rainbow Cold Process tutorial, the negative embed technique is used to create circular shapes within a white base. The negative embed technique involves creating empty space within the soap and filling the holes with fresh soap. If you like the look of this technique, check out the Misty Maritime Moon Cold Process tutorial.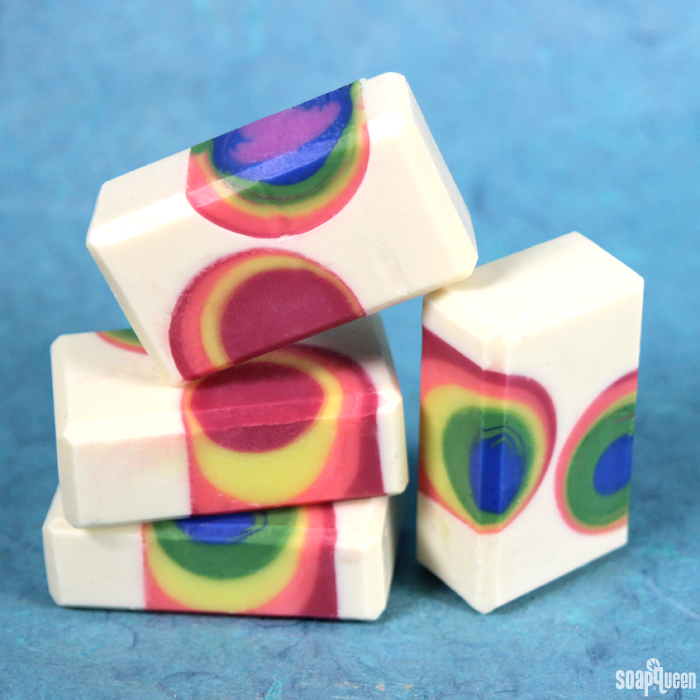 Above: Over the Rainbow Cold Process
If you're looking for rainbow melt and pour inspiration, the Rainbow Hearts Melt and Pour is full of colorful hearts. The Mini Heart Silicone Column Mold creates heart embeds within the soap that are exposed when cut. If you love the look of this project, keep your eyes on the blog! This project was recently made into a Soap Queen TV video, which will be on the blog soon.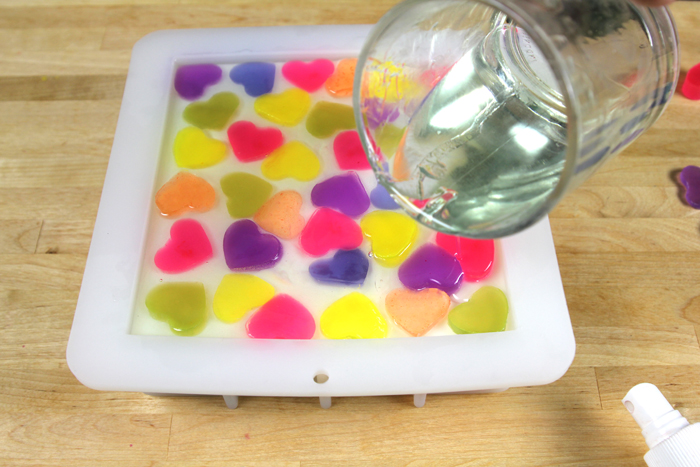 Above: Rainbow Hearts Melt and Pour
Melt and pour soap is great for creating clean, crisp layers of color. In the Rainbow Spheres and Rainbow Mold and Island Style Tutorial, vibrant layers of color create eye-catching results. In the Color Block Rainbow Soap Tutorial, pieces of melt and pour colored with non-bleeding color blocks produce a stained-glass effect. If you'd like more information on how to use color blocks in melt and pour, check out this Soap Queen TV video.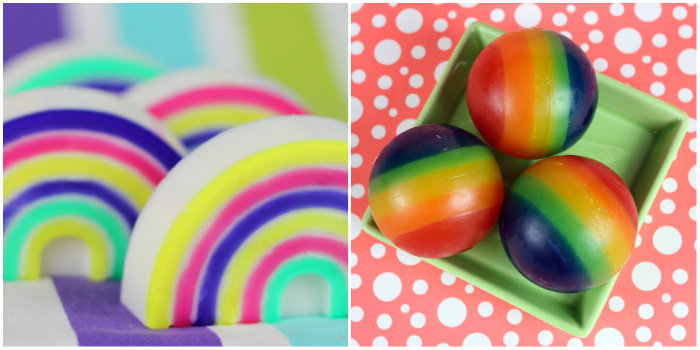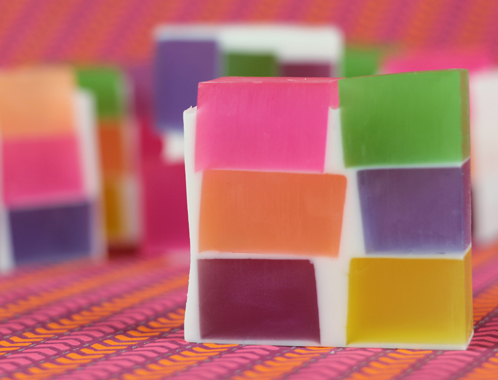 Top left, clockwise: Rainbow Mold and Island Style Tutorial, Rainbow Spheres, Color Block Rainbow Soap Tutorial
Looking for a little rainbow magic? The Rainbow Unicorn Melt and Project is full of shimmer and rainbow inspiration. A great project for advanced melt and pour soapers, each section of the unicorn's mane is filled with various rainbow hues. With a gold horn and a fruity blend of Rise and Shine and Hello Sweet Thang Fragrance Oils, this project is total crowd-pleaser.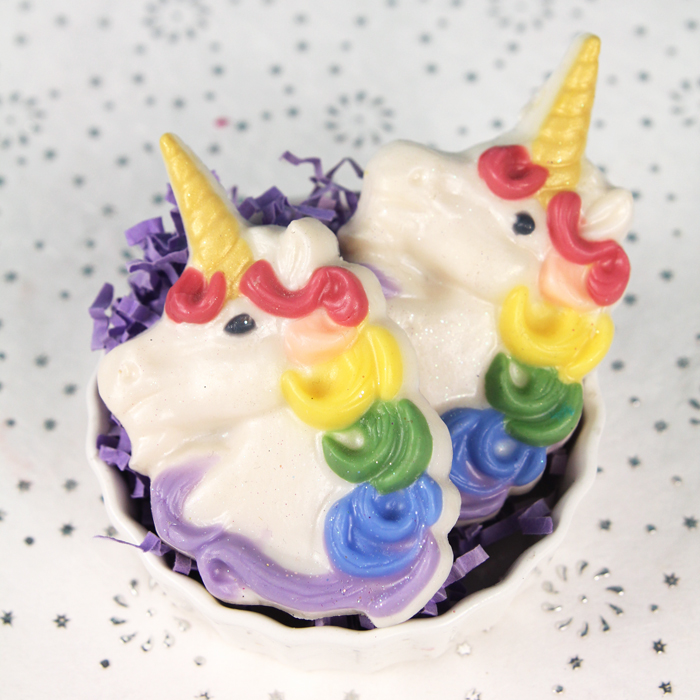 Above: Rainbow Unicorn Melt and Pour
Jojoba beads are a fantastic way to add color to a wide variety of projects. Made from the liquid wax, jojoba oil, jojoba beads add gentle exfoliation. Jojoba beads come in a wide variety of colors; click here to see them all. Add jojoba beads to melt and pour, scrubs or cold process for a pop of color. To learn more about jojoba beads and how to use them, check out the Sunday Night Spotlight: Jojoba Beads blog post.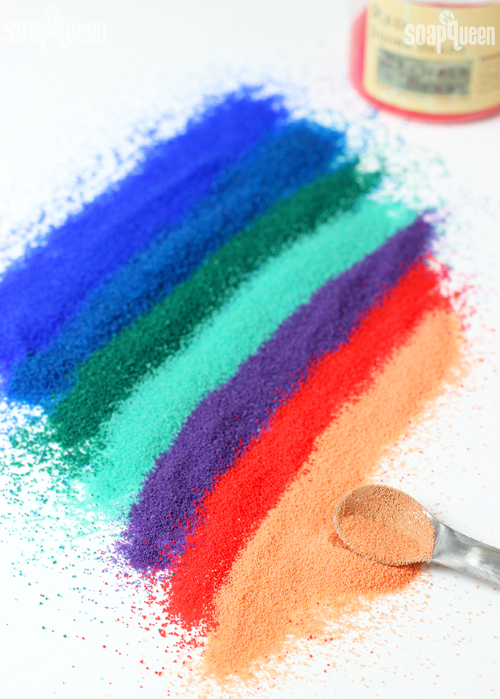 With spring right around the corner, have you started introducing more color into your projects? If you get photos, I'd love to see them on the Facebook page or on Instagram. Hashtag your soap with #soapshare for a chance to win a Soap Crafting book!