Rainbow Mold and Island Style (Tutorial)
I'm addicted to the SoapyLove line of products! The adorable Rainbow Mold and the super cute colors of the Island Style kit work so well together, so I've made up a quick tutorial to show you an easy way of using both products. Because the Island Style kit comes with both colorants and a brand new fragrance oil (Guava Shaved Ice – delish!) all you'll need is some Melt and Pour Base and the kit and you're good to go!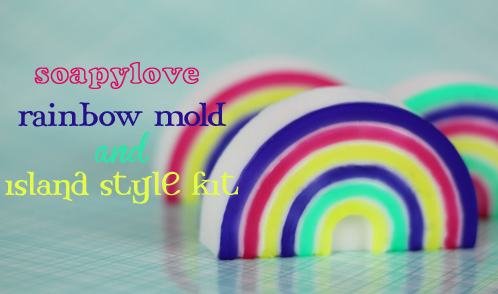 Recipe:
12 oz White Melt and Pour Soap Base
4 oz Clear Melt and Pour Soap Base
Buy everything you need for this project with the click of a button!

ONE: Cut 4 ounces of Clear Melt and Pour soap base into 1 inch cubes and fully melt in a heat-safe container on 30 second bursts in the microwave. Divide the melted soap into 4 one-ounce portions.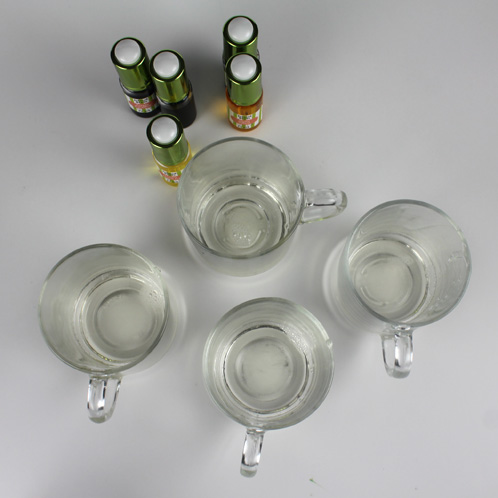 TWO: Color each one-ounce portion of melted clear soap as follows (one color per portion):
10 drops Lagoon Green
10 drops Aloha Yellow
8 drops Orchid Pink
5 drops Purple Paradise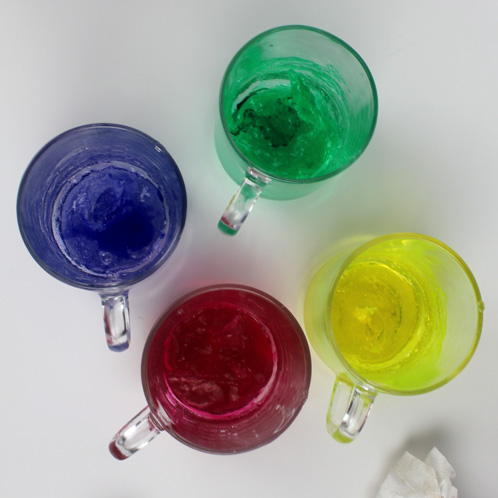 Mix the colors in well. Remember that what you see is what you get, so if you'd like a more saturated color, add more color a drop at a time until you like what you see.
THREE: Using an Injector Tool or Dropper, fill in the arcs of the rainbow in whatever color order appeals to you. I did mine totally random, starting with one color and adding it to each of the cavities then filling in the rest in the same style. Don't worry if you go out of the lines a bit, just use your Clean-up Tool to scrape off any extra soap. If your soap has harden up while waiting for it's turn, just toss in back in the microwave for 5-15 seconds.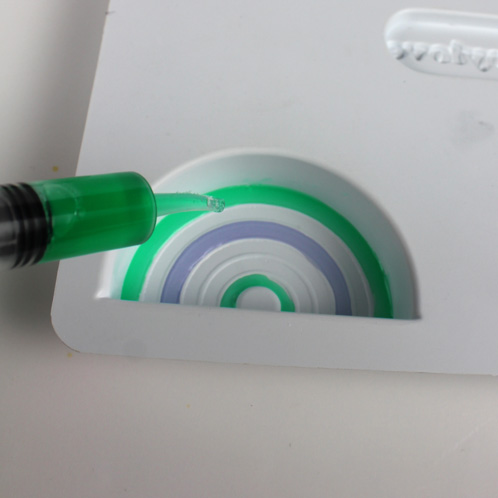 FOUR: Cut 12 ounces of White Melt and Pour soap base into 1 inch cubes and fully melt in a heat-safe container on 30 second bursts in the microwave. Add 25 drops of Guava Shave Ice fragrance oil and mix well.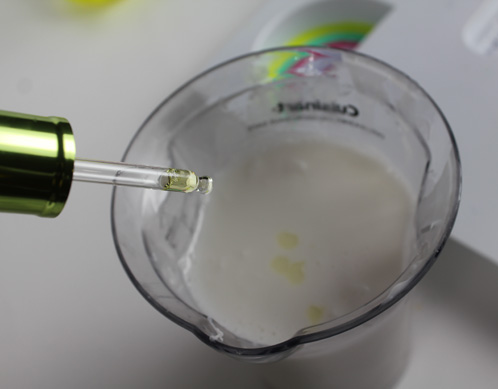 FIVE: Once the melted soap base is between 125-135 degrees, spray the colored rainbow arcs with Isopropyl Alcohol and pour the white soap base into the cavities. Spray again with alcohol to pop any bubbles and allow to fully harden in the mold.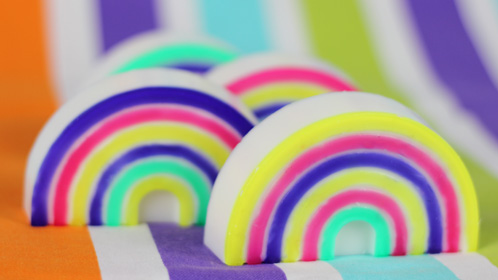 These darling soaps are perfect for summer time. Remember, these are bleeding (migrating) colors. Don't be surprised if you see the colors dull out and bleed out into the rest of the soap. It just adds to the authenticity of your rainbow. Need more SoapyLove in your life? Check out some other tutorials here and here, or you can always get the SoapyLove Book!
8 Responses to "Rainbow Mold and Island Style (Tutorial)"