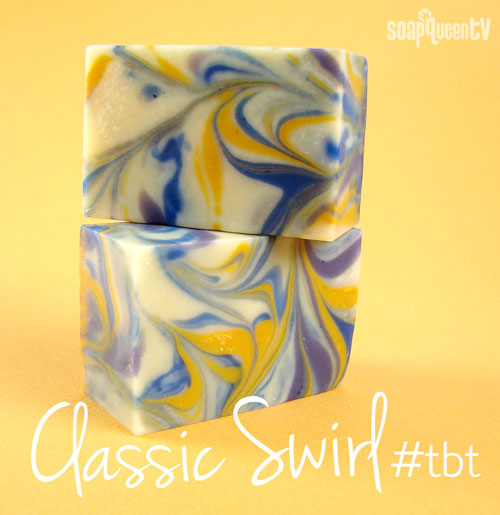 It's another Throw-Back Thursday #tbt on Soap Queen TV. This time Christy from KB Shimmer is joining me to demonstrate a classic swirl. This video is from 2010, so please forgive the retro set design.

Please note that before making the soap in this video you should be comfortable making basic batches of cold process soap. This is definitely an advanced technique, so if you haven't made CP soap before you must watch and practice the recipes in my basic Cold Process soapmaking video series (it's free!).
In this video we talk about using room temperature lye water. What this means is that we mixed up the lye solution 3 or 4 hours before we made our soap so that it wouldn't be hot when we used it. You could even mix up your lye solution the day before – just be really sure it is well labeled and not left in a place where someone might think it was just water. Using room temperature lye helps to slow down the saponification process so that you have plenty of time to work with your soap and make those beautiful swirls!

  Buy all the ingredients and the mold to make this soap here.
Ingredients:
29.4 oz Olive Oil
16 oz Palm Oil
12.8 oz Coconut Oil
3.8 oz Cocoa Butter
1.9 oz Castor Oil
20.7 oz Distilled Water
8.9 oz Lye (Sodium Hydroxide)
2.5 oz. Lemon Essential Oil
1.5 oz. Lavender 40/42 Essential Oil
1/2 tsp Ultramarine Blue Pigment
1/2 tsp Ultramarine Violet Pigment
1/2 tsp Yellow Oxide
Tools:
2 Heat safe non-reactive containers
3 small non-reactive containers for colors
Stick Blender
Small Spatulas
Wooden Skewers
Safety Gear:
Gloves
Goggles
Apron
Long sleeve shirt and pants