Looking to add gentle exfoliation and a pop of color to your next project? Small, spherical jojoba beads are a great option. Created from jojoba oil, jojoba beads (sometimes referred to as jojoba esters) are odorless, firm and come in a various colors and sizes. Jojoba beads can be used in various projects including melt and pour, scrubs and cold process.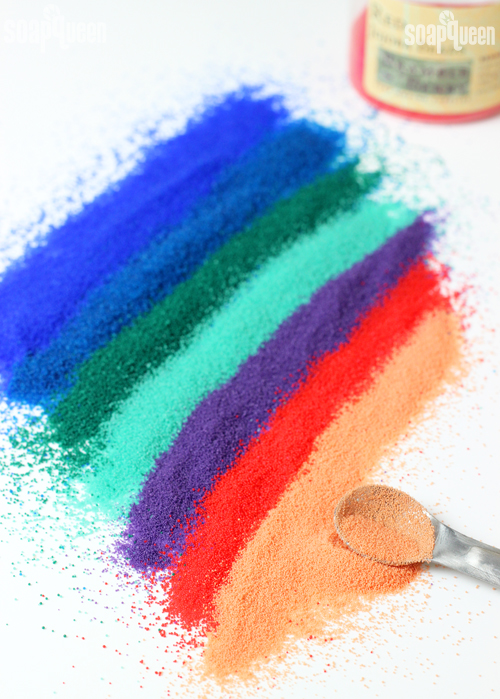 Love the cheery orange color of jojoba bead shown above? This new color will be available soon!
Jojoba oil is a luxurious liquid wax derived from the seed of the Jojoba shrub. Jojoba oil is made of up various long chain molecules. These molecules are transformed from a liquid to a solid wax by processes called hydrogenation or transesterification. This firm wax is referred to a jojoba ester, also known as a jojoba bead!
Jojoba esters are very similar in structure to skin's nature oil, referred to as sebum. Because jojoba beads are made from a liquid wax, they are bio-degradable and sustainable. Jojoba beads should not be confused with plastic microbeads that are used in some bath and body products.
Commonly used as an exfoliant, jojoba beads are suitable for sensitive skin due to their spherical shape. While some exfoliates are jagged and can create microscopic tears on the skins surface, jojoba beads are smooth and gentle. The smooth edges of jojoba beads make them a great choice for facial scrubs, as microscopic tears can contribute to premature aging.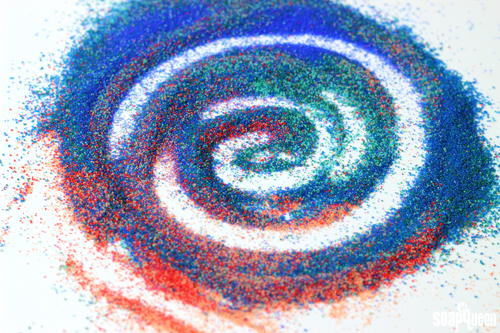 Small jojoba beads are perfect for creating scrubs or facial cleansers, while medium and large jojoba beads are suitable for body products. In the Sea Salt Foot Scrub, purple jojoba beads are added to give color and extra exfoliation. Forest green jojoba beads create the allusion of grass in the adorable Simple Easter Scrub. If you are looking for a solid scrub, the Fruity Holiday Solid Sugar Scrub uses melt and pour and jojoba beads to create small, scrubby cubes. Keep your eyes on the blog for a new scrub featuring jojoba beads later this week!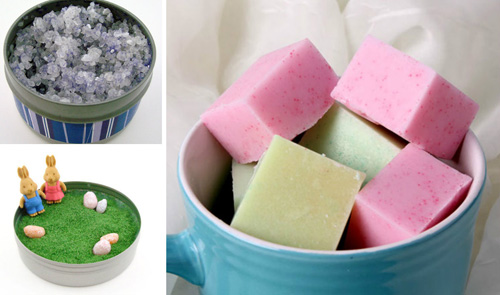 Top left, clockwise: Sea Salt Foot Scrub, Fruity Holiday Sugar Scrub, Simple Easter Scrub
Jojoba beads not only add exfoliation, they also add color and interest. In particular, they are a great for when you want to give the illusion of sprinkles! Below, jojoba beads give a festive touch to the Cool Yule Peppermint Loaf. Jojoba beads act as sprinkles in the Foaming Bath Whip Frosting Cupcakes, Birthday Cake Loaf Soap and the adorable Doughnut Melt and Pour.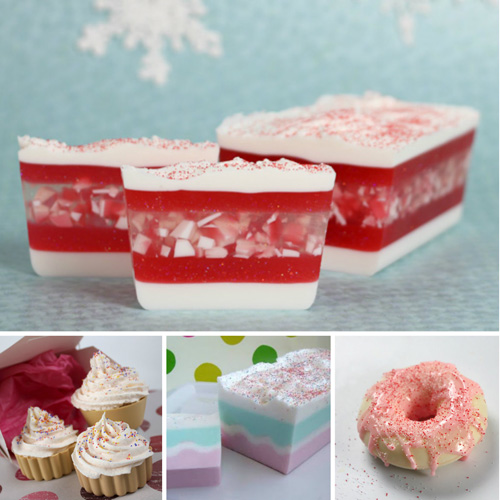 Top, clockwise: Cool Yule Peppermint Loaf, Foaming Bath Whip Frosting, Birthday Cake Loaf, Doughnut Melt and Pour
Jojoba beads can also be added into soap, providing gentle exfoliation in both melt and pour and cold process. In the Gardening Cold Process Soap, the jojoba beads exfoliate alongside coffee grounds and shredded loofah to create a super scrubby bar. The Easy Sea Turtle Soap Tutorial uses Forest Green Jojoba Beads to add a pop of color, while jojoba beads add interest to layers in the Carnation Cube Cuties.
When embedding jojoba beads in melt and pour or cold process soap, temperature is key. Because jojoba beads are made from jojoba oil (which is technically a liquid wax, click here to learn more about jojoba oil), jojoba beads can melt if overheated. Jojoba beads should be added to melt and pour under 140 °F to be on the safe side. Below, the jojoba beads were added to melt and pour at 160 °F. As you can see, the jojoba beads have begun to melt!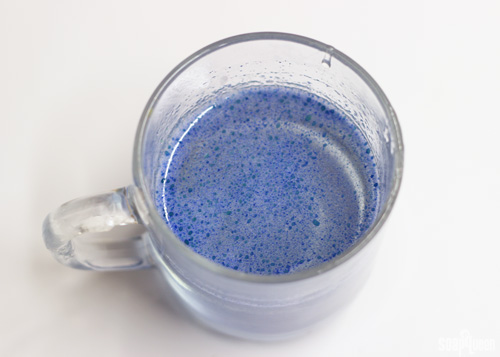 Temperature is also key in order to evenly suspend the jojoba beads in melt and pour. When melt and pour increases in temperature, it become a thinner consistency. When the soap is thin, the jojoba beads will begin to float to the top.
Pour melt and pour with added jojoba beads at approximately 120-125 °F. At this temperature the melt and pour will be a thicker texture. This thick consistency properly suspends the beads throughout the soap. Below, the soap on the right was poured at 140 °F, while the soap on the left was poured at 125 °F. A few degrees makes a huge difference!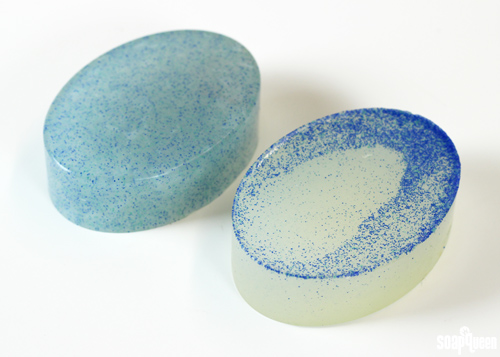 Have you used in jojoba beads in a project? I'd love to hear about your experience and thoughts regarding jojoba beads!