We're getting back to the basics today with this cute cube melt & pour. This project is great for beginners and it's also an excellent way to build some basic melt and pour skills. It requires that you keep a close eye on your temperatures because you don't want to melt the delicate jojoba beads or break the smooth layers. The project also uses the Carnation Fragrance Oil, which is our sample of the month for April. With every order, you'll receive .5 oz. of this unique spicy floral fragrance (yes, I said "spicy" and "floral"!).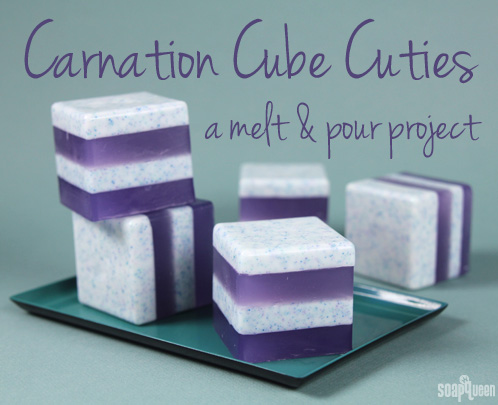 What You'll Need:
32 oz. Shea Melt and Pour Base
32. oz. Aloe Melt and Pour Base

Click here to add everything you need for this project to your Bramble Berry shopping cart!
ONE: Combine two tablespoons of each jojoba bead color in a container and mix well. Set aside.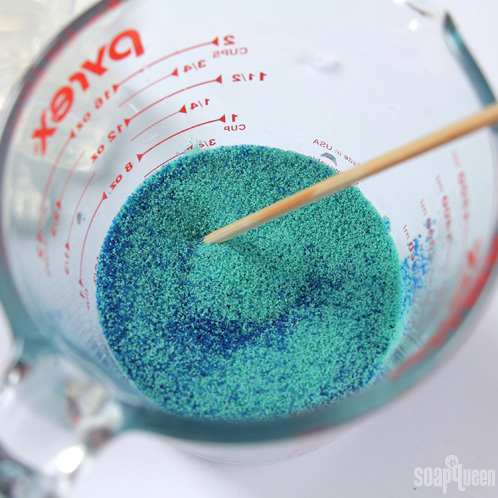 TWO: Cut 16 oz. Shea Melt and Pour base into small cubes. In a heatsafe container, melt the soap on 10 second bursts, stirring between each heat. Add .5 oz. of Carnation Fragrance Oil and stir.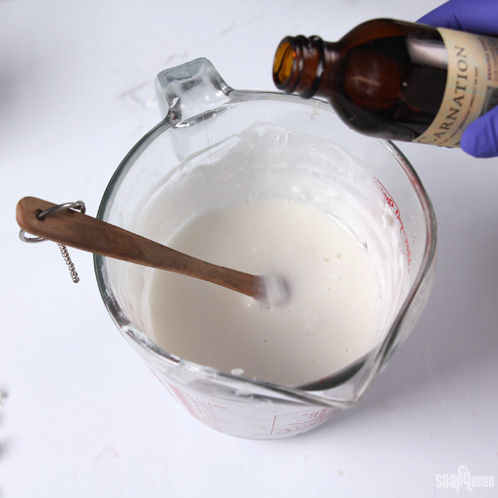 THREE: Temperatures are very important in this project! If your soap is too hot, it will melt the jojoba beads. Allow the soap to cool to 125 – 130 degree F before adding the beads. Stir continually so the soap doesn't form a skin on top.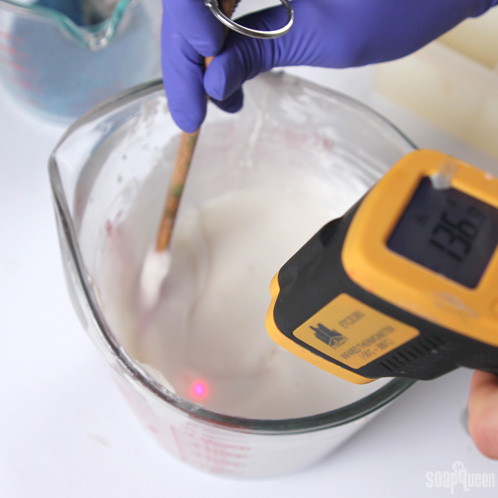 FOUR: Once the soap has cooled, add 2 tablespoons of the jojoba bead mixture and stir.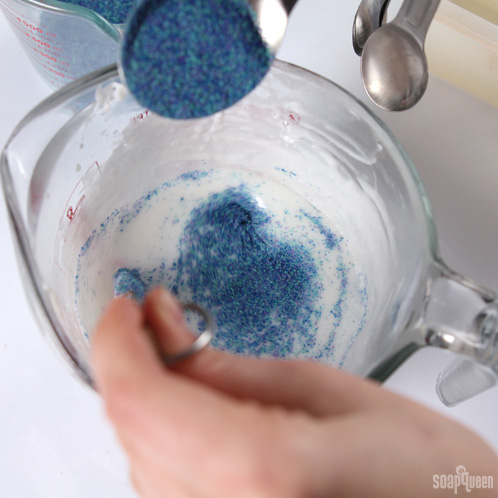 FIVE: Fill each cavity so it is about 1/4 full. You'll have to work quickly because the soap is so cool, so don't worry if it starts to harden as you pour. Avoid reheating it in the microwave is you can, but if you absolutely must you can pop it in for 3 – 5 second bursts. Spray with isopropyl alcohol to disperse bubbles. Allow to harden for 15 – 20 minutes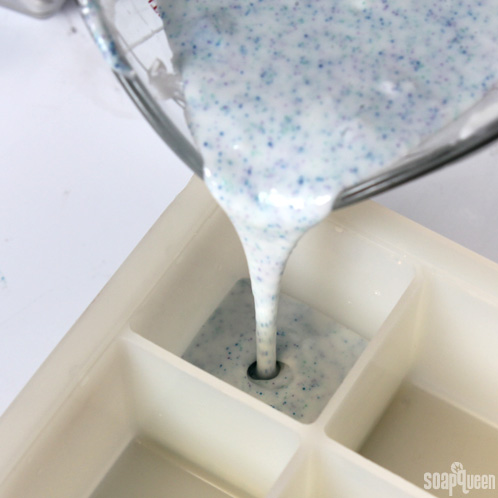 SIX: Cut and melt 16 oz. of Aloe Melt and Pour Base. Add .5 oz. Carnation Fragrance Oil and 1 teaspoon Liquid Violet color. Stir well to incorporate the color and fragrance.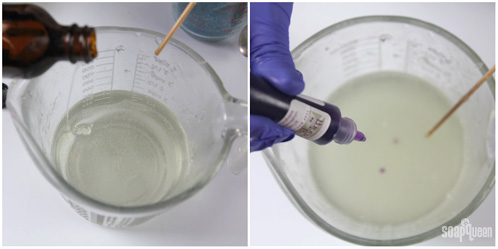 SEVEN: Once the white soap in the mold has hardened and the purple soap has cooled to 130 degrees F or below, spray the white soap with isopropyl alcohol to help the layers adhere. Then pour the purple soap into the mold. Fill the mold about halfway. Spray again with isopropyl alcohol to disperse bubbles.
EIGHT: Melt another 16 oz. of Shea Melt and Pour, and repeat steps 2 – 4, allowing the soap to cool and then adding 2 tablespoons of jojoba beads and fragrance. Be sure to spray the purple soap with isopropyl alcohol before you pour. Fill the cavities until they are about 3/4 of the way full. Spray with alcohol again to disperse bubbles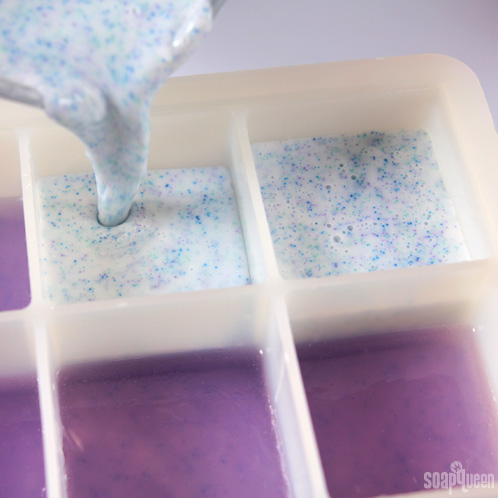 NINE: Melt another 16 oz. of Aloe Melt and Pour. Then repeat steps 6 and 7, adding the fragrance and color, allowing the white soap to harden, and then pouring the purple soap. Be sure to spray isopropyl alcohol between the layers, and then spray again with isopropyl alcohol to disperse bubbles.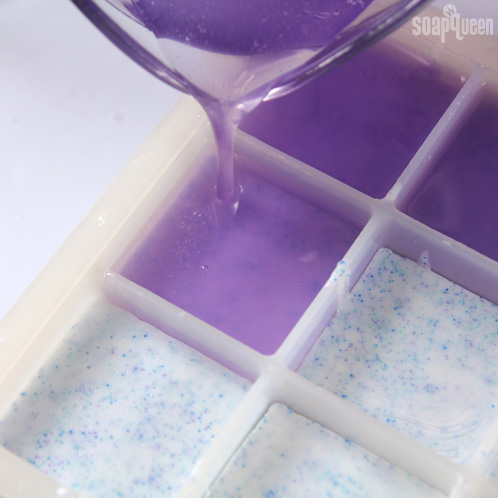 Allow your soap to fully harden for 1 to 2 hours before unmolding. You may find that your layers are slightly uneven, but that's all part of the fun!