If you have never made cold process soap before, I strongly suggest getting a couple of  basic recipes under your belt before diving in. Check out Soap Queen TV on Cold Process if you want to get started with cold process. It's a 4 part series that will take you through the basics (and be sure to watch the episode on Lye Safety). If you're a book worm, Bramble Berry also has some helpful reading on the cold process technique.
Recipe
1.6 oz Sweet Almond Oil
13.7 oz Coconut Oil
2.2 oz Mango Butter
19.2 oz Olive Oil
13.7 oz Palm Oil
4.4 oz Palm Kernel Flakes
8 oz Lye
18.1 oz Water
2 tablespoons ground coffee
2 tablespoons blue pumice (save a sprinkle garnish) or Blue Jojoba Beads
1.5 teaspoon shredded loofah for the top garnish
Essential Oil Blend: 3.5 oz Orange 10x, .3 oz Cinnamon Leaf, 1 oz Patchouli
Get everything you need in the click of a button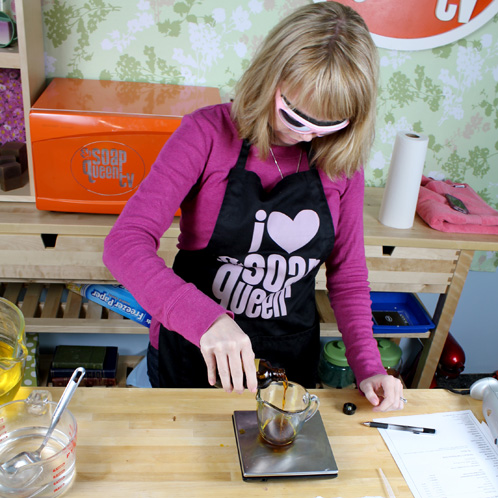 Measure out your fragrance oil ahead of time to make sure you like the combination. The orange, patchouli and cinnamon mixture is one of my new favorites. It's bright and earthy!
Prep: Line your 5 pound ELF mold with freezer paper.
ONE: Carefully combine your water and lye and mix well. Always add the lye to the water and stir until the mixture turns clear. Make sure you're in a well ventilated area.
TWO: While the lye mixture cools, melt and combine Coconut Oil, Palm Oil, Palm Kernel Flakes, Sweet Almond Oil and Olive Oil. Stir in the Mango Butter to the warm mixture so it melts slowly (this prevents the mango butter from getting a grainy texture).
THREE: Slowly and carefully add the lye water to the oil mixture. Stick blend until light trace. Add essential oil combination and stick blend until trace.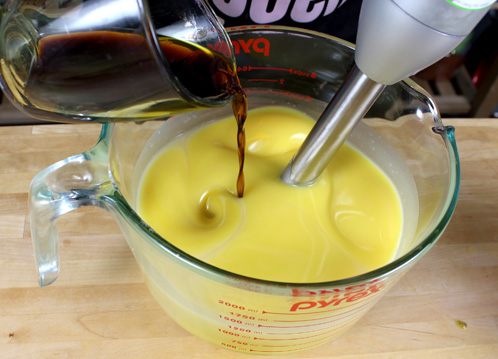 FOUR: Separate the batch into two even containers (eyeball the measurement).
FIVE: To the first half of soap batter, add 2 tablespoons of ground coffee and mix well with the stick blender until you reach thick trace. Pour the soap batter into the mold.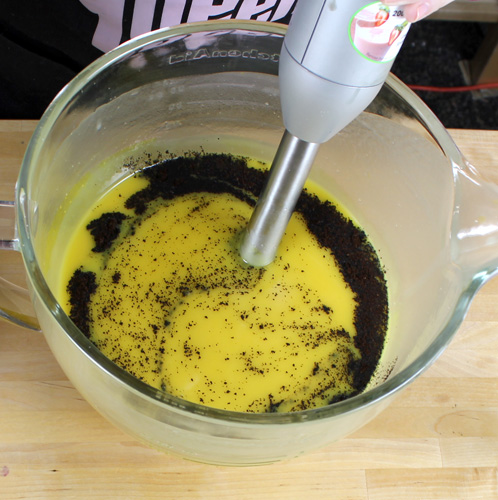 SIX: Add 2 tablespoons of Blue Pumice to the second half of the batter and mix until thick trace. Pour the second layer of soap.
TIP: Pour the soap over a spoon so it hits the first layer of soap gently preventing a "break through". We want a nice and even layer.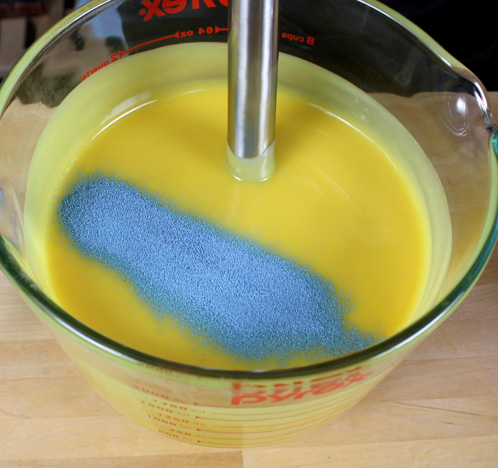 SEVEN: Garnish the top of the soap with blue pumice and shredded loofah. Then insulate and put it to bed over night. I like to put a piece of cardboard over the top of the mold and wrap it in a towel. Cooling slowly will put the soap through gel phase and prevent soda ash.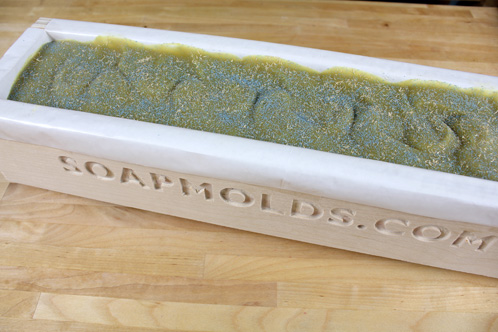 EIGHT: Let the soap set for 24 hours. Unmold, cut and let cure.
P.S. Don't you love the look of the blue pumice with the yellow color of the soap? I'm totally in love with this soap!