This week was all about saving time, planning ahead and being efficient. When soaping, the cleanup can be both messy and time consuming. Oils can get spilled, colorants can get knocked over. And don't forget about the dishes – a pretty design takes a lot of bowls! While cleaning up isn't the most fun part of soaping, it can be easy with this Soapy Session Clean Up Guide.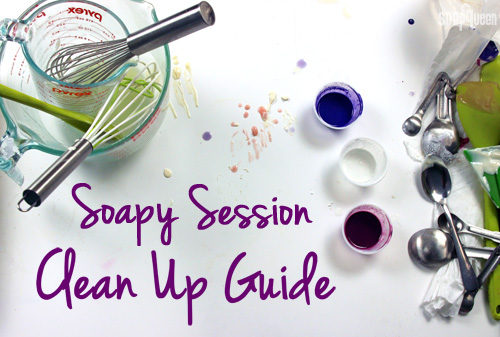 Depending on the cleaning method you choose, getting everything spic and span take awhile. If you have a busy schedule, managing your time effectively is important. In this 6 Simple Strategies for Better Time Management post, you can learn about several methods to help you balance work and family.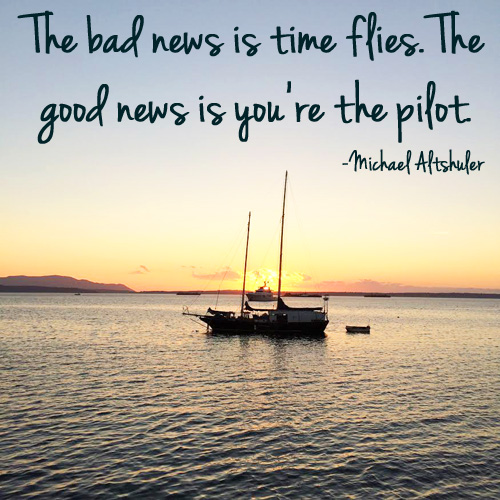 Even with a hectic schedule, it's important to take a breather – get up and walk around, talk to coworkers, or grab a cup of tea. This Chocolate Chai Tea Mix is reason to do just that! It's spicy and sweet, and has less sugar than coffee shop varieties.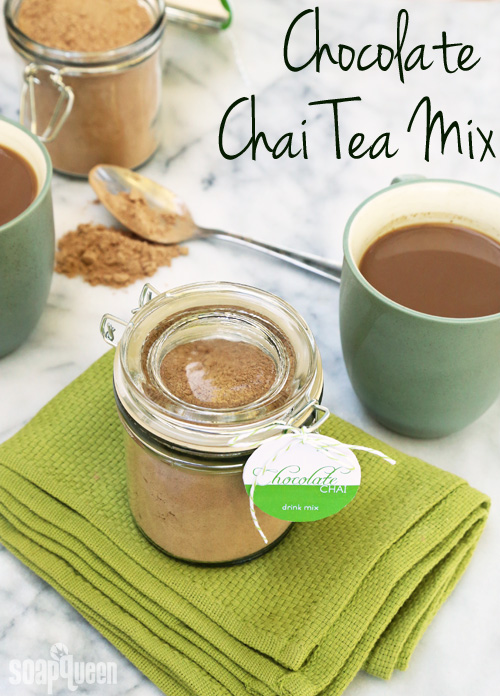 Handmade chai tea mix would make an excellent holiday gift. If you're looking for more ideas, you'll love this Handmade Holidays Roundup. It includes this stunning Christmas Tree Swirl Cold Process Soap, which features a reverse hidden feather swirl and a Sparkle Gold Mica topping. It also includes this Snowy Forest Melt and Pour Soap. Festive layers, embeds and glitter create a beautiful snowy landscape.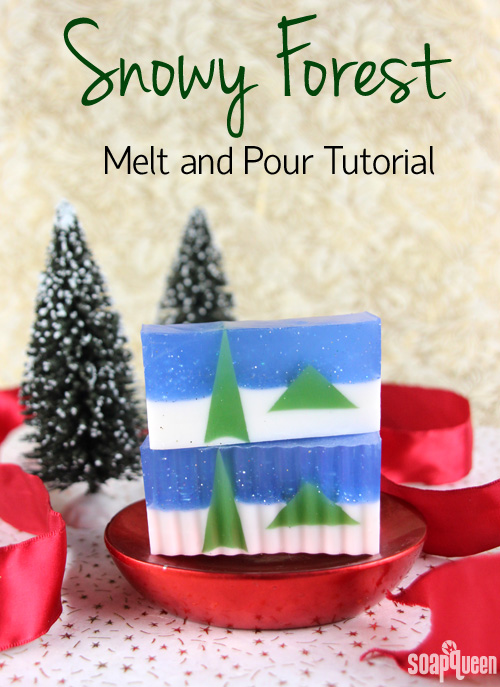 Continuing the holiday theme is Facebook Photo of the Week winner Jennifer with La Chevre Doux Soaperie. Her Goody Goody Gum Drops soap is scented with Moonlight Pomegranate Fragrance Oil, which is deep, sensual, sweet and tart.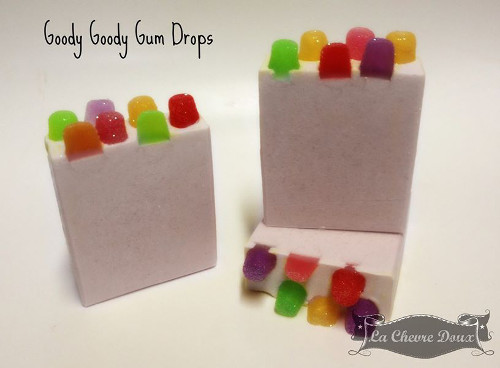 Colorful and sparkly gum drops really pop against the creamy base. Jennifer used melt and pour soap for the gum drops and cold process soap for the base. If you'd like to learn how to embed melt and pour in cold process soap, check out this MP Loves CP Tutorial. Melt and pour can also be used to create fluffy frosting on your soap, as seen in this Coconut Cream Pie Cold Process Soap Tutorial.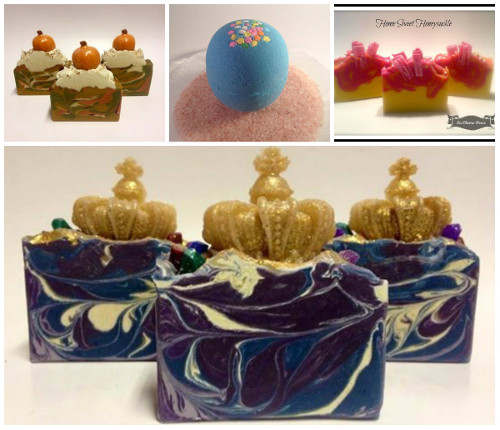 Above (clockwise, left) are Jennifer's Home For the Holidays soap, Butt Naked Bath Bomb, Home Sweet Honeysuckle Soap, and Crown Jewels soap. If you'd like a soap with twisty colorful swirls, check out this Butterfly Swirl Soap Tutorial. For a simple and elegant swirl, click through this Three Color Mantra Swirl Tutorial.
Find La Chevre Doux Soaperie
On Etsy
On Facebook
Post pictures of your crafty creations on the Facebook page each week for a chance to be featured on the Soap Queen blog and receive a sweet soapy package from Bramble Berry. Photos are chosen based on consensus from the Bramble Berry staff, so the best way to increase your chances of winning is to show us lots of photos!