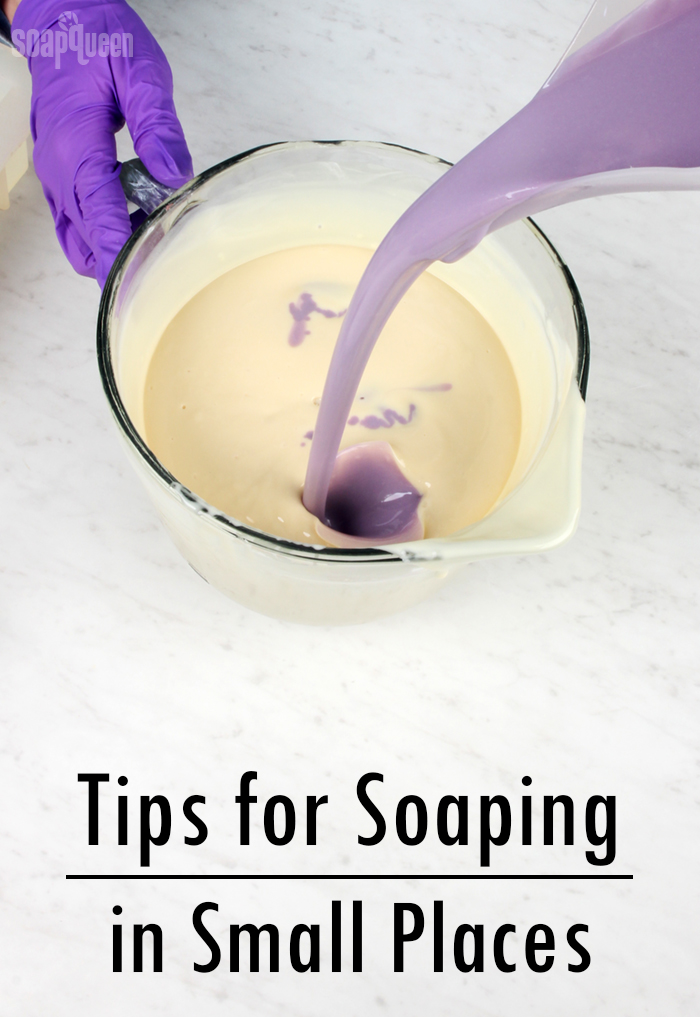 Soap supplies tend to add up fast. A few fragrances here, a few molds there – all of a sudden your kitchen is completely taken over. Storage is limited for many soapers, especially those just starting out. Luckily, the soapmaking community has fantastic advice for soaping in small spaces. We asked people to share their tips in a recent Facebook post and there were so many great responses. Check out some of the tips below.
Stack the supplies up, not out
Don't I know this only too well! I try to go as vertical as possible in terms of shelving to store supplies and curing soap. -Vanessa 

The counter/vanity/sink area in my master bathroom is my soaping area. Very small space, but I'm utilizing the high ceiling by installing wire shelving, wall mounted spice racks for EO/FOs and rolling Rubbermaid drawer sets for storage under the counter. It'll do for a beginner! -Sarah
Soaping has totally taken over my former dining room. I have a six foot tall shelf where I keep most of my soaping things. To make better use of vertical space, I've added a pair of shoe racks (perforated bottoms so the soap can cure), and three small baker's cooling racks. -Robin
Utilize all available space in your home
I soap in my kitchen, wrap, box, and pack up orders in my living room. -Donna
Luckily, I have a very handy hubby and he made some shelves on the wall in our laundry room…I would love a bakers rack to store all the soaps curing…right now, they are on every possible counter and table top available… -Colleen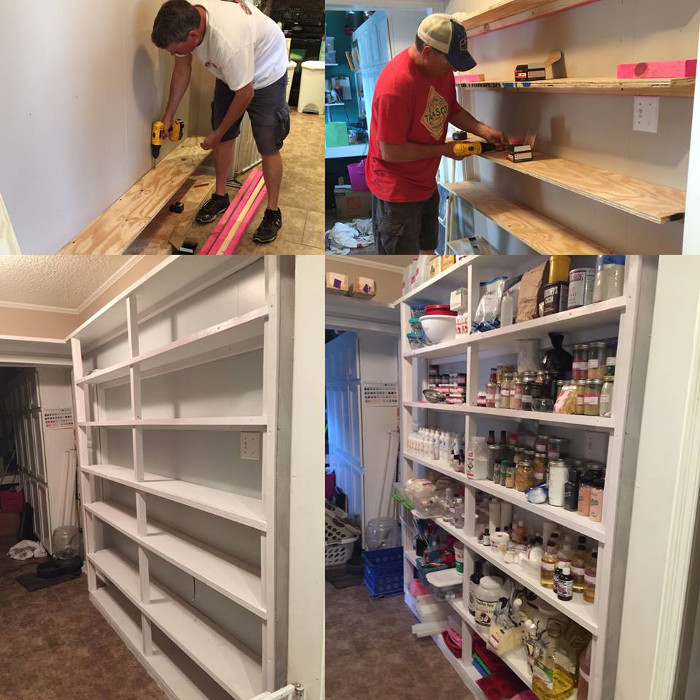 Colleen with The Old Cypress House stores her supplies on custom shelves.
Utilize as much space as possible! I used to cure my soaps on top of my closet and keep my ingredients (that didn't have a strong smell) and molds in big boxes under the bed. Each time a new item got into my home, I would make a spot for it, so that I always had somewhere to put it away once I was done using it 🙂 – Marte 
I craft downstairs and store everything upstairs in my office area! -Jessica
I have a folding table and 2 shelving units in our small spare bedroom. I also use stackable soap molds and drying racks. The drying racks are on rollers. -Kristy
I soap in a corner of my kitchen, slowly taking over my dining area lol. Storage is in a closet built in my room, bins, boxes etc. -Amorcito Crafts
I have a couple places in my home. The cabinet is from my grandma and I love the pull out drawers. This has cut down on my stuff taking over the kitchen. -Angie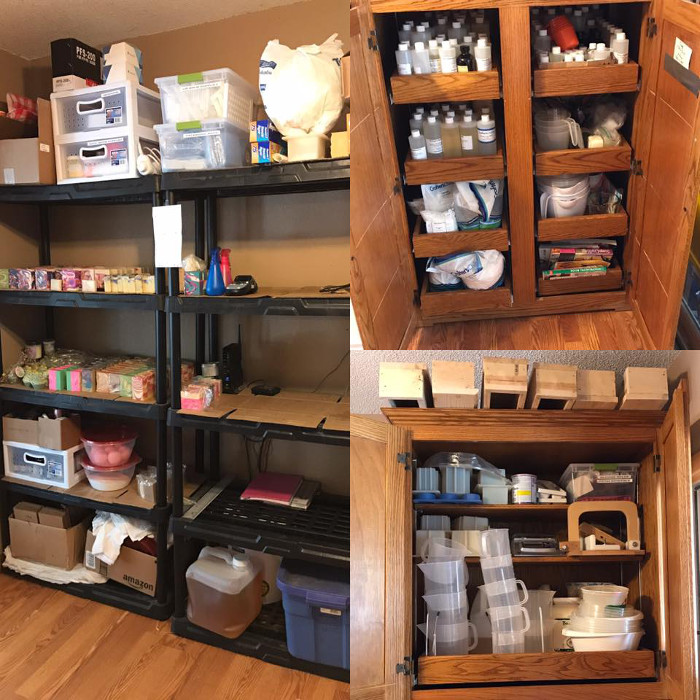 Angie with Sunshine Soaps uses several spaces in her home for supplies.
Get creative with your storage supplies
I live in an apartment & don't have room for drying trays. So I just put regular items to use. The broiler pan with the open slots, the bottom oven rack pulled out of the oven & sitting on top of an open BB box, and cardboard with slots cut out using a box cutter all serve as my curing racks. Not pretty, but functional. -Maggie
My husband and I turned a TV cabinet into a craft cabinet. I need a new one as this is filled, or a shop….lol. -Martha
I've just moved from melt & pour to cold process soaps. Found myself cleaning out the top of my closet so I can put racks up there for soap to cure. I have the added challenge of pets, so I have to make sure fur doesn't end up all over everything. I was also motivated to start clearing out my spare room. Every bin storage box that gets donated to Goodwill gets filled with soaping supplies. But I actually have fun organizing and rearranging when I'm not busy reading blog posts on soaping. #soapingisadditictive -Melanie
If I had a tip or two to offer, it's stackable shelving units and cube shelves and storage bins, those have been a lifesaver! -Lane
I get those produce boxes that have tabs and stack to cure my soap in, but I am still hard pressed to find space considering I make over 70 types of soap. -Kathee
I haven't been soaping for long but hubby made me this curing shelf that fits perfect behind the door. Even though the shelves aren't deep they are perfect for bars of soap and save space! It's VERY shallow so only 1 bar of soap will fit but its awesome as it literally takes up zero space! The door is fully functioning. The only thing I would do differently next time (he will be doing this in my teenage daughter's room for her "girl stuff" make up, hair clips and the like) is make sure to leave space for the door knob. I have a habit of swinging doors too quickly and dented 2 bars of soap before I left an empty space where the door knob is. 🙂 You can actually see one of the dented soaps in the pic LOL – 8th row down, rose clay soap second from the end. Door knob smacked it. If making the shelf, stay away from white if at all possible. I have a few dye stains and though so far they have all come out, its a pain to have to do so! I am thinking next time a wood stain will work better as the colorants won't show up as much as they do on white. -Brook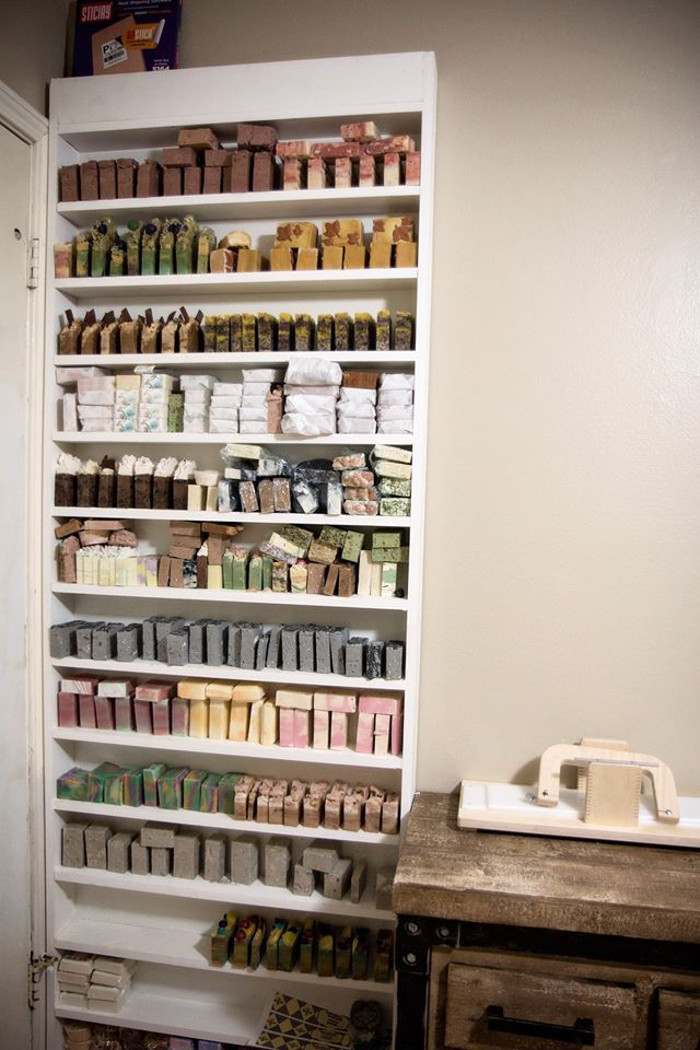 Brook with Brook's Common Scents stores her soap in shelving behind a door. 
My soaping station is always a mess, but I store everything in a large, old dresser and one of those wire grid shelving units, but I'm outgrowing my space! I keep all my cured soaps and bath bombs in a little cabinet. -Rachel
Shelf stackers, stacking boxes, and baskets in my extra closet. It is not ideal, but I can store like with like. -Dawn
I cut boxes in half so they fit under my bed and label them with things like essential oils/fragrance oils, botanicals, lye, tools ect. and cure soaps in an old desk/cabinet. -Amanda
Do the best with the space you have
I choose dinner or soap. "There can be only one" in my apt. Soap it is! -Mac
Thanks to everybody for sharing such awesome tips! We loved seeing your creative storage solutions.