Malina with Ojai Botanika has always been creative. She loves everything from baking to essential oil blending. At just 15, she tried soapmaking for the first time and quickly got hooked. She now sells beautiful bars made with natural colorants and essential oils. Learn more about how Malina got started, what inspires her, and her soapmaking tips.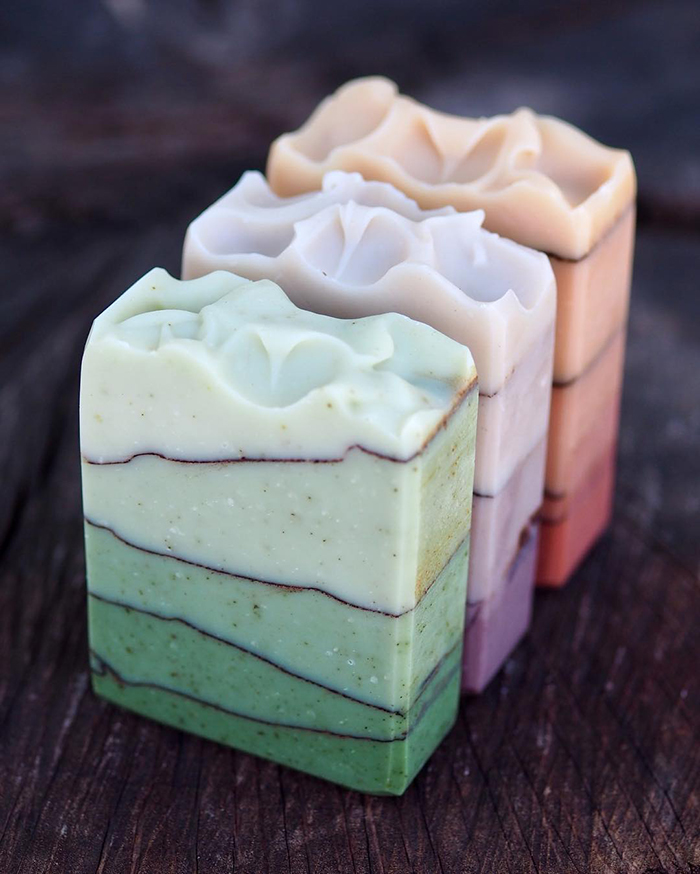 Ojai Trails, Topa Topa, and Pink Moment soap
How long have you been making soap and how did you get started?
I'm 21 now, but I started soapmaking almost six years ago, when I was only 15 years old! Actually, years before that, I was already studying herbalism and was interested in natural health and beauty. I was homeschooled for most of my childhood, so I was able to explore my interests and learn unique things at a very young age. I remember my mom was really into essential oils. We would have fun blending them and I loved the way they smelled and how I felt when using them. One thing led to another and I started learning how to make herbal balms, lotions and stuff. I remember staying up one night 'til midnight in the kitchen, creating a new body butter recipe. Everyone else was asleep, but there I was with an electric mixer, whipping up copious amounts of shea butter and coconut oil. I'm so blessed that my family was so supportive of my creative endeavors!
Years later, when I was 15, a friend told me that I'd probably enjoy making soap. She invited me to her studio and gave me my first lesson in soapmaking. I was so fascinated! We did a few more soapmaking lessons and she guided me toward some online resources. I remember spending every free minute reading the Soap Queen blog and watching Soap Queen TV!
I made my first solo batch of soap using a Bramble Berry Beginner's Soapmaking Kit. From then on, I was pretty much hooked! I spent a lot of time testing out recipes and then worked on creating my own unique formulations and designs. At first, I made soaps just for fun, for friends and family. Everyone kept telling me how much they loved my soaps and how they thought I should start selling them. I started out very small, selling locally via word of mouth. It felt so wonderful to be able to share my creations and bring happiness to others through my soaps. I'm still a very small business, trying to keep up with growing demand. It gets really busy sometimes, but it's so worth it to be able to pursue my dreams!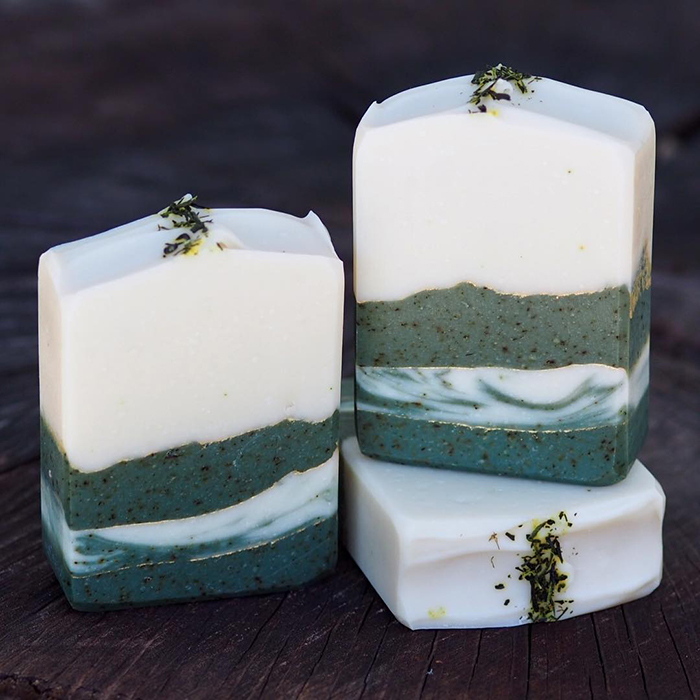 Green Tea Mint soap
What advice would you give to makers just starting their businesses?
Follow your passion and trust your intuition! For me, this has been the most important thing to remember all these years. It can be discouraging sometimes when you're just starting, but always remember what drove you to begin your journey. When you maintain that sense of passion and integrity and stay true to yourself, people will be drawn to you and your products. Surround yourself with supportive people! I've had such incredible support from friends and family. Take time to create recipes that are uniquely yours, and be sure to test them thoroughly. Once you have a product that you've tested and are confident in selling, take the necessary steps to become a real business. It may not be the most fun, but taking care of business matters like insurance, business license, etc., ahead of time will give you peace of mind and allow you to focus on what you're really passionate about!
What is your favorite type of product to make?
Definitely cold process soap! There's something about the magical process of oils and lye mixing together that really appeals to the alchemist in me. I also love the freedom to create beautiful designs and scents. I especially enjoy swirling soap; no two bars have the same design!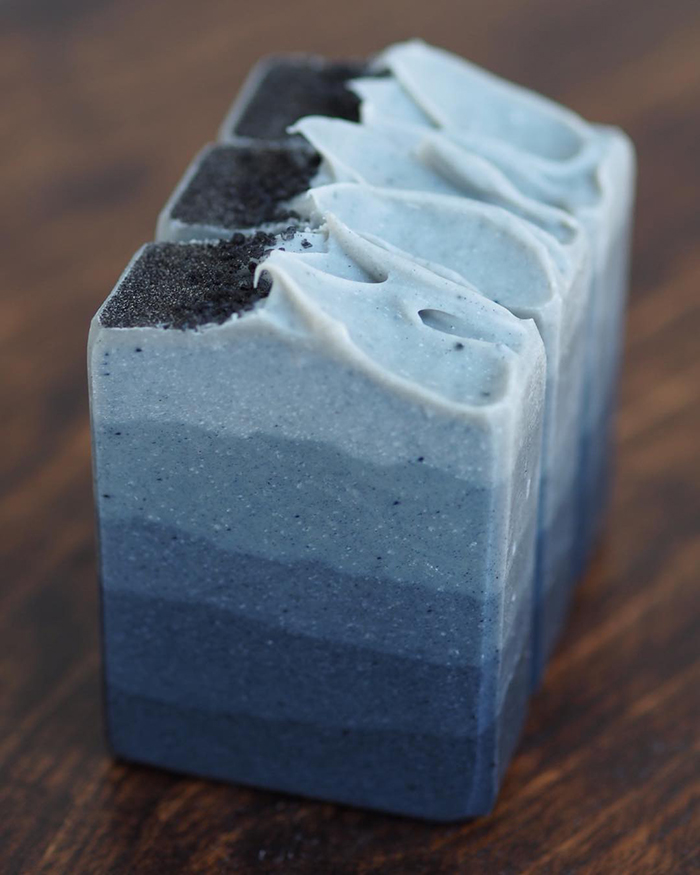 Icelandic black sand bars
What inspires you to create?
I'm the type of person who is constantly in creative mode, so I find inspiration in everything. I'm especially inspired by nature! I've created lots of soaps with locally-grown ingredients and designs inspired by our local mountains, trails, meadows, flowers, night skies, herbs, and trees.
How did you come up with the name for your business?
Ojai (pronounced like "Oh, hi!") is the name of the little town where I was born and raised. It's tucked away in a valley, not too far from Los Angeles, CA. It's such a special place; the energy here is so beautiful and unique. It's known for being a very artsy town and is home to lots of super-talented people. Since Ojai has been such a big part of my life and inspiration for my brand, I wanted to honor it in my business name. Ojai is also the local Chumash Indian word for moon! I'm really drawn to the moon, so it seemed like the perfect fit. The name "Ojai Botanika" pays homage to my beautiful home and the natural botanicals that I use in my creations.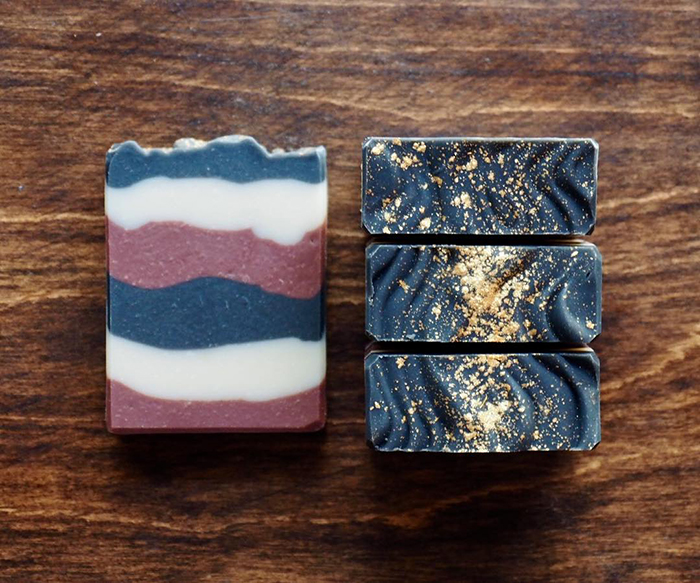 Cozy Sweater soap
What is your favorite Bramble Berry product and why?
I have been using Bramble Berry products since my friend first taught me about soapmaking! I remember when she gave me a Bramble Berry gift card for my birthday; I was so excited! I got to try all kinds of wonderful new ingredients. Some of my favorite products are the natural clays. They add a lovely slip and beautiful colors to my natural soaps. Rose clay is my absolute favorite! I use it in one of my most popular soaps, "Ojai Rose," to create the beautiful pink swirls. I'm also a huge fan of the indigo powder. It gives such a lovely, natural denim-blue tone in soap.
Tell us something unusual or unique about yourself!
I'm actually a very introverted person. I was hesitant when I first started my business because I thought I would have to be "on" all the time. But, being able to share my passion with such a supportive community really helped me to break out of my shell and become more comfortable and confident.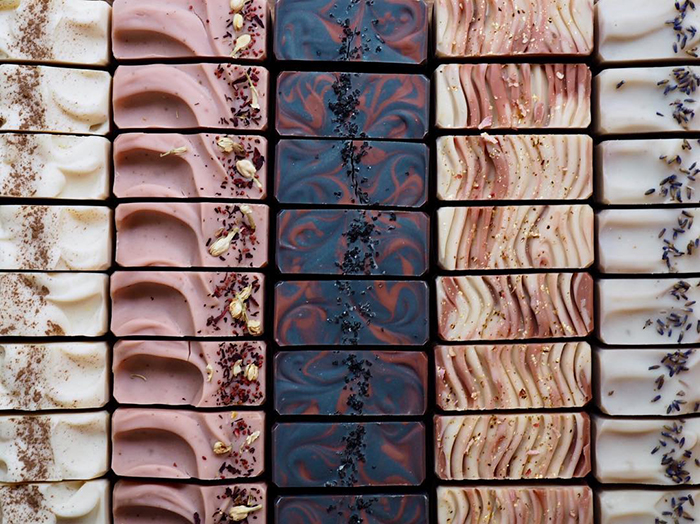 Beautiful soap tops
What are some of your other hobbies and interests?
Reading is one of my absolute favorite things to do. I would happily read for the rest of my life. I also love listening to music! I always have music playing while I work in my soap studio! It really helps keep me upbeat and productive. I'm also an avid baker! I love making super-yummy, healthy baked goods. One of my biggest passions, besides soapmaking, is makeup. When I was little, I would love sitting next to my grandma, watching her apply her makeup. It was so fascinating to me! Once I started, I never got tired of the process of applying makeup, and I love wearing it. It feels like art to me. Fun fact: before I fell in love with soapmaking, I was seriously considering becoming a professional makeup artist. I guess it makes sense that I would end up creating products in the beauty industry!
What is your number one soapmaking tip?
Soaping at room temperature! Ever since I learned about that, it has really changed my soaping game. I used to have such a hard time with my soaps getting too hot and accelerating, since I'm not the most patient person. Now, I just prep my oils and lye one day and the next day I'm able to make loads of soap pretty easily.
If you were to give one of your products to a stranger, what would you choose and why?
I would probably choose a bar of my crescent moon soap! I feel like that's my signature design and I love seeing the looks of awe and joy when people see that soap for the first time. Being able to brighten someone's day is a such a wonderful feeling!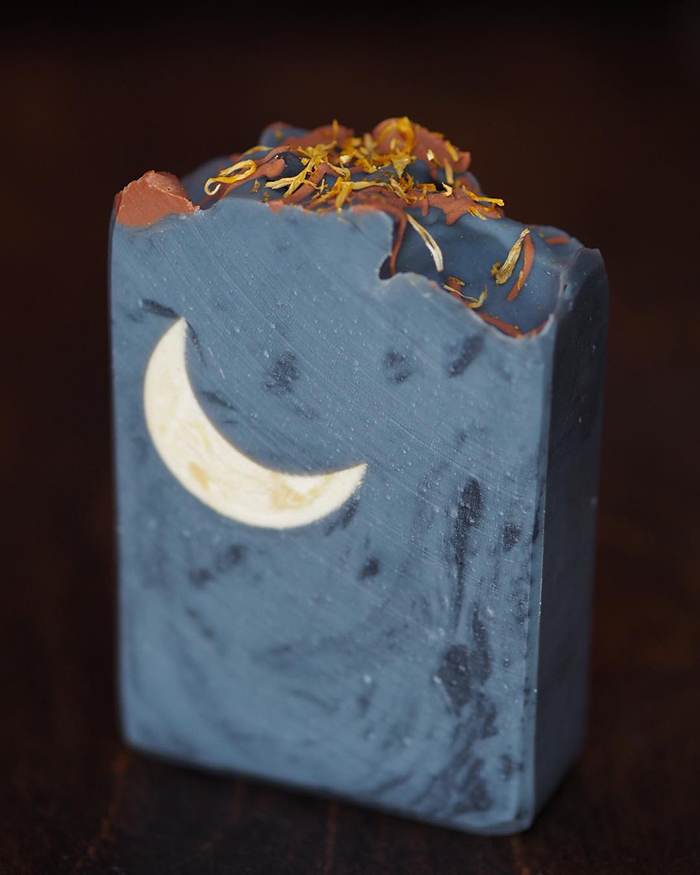 Nightfall soap
Have you ever experienced a soapy fail? How did you work through it, and what did you learn?
Yes… Speaking of patience, I recently had a batch of soap accelerate really badly on me. I was in a hurry, making a new scent and design, and I ended up soaping at too high temps. When I went to pour the swirl, the batter thickened up so fast, I nearly had soap on a stick! But, I kept calm and did a very fast design change. I was able to pour the soap into two layers with a clay line in between them. That night, I kept worrying that the soap would be a failure and I wouldn't be able to use it. The next day, when I went to cut it, I was pleasantly surprised and ended up loving the new design. It turned out to be a happy accident! In fact, that soap ended up being the first one to sell out at a recent event! I learned my lesson (again) about patience, but also learned not to give up and to be open to new ideas and designs.
What do you love most about creating bath and body products?
I love the entire process of making soap, but I especially love that soapmaking allows self-expression. It's a wonderful art form to me, like painting, sculpting, or glass art. I love creating beautiful, natural products full of quality, organic, and natural ingredients to help people live healthier and happier lives. Most of all, I love being able to communicate with people all over the world and share my passion with them. My heart feels so full when I hear from people who have enjoyed using my soaps or who have been inspired by them. To me, that is the most fulfilling part of what I do!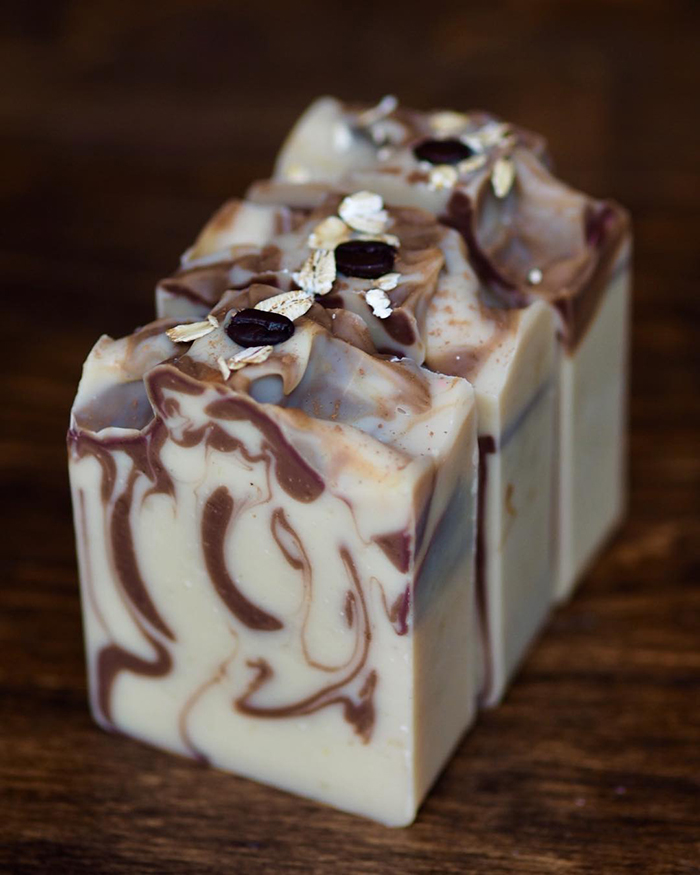 Oat Milk Latte soap