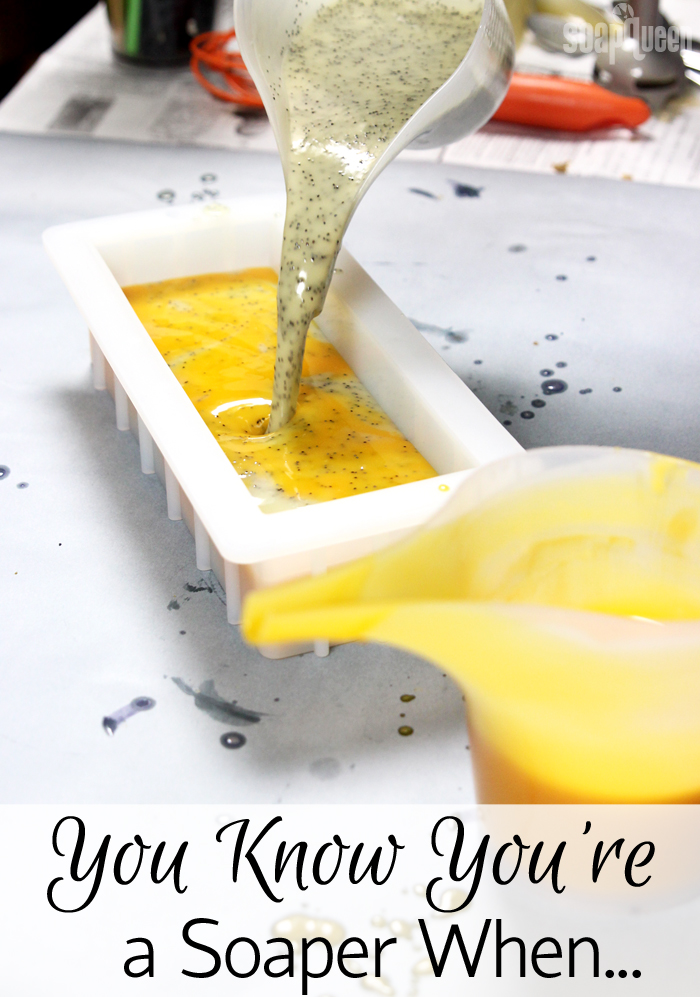 Last week I made this gluten-free bread recipe. After pouring it in the pan, I immediately tapped it on the counter to get rid of air bubbles. I had to laugh because that is such a "soaper" thing to do. Knowing other crafters have similar experiences, I asked how others know they're a soaper on the Bramble Berry Facebook page. There are so many hilarious responses. The team and I had such a fun time reading through them all. You can see all the responses here, and check out some of our favorites below.
You try to type "soup" but it keeps autocorrecting to "soap." -Betsy D.
You are making pancakes and stop stirring because it starts to hit trace. – Tracy W.
When your soap volcanoes and you run to get the camera to share on FB. -Cindy L.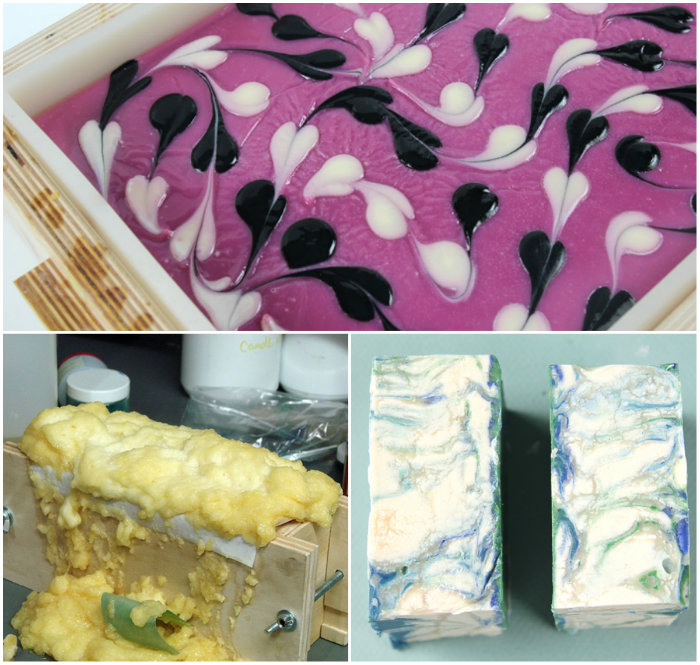 Cindy L. knows she's a soaper because her recipe volcanoed and she grabbed her camera to snap a picture! Learn the cause of soap volcanoes and how to prevent them in this post.
You'd rather watch soaping videos on YouTube than the latest Netflix series. -Rachel W.
…When you make excuses to take extra showers just so you can try out all the fun new soaps you've made. – A.c. T.
You have a whole array of kitchen utensils that you never use for food. -Hexen E.
You find yourself haunting thrift stores and yard sales looking for items you can repurpose into interesting soap molds! -Patti P.
When you can pick up that 5 qt. glass bowl filled with soap with one hand…such as A-M is doing in the picture. -Sarah P.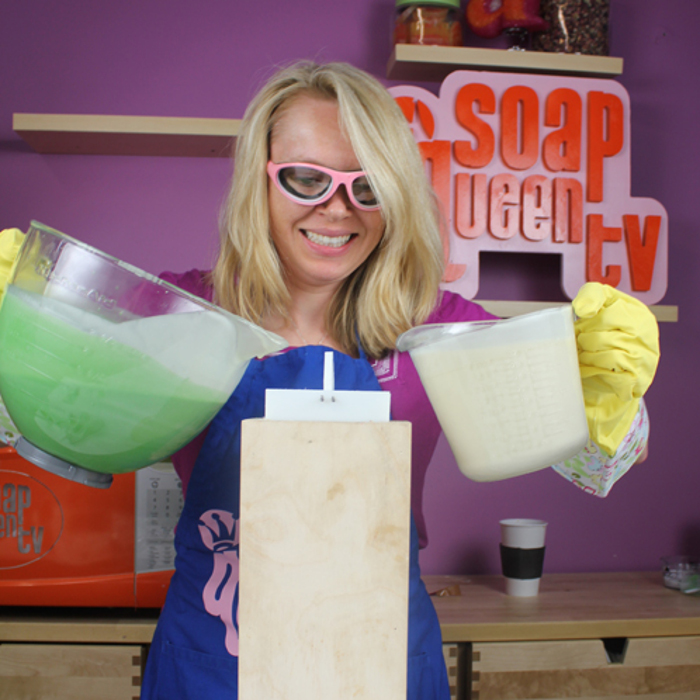 Working out my soaping muscles making the Palm Free Vertical Twist Soap!
When you stay awake at night thinking of new recipes and variations. -Connie A.
When you carry a handbag large enough to hold the soap samples strategically labeled with your contact info for whatever networking you may run into that day! -Andrea E.
You have made enough soap to last till the year 2020. -Tonya T.
You dream about making soap and design soap in your sleep! -Sandra D.
When you can't look at pudding the same way again. -Alison M.
Everyone in your family mistakes real cupcakes for soap cupcakes!! -Lori W.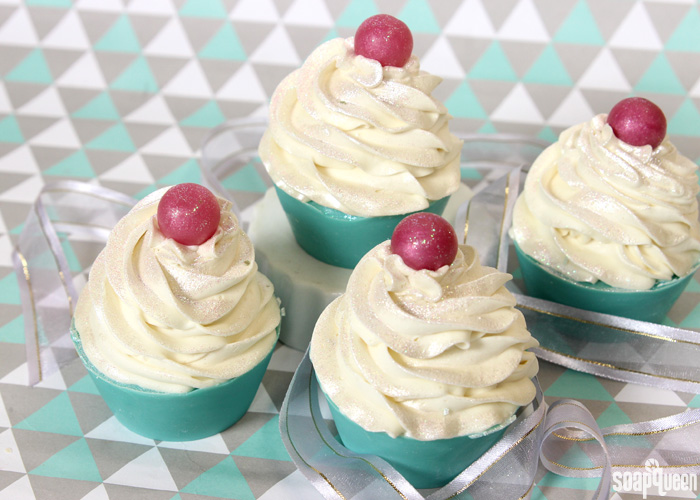 We recommend a "Do Not Eat" sign for these Sparkling Champagne Soap Cupcakes.
All your cabinets are filled with soap molds and fragrance oils rather than food! -Jacquelyn P.

You go to work with soap chunks in your hair and stuck to your sleeves!!! -Ellie T.

When you make your babies muffins and instinctively reach out for the RA (rubbing alcohol). -Toyin F.
When your daughter tells you, "mom, this ice cream tastes bad," and you realize that what she actually ate was the coconut oil that you had stored in an ice cream container! -Marina P.
When you practice textured tops while making your kids PBJ. -Susan L.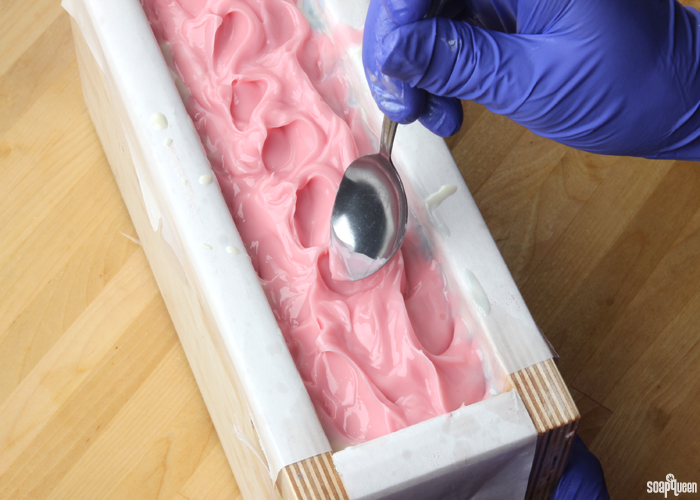 Fresh soap does look a bit like peanut butter…so creamy!
You always ask yourself, "can I soap with this?" -Dawn F.
Every time you see a print blouse you think, "those colors would make an awesome soap." -Sherry F.
You "force" soap on your friends so you can make a new batch. -Kenzie N.
When you have more bars of soap than drawers to keep them in. -Patricia S.
You get excited when you have sodium hydroxide coming in the mail. -Kristie B.
You look like a mad scientist. -Sharla W.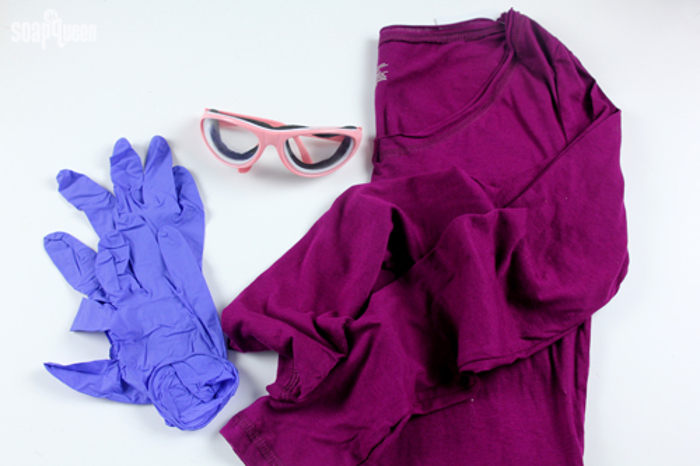 It's totally normal to see a soaper in goggles and gloves!
And finally, "When you read EVERY COMMENT in this thread and laugh til you cry!! 🙂 Thanks y'all, this has been fun!" -Stacie K.
Thanks so much for all the hilarious comments, they were so fun to read! How do you know when you're a soaper?