Have you ever had one of those moments where you felt like testing your (soaping) boundaries to see how far you could take something but feared you would ruin an entire batch of soap? We've done a vertical twist project before, and it turned out awesome. But I wondered, what if we just kept on twisting the divider…? Ahem. It was new levels of soap happiness. If you're a tactile learner and you'd like to see/hold/touch/smell this soap and experience it in person, we've put it in our etsy shop here so you can learn to make this palm-free soap.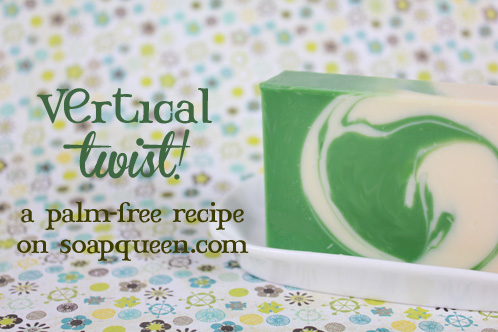 Ingredients
15.3 oz. Coconut Oil
36.5 oz. Olive Oil – Pure
13.1 oz. Distilled Water (+ 4 oz. water for salt solution)
7.2 oz. Sodium Hydroxide (lye)
3.2 oz. White Ginger and Amber Fragrance Oil
1 teaspoon Titanium Dioxide
1 teaspoon Green Chrome Oxide
2 tablespoons Sweet Almond Oil (or any liquid oil)
Salt Water Solution: see below
Buy everything you need for this project with the click of a button!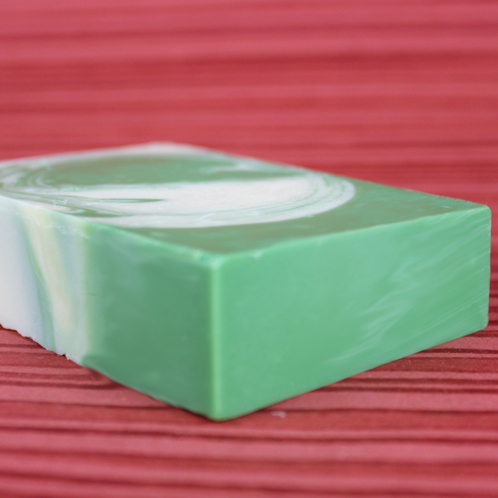 If you have never made cold process soap before, I strongly suggest getting a couple of  basic recipes under your belt before diving in. This is an advanced recipe and should not be attempted without first doing some basic recipes. Check out Soap Queen TV on Cold Process if you want to get started with cold process. It's a 4 part series that will take you through the basics (and be sure to watch the episode on Lye Safety). And for all of you bookworms out there, Bramble Berry also has some helpful reading on cold process soap making or a Beginner's Kit for $36 here.
Color Prep: Disperse the Titanium Dioxide and Green Chrome Oxide in one tablespoon (each) of the Sweet Almond Oil using the Mini-Mixer. Press the powder into the oil and swirl it around a bit with the tip of the Mini-Mixer before turning it on to avoid a messy poof of pigment! Check out a Soap Queen quick vid on mixing colorants to see how it's done.
Salt Water Solution: Mix 4 teaspoons of regular table salt in 4 ounces (by weight) of warm water. Stir until the salt is fully dissolved. Why salt water solution? Simple! It makes for a harder bar of soap. With our high amount of olive oil in this recipe, the salt water will help harden it up faster so we can release and cut the entire loaf more quickly.
Safety first! Suit up with goggles, gloves and long sleeves (or long gloves). Make sure kids and pets are out of the house or in another room to prevent any tripping hazards or distractions. Open up windows or turn on fans, making sure that your soaping room is well-ventilated.
ONE: Slowly and carefully add the lye to the water (never the other way around!) and stir until clear. Set aside to cool.
TWO: Melt Coconut oil and combine with Olive Oil. When the oils and the lye are between 110-130 degrees (and ideally within 10 degrees of each other), add the lye water to the oils. Combine using a stick blender until light trace.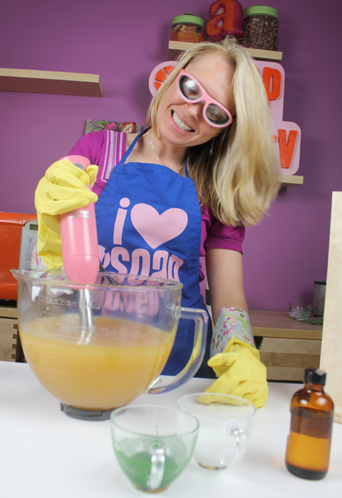 THREE: Add salt water solution and mix well using a stick blender, or switch to a whisk if trace is accelerating.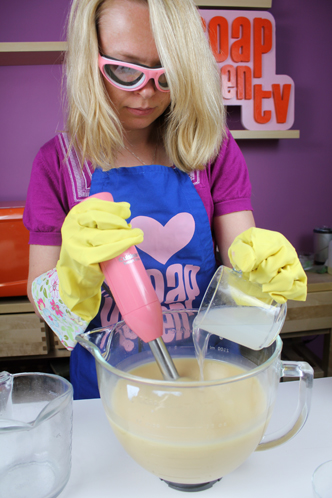 FOUR: Split the batch in half. Each half should be about 4.5 cups. Add all of the dispersed Titanium Dioxide to one batch, and all of the dispersed Green Chrome Oxide to the other batch. Mix well, using a whisk if needed to avoid trace acceleration.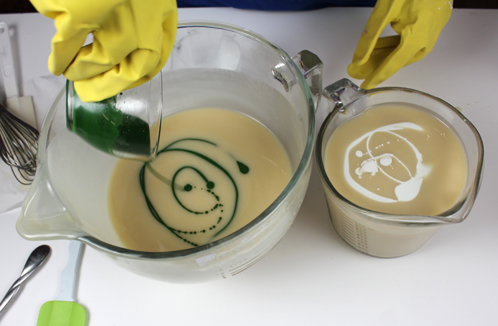 FIVE: Add fragrance oil each batch. I used 1.6 ounces of White Ginger and Amber Fragrance Oil. Stir in using a whisk if needed.
SIX: Time for some core strength! With the center divider in place, pour both batches into the Vertical Mold at the same time. Get as much soap in there as you can – you might have some left over, but we'll use that soon.

SEVEN: Here comes the twist! As you remove the center divider, twist it around and around. Don't stop twisting until the divider is all the way out of the soap!

EIGHT: After 1-3 days, unmold the soap, cut, and allow to cure for 4-6 weeks before use. Enjoy!