This is the second post in my series on how to label your products. In the first post I explained how to label lip balm including how to list your ingredients using the proper terms in the correct order.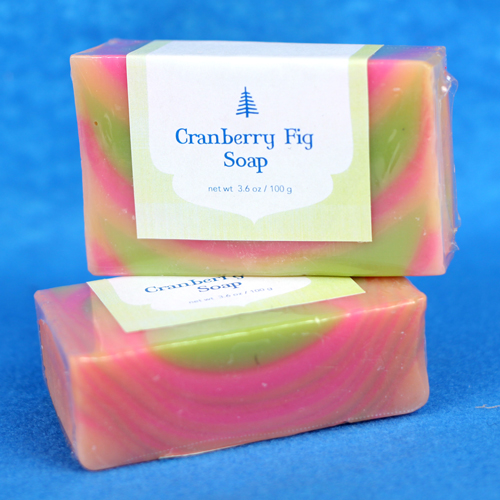 As I mentioned in that post, this is just the bare minimum; there are so many little details that I can't possibly cover in a blog post. Thus, I highly recommend the book Soap & Cosmetic Labeling by Marie Gale. It is a concise and easy-to-read book, full of examples about labeling cosmetics with a special emphasis on soap. Also, the FDA's website has many interesting articles and bonus, you can read the law as it is actually written. They also have a free Cosmetic Labeling Manual that addresses all of the basics of labeling.
Soap is a special case when it comes to labeling. The FDA does not require ingredient labeling for soap. That's right! Nothing.
Talk about a short and easy blog post, see you tomorrow.  😉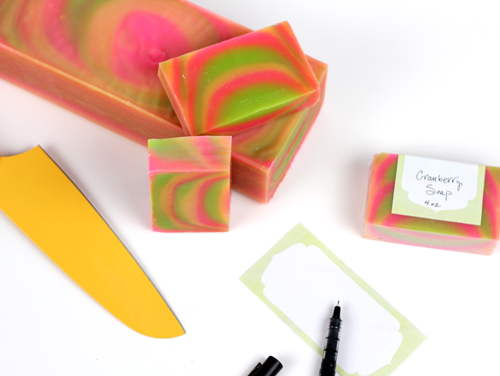 However, you will probably find that most of your customers will want to know what is in the soap they are using (plus, the ingredient list with all those good-for-your-skin oils is a fantastic marketing opportunity). So you may decide to list the ingredients anyway. When you do so, you should follow the rules and list the ingredients completely and correctly. While legally you could list the ingredients however you want, since soap is exempt, you could get in trouble for deceptive labeling practices if your packaging is confusing. For that reason, if you are going to list your ingredients, you should do it right!
There are 2 ways to list the ingredients in your soap. The first is to list what you put in the soap pot, including the lye. Having Sodium Hydroxide in your ingredient list can be difficult when you are trying to sell your soap to people who don't understand the soapmaking process. As a result, many soapmakers like to avoid putting Sodium Hydroxide on their soap label, which leads to the second method of listing your ingredients. You can put what is in the final soap, which would be glycerin, saponified oils and unsaponified oils with no mention of lye. The problem with this method is that you need to know exactly what order to put the ingredients in and to do that you need to know how much glycerin was produced as compared to the saponified oils. At this time, the only way to accurately do that is to have your soap tested to see what is present in the finished bar for each and every recipe you make.
So what does this mean? I recommend you list your ingredients based on what you put in your soap pot.
On to fun and excitement, the example!
I am going to show how to label the soap I made for the most recent Soap Queen TV episode 'How to Make Funnel Pour Soap'
These are the ingredients for the recipe:
The label according to the 6th edition INCI guidelines would read as:
Olive Oil (Olea Europaea), Water, Coconut Oil (Cocos Nucifera), Palm Oil (Elaeis Guineensis), Sodium Hydroxide, Fragrance, Palm Kernel Flakes (Elaeis Guineensis), Sweet Almond Oil (Prunus Amygdalus Dulcis), Bis(Glycidoxyphenyl)propane/Bisaminomethylnorbornane copolymer, Aluminum Hydroxide, Red no. 28, Red no. 22, Yellow no. 10, Glycerin, Ultramarine Blue, Green 8, Green 5, Yellow 5, Phenoxythanol, Phenoxyethanol, Benzoic Acid, Dehydroacetic Acid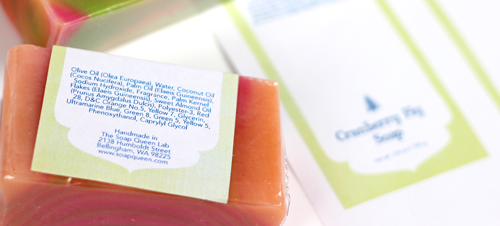 One more treat, we made label templates (that match the lip balm labels – of course) that you can download for your own soap. Find them here.
So go forth and label … properly.
If you're still looking for more resources, check out this great roundup of FDA Cosmetic law links on the Indie Business Network.