With Christmas just a few days away, it's officially "go time." In the next few days, I'll be gathering last minute gifts, writing cards and wrapping everybody's presents. I love wrapping and packaging homemade gifts just about as much as I love making them. Thoughtful and beautiful packaging elevates the entire gift experience. Luckily, wrapping and packaging presents doesn't need to be difficult, expensive or complex to make an impact. Below are some of my favorite packaging ideas to inspire you while you wrap up your gifts!
Soap boxes are one of my favorite ways to package soap. They are easy, sturdy and professional looking. Dressing them up with a little glitter is an easy and inexpensive way to really make them shine. All you need is glitter, glue and painters tape. Learn how to make them in this tutorial! Bail jars are another great way to pack up your handmade beauty products. In particular, I love using bail jars for small bath bombs, scrubs and bath salts. See some ideas on how to dress up your bail jars here.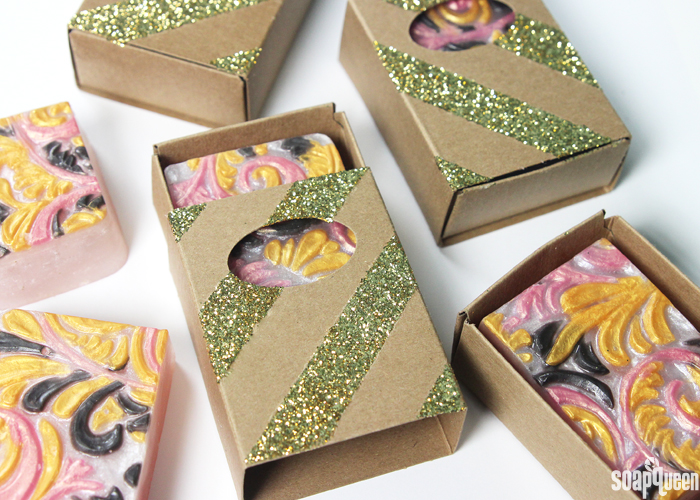 In this blog post, Heather from Pretty Personal shares her creative ideas for wrapping up bars. Heather is a packaging pro and it shows! Her wrapping style is simple and rustic. In particular, I love the idea of wrapping bars of soap in wrapping paper and tying the ends as shown below. They remind me of little candies.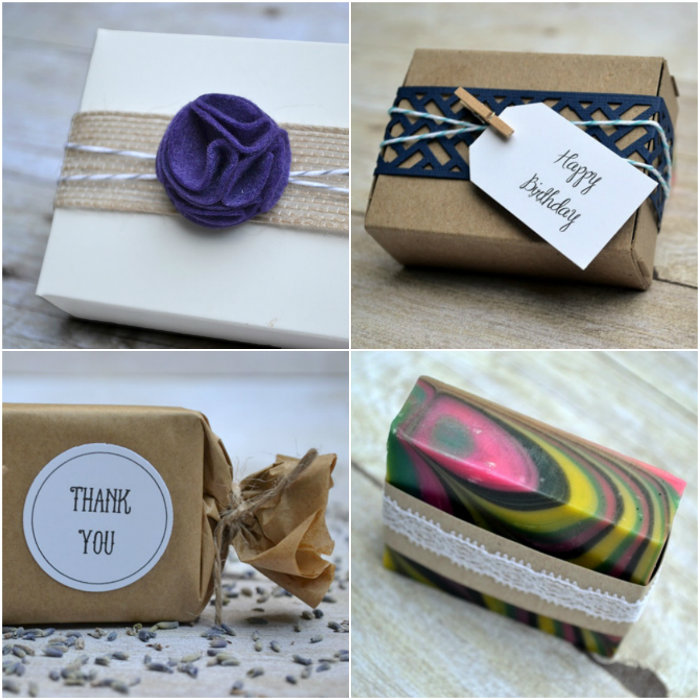 If your present comes in card form, the tutorial for Wax Sealed Valentines would work great for Christmas as well. Simply swap out the stamp with something more holiday inspired, or use the heart stamp to spread the love early this year. If you're sending out Christmas cards to family members, a wax seal really brings the wow factor.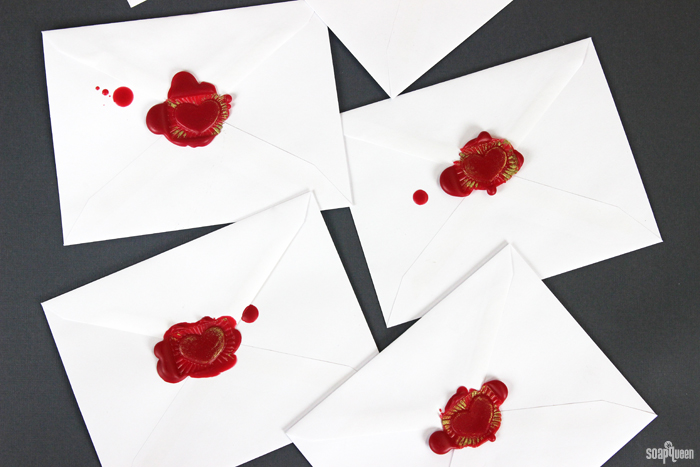 Wax seals would be perfect for holiday cards or gift certificates, click here to learn how to make them.
If your gift has already been wrapped up, a personalized gift tag will set your present apart. I filled muslin herb bags with potpourri and stamped them with my recipient's name. I love the way they turned out, and they smell amazing. See the full tutorial here. This is also a great project to "bulk" up your gift a bit, because one gift instantly turns into two!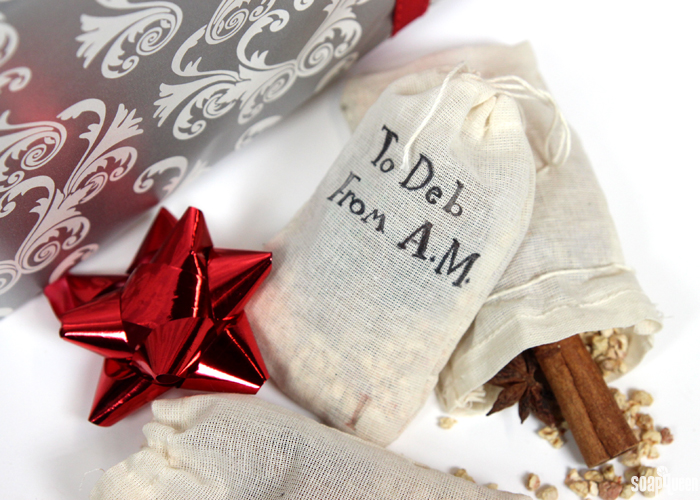 Stamped muslin bags turn into gift tags in the Potpourri Gift Tag DIY Project.
The #SoapShare tag on Instagram is full of gorgeous creations and packaging inspiration. Below are just a few of the amazing packaging ideas that caught my eye! If you upload your soapy photos to Instagram, be sure to tag it with #SoapShare. I would love to see them. =)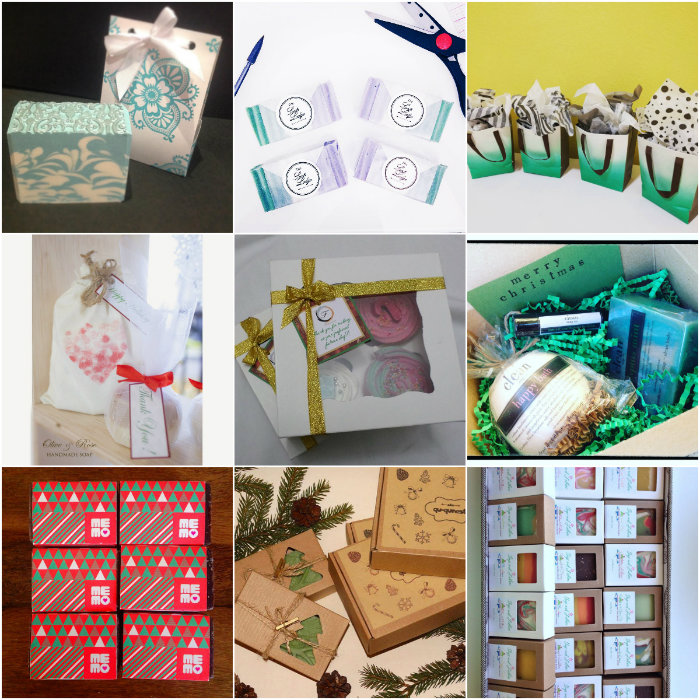 Top row, left to right: Siennalily_soaps, the.soap.lodge, hirunasoaps
Middle row, left to right: olivenrose, ilham_skincare, cleansoapco
Bottom row, left to right: me_mo_body, ququnest, soapsandlathers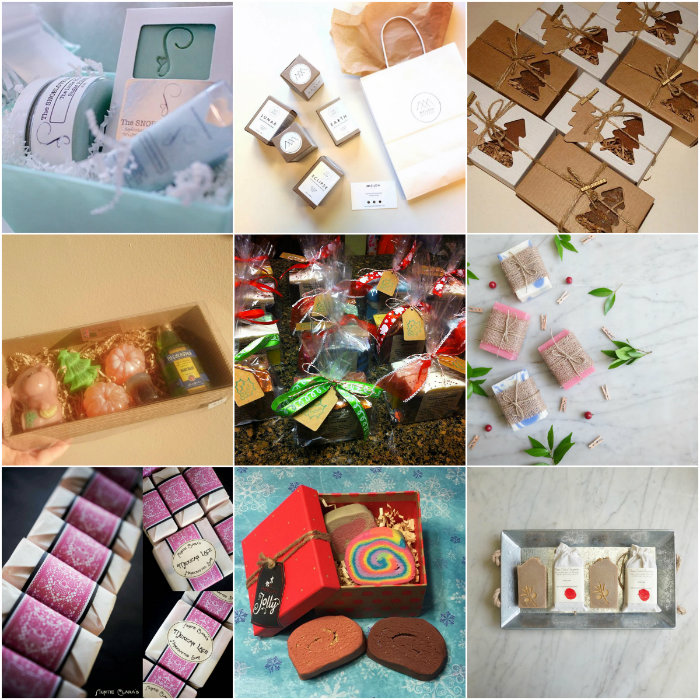 Top row, left to right: thesnoblovebar, mellowbathandbody, ququnest
Middle row, left to right: knopkino_milko_irkutsk, wildgardencreations, sevencactus
Bottom row, left to right: auntieclaras, singlebarrelsoaps, sevencactus
What is your favorite way to wrap up your holiday presents? I would love to see them on our Facebook page!