In 2015, Julie with Soaperie + Co. left her job in finance to spend more time with her kids. She started exploring creative outlets and discovered a love for soapmaking. Now she makes and sells beautiful cold process soap, lotion bars, candles, and more. Learn more about how Julie got started, what inspires her, and her soapmaking tips.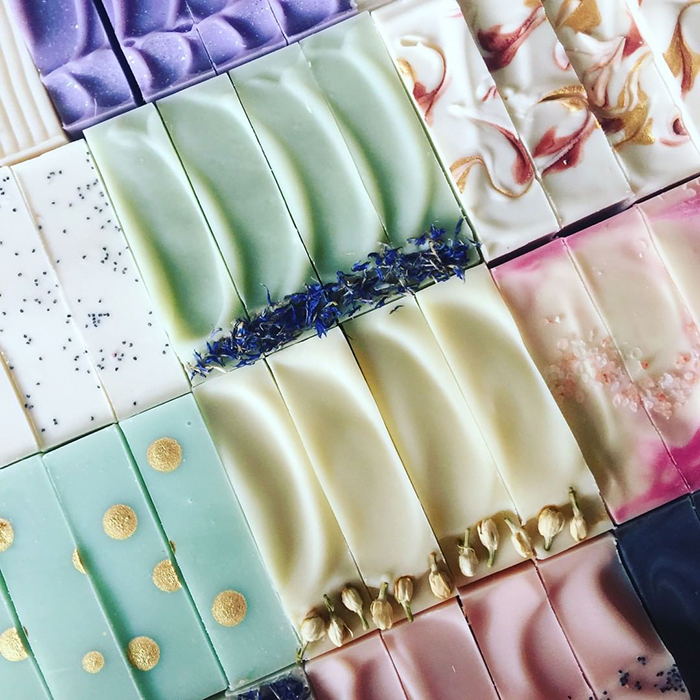 Spring collection
How long have you been making soap and how did you get started?
I've been making soap for almost two years and I've enjoyed every minute of it! The very first soap I made was the Relaxing Lavender soap from Bramble Berry's Natural Soap Kit for Beginners. It was such a great way to start creating handmade soap because the kit comes with everything you need. I remember checking in on the soap as it cured and after a couple of hours, I noticed a crack on the top of the soap. In hindsight, I realized that I was just too impatient and I didn't let my lye water cool enough before I mixed it with the oils, so the soap got way too hot. I've learned a lot since then, but I think that soapmaking experience is still one of the most exciting!
Soaperie + Co. really got started as a second act in life after I'd spent more than 20 years in a more traditional career. In 2015, I left my job in finance to spend more time with my kids and to focus on enjoying a slower pace of life. That first year after I stopped working absolutely flew by because I was busy helping my older son apply for college. Eventually, he left home to start school and that's when I knew I needed something to keep myself occupied. I've always loved fashion and interior design, so it wasn't a surprise that I began to explore my creative side. To me, making artisan soap is the perfect blend of creative and analytical, just like me. I loved it instantly.
What inspires you to create?
Fashion, interior design, cooking, and nature. Right now, I'm watching the latest season of the Great British Baking Show. I'm mesmerized by the unique ingredient combinations that go into the contestants' truly amazing creations. Soapmaking has a lot of similarities to the cooking/baking world and you tend to see a lot of the same trends. I like to use what I've seen for inspiration.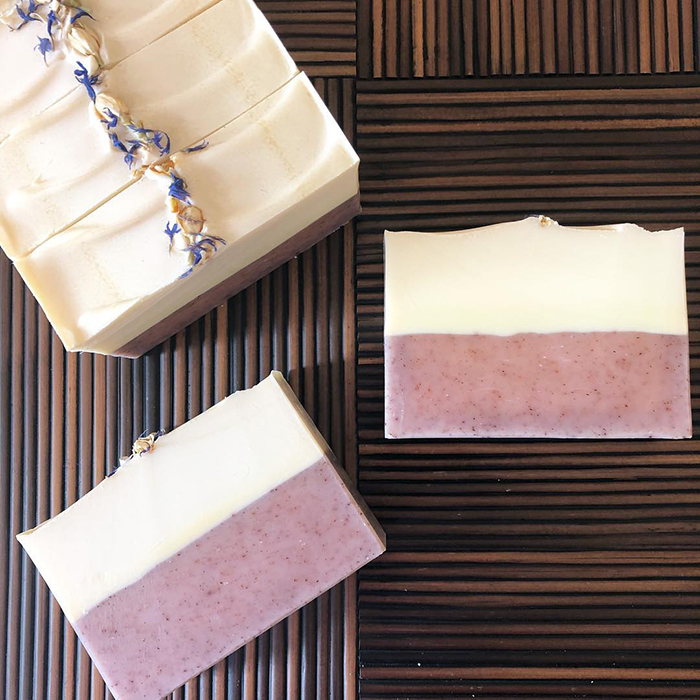 Blueberry Thyme soap
What advice would you give to makers just starting their businesses?
Be patient, take it slowly, and learn everything you possibly can from more experienced soapmakers. I'm not a patient person by nature and I really jumped into this business quickly. There have been times that I've definitely learned "on the job" and that kind of learning can be difficult. I wish I knew early on what I know now. I think if I'd been a little more patient, there would have been fewer growing pains.
One of the biggest mistakes I made was being afraid to say no. Whether it's a wholesale order that just wasn't profitable or a time-consuming project for a friend, it's easy to feel obligated to do something that really isn't a good use of your time. When you have the courage to say no, it's a really powerful thing. It opens you up to have the time to pursue the things that you really want to do.
What is your favorite type of product to make?
Cold process soap. There's something so beautiful about the perceived simplicity, yet it really can keep you on your toes. It's different every time you make it, even when you're remaking something you've made before. The air humidity, the temperature of the ingredients, and the type of fragrance oil – it makes it impossible to control the outcome with exact precision. Learning to deal with unexpected problems is just part of the process!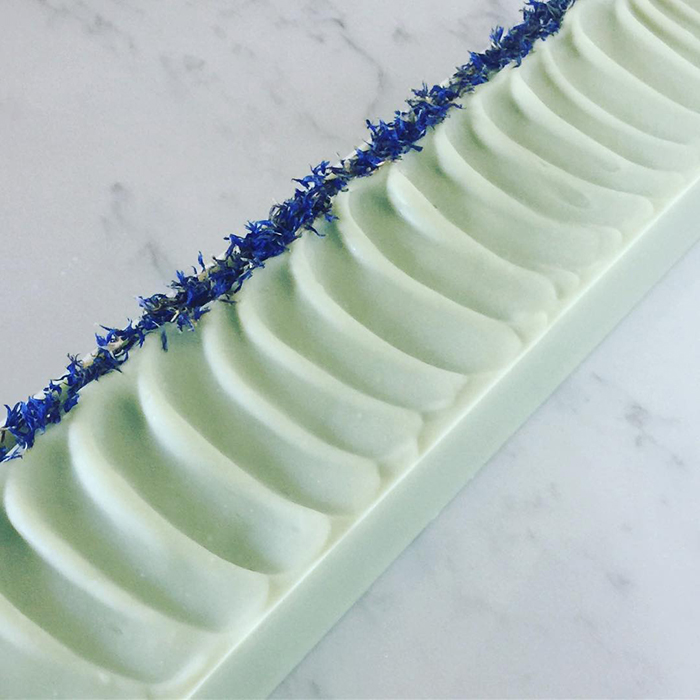 Eucalyptus Mint soap
How did you come up with the name for your business?
Naming your business is so incredibly personal. At the end of the day, I wanted a name that would convey my sense of style…simple, sophisticated, feminine, and professional. I also wanted to make sure it reflected that it's a soap business. Instead of just using the word soapery, I tweaked it a little and made it "Soaperie" to add some flair.
There's a funny story about the name Soaperie + Co. Recently, it dawned on me that people may read it as "Soap Erie," as in soap made in Erie, PA. Someone commented on an Instagram post that they would love to have a bar of my soap because they're from Erie and they're feeling homesick since they moved away. I didn't have the heart to tell them that sadly, there is no connection to Erie. I still love the name of my business, but this was a good reminder about how important it is to really think through your business name before committing.
What is your favorite Bramble Berry product and why?
It's impossible to choose just one. The Copper Sparkle Mica and Gold Sparkle Mica are both so incredibly beautiful, so much fun to use, and really give your soap a glamorous feel. I love to use them as mica lines in between soap layers or mix them with sweet almond oil and create a sparkly design on the top of the finished soap.
There are also so many amazing Bramble Berry fragrance oils. I honestly couldn't live without Cocoa Butter Cashmere, Autumn Fig Harvest, Rose Quartz, and Tobacco and Bay Leaf. If you haven't tried them, you're missing out!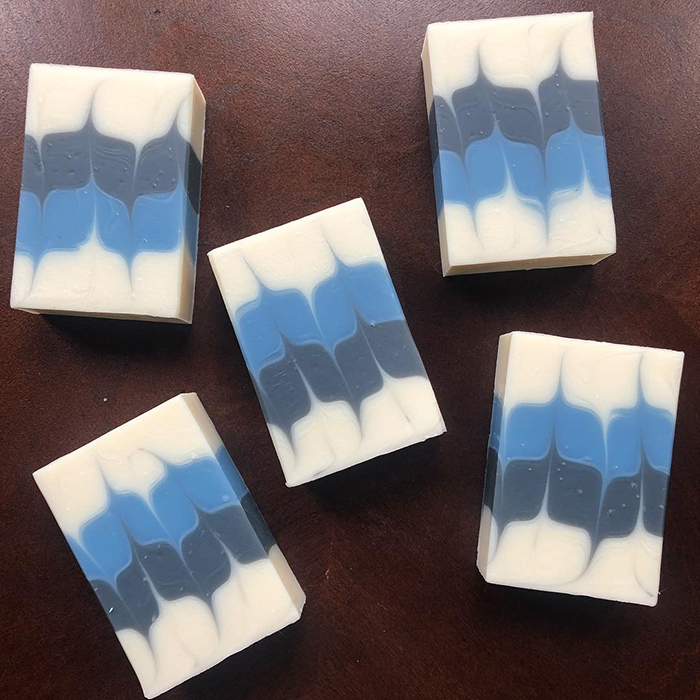 Blackberry Sage soap
Tell us something unusual or unique about yourself!
I'm originally from California and I graduated from UCLA with a BS in Mathematics. I'm also a CPA. It's probably not the typical resume of a soapmaker, but I have found that analytical and problem-solving skills can be very helpful in this business. No matter what your background is, I think you bring your own unique perspective to soapmaking. One of my favorite things to see on Instagram is a photo of a soap that's different than anything I've seen before.
What are some of your other hobbies and interests?
Right now, I'm trying to learn everything I can about photography. When I first started posting photos of my soap on social media, it was a disaster. I even had a professional photographer leave a comment on one of my Instagram posts suggesting I contact her for help. I still have a long way to go, but thankfully my photos have improved since then. Someday, I would love to graduate from my iPhone to a good digital camera.
I also love spending time with my family, playing fantasy football, watching good movies, watching bad reality television, reading, enjoying great food, baking, and traveling.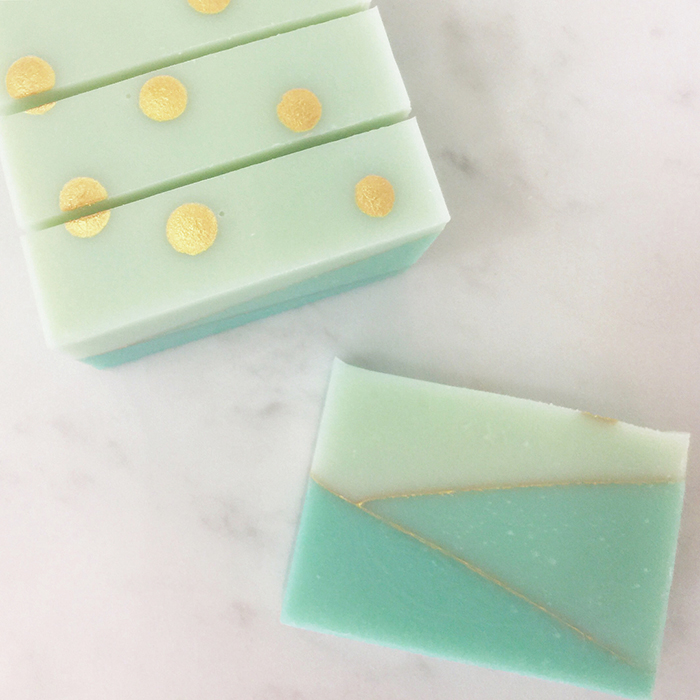 Cucumber Garden soap
Have you ever experienced a soapy fail? How did you work through it, and what did you learn?
Of course, there are so many fails that it's difficult to choose just one. Once, I dropped my soap batter on the floor. I accidentally left my immersion blender sitting in the soap batter. I was using a plastic bucket for the first time (I had been using a glass container) and the blender was just too heavy for the container to support. When I let go, the entire bucket of soap spilled down the front of my cabinets and all over the floor! Luckily, I got it cleaned up quickly and no one was hurt.
If I learned anything from this fail, it's just another reminder that soapmaking can be dangerous and it's so important to be careful. Each time I introduce something new into the process, now I try to think ahead and assess the impact before a mistake happens.
If you were to give one of your products to a stranger, what would you choose and why?
Right now, since it's getting cooler and we all start struggling with dry skin, I would give them a Beeswax + Honey lotion bar. It's made with beeswax, shea butter, and olive oil and it's so incredibly moisturizing (and it smells great, too). They come in a small recyclable container that's easy to throw in your purse and take with you on the go. One of my favorite stories about our lotion bars is from a customer who sells handmade knitted items. She likes to use our lotion bars on her hands before she starts knitting a project and says it makes the yarn smell so good. She's even received feedback about the wonderful fragrance from her customers!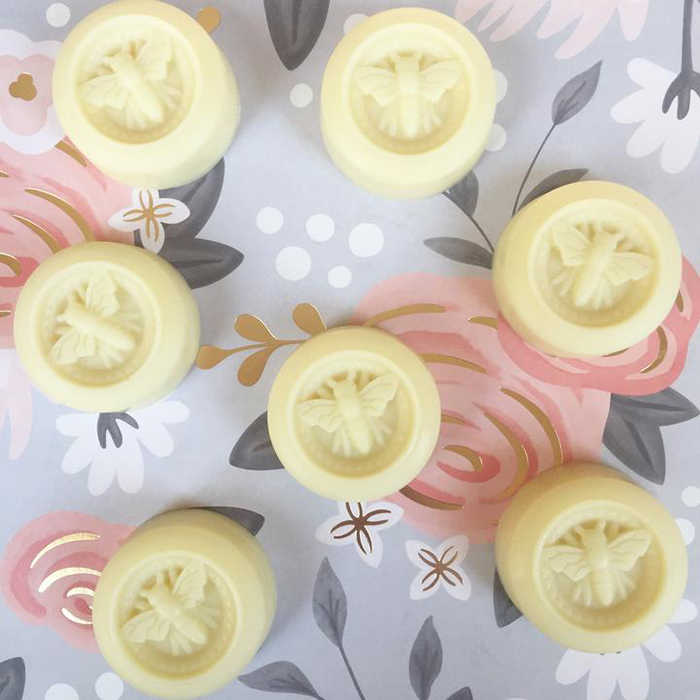 Beeswax + Honey lotion bars
What is your number one soapmaking tip?
Try soaping at room temperature. For the longest time, I wouldn't even consider trying it and I would spend countless hours trying to get my oils and lye water to within 10 degrees of each other. At higher temperatures, this can be time consuming. Soaping at room temperature has worked out well for me because Austin is a pretty hot and humid part of the country, so most of the time all my oils are already liquid at room temperature. In the winter I do have to heat up some of the harder oils. For me, it really simplified my life and I don't spend so much time worrying about timing everything so carefully!
What do you love most about creating bath and body products?
Honestly, I love being a part of the soapmaking community and interacting with amazing customers. I've been so impressed by the incredible amount of support, guidance, and encouragement that I've experienced over the last few years. Artisan soap is a very saturated market, so I'm always pleasantly surprised by how many soapmakers are willing to share their techniques and help one another. I always encourage everyone to buy handmade items. You really help support a community of truly wonderful makers.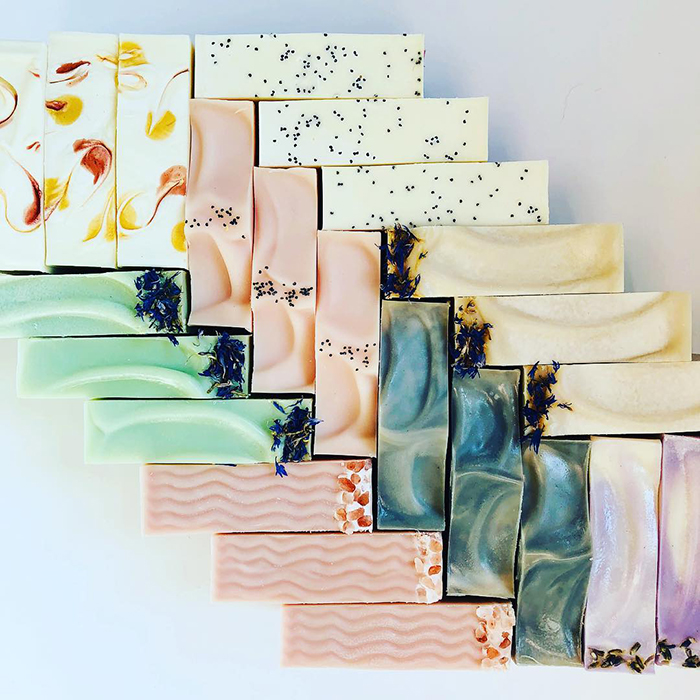 Artisan soaps