When you own a business, it's crucial to stand out from the pack. In order to stand out among other businesses, it's helpful to find or create a niche. The term, "niche," refers to a distinct segment of a market. Having an identifiable element will catch the eyes of customers that identify with the niche, and may motivate them to buy. Developing a niche also gives your products specific appeal and contributes to strong brand identity.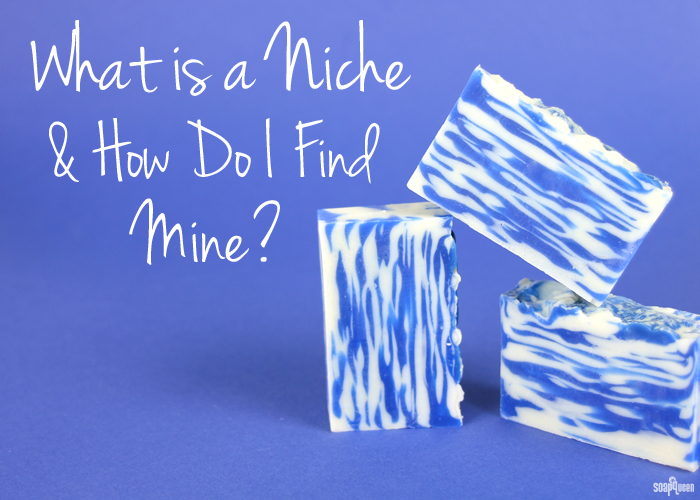 When first starting a business, uncovering your niche can be difficult. Don't overthink it; a niche can be as simple as a signature fragrance, ingredient or product design that will appeal to specific customers. In order to develop a niche, it's important to first consider your strengths and weaknesses in all aspects of your business. Discovering your business strengths and weaknesses is a learning process, and pays dividends beyond finding your niche. Ideally, a niche will build off your strengths.

To help identify business strengths and weaknesses, consider why you have started a business. Honing in on why you do what you do will help uncover factors that make your business unique. For example, maybe you started a business because you feel passionate about offering products made with a specific ingredient. This ingredient could be a way to make your products and business stand above the rest; in other words, you found a niche! Consider these questions:
Why do you feel passionate about your business?
What do you love about running your own business?
What do you love about your products and customers?
Why do you love to make your products?
What is your favorite product to make?
What do you do differently than others in your industry?
Once you have a handle on why you started business and what you love about it, consider what makes your business unique. What do you have to offer that other businesses do not? Maybe you have a knack for clever packaging, or your products have a distinct style. Your soap may be produced with local goat milk, or contain other local ingredients. Maybe what makes your business stand out is your selling personality, and ability to connect with customers. The factors that make your business unique have the potential to become a niche. To help discover what sets you apart from other business, consider these questions:
What part of your craft are you especially good at? (ie: swirling cold process, blending fragrances, formulating lotion, packaging)
What makes your style and voice different from other soapers?
Who is your customer base, and how are they unique?
What do your customers like most about your products and business?
Another strategy to develop a niche is to consider what viewpoint is missing in the market. Identifying a hole in products or services being offered is a great opportunity to offer something new. If you've identified a niche market that needs attention, make sure you feel confident and passionate about it. For example, maybe there is a lack of businesses that make products for men. If you want to make "manly" products your niche, make sure you are passionate and excited about them! After all, if you're not passionate about it, you probably won't work at it much longer than the time it takes to develop your logo. Bottom line, businesses is hard and in order to be successful, you need to feel strongly about your niche. 
Once you have found a niche, it's time to develop it. Several businesses featured on the blog are great examples of soapers who have developed a strong niche. Burly Stone Soap Co. creates products specifically marketed for men. To develop their niche, Burly Stone created distinct "manly" packaging. Their soaps are large, and they also offer other manly products such as beard elixirs and hand balm.
Another great example of a soaper who found a niche is Kirsten from the Silk Soap Company. Kirsten found there were not many companies offering soap containing silk, so she made it her specialty. All of Kirsten's soap have added silk and are made in a mold unique to her. Just one look at her soap, and you know where it comes from.
While Burly Stone's and Silk Soap Comapny's niches are very different, they have a few things in common. Both soapers found a corner of the market they were passionate about, and played to their strengths. In addition, both niches were underrepresented in the market. If you feel that your niche is already represented in the market, brainstorm how you can make it unique again.
Finding a niche takes time and research, so don't be discouraged if it doesn't come to you right away. Some businesses don't fine tune their niche until months (or years!) down the road. If you are a business owner or are thinking about starting a business, I encourage you to strengthen what makes you and your business unique. Doing so will help your business stand out among the rest, which ultimately means more attention from potential customers.
Do you feel your business has a niche? How did you develop your niche? I would love to hear about your experience.