Earlier this week, I attended the NY NOW Gift and Housewares Show in New York. The show is huge – as in, miles and miles of vendors. I walked over 4 miles just inside the showroom floor area. Because of its size, it's held at the Jacob Javits Center. It's a massive building in Manhattan that features beautiful walls of windows. It hosts a wide variety of events throughout the year, such as ComicCon, BroadwayCon and more.
NY NOW is an event where exhibitors create booths to showcase their products to buyers. There were hundreds of booths to see (see the full list here). Some of the booths were small businesses, while others were well established brands such as Jonathan Adler and Kate Spade. I went to the trade show with the mission to spot upcoming trends and gather inspiration. There were tons of amazing bath and beauty companies with incredibly beautiful products. The booths themselves were also pretty amazing – it takes a lot of work and creativity to get everything set up and looking good!
There were so many booths and brands that caught my eye. Nancy of Bayberry Naturals (shown below) started her company when she was pregnant. Like many of us, she looked at the ingredients on her bottles and wanted something simple and less synthetic for her growing family. She is proud of her labeling because it clearly states what it does not have in the formulations (sulfates, parabens, phthalates, etc). Nancy said that she would get tired of buying something that was supposedly healthy, and then finding one or two ingredients that didn't meet her stamp of approval.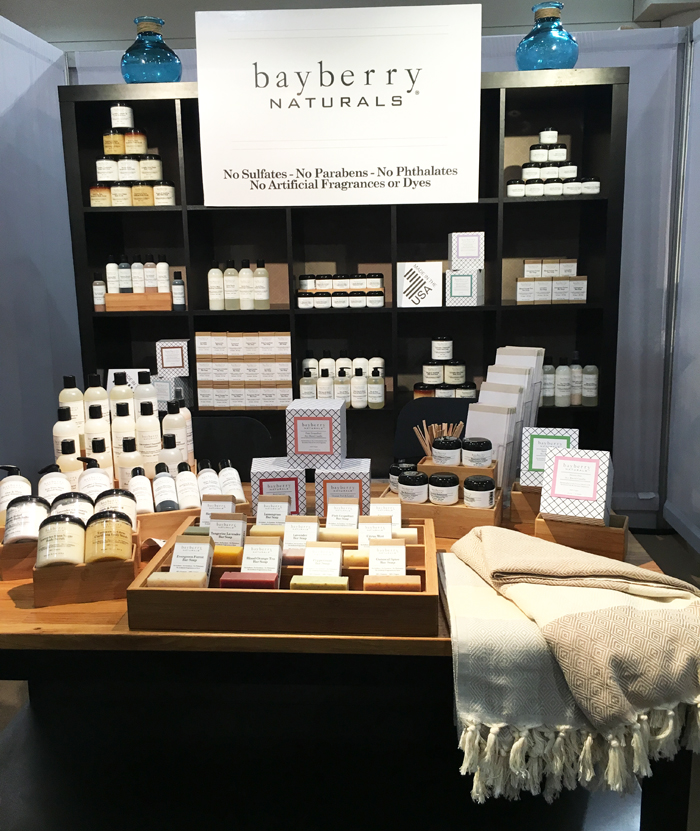 Bayberry Naturals was created out of the need for simple and natural bath and beauty products. 
Blithe and Bonny was one of my favorite bath and body booths – and not just because David (shown below) was so down to earth, friendly and kind. I loved the story behind their name (inspired by a song in Shakespeare's "Much Ado About Nothing"). I found that their commitment to quality was reflected beautifully in their packaging, their formulations and their product line. He also was so smart when it came to packing the booth – see that crate he's leaning on? Everything that goes into their booth can fit into that crate for easy packing, set up and take down. Genius!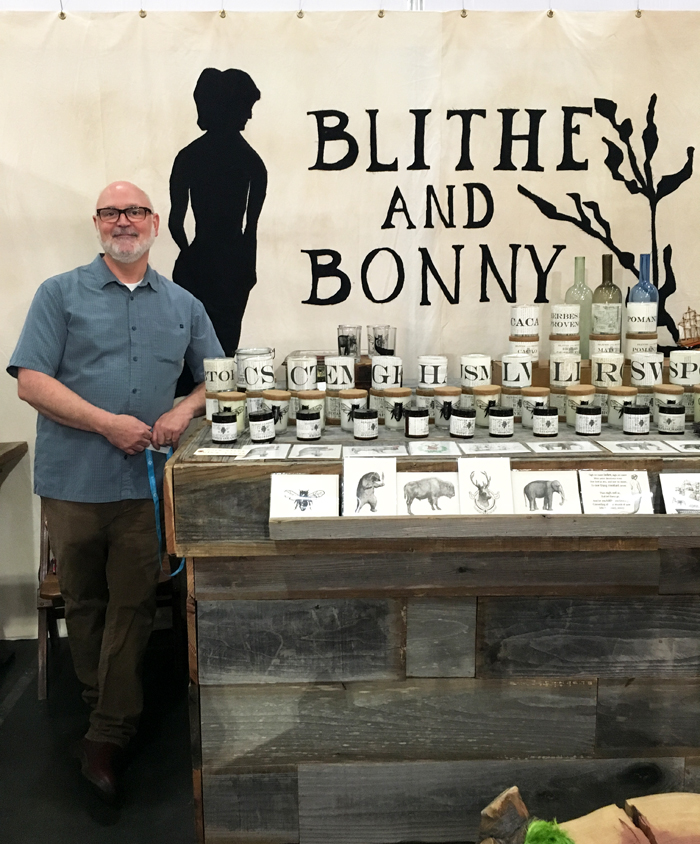 David of Blithe and Bonny showcases his gorgeous bath and beauty products. 
In addition to meeting business owners from around the country, I was happy to meet one of my favorite Seattle entrepreneurs, Moorea Seal (shown below). I got the chance to talk about her bold moves to get where she is in her business and her upcoming book, 52 Lists for Happiness (preorder it here!). I also caught up with Bellingham-based Flying Bird Botanicals (get some of their tea and thank me later) and Bellingham-based Bison Press (letterpress design company extraordinaire).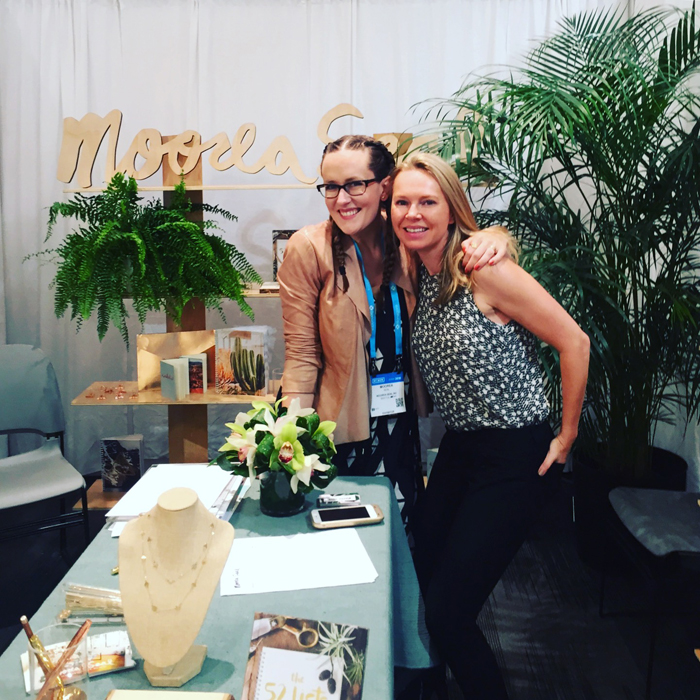 I love meeting other local entrepreneurs, so I was thrilled to meet Moorea Seal, who is based in Seattle. 
Now, on to the trends! The big trends I saw this year were:
1) Metallic and Sacred Geometry: There were so many gorgeous examples of gold, bronze, silver and metallic in every single category – stationary, mugs, housewares, glassware, sheets, pillows, rugs, throws, scarves, jewelry. There was also a significant nod to geometric and symmetrical design. This was everywhere – on notebooks, socks, necklaces, USB drives, lights and office supplies. If you'd like to apply this trend to your bath and body products, think micas (like King's Gold Mica and Pewter Silver Mica) dusted on top of soap or veins inside your soap. Or, on your packaging: a pop of metallic here and there, or metallic washi tape. Or, the metallic trend could apply to your fragrance choice. What does gold smell like to you? To me, a "gold" scent brings to mind Amber Fragrance Oil.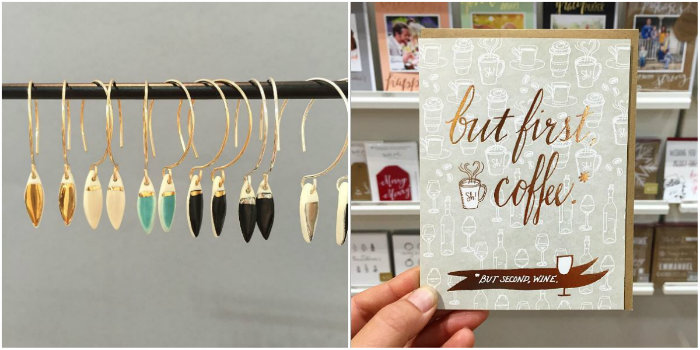 Left to right: Gorgeous gold jewelry (photo via zoecomings), card with gold foil lettering (photo via wildinkpress)
2) Neutrals and Texture: I'm not sure if it's the chaos in the world that has driven this trend, but there were neutrals everywhere. Shades such as camel, taupe, gray, white, cream, ivory and blush dominated. In addition, there was gorgeous and sumptuous knitwear patterning everywhere (think Scandinavian sweaters and Mexican blankets). It was on letterpress cards, notebook covers, scarves, bedding, baby clothes, mugs and more. You can utilize the neutral trend in your bath and body products with color choices such activated charcoal and clays. If you jump on this trend soon enough, it lends itself well to simple (read: inexpensive) neutral packaging for your products.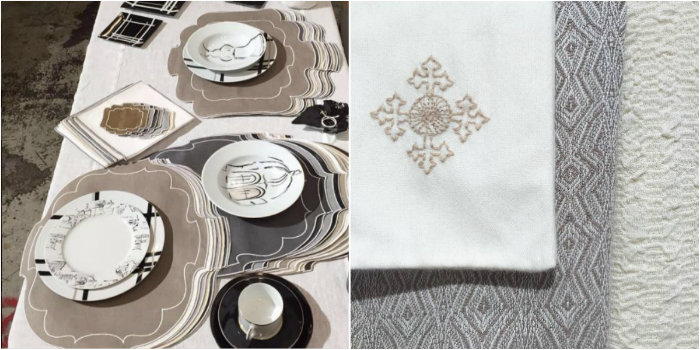 Left to right: Lovely place setting (photo via lagallinamatta), embroidered alpaca star (photo via sefteliving)
3) Cutesy & Rainbow: While half of the show was embracing the calm in the midst of the storm, the other half was riding the wave in bright colors, patterning and rainbows. If it wasn't adorable unicorns, it was rainbow walls of candles, crayons, adult coloring books, notebooks and more. There were also so many standout patterns done tastefully in tapestries, candle tins, bags, elaborate necklaces and jewelry. The way to embrace this trend as a bath and body manufacturer is with packaging and product designs in bright fun colors (might I suggest a Rainbow Sampler Pack?). Bright and happy fragrances (think Yuzu Fragrance Oil, Energy Fragrance Oil and Hello Sweet Thang Fragrance Oil) are another great way to jump on the trend.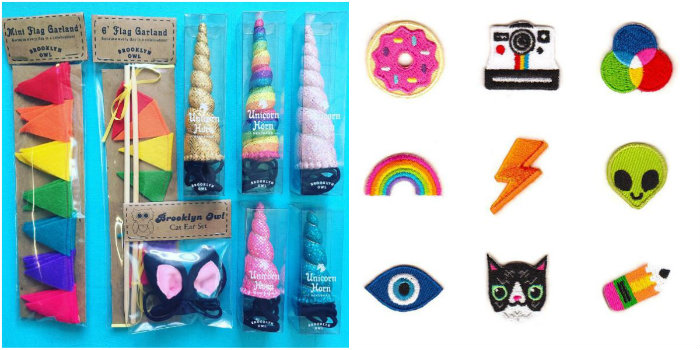 Left to right: Adorable unicorn headbands and more (photo via brooklynowl), fun sticker patches (photo via thesearethings)
While in NYC, I didn't skimp on my responsibilities to have the best time ever. I had champagne at The Plaza, brunch at Tavern on the Green and dinner at the vaunted Tao. I fit a lot in! I was so exhausted when I got home. I averaged between 6 and 8 miles a day of walking (the city is big and the taxis are expensive y'all) and not a lot of sleeping. I'm so thankful for my team for holding it all down while I was gone. They've got some rockin' ideas for our upcoming Soap Queen TV shoot and this week was all prep and testing. I can hardly wait to show you what we have in store.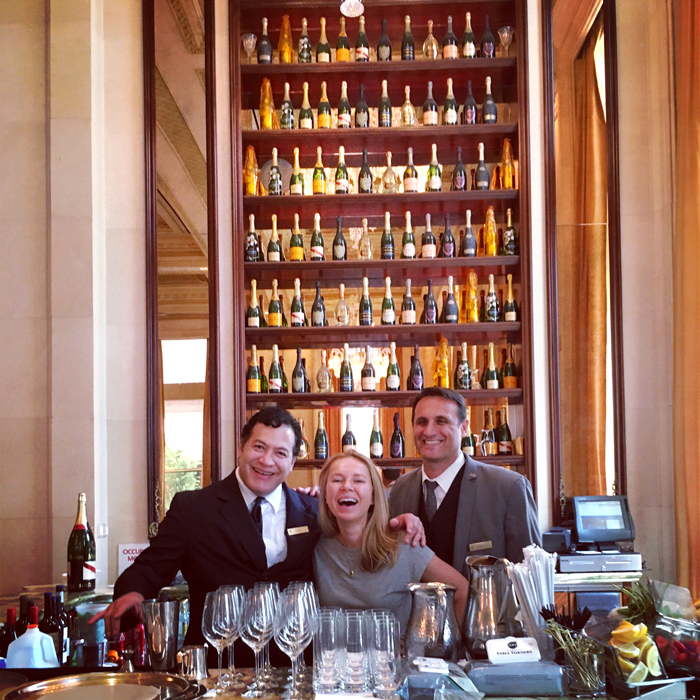 I had so much fun at the trade show, and hope I can go again (maybe next year!) What do you think of these trends? Do you follow trends when it comes to your projects, or do you prefer to just make what you like? I try to have a balance of both. =)