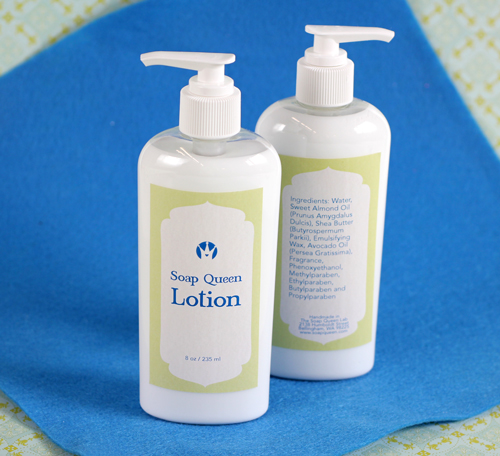 Here we are on the final installment of our labeling series. I hope you've found these helpful, easy to understand and a good starting point for entering into the world of producing retail-ready products. I've already shown you how to label a lip balm and cold process soap.
In this post, I want to talk about how you would label a handmade lotion and some particular things to look out for in regards to labeling lotion.
First thing to know – and this may seem obvious – is that the most dominant part of the label should be what the product is. This should be on the front of the product. So 'Soap Queen Lotion' should be written with the largest size font. Also, be sure that it is clear what the product is. For instance, if you want to call your lotion 'cream' or 'body butter' that is acceptable, but something confusing like 'Soap Queen Gunkity Gunk' would not be acceptable.
The ingredients should be listed in the order used, which I explain in more detail in the lip balm labeling post.
The quantity of lotion is different from soap and lip balm since it is a liquid (or at least not solid) so the amount needs to be listed as fluid ounces and milliliters which are volume measurements and not weight. Which also means you DO NOT write Net Weight in front of the measurement.
An example would be 6 fl. oz / 180 ml
A word about warning labels.
Many believe that since mold and bacteria can grow in a lotion that is incorrectly made that lotion must be labeled with a warning label. In my research of the laws as they are currently written, this is not correct.
Sec. 740.1 Establishment of warning statements.

(a) The label of a cosmetic product shall bear a warning statement whenever necessary or appropriate to prevent a health hazard that may be associated with the product.
The safety of lotion, when correctly made, has been established; therefore, a warning label is not required by law.
And on to the example!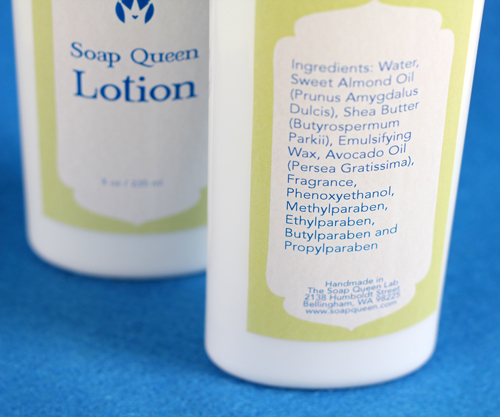 For this example I am going to use the lotion recipe I posted way back in 2008, check out the original post here.
The ingredients as listed on the blog post are:
18 oz. Distilled Water
1.2 oz. Shea Butter
1.7 oz. Sweet Almond Oil
1 oz. Avocado Oil
1.2 oz. Emulsifying Wax
1 oz. Stearic Acid
.2 oz. Phenonip
.1 oz. Fragrance
And so, my ingredient list would look like this:
Ingredients: Water, Sweet Almond Oil (Prunus Amygdalus Dulcis), Shea Butter (Butyrospermum Parkii), Emulsifying Wax NF, Stearic Acid, Avocado Oil (Persea Gratissima), Fragrance, Phenoxyethanol, Methylparaben, Ethylparaben, Butylparaben, Propylparaben
Notice the Emulsifying Wax? I use Polawax which, like fragrance oil, is protected by trade secret laws and so the official INCI is Emulsifying wax.
And once again, if you like the labels I've used in my example, they are available as a free download from Bramble Berry. Now you'll have a matching set!
If you're still looking for more resouces, check out this great roundup of FDA Cosmetic law links on the Indie Business Network.