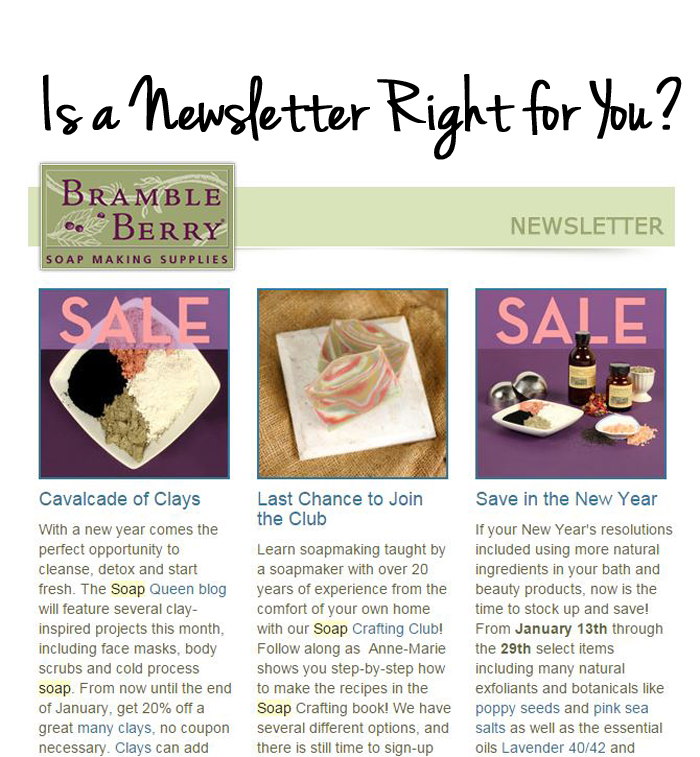 In a marketing world highly influenced by new and emerging social media, a newsletter may seem like an old-school advertising method. The view of newsletter as old-fashioned is not unsubstantiated; newsletters are considered by some as the oldest news media, with ties going all the way back to the Roman Empire! With the help of technology and the internet, newsletters continue to be an extremely effective way to communicate information. And while newsletters often get overlooked in the age of social media, their strengths are not to be excluded. As I've said before in the blog post, Why a Newsletter is a Must, a newsletter is one of the few marketing bodies of work that you actually own.

When marketing content is posted on social media, whether it be a status update on Facebook, or a photo of Instagram, we often consider this content to be ours. Facebook or Instagram could shut down tomorrow, or they could change their Terms of Service and all your content could be gone (or stuck behind a paywall). Therefore, a newsletter is a solid way to diversify your marketing strategy. Okay, okay…there is my argument on why newsletters are important. But…is a newsletter right for your business? I  believe that a quality newsletter is an important marketing tool, but it is not for everybody. Consider these questions:
Do I have regular (at least once a month) valuable content to communicate with my customers? This could be new product, a sale, a market you will be participating in, or even a sneak peak into your production.
Do I have quality photos to include in my newsletter? Images should be eye-catching and purposeful.
Do I have the time to send a 'meaty' newsletter on a consistent basis? Newsletters that are only used to push sales can be counterproductive. 
Will my newsletter serve a purpose? A purpose of a newsletter could be hosting a contest, introducing new products, informing your customers, supporting an affiliate or cause you believe in, etc.
Do my customers/readers want a newsletter? Will they open it or just push it to spam?
While there are many factors that contribute to an effective newsletter, three stand above the rest; your newsletter needs to be consistent and contain useful, purposeful information with quality images. Think of the newsletters you receive in your inbox or actual mailbox. These newsletters might come from a business, an organization, or a club. Most likely, there is a pattern in terms of how often you receive them. There is also a purpose to the newsletter, (ie: sales, event notifications, contests, new products, strengthen relationships with customers) with supporting useful information. This purpose is most likely sustained by at least one quality image that grabs your attention, or strengthens the newsletters intent. It's also important to consider if your customers want a newsletter; your customers should always have the option to sign up, or opt out for a newsletter. That's actually the law!
If you've decided to develop a newsletter for your business, the first step is to choose a newsletter service and get comfortable with it. Popular newsletter services include MailChimp, EmailBrain, StreamSend, and Mad Mimi just to name a few. When deciding on a newsletter service, there are a few factors to consider:

Does the service allow you to import emails from a list, rather than manually adding them yourself? This feature will save you time. 
Can you send a test email? Before sending out your newsletter, test it by emailing it to yourself. Check for any errors and make sure it looks great on various browsers and devices. It also helps to share this test with at least one other person to get a new set of eyes.
What type of formatting options does the service offer? If you are familiar with HTML, you may prefer to create an original email. If you're interested in learning HTML, there are plenty of great resources out there! If not, look for a service that offers templates and basic formatting options.
How easily can you add images and hyperlinks to your newsletter? These features are a must if you're selling online, sharing information to reference or trying to get someone to act.
Does the service offer A/B testing? A/B testing allows two types of campaigns, so you can see which one is more successful. This feature is useful; it gives insight into your audience and allows you to fine-tune future marketing efforts.
How is the service's support feature? If you have never created a newsletter before, you will most likely have questions.
Does the service your email to make sure it gets through spam filters? Words like, "sale!" and "free!" can send your email into a spam folder. Excessive exclamation points can do this as well.
Finding the right newsletter service for you can be tricky, so don't be afraid of trial and error. I have used several different services over the years until I found the one that works for my company. Yes, newsletters are a lot of work. When you're first starting your business, they may seem like a waste of time. Do not count them out! Take the time to explore your newsletter options, and remember the more newsletters you create, the easier the process becomes.
Thinking of giving newsletters a try? Keep your eyes on the blog this week for tips on how to create a better newsletter. You can sign up for Bramble Berry's newsletter here.