By now the holiday craft season is in full swing, and you may be experiencing a bit of "seller's fatigue" – it can be exhausting remembering to pack all your supplies, set up and take down your display, and be on the ball and ready to go week after week. Bronwyn Bacon, a soapy enthusiast who has worked in customer service and business management for more than a decade, has amassed a wealth of tips and advice for being successful at craft fairs and markets. Read on to learn how to sell for success! — A-M
Before You Go
If you're still new to fairs, I strongly encourage you to set up your booth at home (or in your backyard) from top to bottom. Don't guesstimate on how much time you'll need; by setting it up for real, you'll know exactly. Just to be super prepared, add a half hour for "issues" that always seem to crop up. Once you have as much of your booth set up as you can and it's arranged to your liking, take photos so you have a reference to easily recreate your setup.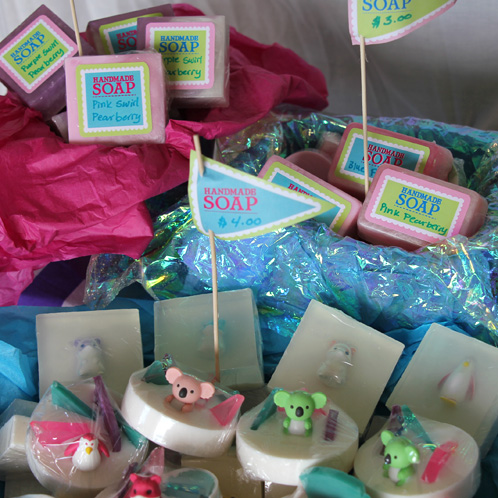 Expect the unexpected when taking your products on the road. Time yourself so you know exactly how long it takes you to set up and tear down your displays.
Another awesome tip I got from a fellow vendor was to purchase an inexpensive laminator from Costco (mine is Purple Cows brand) and print off an inventory of everything you need. Laminate this inventory and check it off when you load your vehicle. That way you minimize your chances of forgetting something important!
I also utilize a "goodie bag." My goodie bag contains: an extra phone charger, an extension cord, an extra receipt book, a box of pens & business cards, zip ties, tape, scissors, a trash bag and some personal items such as snacks and ibuprofen. It slides under my car seat and just stays there, and I can't tell you how many times it's saved me!
Checking out the Competition and Beyond
Ask someone you trust to come with you so you can take a break. There are a few reasons for this. There is nothing worse than facing a wall of customers when nature calls. If you really need to use the restroom or you're starving, how good of a salesman will you be? Do yourself a favor and have a back-up (or two!) who can give you a much needed break. You also need time to check out other booths. It's hard to get new ideas if you can't leave your tent!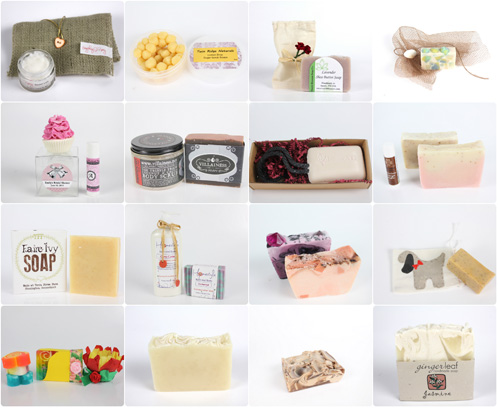 Beautiful packaging and presentation can make or break a sale. All of these products are excellent examples of beautiful packaging and design. They were part of the Fair Ivy Contest we held in April.
While you're walking through market, don't just check out other soap makers. Spend a few minutes scoping out the other booths with a pen and mini notebook handy. No matter what someone is selling, keep an eye out for innovative booth & table designs. If they have great quality printed materials, ask who does their work for them. No matter how new or experienced you are, there is always something more you can learn.
Dress for Success… literally!
Those who wear a pocket apron know how awesome they are at craft fairs. If you're sitting behind your booth, guarding your cash box, you're not free to walk around and greet guests, hand out samples and flyers, and just generally be noticed! Purchase or sew an apron with multiple pockets at a comfortable height and use one for a receipt book, calculator, and pens, one for small change such as fives and ones, and the last for larger bills. This frees you up to stand in front of your booth rather than being trapped behind it, making sales left and right as people pass. Getting it embroidered with your company logo can be an inexpensive way to add a professional look to your outfit.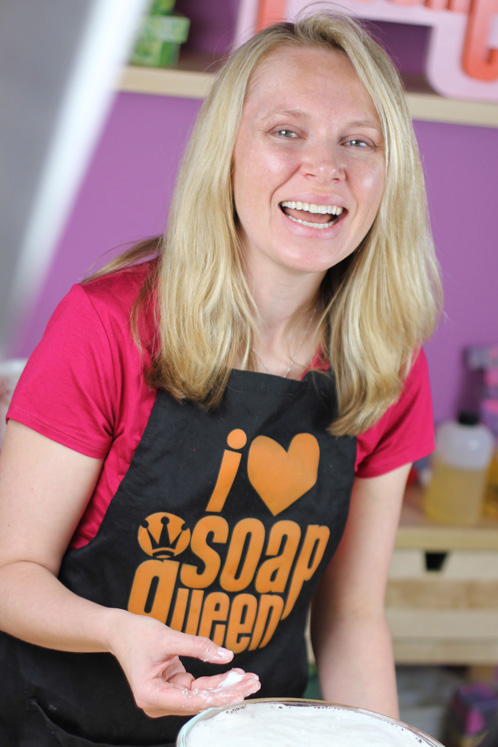 My super cute, super handy Soap Queen apron!
Speaking of outfits, consider how your appearance affects sales. If you're selling a high-end spa-type line, it would benefit you enormously to dress well to reflect your brand's mission. Otherwise, settle for clean clothes in good condition (no ratty jeans), and make sure your personal cleanliness reflects your soap.  Not sure? Look in the mirror – would you be comfortable going to a casual dinner out in your outfit? If the answer is no, rethink how you can make your clothes work for you and your business.
Cash Money (and More!)
Take a Square reader, or something similar, with you. Also known as SquareUp, it's a little attachment for iPhones and Android phones that allows you to take credit cards on the spot and track your sales right on your phone. Many consumers only carry cards now, and only accepting cash limits your customer base.  Square offers two pricing schemes — you can either pay a flat rate per month to use the service or pay per swipe.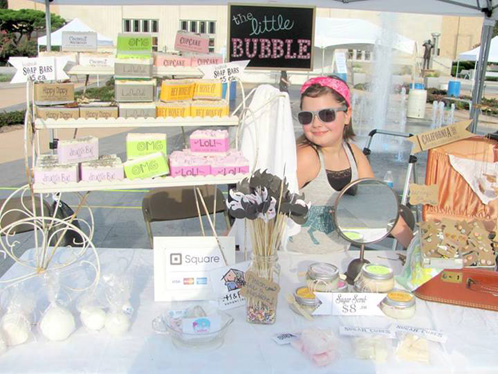 If you look closely, you can see the little sign advertising Square on Bella's table. We liked her set up so much that we chose her as our Facebook Photo of the Week winner back in September.
Customer Service is Key
After a decade in customer service, I can tell you that nothing will help your business more than having a positive attitude. No matter what personal or professional issues you may be having, you have to leave them at the door when you are selling to people. That means keeping complaints about everything from your ex to the weather to your health and especially your sales to yourself.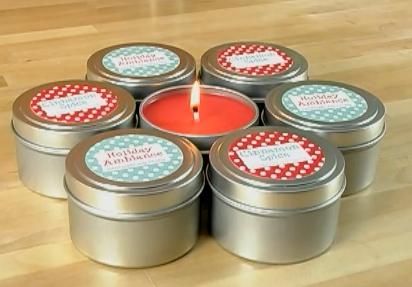 Engage the customer by asking open-ended questions. For example, instead of 'Do you like candles?' ask, 'What are your favorite candle scents to burn?'
Selling to their Needs
To sell effectively, you need to know about your customers before they know about you. So rather than bombarding them with facts (even if you're proud to be vegan, palm-free, all-natural, or what have you), ask them what issues they might have that your products can address. Use open-ended questions that can't be answered with yes or no, such as "What kinds of products do you use now? What do you like about them?" versus "Do you like scrubs?" It goes without saying, but listen to their answer before responding.
I hope some of these tips will help my fellow soapers succeed on the craft scene this year – I would love to hear your tips and tricks in the comments below!