I hope you are all having a great Labor Day weekend! Mine has been filled with sunshine and gardening. With summer ending, I'm trying my best to harvest summer crops and get ready for fall. Luckily, the warm weather lasts into September here in the Pacific Northwest, so there is still time to enjoy the sun before the fall chill sets in. I do need to pull most of my kale because it got powdery mildew (yes, I dried water + milk 1:9 ratio and some other things I've read online to try), so I'll be replanting kale this weekend too. Speaking of fall, be sure to sign up for our Newsletter to be in the know about upcoming promotions and exclusive projects. We have some really fun and festive holiday and fall ideas, and can't wait to share them with you. In the meantime, here are my favorite pins, tweets and instagrams from the past few weeks! Pins: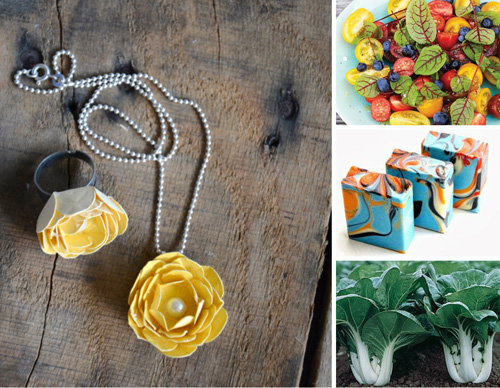 Left to right, clockwise:
Instagram: With fall on it's way and Pumpkin Spice Lattes officially hitting stores on September 2nd, we have been busy creating pumpkin inspired projects =) Be on the look out for them next week!
Creating a textured soap top is easy; simply use a spoon to make peaks! Covering it with Sparkle Gold Mica doesn't hurt either =)
Tweets:
Have a great rest of your holiday weekend! To keep up with the latest soapy social media throughout the week, you can follow me on Twitter, Tumblr, Instagram, Pinterest, Vine and YouTube.