This free flowing, lava like design inspired the name for this project. Magma Soap is an intricate project with so many possibilities. I've combined melt and pour soap with cold process soap to create a uniquely fascinating bar.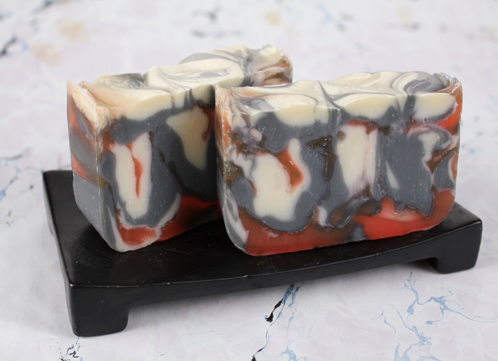 Cold Process Advice: If you have never made cold process soap before, I strongly suggest getting a couple of basic recipes under your belt before diving in, as this is an advanced technique that requires you to be organized and move quickly. Check out Soap Queen TV on Cold Process if you want to get started with CP. It's a 4 part series that will take you through the basics (and be sure to watch the episode on Lye Safety). Bramble Berry also has some helpful reading tools for you bookworms out there. Are you ready to take on this advanced recipe? Then let's jump in!
Ingredients
3.1 oz. Castor Oil
17.9 oz. Coconut Oil
21.2 oz. Olive Oil
10.6 oz. Palm Oil
16 oz Clear Melt and Pour
7.7 oz. Lye
17.4 oz. Distilled Water
.5 oz. Moroccan Mint Fragrance Oil, 1 oz. Spearmint Essential Oil, 3 oz. Energy Fragrance Oil (blend oils together)
Buy everything for this project in the click of a button!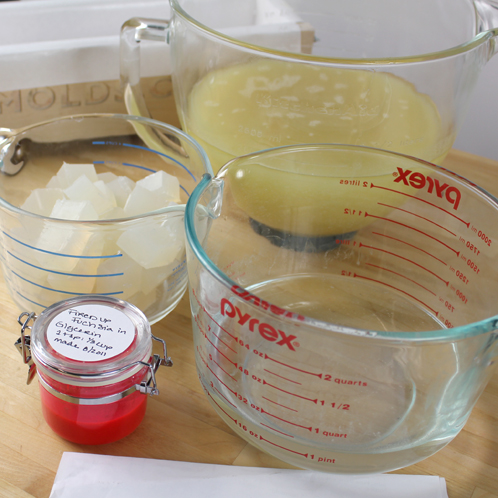 Mold Prep: Line your 5 pound Wood Log Mold with freezer paper (shiny side up).
Suit Up: Put on your gloves, goggles and long sleeve shirt!
ONE: Carefully combine your water and lye and mix well. Always remember to add the lye to the water and not the other way around. Stir until mixture becomes clear and make sure you are in a well ventilated area. Set the lye water aside to cool.
TWO: Melt 16 ounces of clear melt and pour soap in the microwave on 30 second bursts until fully melted. Then mix in your Bubble Gum colorant and fragrance oil. We dispersed Bubble Gum colorant in glycerin first (1 Teaspoon of colorant to 1/3 cup of glycerin). Add 2 Teaspoons of the colorant mixture and 1/2 oz of your fragrance oil blend. Give it a good mix and let it cool down to 135-140 degrees.
TIP: You may want to cover the melt and pour soap with plastic wrap so it stays warm and doesn't form a skin on top. This totally depends on the temperature of the soap when it comes out of the microwave- you can make a game time decision.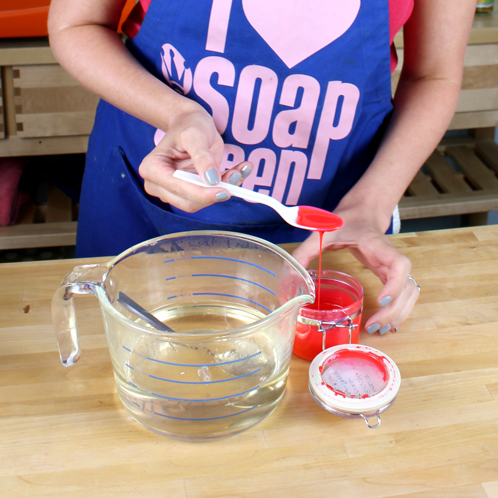 THREE: Melt and combine the Palm Oil, Coconut Oil, Olive Oil and Castor Oil. Give the oils a quick pulse with the stick blender to mix.
FOUR: Slowly add the lye water to your oil mixture. Blend with a stick blender until you reach a light trace.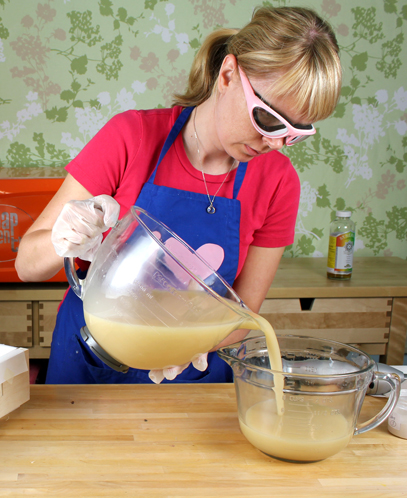 FIVE: Separate the batch into two equal parts. If you know me you'll know that I eyeballed the measurement. Feel free to measure exactly if inclined.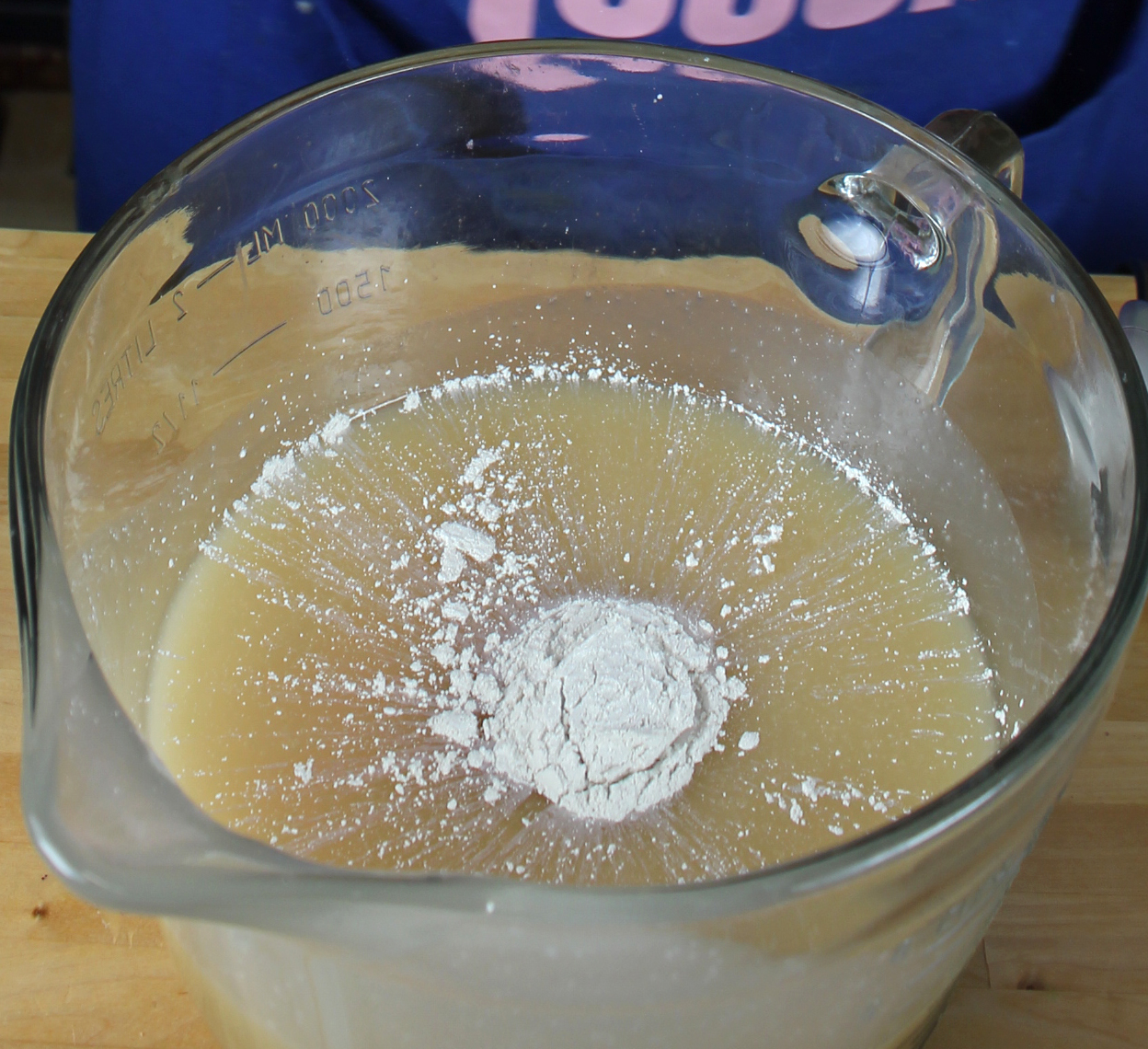 SIX: Add 1/2 Tablespoon of the Super Pearly White Mica to the first half of the soap batter. Mix with your stick blender until full incorporated.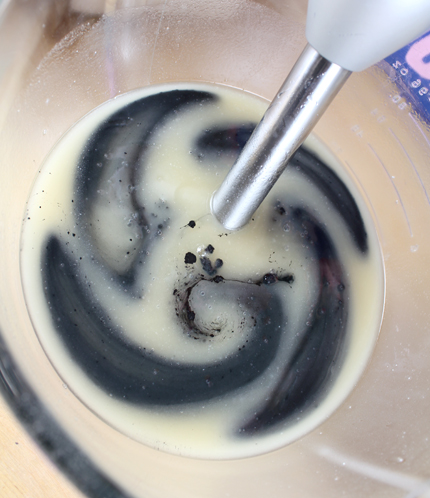 SEVEN: Add a heaping 1/4 Teaspoon of Activated Charcoal to the other half  of the soap batter. Mix with a stick blender until the charcoal is fully incorporated. Because I mixed the light colorant first you won't need to wash your stick blender. This is such a handy trick that I use all the time. Get me out of doing dishes and I'm in!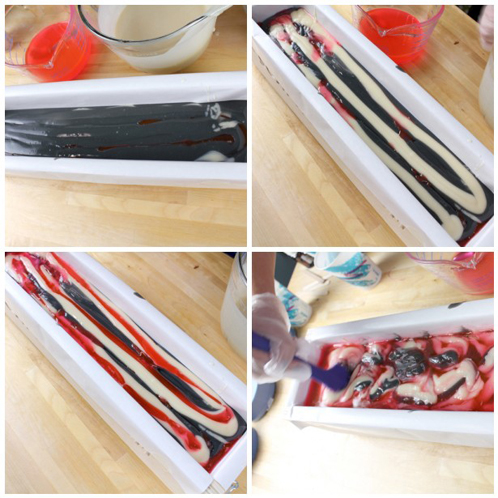 EIGHT: And now for something completely different (excuse my Monty Python quote). It's time to swirl our melt and pour soap in with the cold process using a basic linear swirl technique. Pour your black soap in to the mold in a zig zag motion (up the mold, down the mold and up again). Followed by the pink melt and pour (you can barely see it in the first picture, a lot of it went to the bottom). Next up is the white soap in the same zig zag pattern. Repeat this pattern until you have about about an inch left in the top of the mold. Work as fast as you can!
Note: You'll have a little bit of CP soap left over so have an extra mold ready. I made a little extra to give myself some leeway for the project. It never hurts to have extra but you never want to run out.
NINE: Use a spatula to swirl the soap back and forth in the mold. The texture is very bizarre because the melt and pour soap is cooling faster than the cold process soap. So it is important to work as quickly as you can so you can still swirl the batch.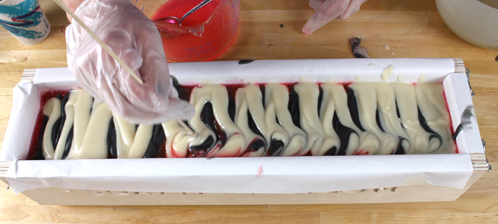 TEN: Once you've swirled the entire soap loaf it's time to make the top look beautiful. Pour the black soap in the opposite direction that you did earlier (so you're going to go back and forth 13 or 14 times the width of the mold. Repeat with the white soap on top of the black soap. Run your skewer through the top of the soap the long way to create a swirled look on the top.
TIP: Put the soap in the fridge right away so it doesn't go through gel phase. You don't want the hot soap batter to melt the melt and pour and ruin our beautiful swirls.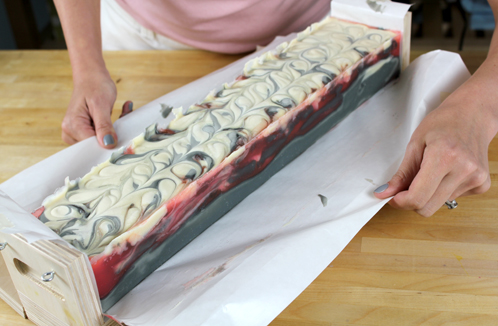 ELEVEN: Unmold after 24 hours, cut the soap and get it on the curing rack to get some oxygen flowing.