Several months ago, I received a magazine along with a kind note from Kristen Koscielniak of The Silk Soap Company. Kristen and her soapy business had landed the cover of Delray Beach Magazine, and Kristen reached out to share her exciting news.
After a wide range of store-bought products left her skin feeling dry and irritated, Kristen began making her own melt and pour soap with added silk and hasn't stopped! Read on to learn more about Kristen, her experience with branding and what inspires her to create. -A.M.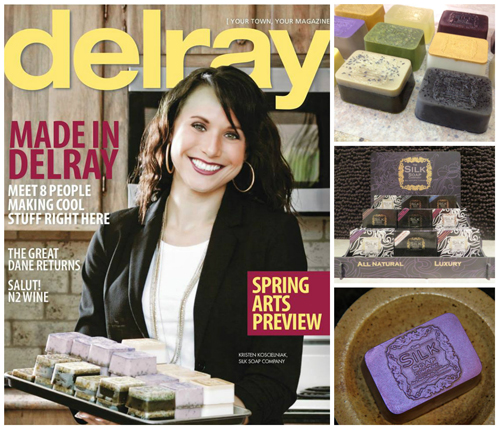 How long have you been soaping for and how did you get started?
I've only been soaping for about a year prior to that. I had tried it a couple times using some kits that I got, I found it to be really exciting fun and creative. It was another two years before I decided to start the Silk Soap Company. I decided to start the company because I have very sensitive problematic skin, and have used every over-the-counter face and body product out there only to find they were causing my skin to break out or become dry. Because I had tried so many things and had been to so many different dermatologists, I  learned a lot about skin and decided I could make a better product then what they sell in the store, so that's when I started my trials and test bars!
What advice would you give to soapers just starting their businesses?
Do what you feel comfortable with and find a niche within the market. Don't do what everyone else does. Do what you feel you want to do and have fun doing it. Experiment all the time. Doing so not only keeps you fresh and creative, but you learn so much while you're doing it even if it wasn't a 100% success.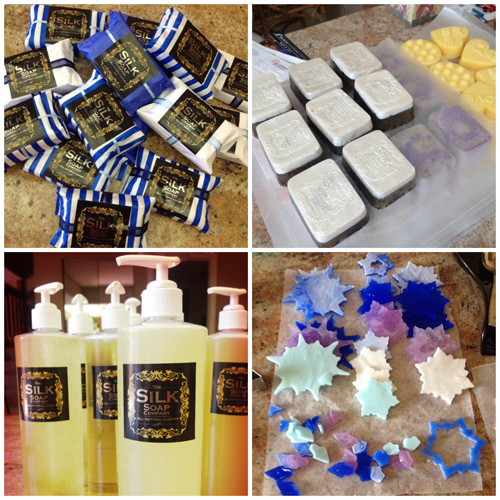 How did you come up with the name for your business?
The name of my company is the Silk Soap Company. I wanted something very classic and classy yet still feeling chic. All of my soaps have real silk in them, and that is something that is unique to my company because there are not many silk soap bars out there.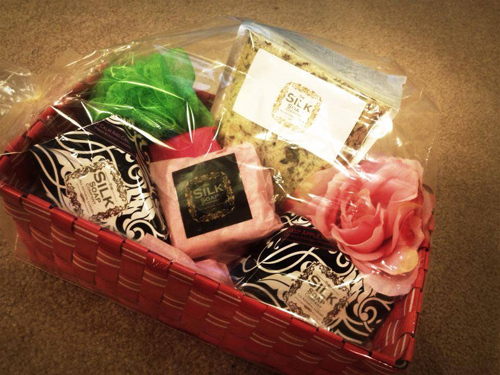 What is your favorite type of product to make?
The Silk Soap Company has several different products. I have 10 standard scents that all have silk in them, and of course I enjoy making them because it's the face of my company.  I developed a couple of the scents from scratch like Morning Wood and Black Gold and I very much enjoyed putting my heart and soul into that. I do find that making custom orders for people for baby showers for weddings or kids birthdays is probably one of the most fun things that I get to do because I'm collaborating with the people and the theme of the party. I really can use the creative skills I've learned, while incorporating their own theme. The results that I get and the reactions really remind me why I love soaping!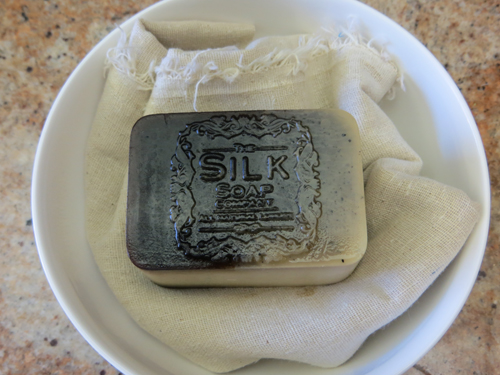 Kristen's "Morning Wood Soap"
What inspires you to create?
Hearing about other people's experiences drives me to create new products to try to help resolve an issue with their skin. Or just using my creativity and seeing how I can manipulate the limits of a particular product. I like to push the envelope and see what can and can't be done!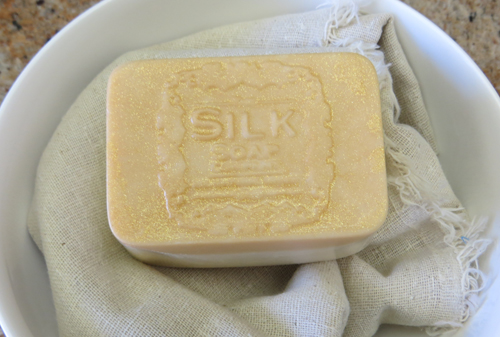 Kristen's shimmery "Black Gold Soap"
What is your favorite Bramble Berry product?
I love the Goat Milk Melt and Pour Soap Base, (I do buy in bulk). If I had to choose another product it would be the variety of essential oils and fragrances…such amazing products!
Tell us a little bit about yourself! When you're not busy making soaps, what are you up to?
My passion is in arts and art education.  I lived in England for five years and two years ago I moved down to Delray Beach Florida to be closer to my family. I do very much love being involved in the community, and I am looking to get back into education as I was always a teacher in school. I love to travel and explore new cultures and food!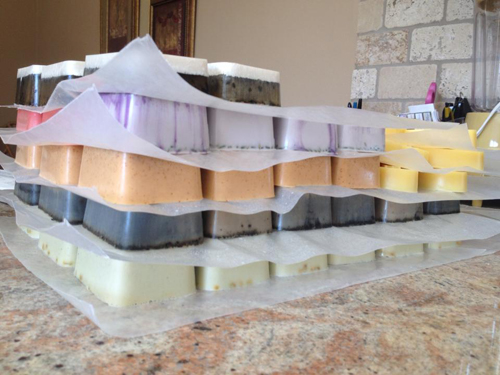 How did you come up with your branding and packaging?
I always knew that I wanted to do something elegant and classy that promoted luxury for my brand. I knew I definitely did not want them to feel country chic. I didn't want them to look like what so many other people do in a lot of the green markets across the country. I had found a website that creates your logo for you, but it was done in a designer style bid for your business. I put in as much of the criteria as I wanted, and designers then tried to compete to win the money that I was offering.
Once I had my logo I worked with the designer to adjust colors and font style. The logo is really what shows my brand and my packaging mood!  The boxes were done by a local company and I gave them free reign to come up with different ideas. We went back-and-forth as I am quite specific about the feeling that I wanted, but it didn't take too long to come up with something I loved!  The design on the box is a blown up version of my logo.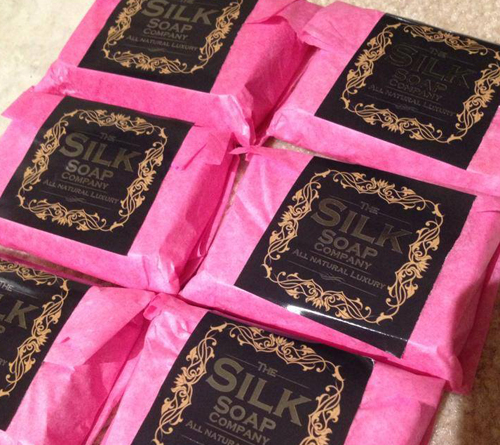 What's a fun fact someone may not know about you?
I am a former United States parachute Association gold medalist for an event called freestyle.
Find The Silk Soap Company:
On the Web
On Facebook

On Twitter