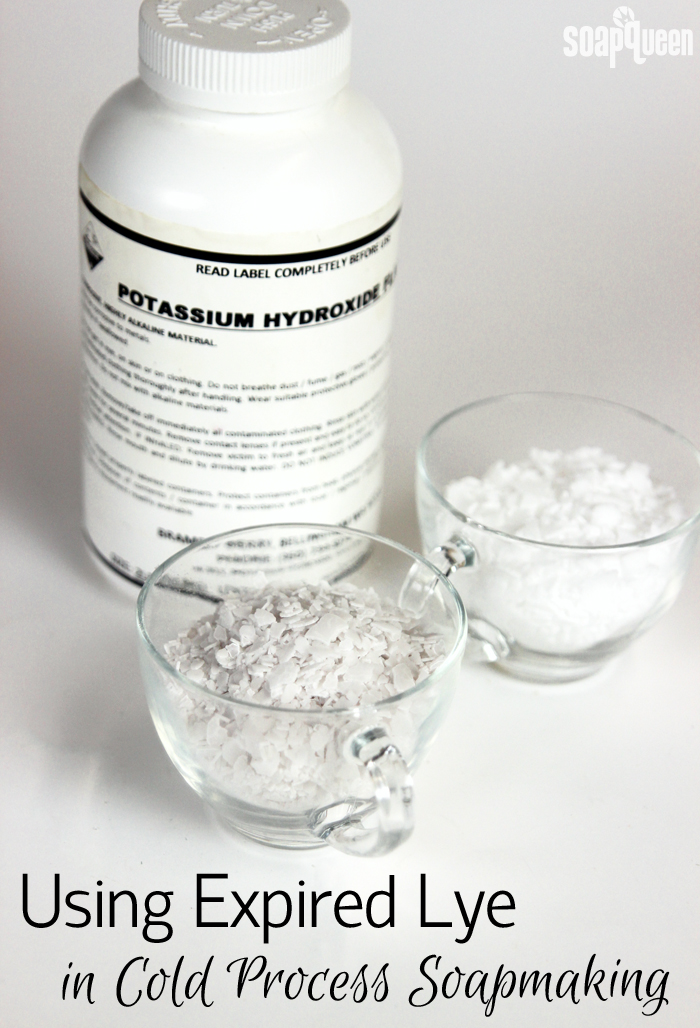 When troubleshooting a cold process soap recipe, there are several factors to look at. For instance, if your batch accelerated or riced, it may be the fragrance oil. If the batch is taking longer than usual to trace, it may be a high amount of soft oils, like olive oil, in the recipe. Another thing to investigate is your lye. If lye is past its prime, it can do some odd things in your soap.
Lye is an inorganic compound that is commonly found in drain cleaners. It is highly caustic and can burn the skin if not handled properly. Working with lye requires long sleeves and pants, close-toed shoes, a well-ventilated room, gloves and eye protection. Before handling lye, make sure to watch this Soap Queen TV video on lye safety. The Lye Safety Guide has more information on how to work with it. You need to be fully prepared and follow every safety precaution before getting started.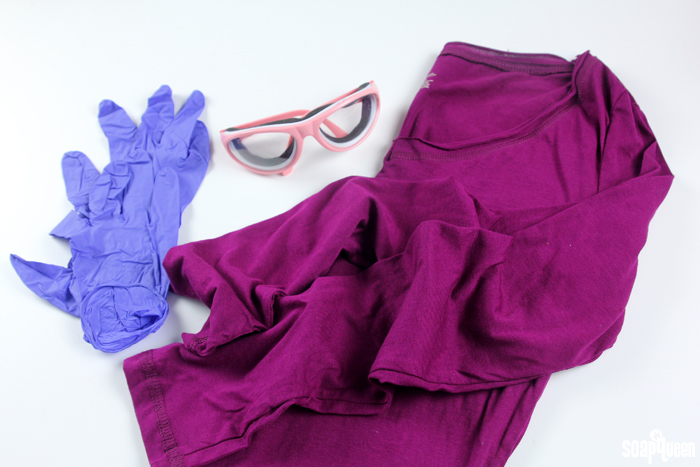 Working with lye requires safety gear like goggles, gloves and long-sleeved shirts and pants.
Lye is necessary for the soapmaking process. By definition, soap is a chemical reaction between oil and lye. This reaction is called saponification. During the saponification process, the lye gets used up. That means it is not present in the bars after they're cured. Read more about saponification in the Where's the Lye post.
For soapmaking, lye comes in two types. Sodium hydroxide lye is used to make solid cold process soap. Potassium hydroxide lye is used to make liquid soap. Read more about potassium hydroxide here. Both types of lye are dissolved in a liquid, like distilled water or milk. Make sure to always add the lye to the liquid, not the other way around. If the liquid is added to the lye it can cause a volcano-like reaction. You can use our Lye Calculator to find out how much lye and liquid to add to your recipe.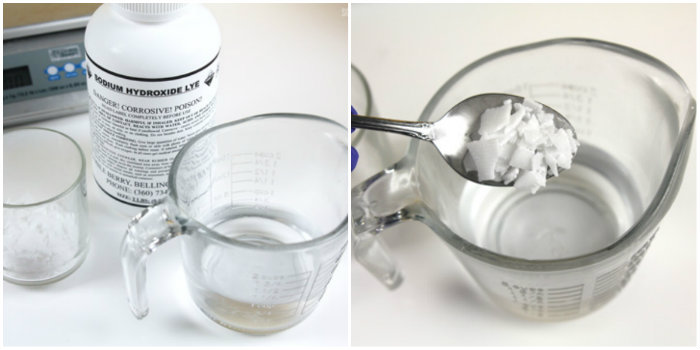 Sodium hydroxide lye is used to make solid soap, and potassium hydroxide lye is used to make liquid soap.
To ensure the lye works properly, we recommend using it within one year of purchasing. It needs to be sealed tightly and stored in a dry place. Lye is hygroscopic, meaning it attracts moisture. If it's exposed to moisture in the air it won't be as effective in your recipe, and the soap may not saponify fully. The lye also needs to be kept in a cool place. It may lose its potency if stored in warmer temperatures. In the Soap Queen Lab, the lye is double sealed and stored in a box that is placed on a shelf. At home you can store it in a cupboard, in your garage, etc. Just make sure it's clearly marked and out of reach of children.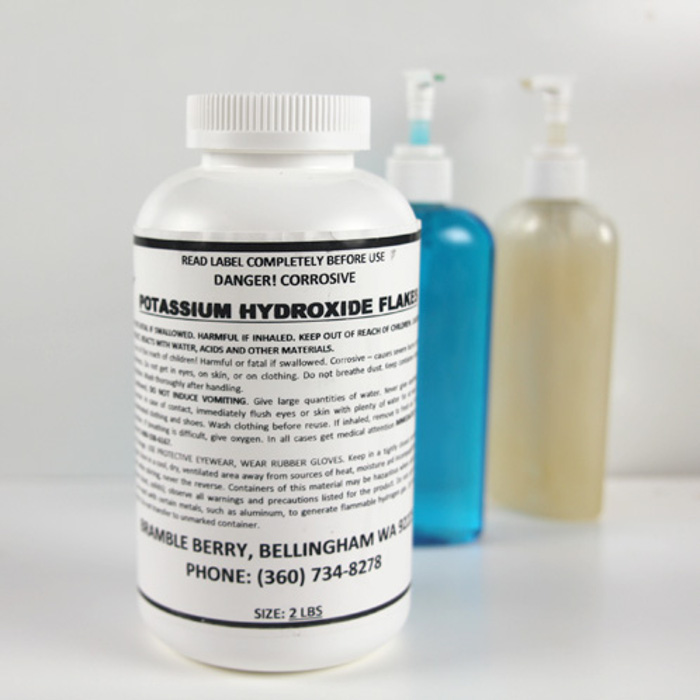 Make sure to store your lye in a cool, dry place to extend the shelf life.
How can you tell if the lye is expired? The first clue is how it looks. Check out the photo below. The expired lye on the left is more of a gray, off-white color than the lye on the right. It is also clumping in several spots because it has absorbed moisture from the air.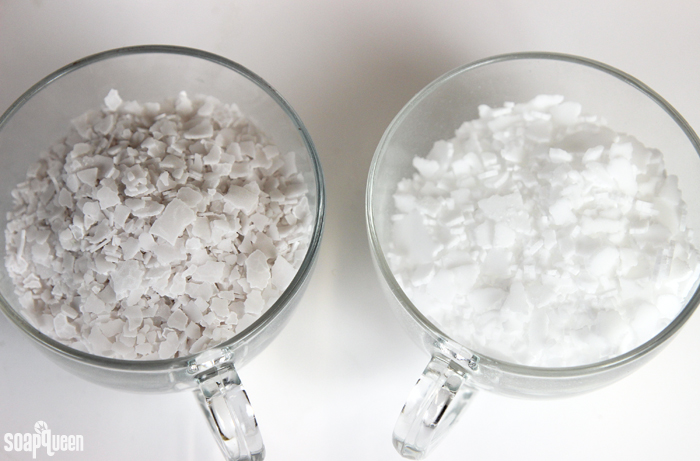 Above, the expired lye is shown on the left and the fresh lye is shown on the right. Notice the color difference!
Another clue the lye is expired is how it acts when added to water. When lye is added to distilled water, it gets really hot – up to 200 ° F. Expired lye won't get nearly as hot. Below, we added 2 ounces of fresh potassium hydroxide lye to 5.3 ounces of distilled water. The fresh lye was about 141 ° F when it was added to the water and stirred to dissolve. The expired potassium hydroxide lye only reached about 124 ° F. It also had a slightly cloudy appearance, even after thorough stirring.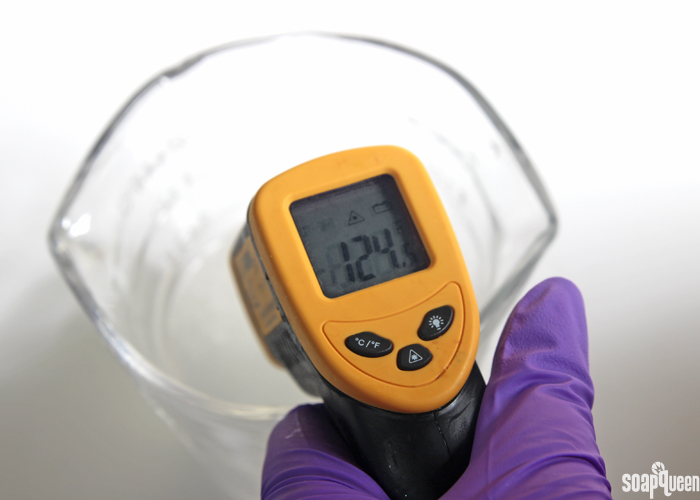 If your lye solution does not get very hot, it may be expired. Above, the potassium hydroxide lye solution using expired lye only reached 124 ° F. 
If you notice anything odd happening with your lye, don't use it in cold process soap. Expired lye doesn't saponify properly, meaning your soap may not reach trace. Read more about trace in this post. This can also happen if you accidentally use potassium hydroxide lye in a solid cold process recipe. Make sure to check the label before adding it to your batch. If the soap does trace, it may not set up properly and can be soft or sticky to the touch.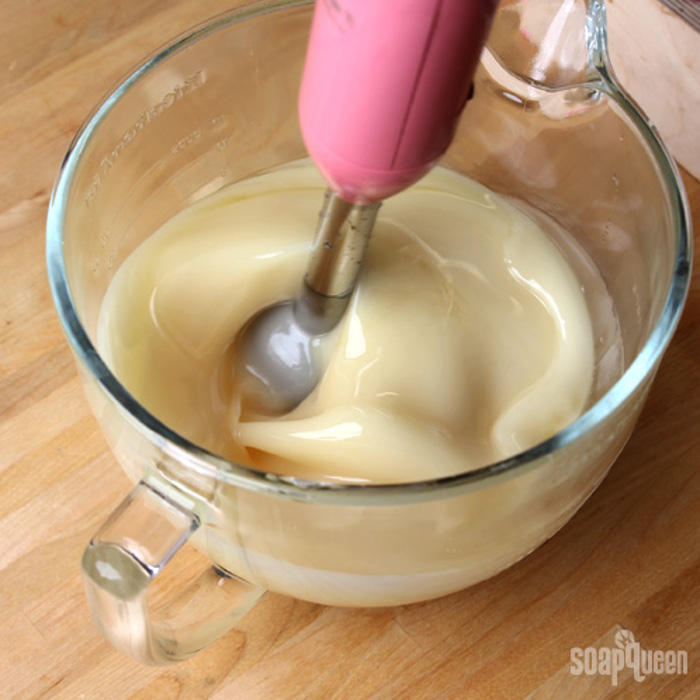 Using expired lye can mean your soap won't reach trace.
To avoid any wasted soap, make sure to keep your lye tightly sealed in a cool, dry place. We like to mark all of our bottles in the Soap Lab with the date it is opened. That way we can replace the lye after a year to prevent it from going bad. If you used expired lye in your soap and the soap set up, great! The soap is fine to use, albeit a little extra superfatted. If you used expired lye in your soap and your soap did not set up, there is no way to save the soap because we don't know exactly how much lye it is short. To dispose of the lye, you can mix it with distilled water and pour it down the drain. Lye is actually found in most drain cleaners. If you're worried about your drain, you can also contact your local waste management services to find out how to dispose of hazardous materials.
How do you store your lye to ensure it stays fresh? Have you ever used expired lye in your soap before?