Yields:
About 3 pounds of soap
The first signs of fall have begun. The morning air is crisper, the sun is setting earlier and leaves are changing color. This Pumpkin Spice Latte Soap celebrates the arrival of fall and the debut of a delicious fall beverage, the Pumpkin Spice Latte! Made with a delectable combination of Espresso and Pumpkin Spice Fragrance Oils, this project is a great way to spend a fall afternoon.
This cold process recipe combines several soaping techniques, including melt and pour embeds and soap frosting. If you've never made soap frosting before, check out the new Soap Queen Tv Video, How to Make Soap Frosting, which covers the process. It's easier than you think!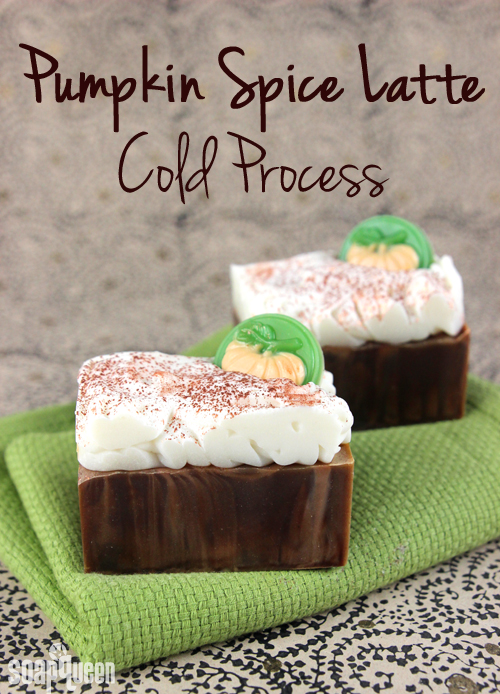 What You'll Need:
Cold Process Soap (the "base" of the multi-layered soap creation)
9 oz. Coconut Oil
1.5 oz. Coffee Butter
9 oz. Olive Oil
9 oz. Palm Oil
1.5 oz. Pumpkin Seed Oil
4.2 oz. Sodium Hydroxide
9.9 oz. Distilled Water
9 Bar Unfinished Birchwood Mold
Silicone Liner for 9 Bar Mold
Dutch Processed Cocoa Powder
Titanium Dioxide
Copper Sparkle Mica
Surplus Pumpkin Orange Mica
1 oz. Espresso Fragrance Oil
.4 oz. Pumpkin Spice Fragrance Oil
Melt and Pour Pumpkin Embeds
Pumpkin Wax Tart Mold
2.5 mL Pumpkin Spice Fragrance Oil
2.5 mL Vanilla Color Stabilizer
Perfect Orange Color Block
Chrome Green Color Block
1 oz. White Melt and Pour Base
2 oz. Clear Melt and Pour Base Injector Tool
Cold Process Frosting
2.8 oz. Avocado Oil
5.6 Coconut Oil
5.6 oz. Palm Oil
2 oz. Sodium Hydroxide
4.6 Distilled Water
Disposable Frosting Bag
1 M Frosting Tip
Copper Sparkle Mica (to dust on top)

Click here to add everything you need for this project to your Bramble Berry shopping cart!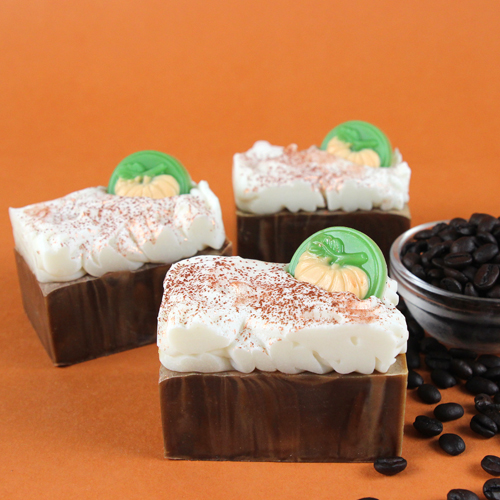 Make Melt and Pour Pumpkin Embeds: *Note: The Pumpkin Wax Tart Mold makes eight pumpkins, while the 9 Bar Birchwood Mold creates nine bars of soap. If you'd like each bar to have a pumpkin embed, make one extra pumpkin embed. Be sure to make these first, at least 4 hours before you make your Cold Process Soap, to allow them time to harden.
ONE: Cut and melt 1 oz. Clear Melt and Pour Base on 5 second bursts. Add shavings of the Perfect Orange Color Block and stir to combine. Using the Injector Tool, fill the pumpkin shape and spray with isopropyl alcohol to get rid of any bubbles. Allow to fully harden. Tip: Keep a glass of very super duper hot water too wash the injector tool out in between colors. Pushing out hardened soap is no fun.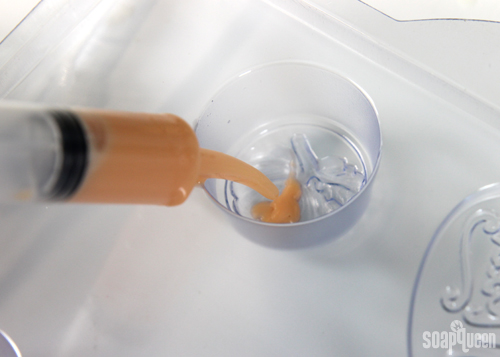 TWO: Cut and melt 2 oz. of White Melt and Pour, and add Chrome Green Color Block until desired color is achieved. Add Pumpkin Spice Fragrance Oil and Vanilla Color Stabilizer and stir to fully combine.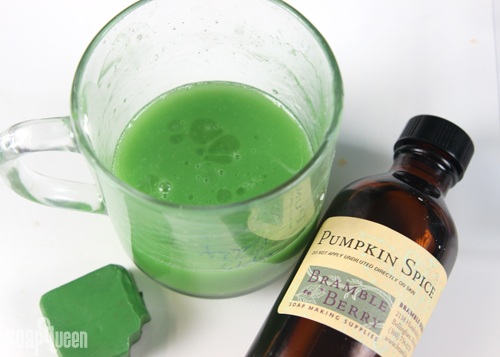 THREE: Spray orange pumpkins with isopropyl alcohol and pour the greens soap into each cavity, filling only about halfway. Spray with isopropyl alcohol to disperse any bubbles, and allow to fully harden.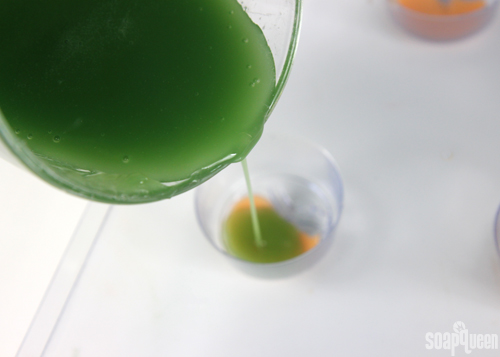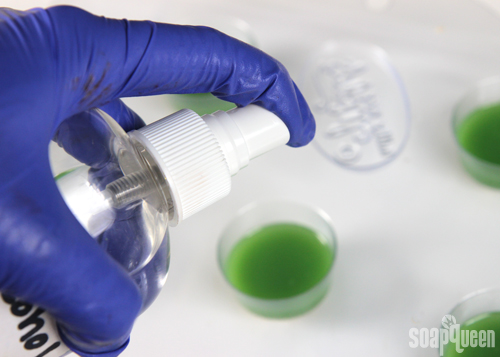 TIP: Once you are ready to unmold the embeds, place them into the freezer for about 15-30 minutes. This makes them much easier to unmold!
Make the Cold Process Base:
If you've never made Cold Process soap before, stop here! I highly recommend checking out our FREE four part SoapQueen.tv series on Cold Process Soapmaking, especially the episode on lye safety. And if you'd rather do some reading, Bramble Berry carries a wide range of books on the topic, including my newest book, Soap Crafting. You can also checkout the digital downloads for that instant gratification factor.
SAFETY FIRST: Suit up for safe handling practices! That means goggles, gloves and long sleeves. Make sure kids, pets, and other distractions and tripping hazards are out of the house or don't have access to your soaping space. Always soap in a well-ventilated area.
COLOR PREP: To ensure that the Titanium Dioxide blends smoothly into the soap batter, we recommend micronizing it before dispersing it in oil. Please note this is an optional tip but it does help with the titanium dioxide clumping in the soap =) To micronize colorant, simply use a coffee grinder to blend the colorant to break up any clumps of color and prevent streaks of white from showing in the final soap. We like to use a coffee grinder that has a removable, stainless steel mixing area for easy cleaning. Then, disperse 1 teaspoons of the Titanium Dioxide into 1 tablespoons of Sunflower or Sweet Almond Oil (or any other liquid oil). Finally, disperse 1 teaspoon of each colorant (including the Dutch Processed Cocoa Powder) into 1 tablespoon of light liquid oil. Use a mini mixer to get the clumps of color worked out smoothly.
ONE: Slowly and carefully add the lye to the water and gently stir until the lye has fully dissolved and the liquid is clear. Set aside to cool.
TWO: Fully melt and combine the coconut, olive oil, pumpkin seed, coffee butter and palm oils (remember to fully melt then mix your entire container of palm oil before portioning). Once the lye water and the oils have cooled to 130 degrees or below (and are ideally within 10 degrees of each other), add the lye water to the oils and stick blend until thin trace. If you'd like a harder bar of soap that releases faster from the mold, you can add sodium lactate to the cooled lye water. Use 1 teaspoon of sodium lactate per pound of oils in the recipe. For this recipe, you'd add about 2 tsp. sodium lactate.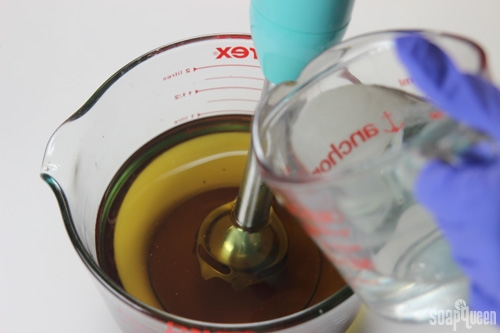 THREE: Once you have reached a light trace, split the batch in half into a separate container. Each container should contain about 3 cups.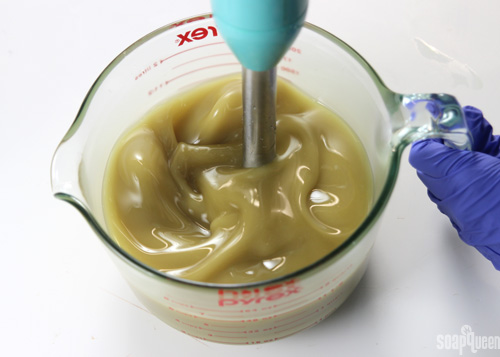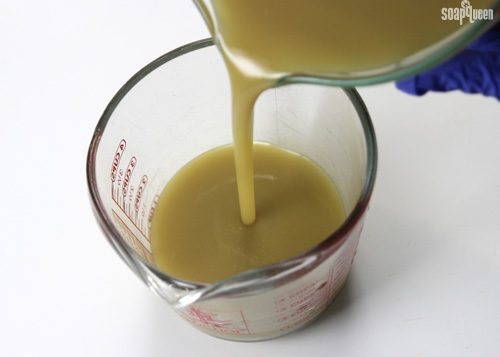 FOUR: To one container, add all of the Dutch Processed Cocoa Powder. To the other, add 1 tsp. (dispersed) Sparkle Copper Mica, 2 tsp. (dispersed) Surplus Pumpkin Orange Mica and 1 tbs. (dispersed) Titanium Dioxide. Use a whisk to thoroughly combine the colorants.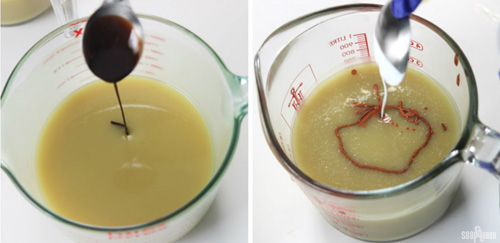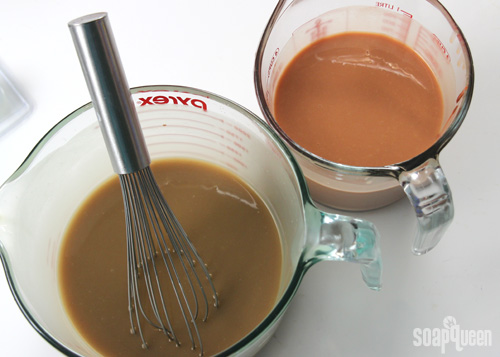 FIVE: Add Espresso Fragrance Oil to the container with the Dutch Processed Cocoa Powder. To the orange container, add the Pumpkin Spice Fragrance Oil. Use a whisk to thoroughly combine the fragrance.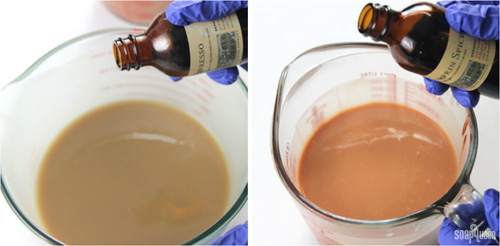 SIX: Pour the brown container of soap into the mold. Tap the mold firmly on your counter to release any air bubbles.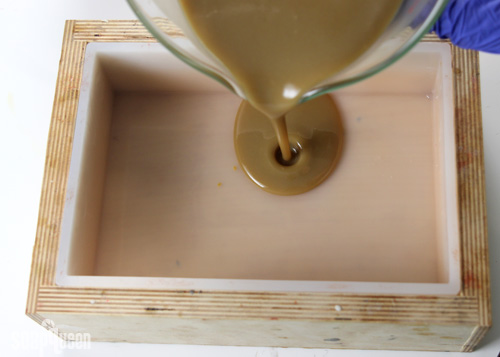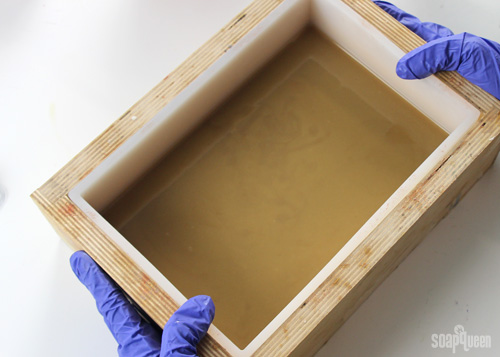 SEVEN: Drizzle the orange soap into the brown soap. No need to be exact with your pattern! Just make sure the orange soap is poured into all areas of the mold. Insert a dowel or chopstick all the way through the soap, and create small circles down the length of the mold. Once you've gone from one end of the soap to the other, make small loops back down the length of the mold.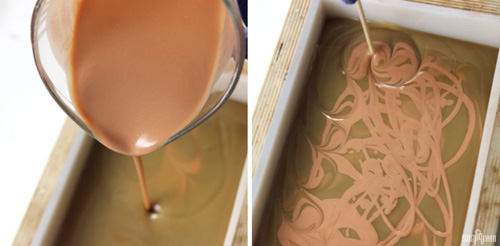 EIGHT: Insert the dividers into the mold and set aside. Time to make your soap frosting!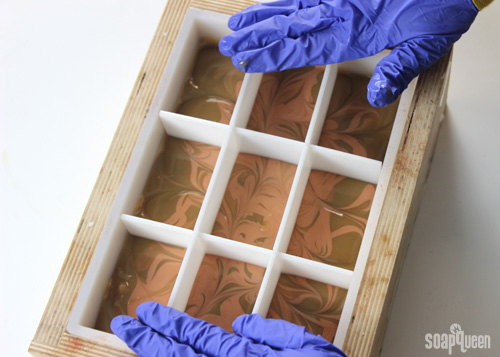 Make Soap Frosting:
LYE & OIL PREP: In order to get soapy frosting to actually look like frosting, the lye and oils must be very cold. We recommend making the lye water a full day ahead of time, clearly labeling it (*poison* *danger* *do not drink!*) and keeping it in a refrigerator not used for food. Alternately, you can use frozen water (eh hem: ice) to add your lye flakes to but the lye will still need to cool down. The lye should be around 60 degrees F before adding it to the oils. Additionally, you want your oils to be around 70 degrees F. You can even refrigerate them for several hours too! They should be semi-solid at this temperature. If your oils become completely solid, don't worry! Soap frosting can be created with solid oils as well.
ONE: With a hand mixer (or a Kitchen Aid Stand Mixer), whip the oils for 1 – 2 minutes. Occasionally take a break to scrape the bowl and sides of the container to incorporate all the oils. You want the oils to be nice and fluffy before adding the lye.
TWO: Slowly pour the lye into the whipped oils, and use a spoon to incorporate. Be super careful not to splash any lye at this point before the lye water is fully incorporated into the hardened, slushy, cool oils. Turn the hand mixer or Kitchen Aid Stand Mixer on low, and continue to whip oils until a fluffy, frosting texture is achieved. Scrape any batter that has splattered on the side of the container and then turn the mixer to a medium setting. Continue to whip for another 3 – 7 minutes.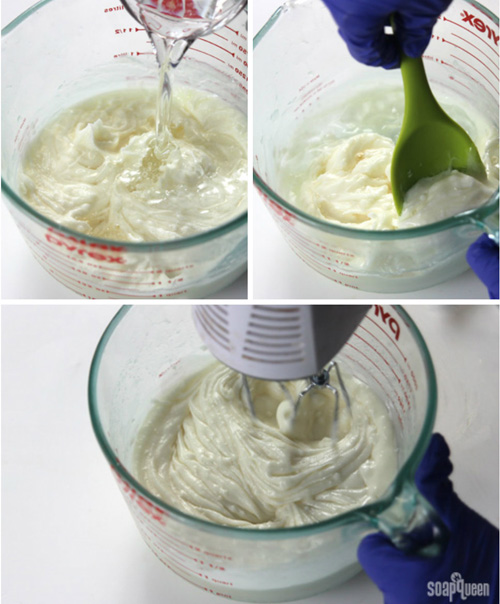 THREE: Once a frosting texture has been achieved, cut off about a half inch from the tip of the frosting bag and push the tip through. Scoop the frosting into the bag, and begin piping the frosting onto each bar.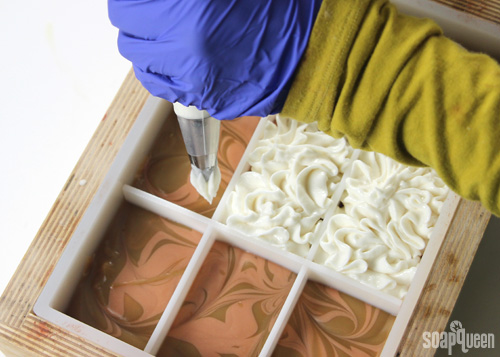 Optional Step: If you prefer a smoother, "foamier" looking top on your frosting, use a spoon to smooth the frosting and create peaks.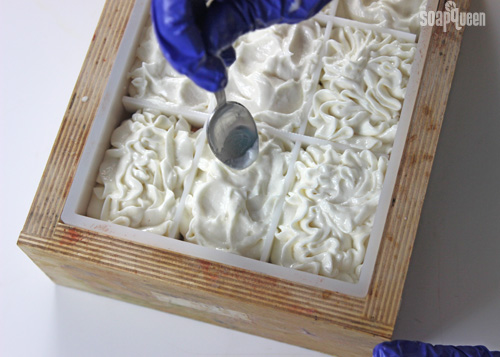 FOUR: Once each bar has been piped with frosting, lightly dust Copper Sparkle Mica onto the top of the soap. Because mica is so fine, this part can get messy. Be sure to have paper towels and isopropyl alcohol on hand to clean up any mica that sticks to the mold or your work surface. Place the pumpkin embeds into the corner of each soap.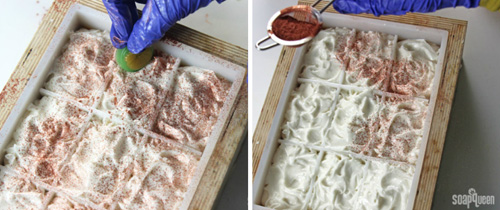 Allow the soap to harden for 3-4 days before unmolding. Allow it to cure for 4 – 6 weeks and enjoy!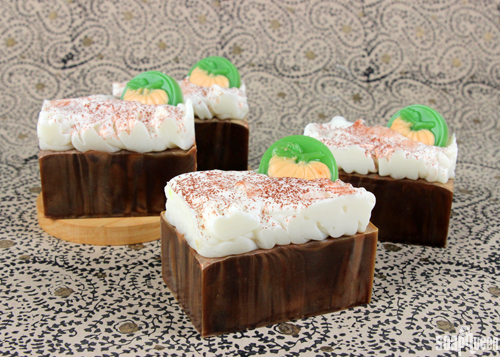 Are you ready for fall? What kind of fall projects are you looking forward to?