Staying a season ahead is important when crafting. This is especially true if you have a small business. If you haven't created your fall projects, now is the time! It's also the ideal time to start making holiday projects. The holidays may seem far away, but nobody wants added stress in November.
Looking for new fragrances for your fall projects? Tomorrow, Bramble Berry's new Autumn Frost Fragrance Collection is launching! We tested hundreds of fragrance oils this year and found four of the very best smelling and performing fragrances for fall and winter. Want to learn more about the new scents? I'm introducing them live on the Bramble Berry Facebook page at 2 p.m. PST tomorrow! Click here to "attend" the event on Facebook, and be reminded to tune in. 
Cold process soap created now will cure by the middle of October. That's the perfect time for pumpkins, warm colors and spooky projects. Pumpkin spice products are always a hit, and we have plenty of inspiration. The Pumpkin Spice Swirl Cold Process embraces the trend of tall bars and the drop swirl technique. The Pumpkin Spice Latte Cold Process Soap features soap frosting for a foam-like appearance. If soap frosting is intimidating, dollops of frosting are created by allowing the soap to thicken in the Pumpkin Pie Cold Process Soap Tutorial.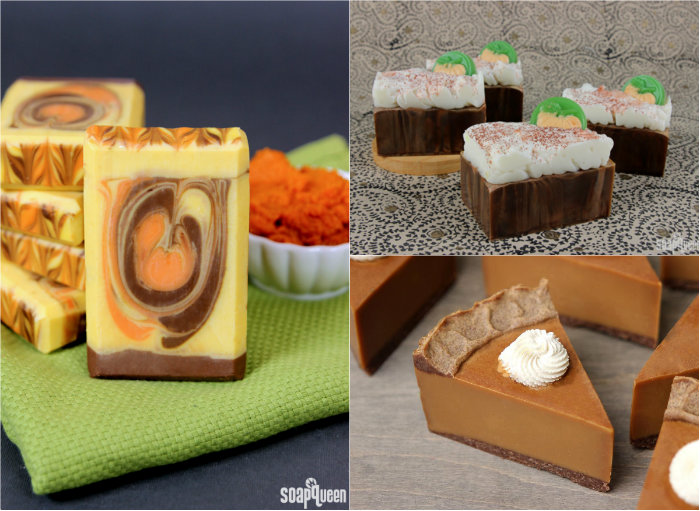 Far left, clockwise: Pumpkin Spice Swirl Cold Process, Pumpkin Spice Latte Cold Process Soap, Pumpkin Pie Cold Process Soap Tutorial
Melt and pour soap does not require cure time and is ready to use when fully cooled. It's a great soapmaking method for last-minute projects. The Pumpkin Soap on a Rope Tutorial uses two 3D molds (the Spooky Pumpkin Mold and Spooked Pumpkin 3D Mold) that are great for rope soap. The Pumpkin Pie Melt & Pour Soap contains ground pumpkin seeds for a bit of exfoliation.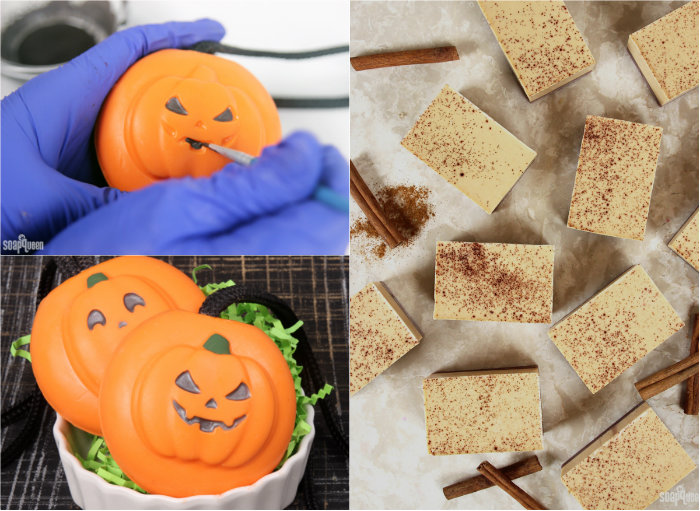 Left: Pumpkin Soap on a Rope Tutorial, Pumpkin Pie Melt and Pour Soap
Walnut shells are combined with sugar for a gentle feel in the Pumpkin Spice Latte Sugar Scrub Tutorial on Soap Queen TV. Foaming Bath Whip and coffee butter feel light and fluffy when whipped together. The coffee butter also adds a light scent, which smells amazing with the Pumpkin Spice Fragrance Oil and Turkish Mocha Fragrance Oil. Learn how to make it in the video below.
Fall projects aren't just about pumpkin spice. Fall can be expressed in a number of ways, from a comforting scent to deep, rich colors. The Neptune Column Pour Soap is a great example. It's made with Tobacco and Bay Leaf Fragrance Oil, which features notes of fir needle, cedarwood and bergamot. The slightly smoky scent is complemented by deep burgundy, yellow and blue. It's a great "fall-ish" project!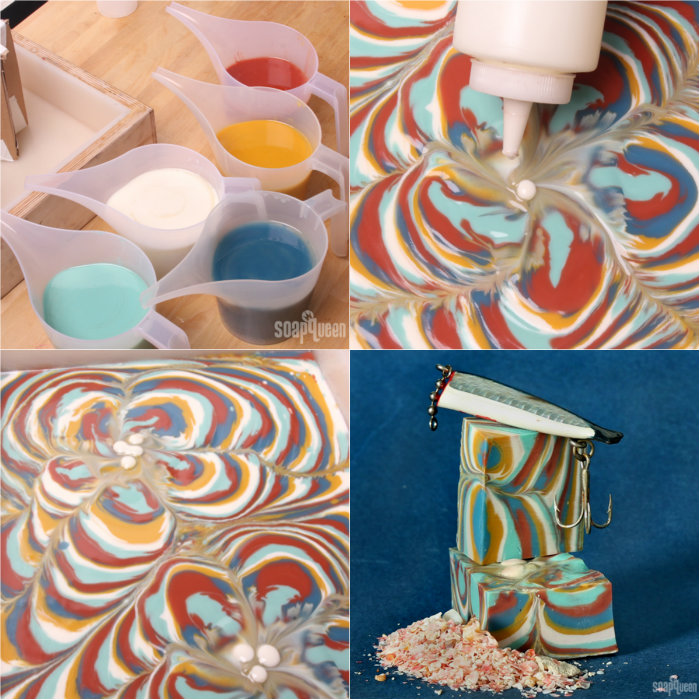 The Neptune Column Pour Soap is a non-traditional fall tutorial.
For many, fall means the return of the NFL. If you're ready to cheer on your team, the Mini Melt & Pour Football Soaps are a great way to do so. They are scented with Leather Fragrance Oil and Grass Stain Fragrance Oil for a combination that's fresh yet earthy. I plan on bringing them to a football party as a host/hostess gift.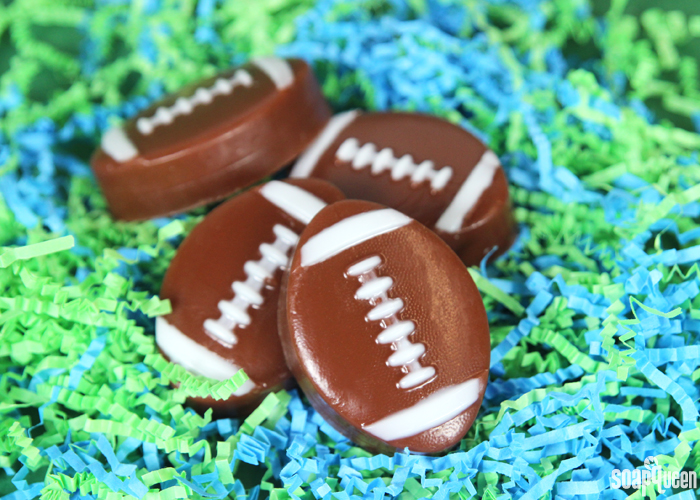 Fall means the return of football! How cute are these Mini Melt & Pour Football Soaps?
Autumn and winter also bring darker, moodier cosmetic products. In particular, it's time to bust out bold lipstick colors! Red is a classic choice and is great for holiday parties. In the Radiant Red Lipstick Tutorial on Soap Queen TV, there are three color combinations to choose from. The formula is creamy, shiny and leaves lips feeling moisturized. Check out the video below. If you prefer something a little less dramatic, the Creamy Marsala Lip Tints give lips a sheer color. It's inspired by the Pantone color of the year for 2015, "Marsala." It's also easy to make with only one colorant: Merlot Sparkle Mica.
When the weather gets colder, I tend to take more baths. If you need a hot bath to fight the cold, the Pumpkin Spice Bath Bombs fill your tub with bubbles, moisturizing coffee butter and a milky quality thanks to powdered goat milk. They also smell amazing with a combination of Pumpkin Spice Fragrance Oil and Espresso Fragrance Oil. If you prefer hot showers, the Aromatherapy Shower Fizzies fill the shower with scent. Depending on what fragrance or essential oil you use, they are the perfect way to relax before bed or to start the day.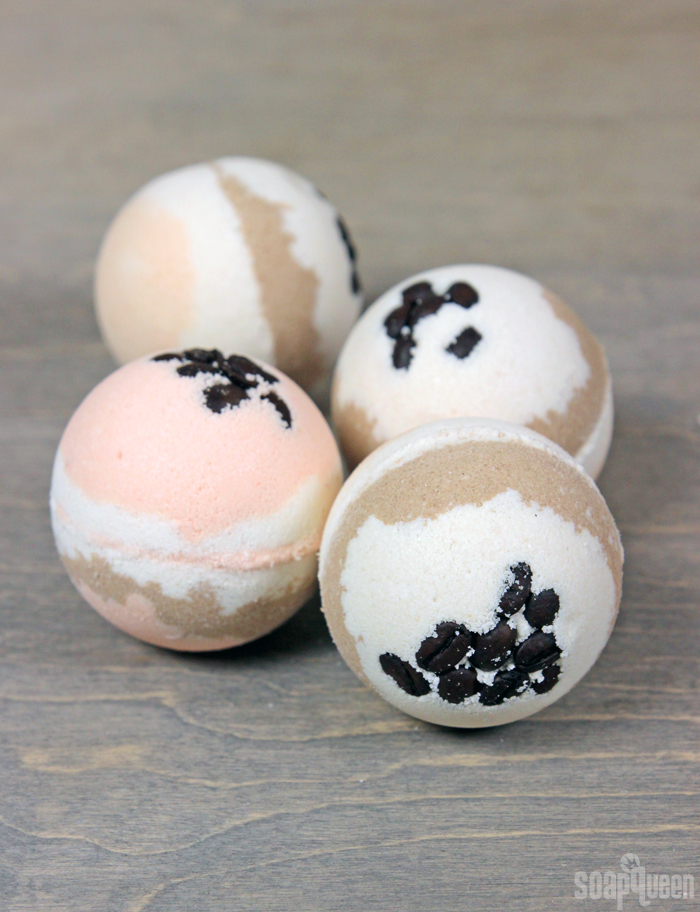 The Pumpkin Spice Latte Bubble Bath Bombs are inspired by the popular fall beverage.
How do you celebrate fall with handmade projects? If you get photos, I would love to see them! Tag #Soapshare on Instagram. =)