For commanding attention in a room, nothing beats a bright red lip. Classy and sophisticated, this look is as stylish now as it was in the 1950s. In this episode of Soap Queen TV, you can learn how to make your own hyper-pigmented lipstick in three different shades. Whatever your skin tone, one of these shades is sure to complement!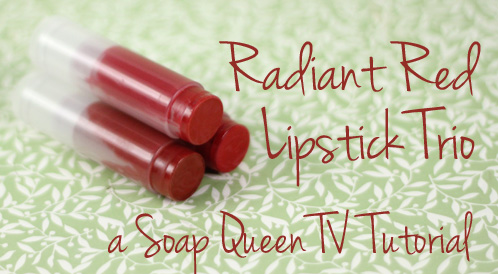 The base is a combination of nourishing oils and waxes, and the different shades are tinted with a variety of lip-safe micas, oxides and pigments. When you're done with this project, easily clean the oily containers with the cool trick we show you in this Soap Queen TV episode. Happy lipstick making!
What you'll need:
2 oz. Castor Oil
2 oz. Jojoba Oil
0.2 oz Ecosoya Advanced Wax
0.5 oz Candelilla Wax
0.9 oz Chia Seed Oil
Brick Red Oxide
Electric Bubblegum Pigment
Coral Mica
Cellini Red Mica*
* NOTE: Cellini Red Mica has been discontinued. The kit now includes Raspberry Mica
Pouring Tray
Clear Lip Balm Tubes


Click here to add everything you need for this project to your Bramble Berry shopping cart!