It's officially fall! The colors on the trees are changing, temperatures are dropping and the smell of pumpkin spice is in the air (well, around this office at least). While summer is dear to my heart (I love the long days and all that natural vitamin D from the sun), fall is a close second for favorite season. Autumn is full of crafting inspiration, and the cool weather is a perfect excuse to stay inside and create. If you're looking for project ideas to reflect the time of year, we have you covered.
When considering fall scents, you can't ignore the current fall favorite: pumpkin spice. Inspired by the classic spice combination, pumpkin spice is warm, comforting and sweet. It's easy to see why it's so popular! Bramble Berry has several pumpkin scents, including the Pumpkin Spice Fragrance Oil, Pumpkin Souffle Fragrance Oil and the Pumpkin Pie Candle & Soap Fragrance Oil.
Thanks to Starbucks, pumpkin and coffee have become an incredibly popular combo. I've even been getting in on the #PSL action with Bulletproof Pumpkin Spice Lattes (they're delicious!).  If you can't get enough of pumpkin spice lattes, the Pumpkin Spice Latte Sugar Scrub on Soap Queen TV uses Pumpkin Spice Fragrance Oil and Turkish Mocha Fragrance Oil to create a mouthwatering scent. You can see the original tutorial here. Looking for soap projects? Check out the Pumpkin Spice Latte Cold Process tutorial to learn how to create these adorable bars. Made with soap frosting and melt and pour embed, they imbue fall into every slice.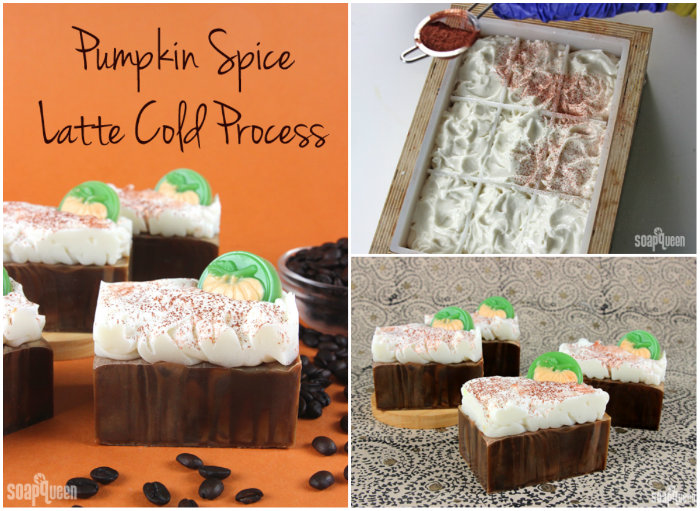 The Pumpkin Spice Latte Cold Process was inspired by the popular fall drink.
If you prefer the classic pumpkin scent, the Pumpkin Pie Melt and Pour Bars are easy to make and smell just like the fall dessert. Made with ground pumpkin seeds, these bars give the soap gentle exfoliation. The Pumpkin Spice Swirl Cold Process also smells like pumpkin pie, and has real pumpkin puree! The Pumpkin Puree Cold Process soap also uses real pumpkin. Want to learn how to make your own pumpkin puree? Click here.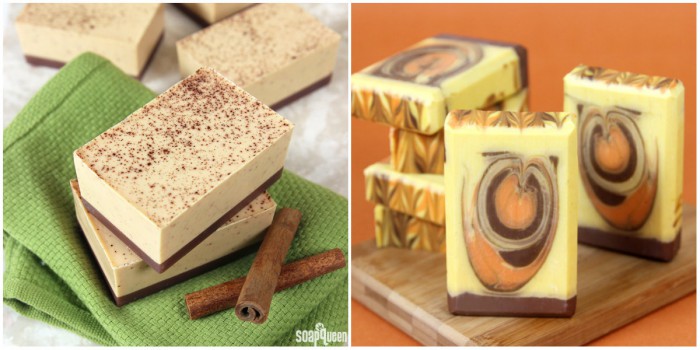 Left to right: Pumpkin Pie Melt and Pour Bars, Pumpkin Spice Swirl Cold Process
Feeling a little pumpkin'd out? There are plenty of other great fall scents and ideas! The Fall Sherbet Cold Process Soap is a fun take on pastel shades. Looking to celebrate Oktoberfest? The Bramble Beer Soap uses blonde ale instead of water to create a beautifully layered bar. Speaking of layers, the Fall Sweater Stripes Tutorial is inspired by the comfort of warm fall sweaters.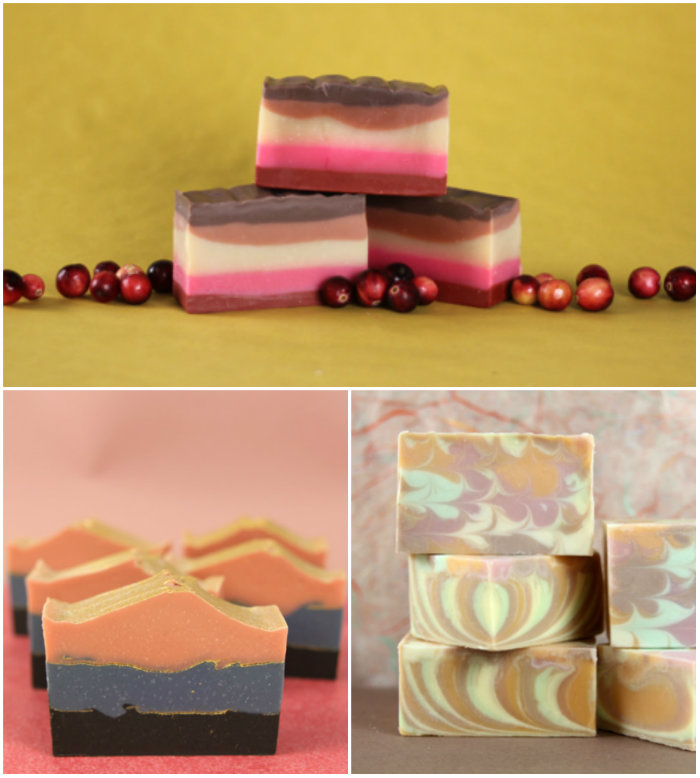 Top, clockwise: Fall Sweater Stripes Tutorial, Fall Sherbet Cold Process Soap, Bramble Beer Soap
Cooler temperatures can mean dry, flaky skin. Now is the perfect time to use heavier body butters and lotions to keep the skin feeling comfortable. The Moisturizing Heel Butter has a thick, Vaseline-like texture that is hydrating and spreadable. It's also suitable for the rest of the body. If you like a lighter, whipped texture, the Whipped Champagne Shea Butter is creamy and bubbly smelling. Missing your summer glow? Fake it with the Whipped Amber Bronzing Butter. With a mousse-like texture, warm scent and slight tint, it's sure to be a favorite.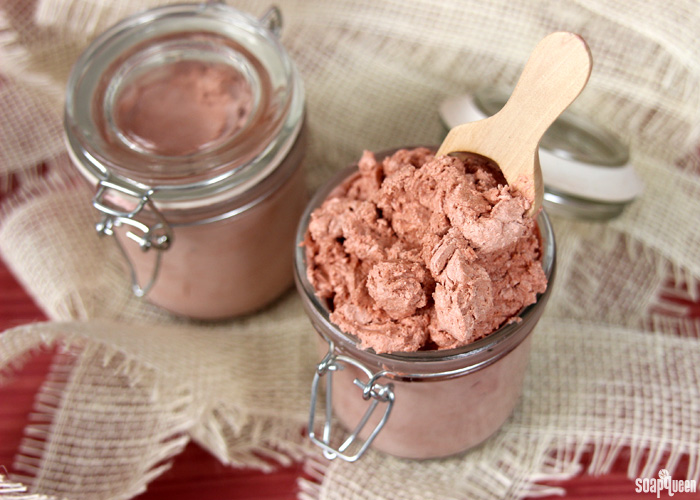 Fall is the perfect time to cozy up at home, and nothing creates a comfy atmosphere quite like a warm scent. One of my favorite fall candle projects is the Chai Tea Latte Candle Tutorial. It fills the room with the warm and spicy notes of Chia Tea Cybilla Fragrance Oil. It also looks just like a warm chai tea latte. I gave these candles to some of my friends last year, and they still rave about them. If you prefer a no-flame option, you might like the Spicy Holiday Potpourri or the Winter Gardenia Room Diffuser.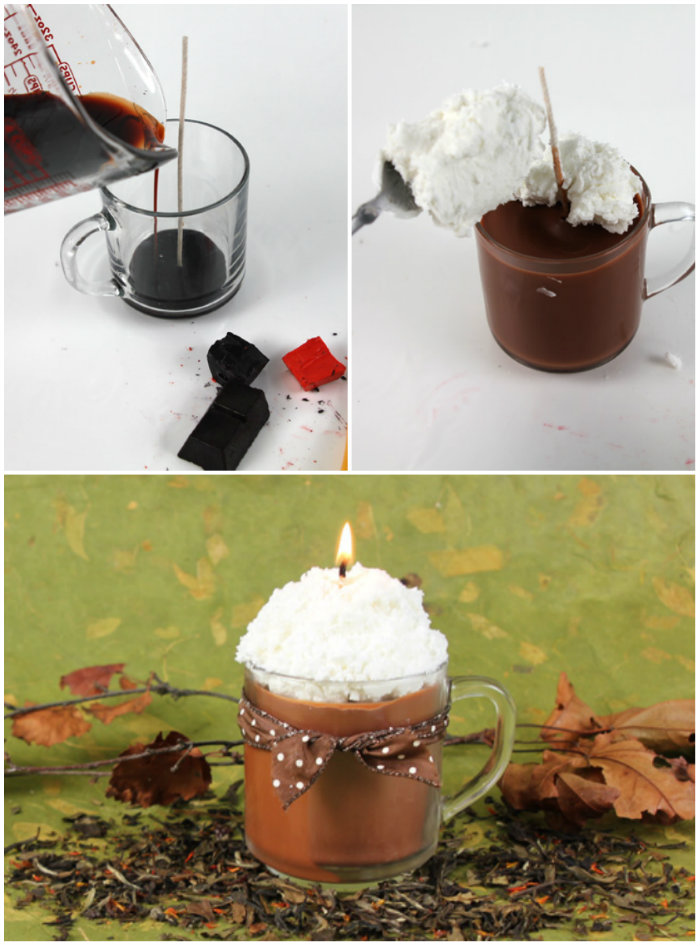 The Chai Tea Latte Candle features whipped candle wax for a realistic layered look. 
I have loved seeing all your gorgeous fall projects popping up on social media. In particular, I love scrolling through the #SoapShare hashtag on Instagram. Below are a few of my favorites…keep them coming!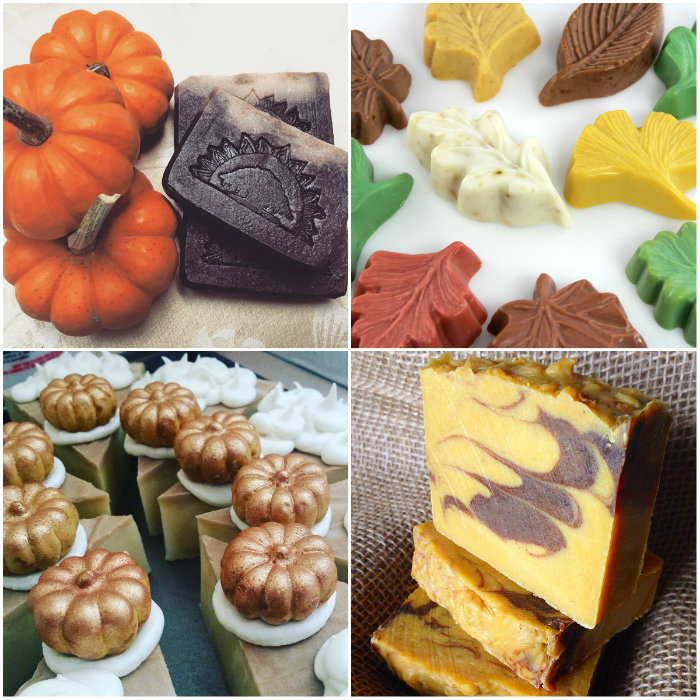 Top left, clockwise: Pumpkin Spice Cream Soap by lssc0000, Leaf Guest Soap by tandjsoap, Pumpkin Spice Pie Soaps by woolinandco, Pumpkin Spice Soap by orchardhilltradingco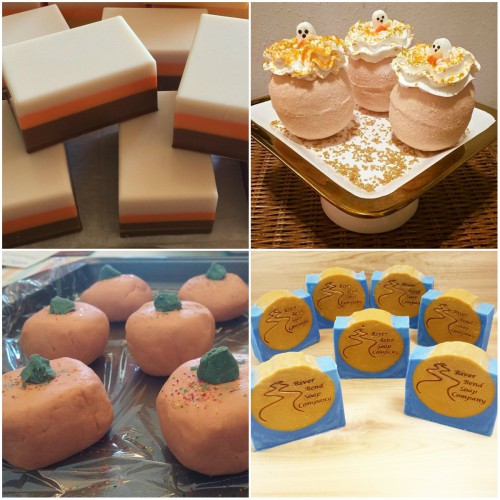 Top left, clockwise: Candy Corn Soap by singlebarrelsoaps, Peek-a-Boo Ghost Bath Bombs by indulge_bath_bombs, Pumpkin Spice Bubble Bars by shellyswicked, Harvest Moon Soap by riverbendsoap
What are you making this fall? I'm trying to get a head start on holiday projects this year =)