Ahhhhh, how fast life moves. It has been a fantastic summer, filled with more activity than I ever thought possible. We just moved a few short months ago but it already feels like a lifetime. Between buying new furniture, and figuring out why each and every appliance in the new house systematically quit over the last couple of months, it has been a challenge to maintain the household, our marriage and keep normal work details straight. So, definitely should add training for a half marathon onto that … more on that later!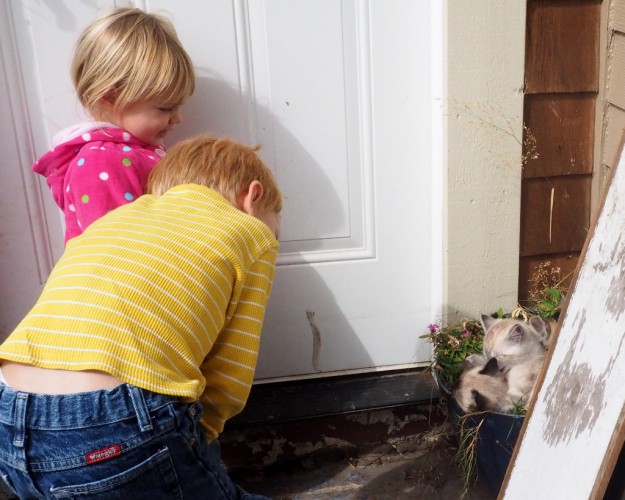 We don't have any animals at our home that have hair because my Mom is allergic to cats, dogs and even birds. And, let's be honest, having Grandma visit versus having another living being that Mom ends up taking care of? #NoContest This does mean that the kids are intensely curious about cats, dogs, pigs, sheep, chickens and basically anything with a heart, hair and four feet.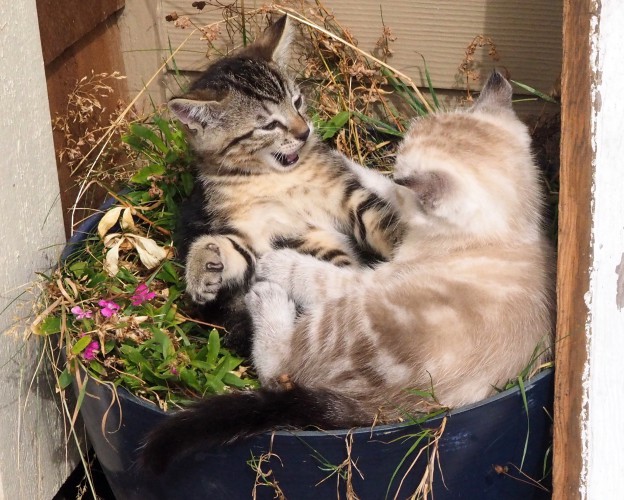 Awwwww, kittens! And, they were sale/donation too but we managed to not bring any of them home with us.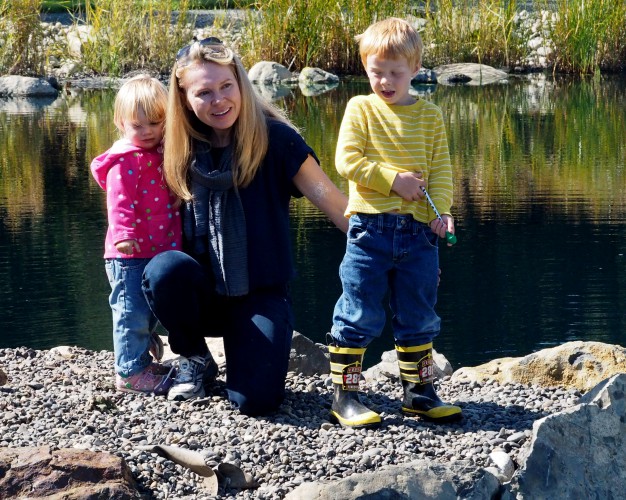 Life sure looks idyllic in these photos doesn't it? Thank goodness for sweet moments like these because after 7 p.m. at night, all bets are off and the kids turn into little portals of whirling dervish. They both fight going to sleep (but not more than they fight teeth brushing; my goodness! Even the threat of shots does not get them to brush their teeth! Got any hints for me on that? I will take any and all parenting advice on that subject).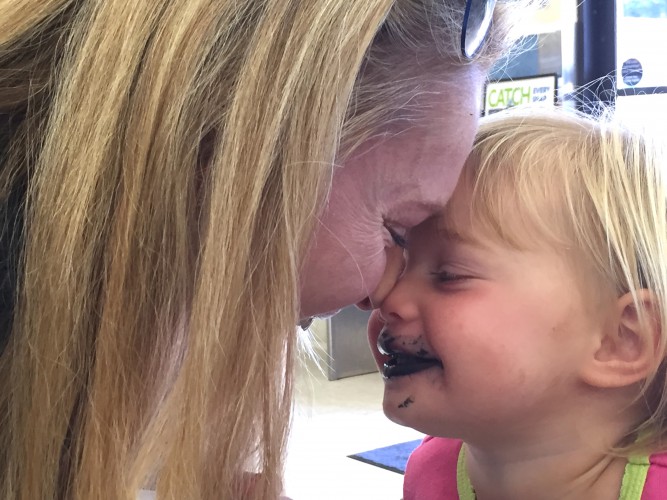 I run a pretty strict, no-refined-sugar household but when the Grandparents come to visit, all bets are off! Little Lily just had her first taste of licorice ice cream in the photo above and she is SO happy. The black lips and tongue took quite some time to wear off too.  My kids aren't totally deprived of sugar though; they have a banana ice cream maker (three cheers for Yonanas!) and we make applesauce popsicles and date/pecan/cocoa energy balls. They get plenty of sugars in their copious amounts of fruit and we happily bribe them with M & M's when we need to.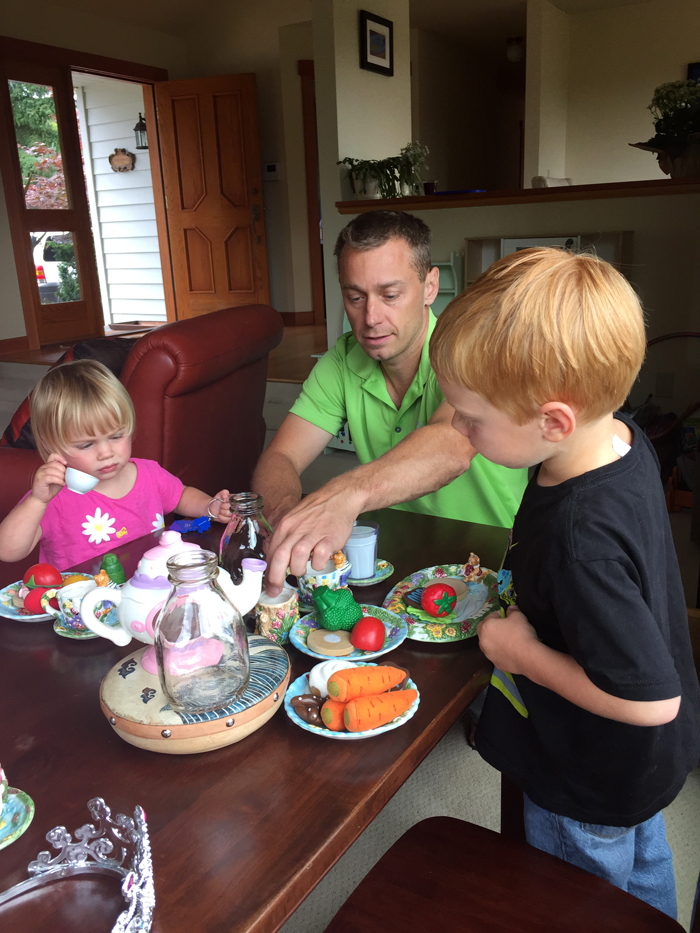 While I've been training for my half-marathon, Chris is training for his full marathon. He is an accomplished runner and actually decent at it (unlike me; I have a long love-hate relationship with running). His pipe engineering and fiberglass inspection business is going gangbusters with the addition of some ROV (remote operated vehicles), push cameras (for going down pipes) and a microwave technology that measures pipe thickness. It means more travel and weekend work for him but as anyone that is self-employed knows, ya' gotta' get while the getting is good! He makes lots of time for quality family time though and the kids love playing creatively with him.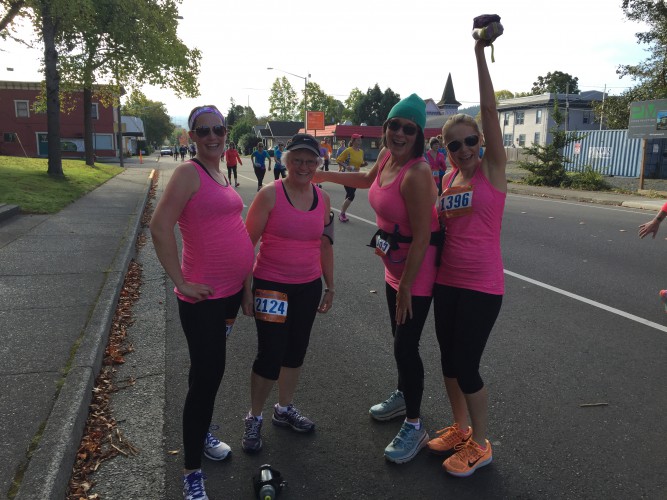 Chris had plenty of family time this morning when I ran the Bellingham Bay 1/2 Marathon with my good friends Lisa (brand new runner), Patrice (due with her 4th child next month) and Peg (64 years old! What an inspiration!).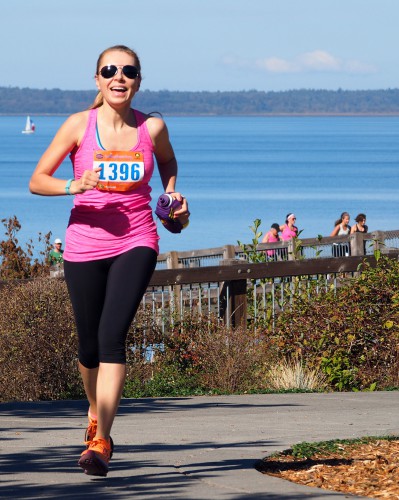 We were blessed with fantastic weather (the craziest, most gorgeous day ever for September). The Bellingham Bay Marathon is one of the most gorgeous races in the country, going through quaint neighborhoods, glorious parks and along the waterfront.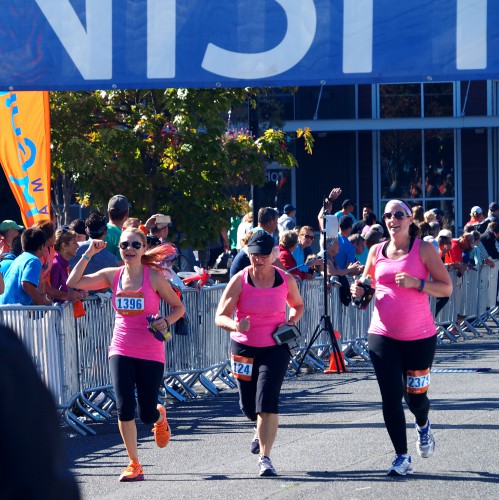 We finished the race strong. The cheering crowd helped a lot! And between Patrice and I, we had quite the mini-me cheering section (5 kids between us plus one on the way). Plus, I had my homemade date/pecan/vanilla powder/mushroom protein/chia seed energy bars so that helped the last long mile.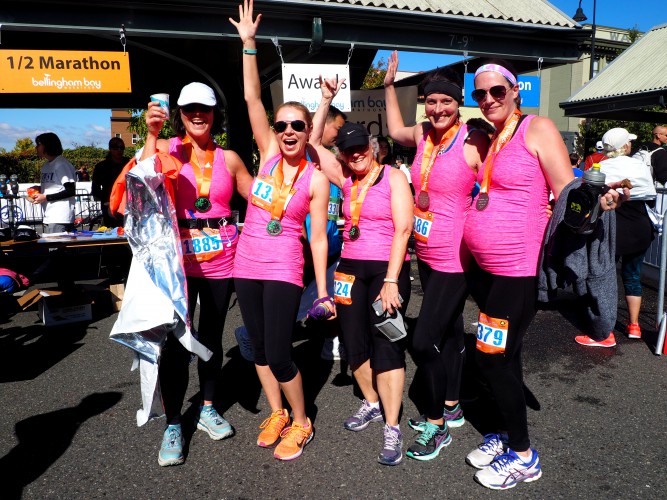 Our full non-official team was thrilled at the end. Raven, Lisa's daughter, joined us in colors and at the finish line. She was racing for time (2 hours!) and the rest of us were racing just to cross that finish line. Big thanks to my sweet husband for watching the kids during training runs and my folks for coming up to support (and to take the great action shots!). It was a great day and a check-mark for the bucket list. More importantly, we all finished a race that we committed to. That felt really good. I'll be stretching a lot tonight and trying not to hobble into work tomorrow. Happy weekend everyone!