Last week, I had the opportunity to talk about the process of writing Pure Soapmaking at Village Books, a local book store in Bellingham, WA. It was a huge high to talk about the journey with fellow soapmakers, as well as friends and family in the audience. If you weren't able to attend the talk and signing, you can read about the writing, editing and photography process of the book here.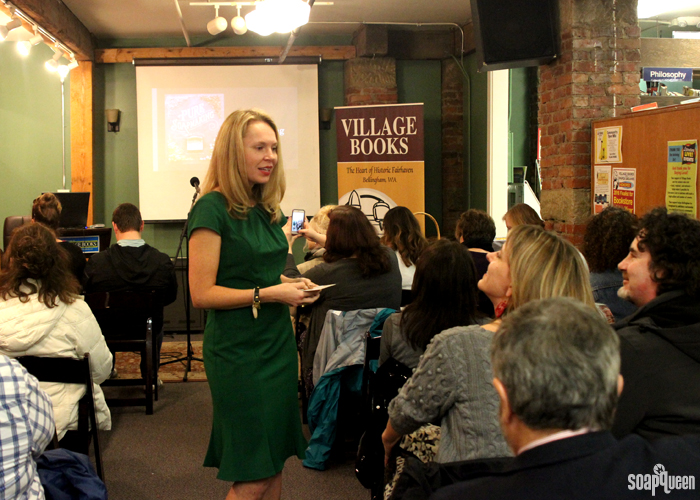 The best part of the book signing and author talk was being able to connect with people in the audience. Thank you so much to everybody who came. It means so much to me that you took the time to attend the event. To those of you who don't live in the Bellingham area, it's equally exciting to see the book in hands of crafters all over the world. Below, the book made it all the way to Moscow, and even made a trip to the Grand Canyon! Thanks again to everybody for all the support, and for sharing your #PureSoapmaking photos. If you have a copy, I'd love to see where the book is being read. Share your photo on social media with the tag #PureSoapmaking so I can find it. =)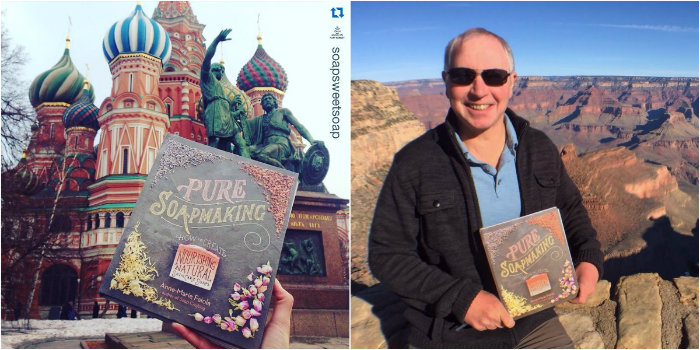 Left to right: SoapSweetSoap, CanyonMeg
Of course I had to bring soap from the book to the event. Below on the right are the Aloe Vera Hanger Swirl Soaps, and on the left are the Annatto and Yarrow Soaps and the Baby Oatmeal Bars. Everybody who came got to take one or two bars home, including the employees of Village Books. I'm so grateful to have the support of Village Books; they are an anchor business in Bellingham and our community is lucky to have them. Thanks so much to owners Chuck and Dee Robinson, who helped put this event together.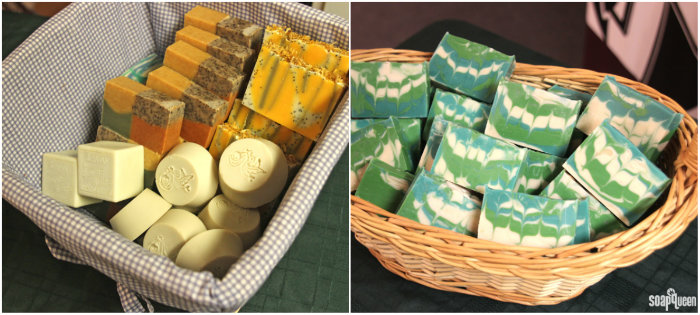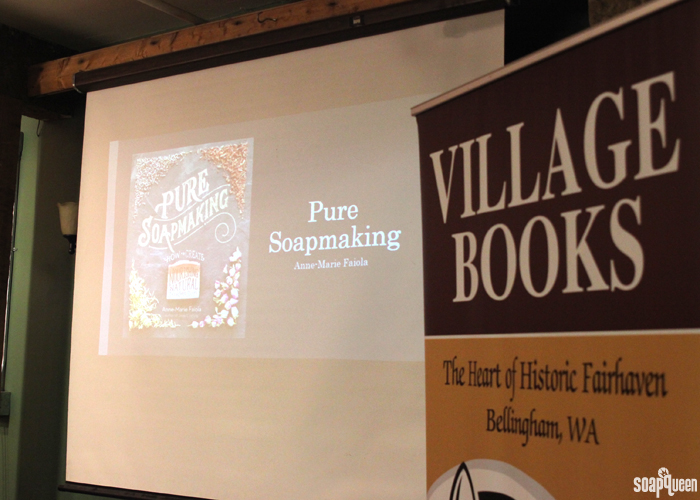 Below, I attempt to wrangle Lily and pose for the camera at the same time. Clearly, she is not so much of 'wrangleable' size anymore. Behind me, Jamisen checks out the soap goodies. He loves handmade soap (!). It was a treat to have my whole family at the event, including the kiddos, my husband, mom, dad, my father-in-law, and brother, sister-in-law and niece. My entire family, especially my husband, was such a huge source of support and inspiration throughout the book writing process. Thanks to all my friends who came, including Kristen, who was my soaping assistant on my first book, Soap Crafting.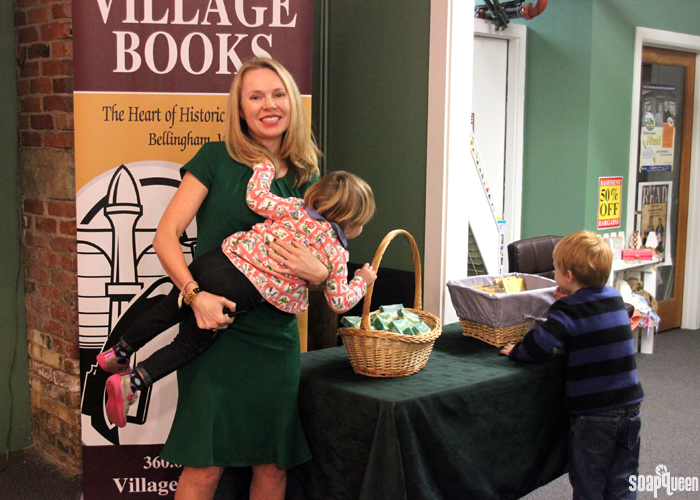 Soap Crafting was published in 2013. It's a little crazy to look back at the blog post about the party for this book launch. Below on the left, Lily and I during the party for Soap Crafting, and on the right, Lily and I during the Pure Soapmaking signing. It's amazing to see how much both Lily and Jamisen have grown since then.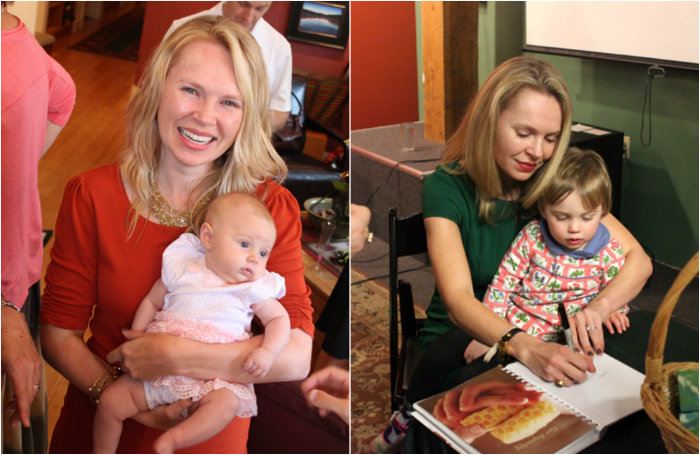 After the author talk and question and answer session (thanks to everybody who who asked a question!), I got to sit down to talk with attendees and sign books. It was so nice to be able to touch base with everybody personally. A big shout out to Björn who drove hundreds of miles to attend the signing! You guys made me feel like a total rock star that evening. =)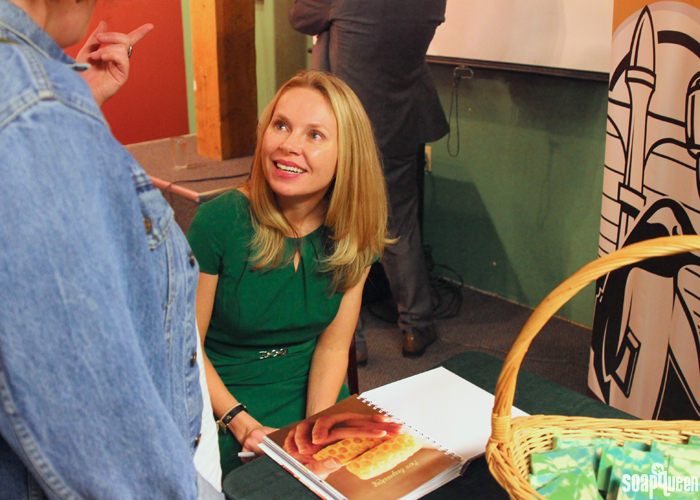 Below, I demonstrated how to use the Hanger Swirl Tool that was used to create the Aloe Vera Hanger Swirl Soap. I loved being able to talk about soap all night and give tips in person. If you're curious about this tool, you can see it in action in the Crisp Cotton Cold Process Soap, along with the Once Upon a Dream Cold Process Soap Tutorial.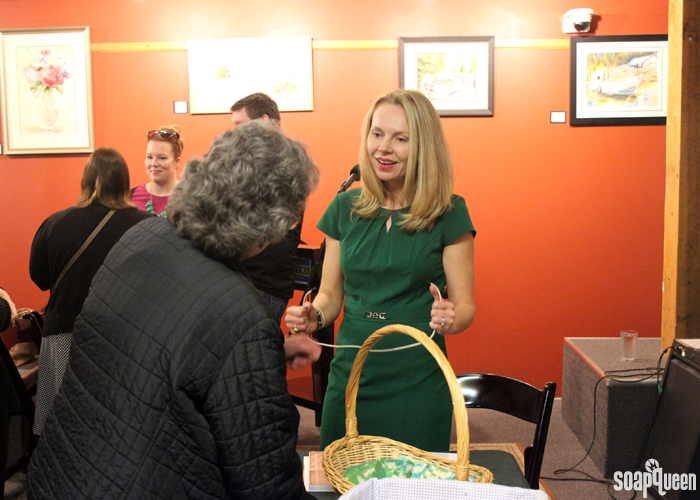 A big thank you to my team and Village Books who helped put this event together. I couldn't do it all without them!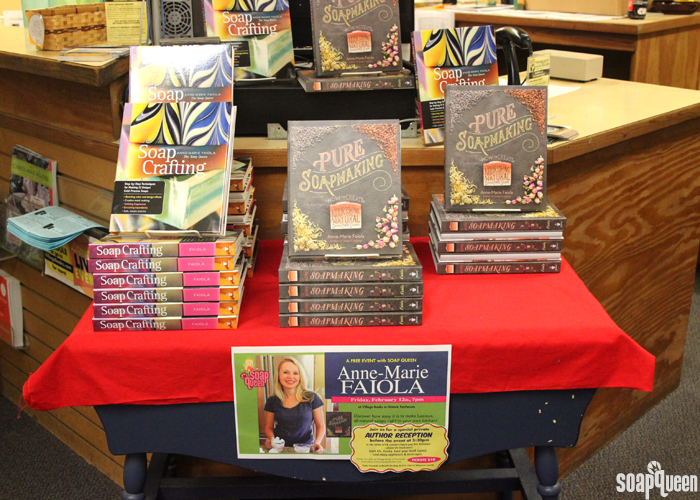 If you have your copy of Pure Soapmaking, don't forget to upload photos of your projects on social media with the tag #PureSoapmaking! I love to see your soap and where the book is traveling to.