It's still hard to believe that my new book, Pure Soapmaking, is finally here. The book has been such a labor of love for more than two years; to finally hold it in my hands is incredibly exciting. Even more exciting is seeing other soapers with the book! It's been an affirmation (and, a relief!) to hear all the positive feedback. Thank you all so much for the support. =)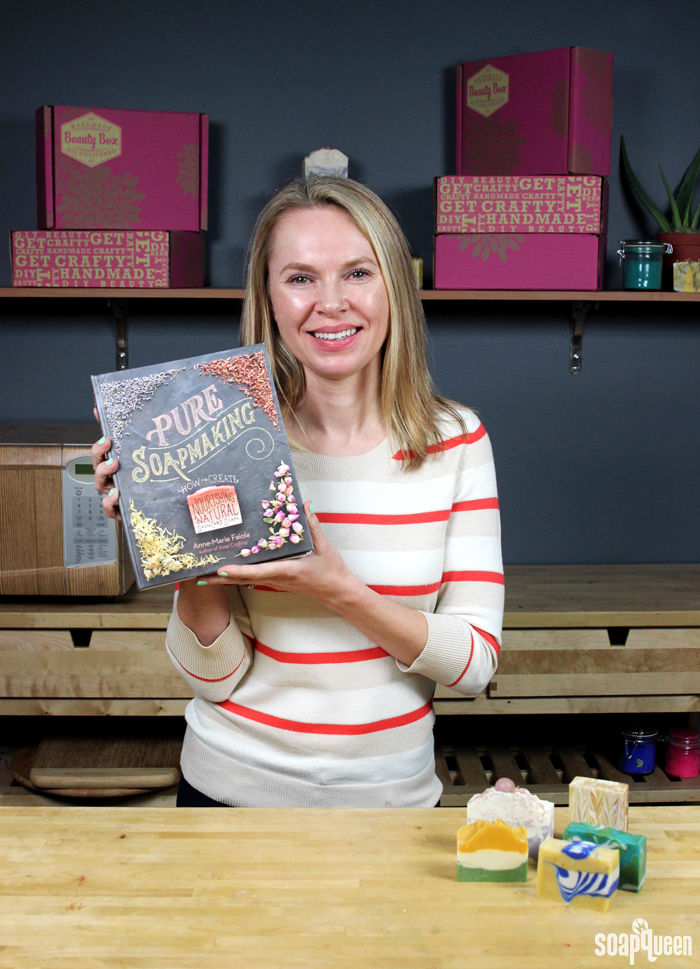 Now that the book has been out for several weeks, I have begun to reflect on the process of creating the book. If you've ever thought about writing a book, let me tell you…it's a lot of work. Fun? Absolutely. It's a fun and rewarding gift to share your passion and knowledge with others. But, creating a book requires an insane amount of time and resources. I was lucky to have access to both during the writing process. My Bramble Berry team and family helped me find time to work on the book. They also were invaluable in assisting me with recipes and other aspects of the testing process. It takes a village to create, photograph & lay-out 32, fully-tested, cold process projects!
The first step in writing this book was creating a book proposal for the publishing company, Storey Publishing. This is essentially an overview of what information the book will contain. Below, you can see a few pages of the original 2013 proposal, including the cover page and an overview of some of the chapters. After sending in the proposal to the editors, we began to work on the framework of the book and what information it should contain. A lot of the proposed topics made it into the book, while some did not. This is another reason why having input during the writing process is important. Talking about these topics and how they should be organized with soapers and non-soapers helped to lay out the book in the most cohesive way.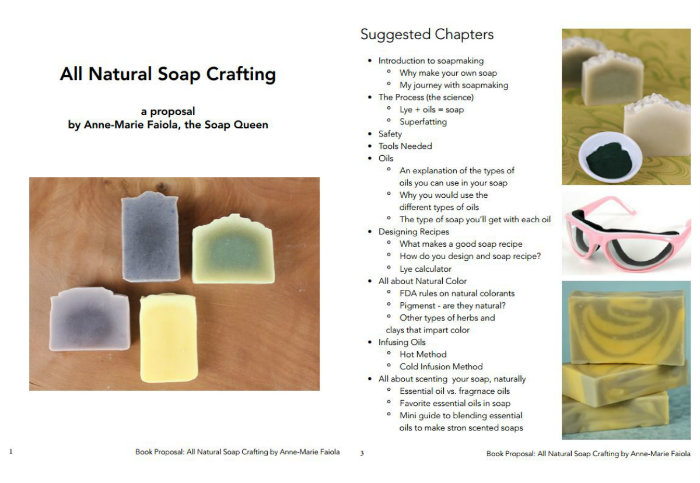 Then I got to work for three straight months writing the bulk of the manuscript. After the manuscript was finished, I worked with my team or alone to design the recipes and start the slow process of perfecting them. Once that's done, I submitted the manuscript to Storey and they edited it. This process involved a lot of back and forth, going over each and every step and detail to make sure directions and information were clear. It's both a blessing and curse to have non-soapers proofreading recipes and soap information. A lot of things needed clarification. But it was good to get an outside perspective on things that may seem common knowledge to me or my team. Below are some of the edits from Storey publishing on the left, and my answers on the right. There were reams of these notes back and forth.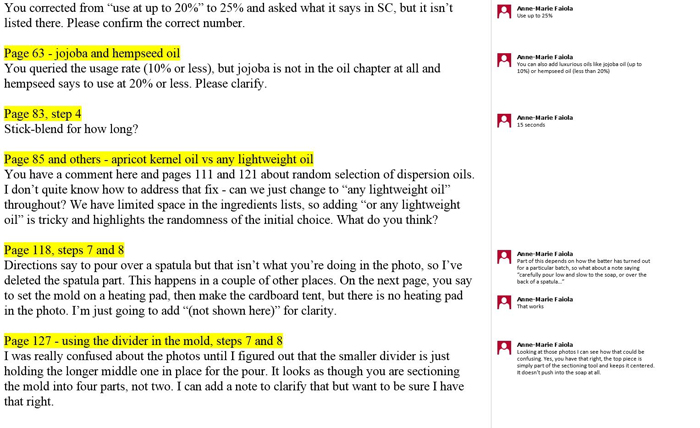 Writing and editing each and every recipe and step was a very intense and long process. 
While that's happening, I started to send the team at Storey finished soaps so they could look at them and give them the thumbs up or the thumbs down. They said things like: "that's too busy; remove the ball on the top of the soap."  The art director had a very specific look and feel that she wanted for the book and anything that didn't match her aesthetic, she kicked back to us with directions on how to change it. There were many emails and phone calls to come up with a grouping of soaps that the art director was pleased with.
I try really hard not to read reviews, but the last book, Soap Crafting, had a couple poor reviews because soapers had problems with the recipes. This time, I was determined to not have any recipe or instruction related difficulties happen. So for this book, I had four brand new soapers take only the recipes (no photos) to create the soap. Then, I compared their soaps with my soaps. Did they look the same? Did the soap turn out? This process was extremely valuable. I discovered some steps that needed to be clarified, and discovered which photos were crucial for each project.
One thing that was important in this book was recognizing that many soapers are going palm-free due to concerns about deforestation of sensitive orangutan habitat. Click here to read Bramble Berry's thoughts on palm oil. More than 50% of the recipes in this book are palm-free. The reason that soapers use palm oil in soap is because it adds to the bar hardness, how long it lasts in the shower and acts as a secondary lathering agent – meaning it helps the large, fluffy lather of a bar of soap. Replacing palm oil is most commonly done with tallow, or animal fat. Many people that want natural and organic products also are vegan, meaning they don't use any animal products. So, it wasn't going to be as easy as replacing palm oil with tallow in all the recipes.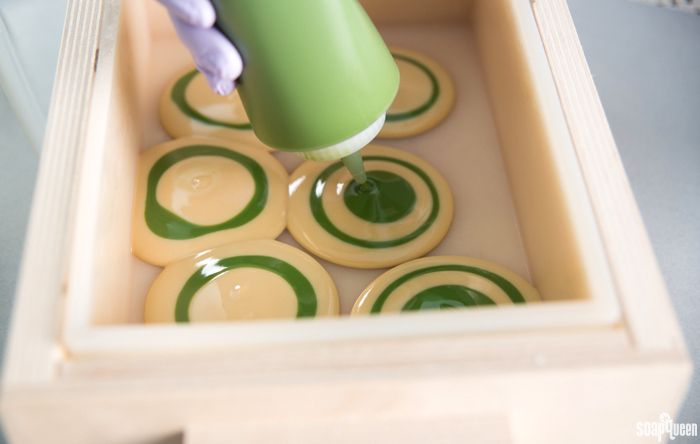 Over 50% of the recipes in Pure Soapmaking are palm free, including these White Tea Faux Funnel Pour Bars. 
So, we set about researching the chemical components inside palm oil. The reason that palm oil is hard is because of its high stearin or stearic fatty acid profile. I looked at all of the different fatty acid profiles of all the oils and started mixing and matching until I was able to replace over 50% of the palm in the entire book and come up with bars that are hard, last a long time in the shower and lather well. We also tried some insider soaping ideas like adding salt water during formulation to add to bar hardness. Is the lather as perfectly fluffy and large as palm oil soaps? It's pretty darn close. I'm proud of this achievement and know that it represents the first book of its kind on the marketplace to highlight palm free soaps.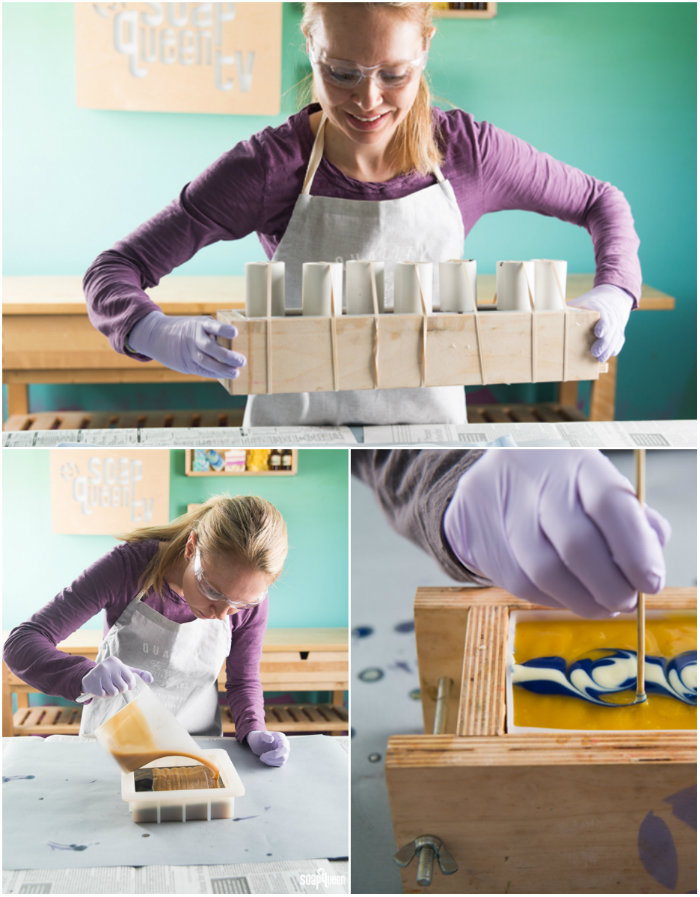 The book photoshoot was an intense couple days. Each day consisted of about 7-8 recipes, and required clean up and setup between each recipe.
After the recipes were perfected and the manuscript was close to done, we needed to photograph each and every recipe. As you can imagine, making 32 recipes in a five-day period and photographing them, cleaning up, and hoping that the recipes turn out perfectly the first time is quite a feat! Organizing all the oils, premixing all of the colorants and making sure that each and every recipe had back up oils fell to the shoulders of my super hard-working assistant Caitlin. To pull off the shoot took weeks of prep that fell on her, and I am so thankful for her organization.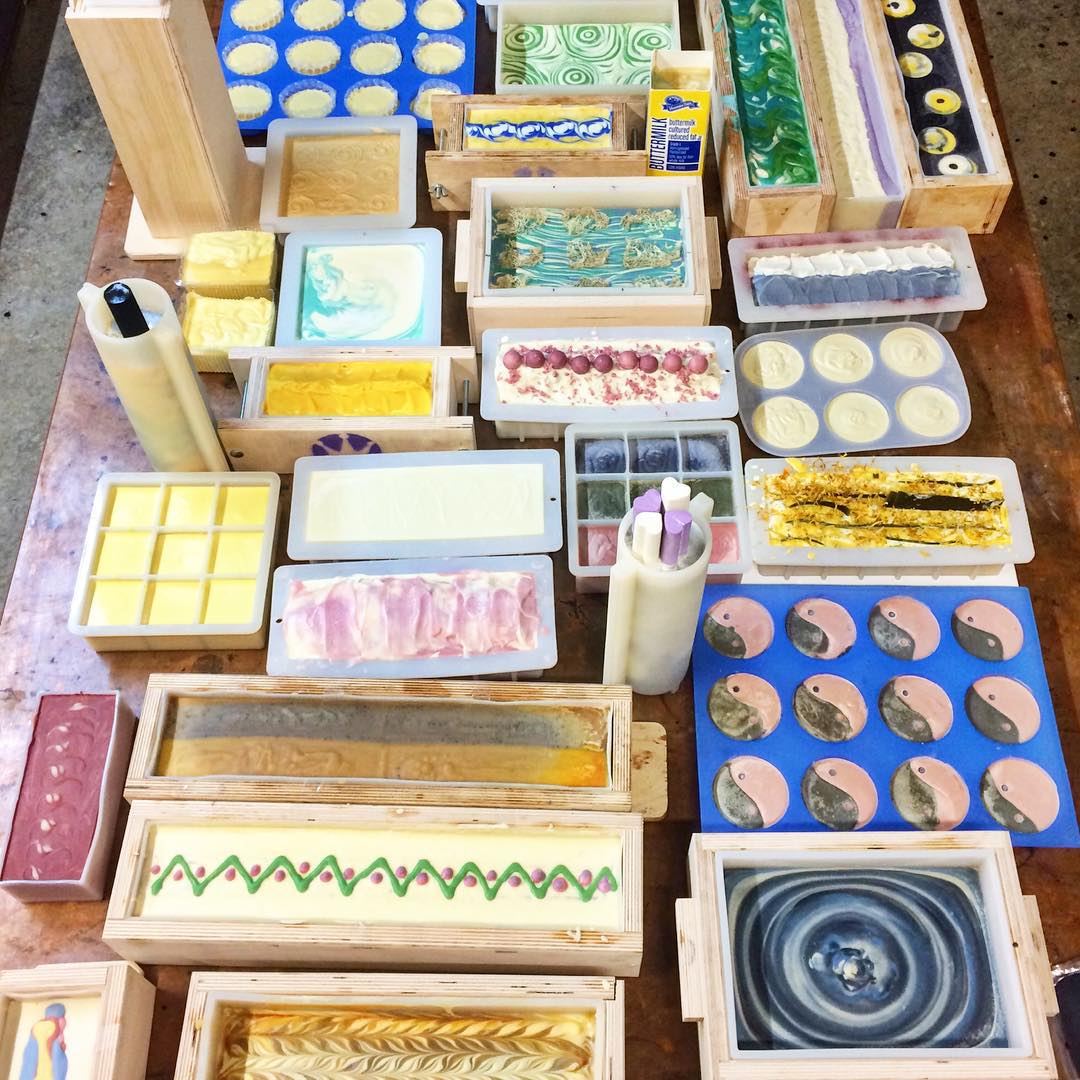 After the five days of shooting, all 32 recipes were created, photographed and even cut!
The photo shoot went smoothly, and there were only one or two soapy mishaps. Again, I'm so grateful for my team who came in on weekends to help set up in between each recipe, clean all the dishes and stay diligent and organized throughout an extremely tight schedule. I'm also thankful we could work with the same photographer as Soap Crafting, Lara Ferroni. In addition to being extremely talented, Lara has a calm and easy going personality which contributed to the success of the shoot. After the five days, we had created each and every recipe, perfectly, on camera…phew!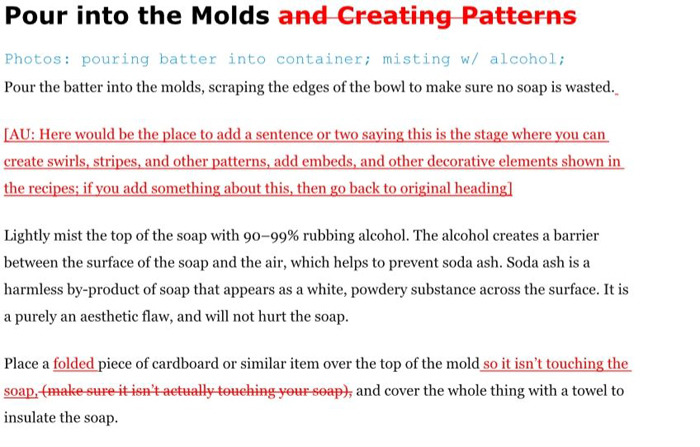 After the photo shoot came the final round of editing the manuscript (shown above). The editing process is always fraught with anxiety and issues. Like the last book, we worked with multiple editors – some who worked on just grammar and spelling, others that worked on flow and others that worked on continuity. Having so many eyes on the book helped eliminate errors. It's amazing what you miss when you are proofreading your own writing. After a few more round of edits, the book was finally complete.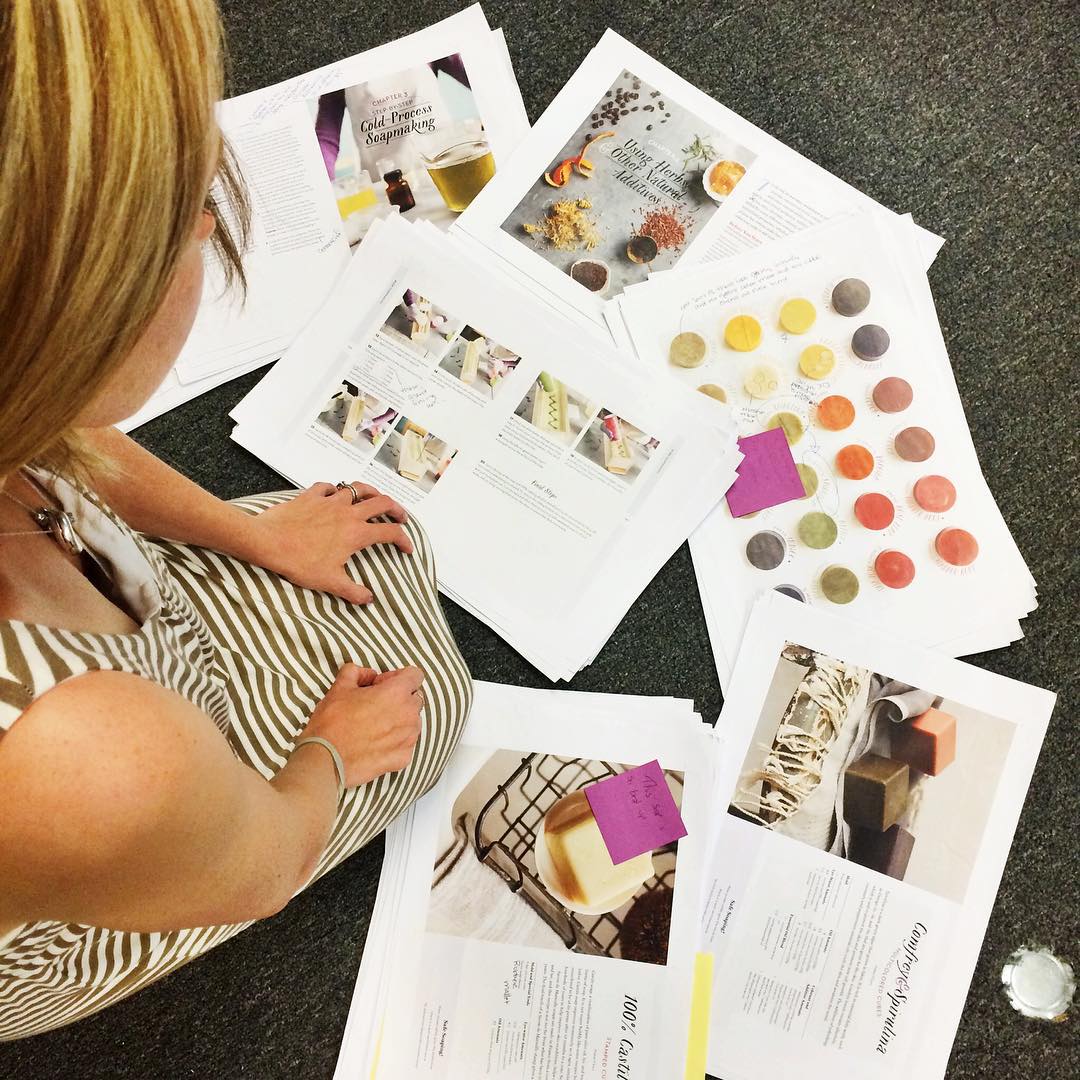 It's exciting that all the hard work has paid off and that so many soapers are getting the book and learning a new hobby, expanding their techniques, or even starting a business. I'd like to acknowledge my family at home and Bramble Berry team that had so much to do with the creation of this book. Yes, my name is on the cover and that is exciting and an honor, but it took the entire team at home and at work to see this book into fruition. Thank you to my team and my family. I also want to thank the soaping community and the readers of this blog! I'm constantly inspired by the amazing talent, dedication and passion of the soapmaking community and feel so honored to be part of it.
If you received your book, post a selfie with it on Instagram or Twitter and use the hashtag #PureSoapMaking for a chance to win one of ten $25 Bramble Berry gift certificates. Today is the last day to enter! I can't wait to see all your lovely faces with the book. I have been loving all the entries so far. =)