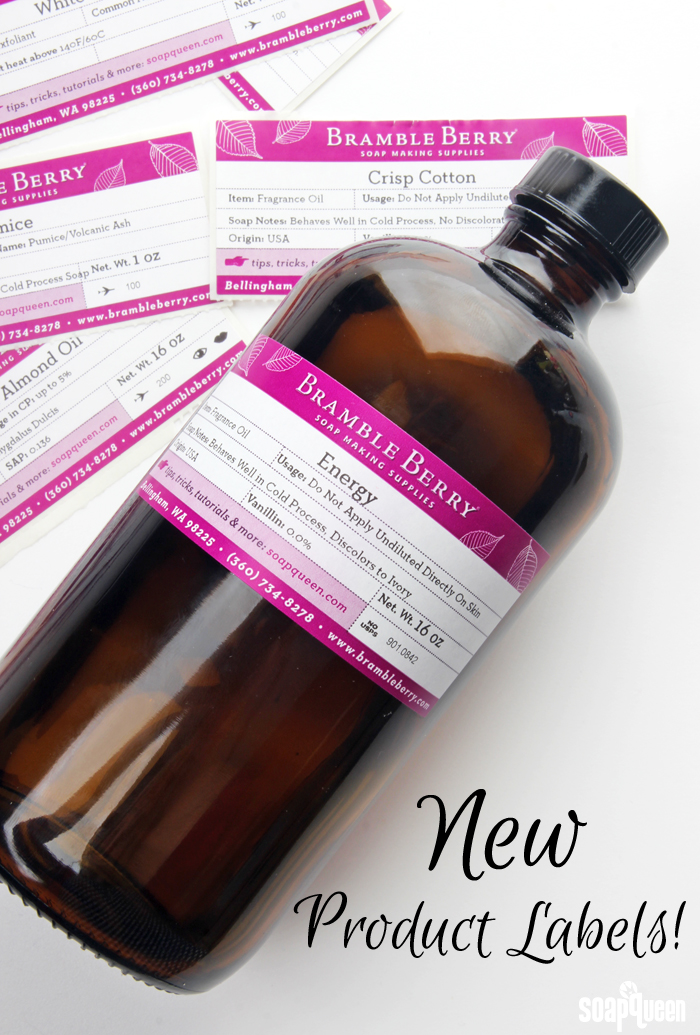 If you've ordered from Bramble Berry recently, you may have noticed that something looks a little different. Can't put your finger on it? The Bramble Berry product labels have been redesigned! We had the previous labels for approximately 12 years, so it was definitely time for an update. The new labels have a modern and clean look. In addition to an updated aesthetic, the redesign also improves the function. Labels now include more information about the product to make crafting a little easier. =)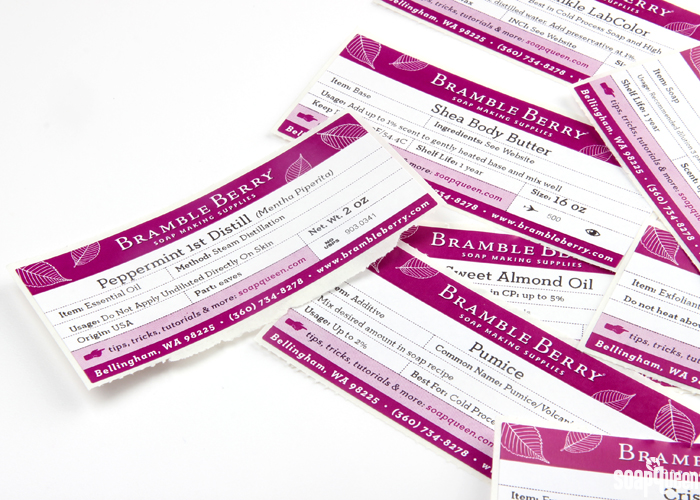 Bramble Berry has new labels on every product! The new labels include more product information and a clean design. 
Redesigning the labels was a long (but fun) process. After lots of brainstorming and meetings, we knew the most important part of redesigning the labels was to include more information about the products. In terms of design, we wanted the labels to reflect the new Bramble Berry website design. Several designers got to work, and we chose our favorite aspects to create the final look. The entire design process from start to finish took about 6 months. Below are just a few of the proposed designs that were ultimately rejected.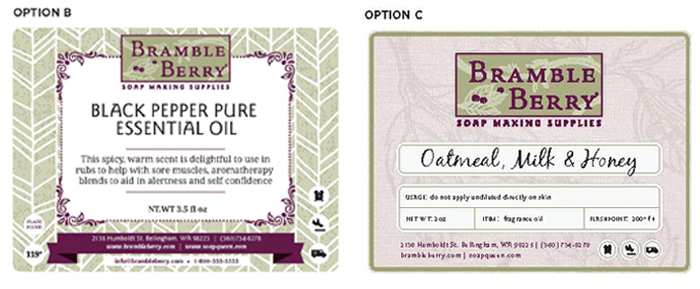 Above are some of the product label designs that didn't make the cut. 
If you've ever created labels or branding materials for your business, you know how difficult this process can be. There are so many options and possibilities, and it can be tricky to translate ideas in your head to reality. I definitely recommend investing in a professional designer to make this process easier! But don't just choose any designer. Take the time to find the right one for your business and project. We took meetings from several design firms to find the perfect fit.
After lots of decisions, we decided on a design that's clean, easy to read, and full of product information. Every label includes the name of the product front and center. On the second line to the left, the type of product is indicated. For example, this area will tell you if the product is a fixed oil (ex: coconut oil, avocado oil, sunflower oil), fragrance oil (ex: Oatmeal Milk and Honey, Energy) or a colorant (ex: Ultramarine Blue Pigment, Fizzy Lemonade Colorant). Each label specifies the size of the product in the lower right hand corner. Below, you can see our final design of the labels for Orange 10X Essential Oil. Check out how much info is squeezed onto that label!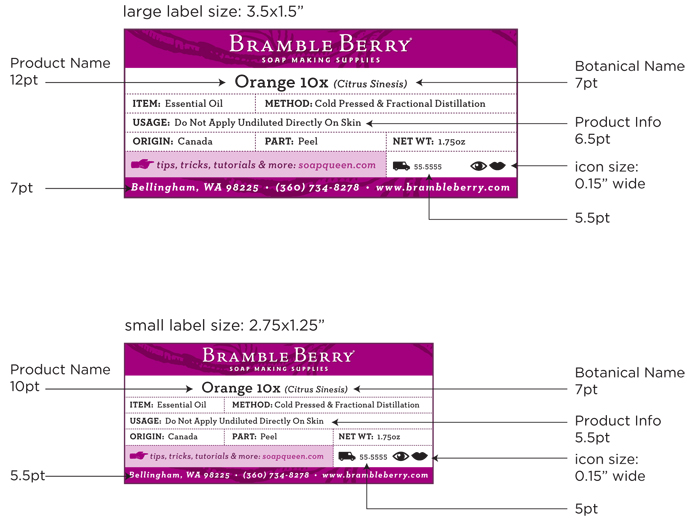 In the bottom right corner of the labels, you'll notice small icons. These icons correspond to different shipping restrictions and safety information. Check out the graph below to see what they mean. The top three icons in the graph indicate shipping restrictions, and the bottom two indicate whether the product is eye and/or lip safe. Products will only have one icon regarding shipping, while products may have zero, one or both safety icons.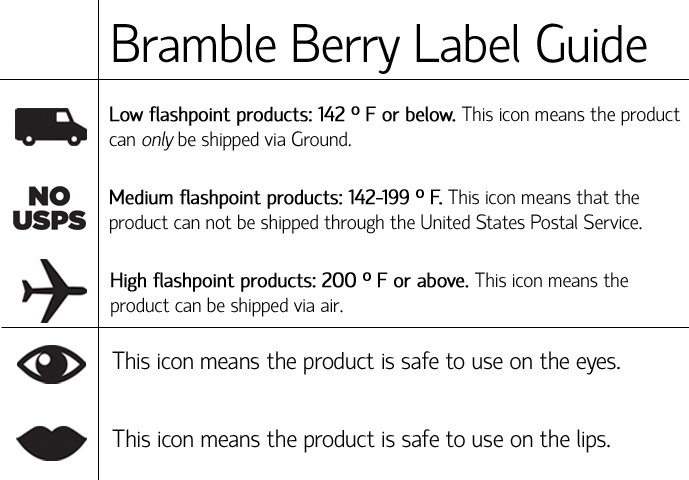 In addition to these icons, you'll find more information about the product on the labels. This information will vary depending on what type of product it is. Below are some pieces of information that you can expect to find on the labels of various kinds of products.
Fixed Oil/Butters: Labels  include the usage rate in cold process soap, botanical name, shelf life and SAP value.
Fragrance Oil: Labels include how it performs in cold process soap, including notes on acceleration and discoloration. The origin is also included, in addition to the vanillin content. The labels also note that fragrance oils should not be applied undiluted directly to the skin.
Essential Oil: Labels include the method of distillation, the place of origin and the part of the plant it comes from. The labels also note that essential oils should not be applied undiluted directly to the skin.
Powder Colorants: Labels include how to mix when using in melt and pour and cold process, and any notes specific to the colorant.
LabColors: Labels include information on diluting the colorant, what type of soap it's best suited for and notes that it is not intended for oil or wax.
Powder Additives: Labels include the usage rate and what product it's best suited for.
Exfoliants & Clays: Labels include the usage rate and what product it's best suited for.
Preservatives: Labels include usage rate, ingredients, pH range and temperature it should be kept at or below.
Bases (Lotion Base, Soap Concentrate etc): Labels include usage rate, shelf life and temperature it should be kept at or below.
Melt and Pour Bases: Labels include brief instructions for use, a general fragrance usage rate and temperature it should be kept below to prevent burning.
The goal with the redesign was to make the labels look and function better. Rather than looking up information about the product on the site, it's right at your fingertips. I hope that the new labels will make your soapy projects easier, and more fun. If there is specific information that you'd like to see on the labels, let us know. It's easy for us to edit the information on the label, so if there is a piece of information you'd find helpful, we would love to add it.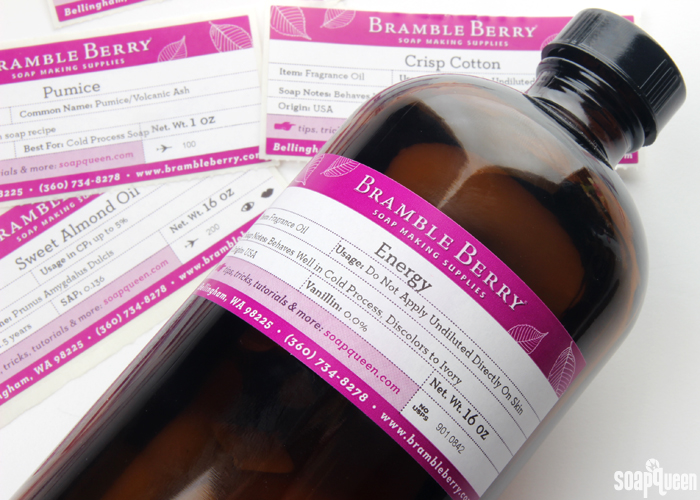 What do you think of the new labels? I find having fragrance oil information on the bottles to be so helpful. It definitely makes choosing the right fragrance oil for my projects much easier.