Yields:
about 3 lbs. of soap
We're all about intricate swirls, lovely layers and exotic techniques, but sometimes you want something simple and elegant.
This two-layer soap features a classic black and white color scheme. The key to this technique is keeping the layers smooth and straight. The little something special in this recipe comes from the Bamboo Powder extract, which is a mild exfoliant added to the bottom white layer. This soap was finished with gold mica painting, which popped beautifully against a black background. Who says simple can't be pretty?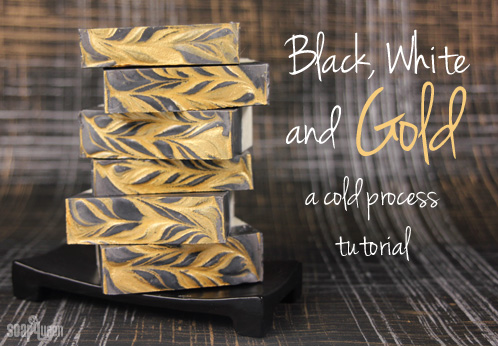 Keep in mind that this soap does have a light grey lather, although it's almost unnoticeable on your hands. If you'd like a white later, consider adding 1/2 tsp. or even 1/4 tsp. dispersed Black Oxide colorant (less than we used), but keep in mind you won't end up with the same black color in the photos. Additionally, the gold topped mica won't last for more than a wash or two, but we still think it's worth it!
What You'll Need:
4. 9 oz. Avocado Oil
8.2 oz. Canola Oil
9.9 oz. Coconut Oil
8.2 oz. Palm Oil
1.6 oz. Shea Butter
4.6 oz. Sodium Hydroxide
10.8 oz. distilled water
2 oz. Fresh Zucchini Flower Fragrance Oil

Click here to add everything you need for this project to your Bramble Berry shopping cart!
If you've never made Cold Process soap before, stop here! I highly recommend checking out our FREE four part SoapQueen.tv series on Cold Process Soapmaking, especially the episode on lye safety. And if you'd rather do some reading, Bramble Berry carries a wide range of books on the topic, including my newest book, Soap Crafting. You can also checkout the digital downloads for that instant gratification factor.
SAFETY FIRST: Suit up for safe handling practices! That means goggles, gloves and long sleeves. Make sure kids, pets, and other distractions and tripping hazards are out of the house or don't have access to your soaping space. Always soap in a well-ventilated area.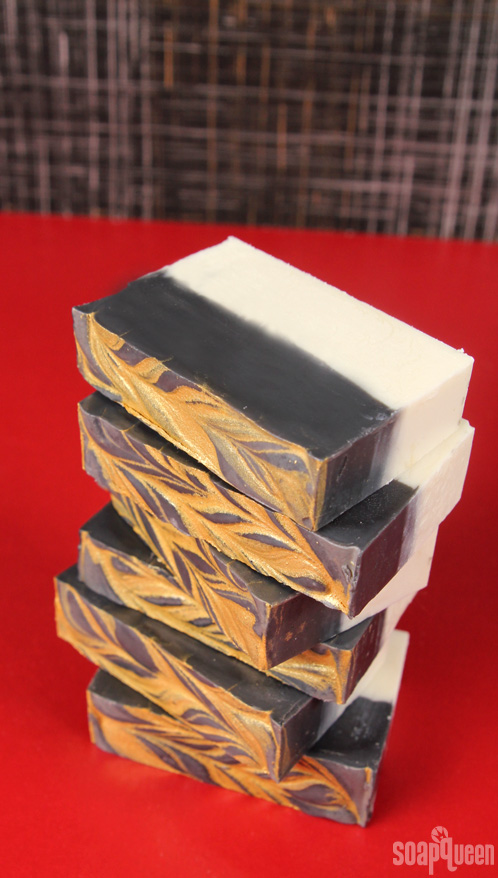 COLOR PREP: Disperse 1 teaspoon of Titanium Dioxide into 1 tablespoon of light liquid oil and 1 teaspoon Black oxide into 1 tablespoon of light liquid oil. We use Sweet Almond or Sunflower oil. Then, disperse 2 teaspoon sparkle gold mica in 1 tablespoon of liquid oil. Use a mini mixer to get the clumps of color worked out smoothly.
EXTRACT PREP: The Bamboo Extract will mix in much better if you disperse it in a light liquid oil first. Disperse 1 tablespoon of Bamboo Extract into 2 teaspoons of oil, such as Sweet Almond or Sunflower. Mix with a mini mixer and then set aside.
ONE: Slowly and carefully add the lye to the water and gently stir until the lye has fully dissolved and the liquid is clear. Set aside to cool.
TWO: Combine the Avocado, Canola, Coconut, Shea Butter and Palm oils (remember to fully melt then mix your entire container of Palm Oil before portioning). Once the lye water and the oils have cooled to 120 degrees or below (and are ideally within 10 degrees of each other), add the lye water to the oils and stick blend until medium trace. If you'd like a harder bar of soap that releases faster from the mold, you can add Sodium Lactate to the cooled lye water. Use 1 teaspoon of Sodium Lactate per pound of oils in the recipe.
Note: Half of the soap is white in this design, which makes it a prime candidate for forming glycerin rivers. Although harmless, you can prevent glycerin rivers by soaping colder. You may want to try this recipe with your lye around 100 degrees F and your oils around 90 degrees F.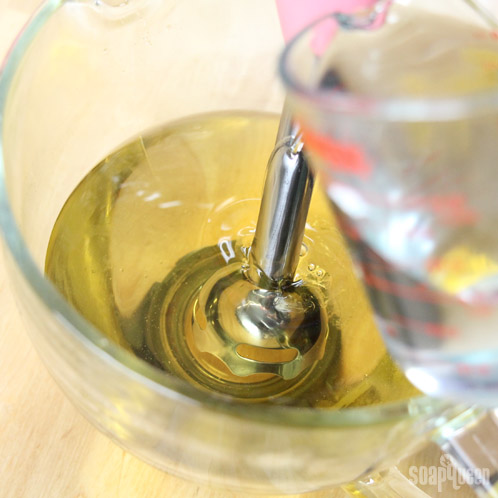 THREE: When the batter reaches a medium trace, split it equally into two containers.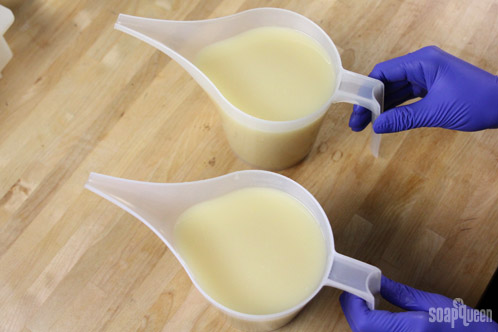 FOUR: To one container, add 2 teaspoons dispersed Titanium Dioxide and 1 tablespoon of the Bamboo Extract mixture. Mix with a whisk.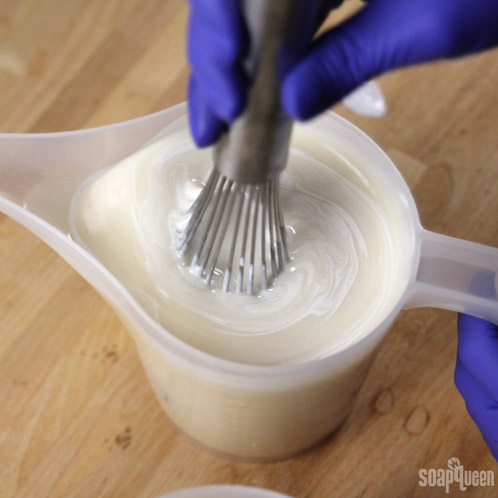 FIVE: Add roughly half the fragrance oil. Mix with a whisk.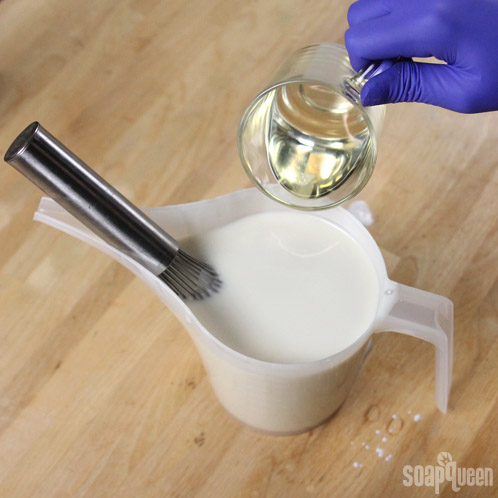 SIX: You want the white layer to be thick enough to support the black layer above, so stick blend the batter on short bursts for 15 – 20 seconds until it reaches a thick trace.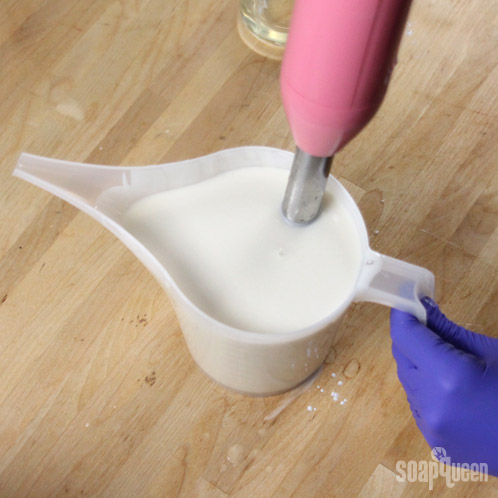 SEVEN: Pour all of the white batter into the mold. Use a spatula to get every last bit of batter out of the container.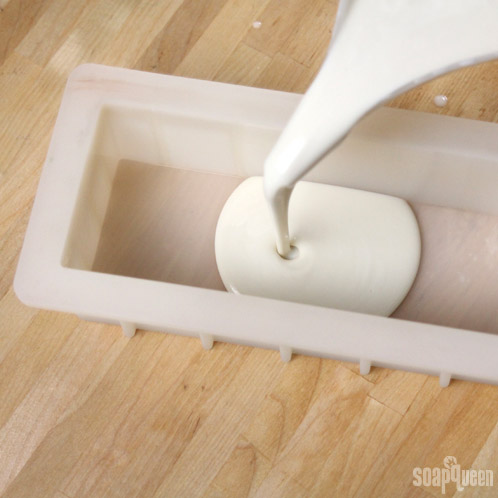 EIGHT: In the second batter container, add 1 teaspoon of dispersed Black Oxide and the remainder of the fragrance oil. Mix in with a wire whisk. You want this batter to have a slightly thinner consistency so it pours nicely over the white soap.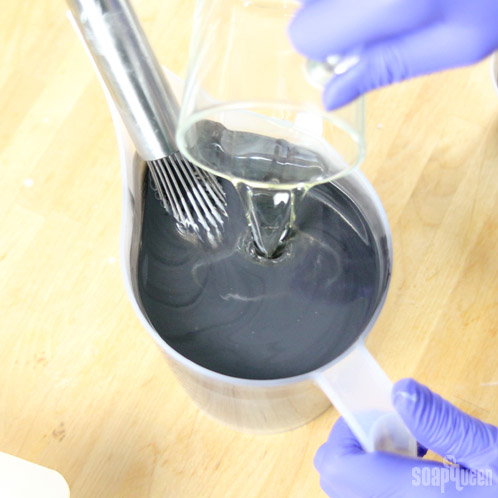 NINE: Pour the black soap over a spatula or spoon so you don't break through the white layer below. You want a nice straight divide between the two colors, so take your time when pouring the black layer.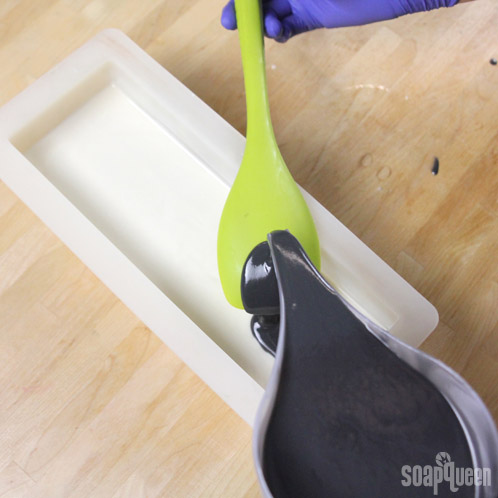 TEN: Get the black soap as smooth as you can so you'll have a nice surface to draw your mica lines. We smoothed the soap out with the back of a Square Silicone Spoon.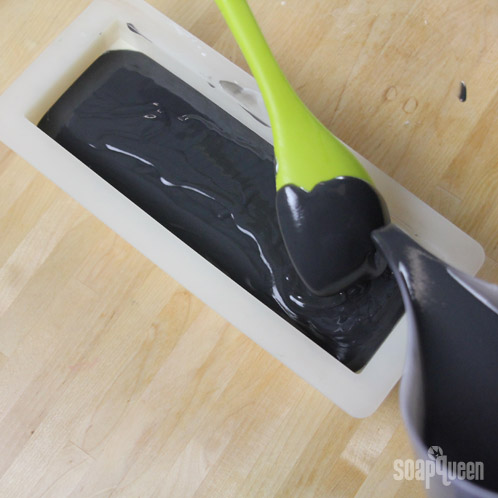 ELEVEN: Using the dropper, drizzle an S-shaped curve of dispersed Gold Sparkle Mica on top of the soap (top left and right photos). Then, drag a chopstick or dowel in an S-shaped curve length-wise across the soap (bottom left photo). Finish the design by drawing the same S-curve width-wise through the soap (bottom right photo).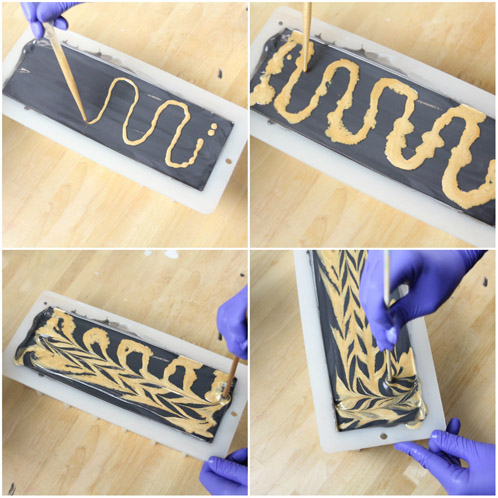 The resulting top design will look like this: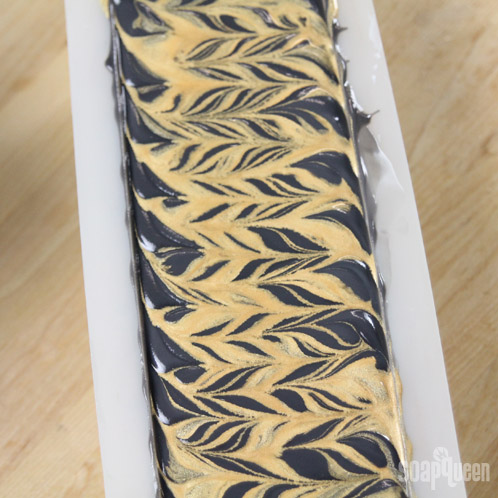 To prevent glycerin rivers, pop this soap in the freezer for 1 – 2 hours. Take it out and allow it to harden for 3 – 4 days before unmolding. When you cut this soap, flip it over so the mica side is facing down and then cut. That way, you won't drag mica through your soap. Allow it to cure for 3 – 4 weeks and enjoy!