Yields:
about 3 lbs. of soap
With little ones running around, I like to keep our 4th of July fireworks display kid-friendly — lots of Pop-Its and maybe a heavily supervised sparkler. To imitate the big booms without actually having to set one off, I created this fun firework-inspired soap. This soap features droplets of gold mica painting and lots of swirly red, white and blue soap to imitate even the most dazzling of fireworks displays. If you make it now, it will be nearly cured just in time the the fourth!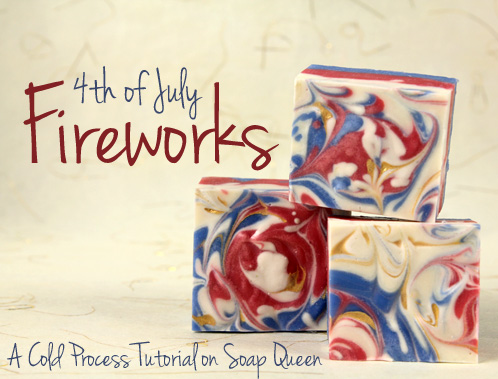 What You'll Need:
33 oz. Lots of Lather Quick Mix *
4.8 oz. Sodium Hydroxide
10.9 oz. distilled water
1 oz. Grass Stain Fragrance Oil
1 oz. Red Apple Fragrance Oil
9 Bar Birchwood Mold with Liner

Click here to add everything you need for this project to your Bramble Berry shopping cart!
*If you don't want to use a Quick Mix, do a long-lasting recipe that has at least 60% liquids or soft butters in it and doesn't contain over 40% solids.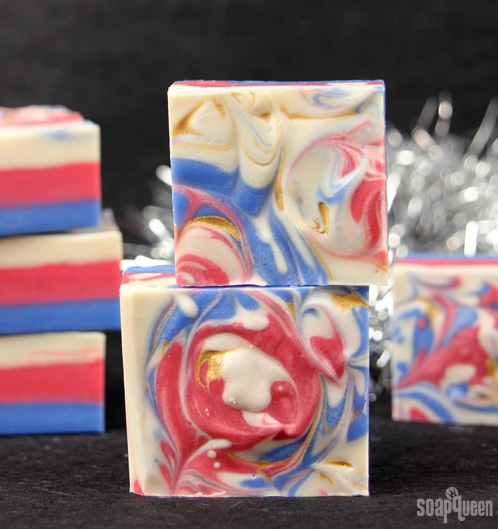 If you've never made Cold Process soap before, stop here! I highly recommend checking out our FREE four part SoapQueen.tv series on Cold Process Soapmaking, especially the episode on lye safety. And if you'd rather do some reading, Bramble Berry carries a wide range of books on the topic, including my newest book, Soap Crafting. You can also checkout the digital downloads for that instant gratification factor.
SAFETY FIRST: Suit up for safe handling practices! That means goggles, gloves and long sleeves. Make sure kids, pets, and other distractions and tripping hazards are out of the house or don't have access to your soaping space. Always soap in a well-ventilated area.
COLOR PREP: To ensure that the Titanium Dioxide blends smoothly into the soap batter, we recommend micronizing it before dispersing it in oil. To micronize colorant, simply use a coffee grinder to blend the colorant to break up any clumps of color and prevent streaks of white from showing in the final soap. We like to use a coffee grinder that has a removable, stainless steel mixing area for easy cleaning. Then, disperse 1 teaspoon of each colorant into 1 tablespoon of Sunflower or Sweet Almond Oil (or any other liquid oil). Use a mini mixer to get the clumps of color worked out smoothly.
FRAGRANCE BLEND: In a glass container, combine 1 oz. of Red Apple and 1 oz. of Grass Stain Fragrance Oils. Set aside.
ONE: Slowly and carefully add the lye to the water and gently stir until the lye has fully dissolved and the liquid is clear. Set aside to cool.
TWO: Fully melt the Lots of Lather Quick Mix and pour into a large bowl that holds at least 48 oz. Once the lye water and the oils have cooled to 130 degrees or below (and are ideally within 10 degrees of each other), add the lye water to the oils and stick blend until thin trace. If you'd like a harder bar of soap that releases faster from the mold, you can add Sodium Lactate to the cooled lye water. Use 1 teaspoon of Sodium Lactate per pound of oils in the recipe. For this recipe, you'd add about 2 tsp. Sodium Lactate.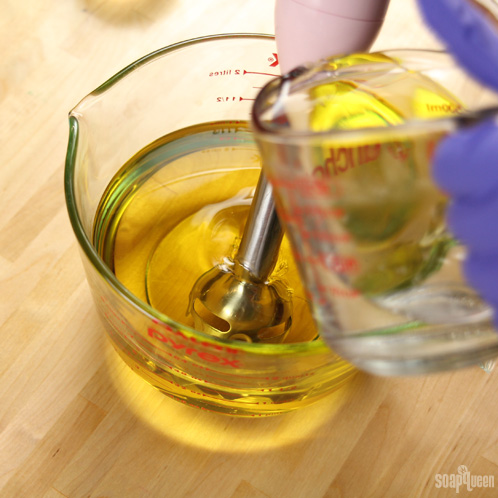 TWO: Once you've reached a thin trace, split the batter equally three ways. Eyeballing is okay!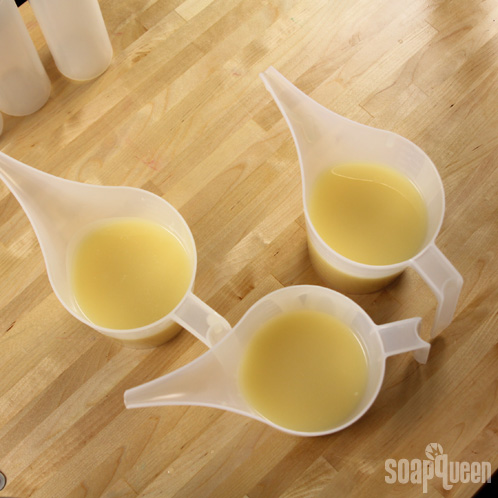 THREE: Add one color to each container in the following rates:
3 tsp. dispersed Ultramarine Blue.
3 tsp. dispersed Titanium Dioxide.
1 tsp. dispersed Merlot Mica + 2 tsp. dispersed Electric Bubblegum
Mix in with a wire whisk.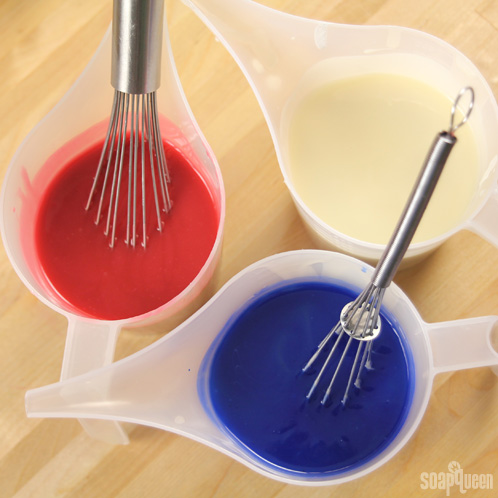 FOUR: Split the fragrance oil blend equally between the three containers. Mix with a wire whisk.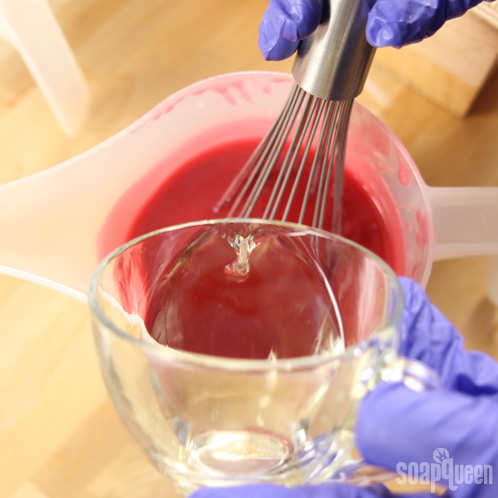 FIVE: Pour the blue soap into the mold. Leave about 3 oz. (100 mL) in the container for the top design. Tamp the mold on the table several times to disperse bubbles.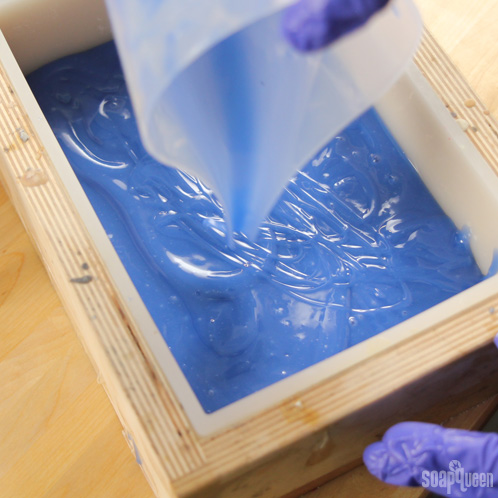 SIX: Now pour the red soap. You may want to pour over a spatula to make nice straight layers. Keep about 3 oz. (100 mL) for the top design.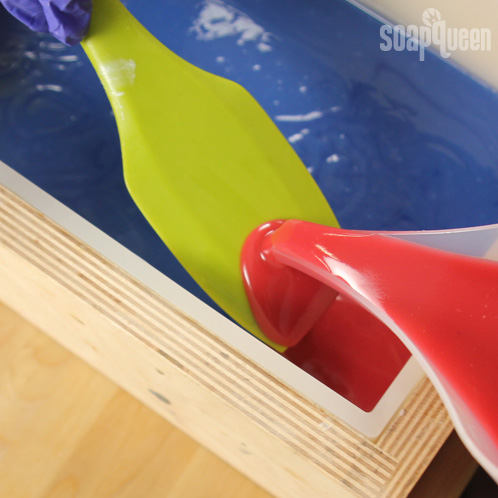 SEVEN: Pour the white soap. You may want to pour over a spatula to make nice straight layers. Keep about 3 oz. (100 mL) for the top design.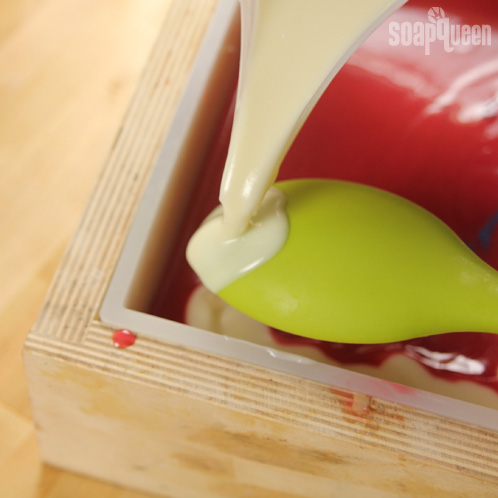 EIGHT: Smooth the white soap over the red soap as best you can to give yourself a flat surface to pour the drops of color. We started with large dollops of blue.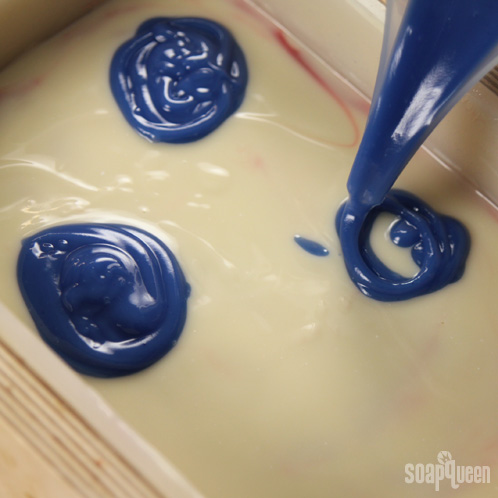 NINE: After you lay down the blue, pour the white and red soap. Using a dropper, drop small amounts of dispersed Gold Sparkle Mica around the circles of color.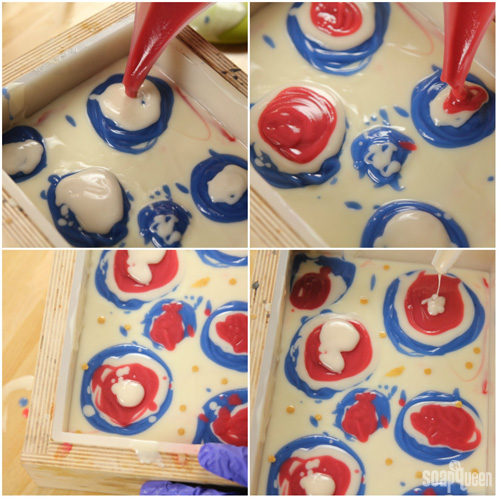 TEN: Insert a chopstick or dowel about 1/4 inch inch the soap. Start in the middle of your drops of color and make a circular swirl pattern outward. Don't be afraid to swirl into another circle or swirl into the drops of gold. This is where you can really get creative!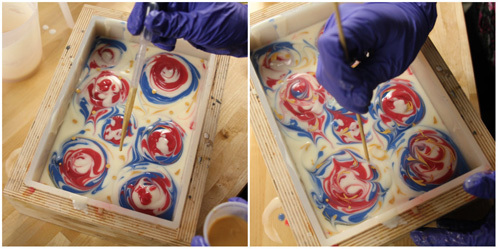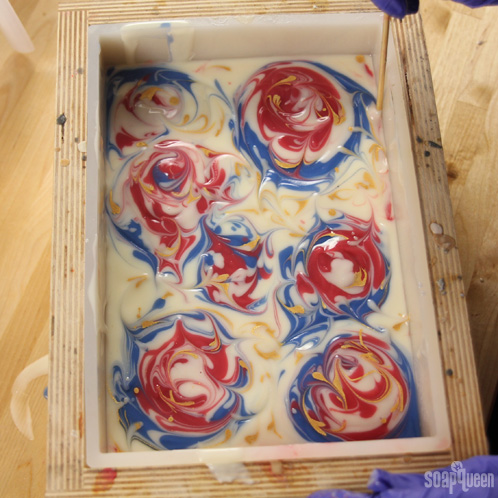 Allow the soap to sit in the mold for 3-4 days before unmolding. Allow the soap to cure for 4-6 weeks and enjoy. Happy 4th of July!