Carmen of Earths Raw Beauty has been soaping for less than a year, but you would never know it by the number of techniques she has mastered. I first stumbled on her colorful soap on the #SoapShare tag on Instagram, and was in awe of her abilities. Each soapy design showcases a different technique, whether it be her precise layers, perfect rainbow hues or skillful swirls. If there is one consistent factor in Carmen's soap of Earths Raw Beauty, it is that each each bar is completely distinct. Read on to find out more about Carmen, including how she got started soaping and her unique method of using goat milk. -A.M.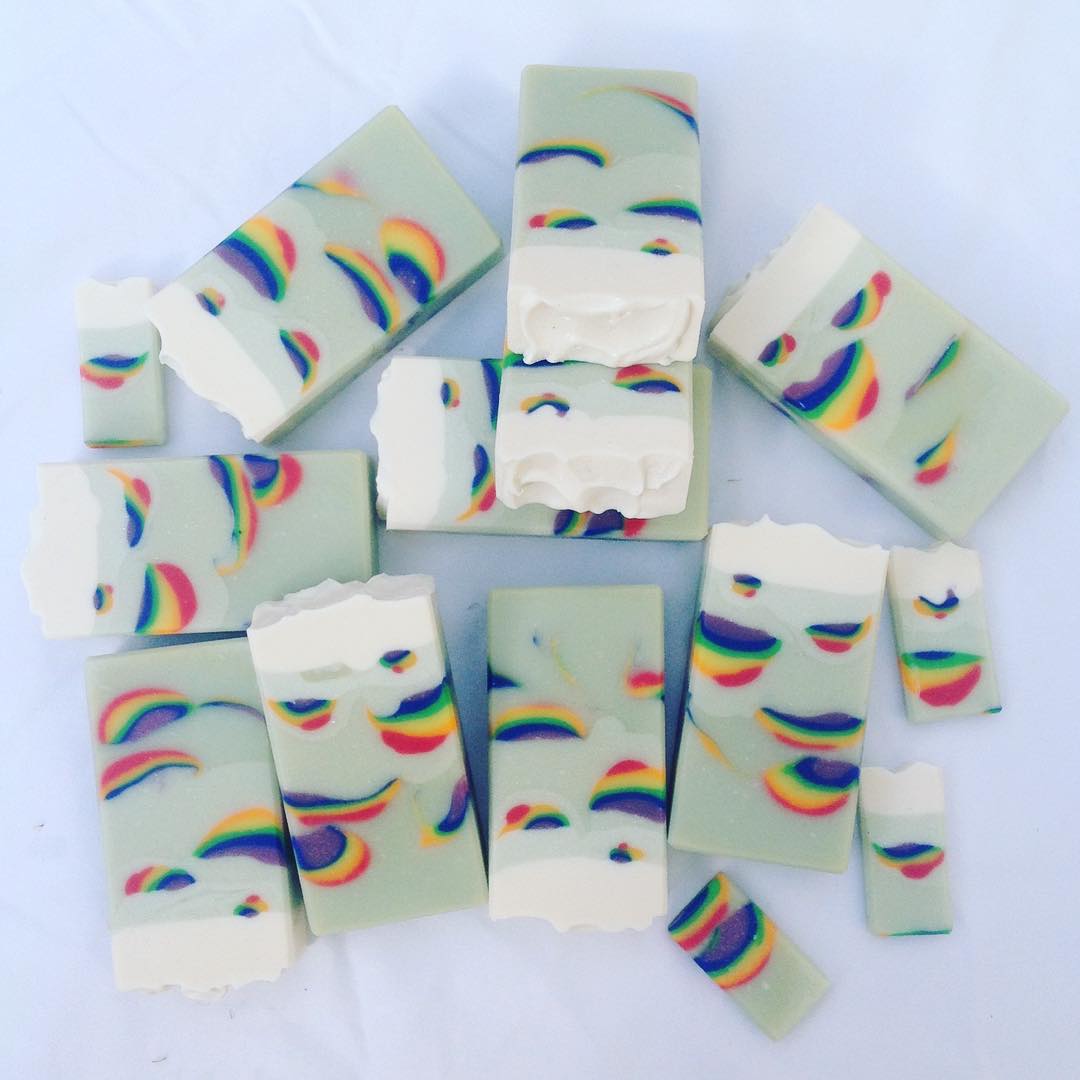 Carmen's beautiful Spectrum Bits Cold Process Soap, scented with bergamot and white tea. 
How long have you been soaping for and how did you get started?
I've been soaping for 7 months now. To be more precise it's been 7 months and 2 weeks and I'm looking forward to many, many more. Every time I get asked this question I answer "Texas did it to me!" and it's true! I was in Texas for a week at the end of July last year and I swear, there was something in the air. I actually started off by making skin care products in March of last year. Soap was never on my mind. While in Texas, during my very first day, I found myself watching soap making videos. Don't ask me how I started watching them because I seriously have no idea. I just remember being fascinated by the action of a stick blender going through the melted oils and lye solution. Even now I could watch someone stick blend soap for 10-15 minutes.
Most soap makers started because they wanted a natural solution, or they wanted to give homemade gifts. I started because I was fascinated by a stick blender in action. Little did I know that the stick blender was only the beginning of the magic. I spent that entire week in the hotel room reading and watching videos about soap making. I watched all the Soaping101 and Soap Queen TV videos, and I read as much as I could. Then I ordered a silicone mold and lye from Amazon because I wanted to make sure I had them in my mail box when I got home. I got home on July 31st (yes, I remember because it's the first day I ever made soap) at 7 p.m., and as soon as I got home I made my very first batch of soap. It was all it took for me to fall in love with soap, especially after I cut the first slice. I've been hooked since.
What sort of advice would you give to those soapers just starting their businesses?
When it comes to business I can't really give any advice, I have a lot to learn in that department. It's been less than 8 months since I made my first batch, therefore I didn't start selling until 2 months ago. For now I sell on Etsy, and of course to my friend's friends and their friends, the word of mouth spreads really fast.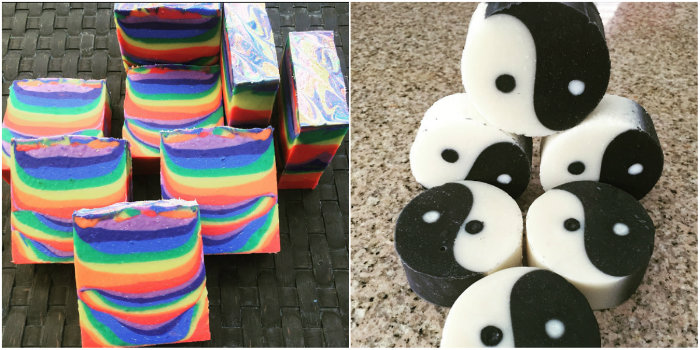 Left to right: Rainbow Cold Process Soap, Balanced Energy Natural Soap
What is your favorite type of product to make?
Now this is a very easy question. I make all kinds of skin care products: salves, butters, balms, creams, lotions, scrubs, bath bombs (my worst enemy), etc. By far, cold process soap is my favorite product to make.