Kangaroo Apple Soap Studio creates colorful cold process soaps that showcase what an artform soapmaking is. Several months ago, the talented proprieter Lisa won the Facebook Photo of the Week contest with an intricate swirl cold process soap. After looking at her soap, I immediately wanted to know more. Lisa's passion for soap shines with a masterful use of color and swirls. Read on to learn more about Kangaroo Apple Soap Studio, including how she came up with her unique business name and where she finds color inspiration. -A.M.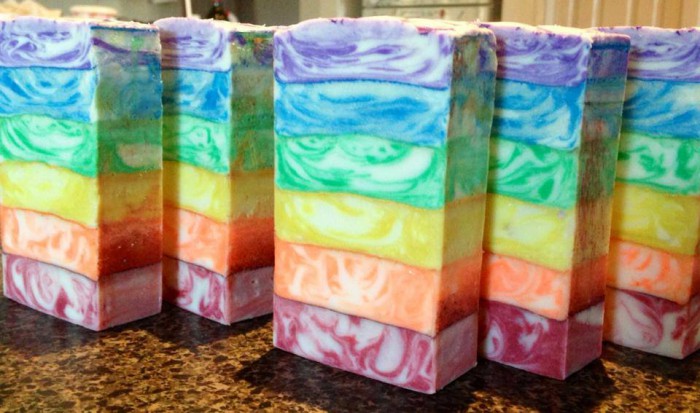 Lisa's Misty Rainbow Soap created for the in-the-pot swirl Great Cakes Soap Challenge. 
How long have you been soaping for and how did you get started?
I have been making soap for about 4 years. I have always had an artistic streak but few opportunities to put it into practice, and I was feeling a bit rebellious one year about the Christmas retail 'machine,' so I decided to do my own thing. As I was browsing online bookstores for candle-making guides, there was a suggestion that I may also like 'The Complete Idiot's Guide to Making Natural Soaps' by Sally Trew and Zonella Gould. Well, I bought the book, and I was promptly so enamoured with making soap that the candle idea went on the back-burner for quite a while (no pun intended).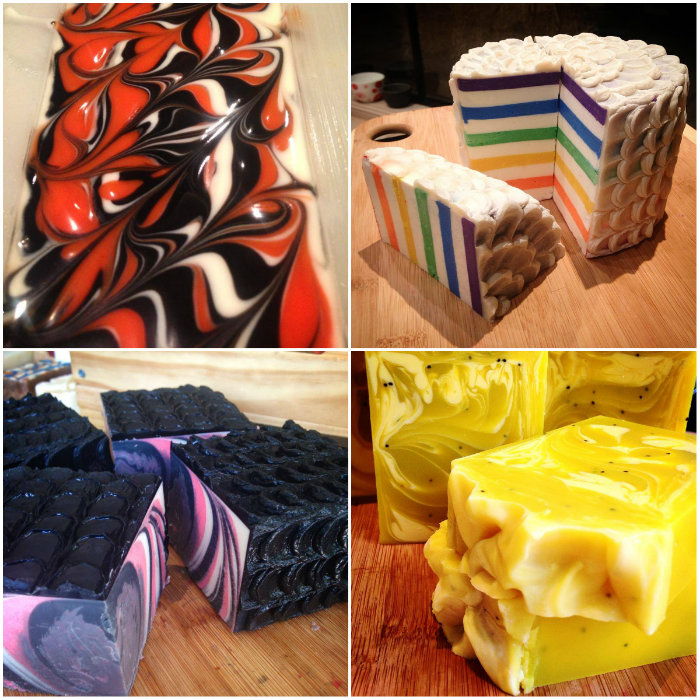 Lisa's skill shines with her wide variety of soapy techniques.
What sort of advice would you give to those soapers just starting their businesses?
I would advise 2 things, in essence: be passionate, and be patient. I see so many people asking other soapmakers what sells for them, and it strikes me every time how much the answer varies from artist to artist, and market to market. I even find that I sell different types of soap online to what sells at my market stall. Don't try and copy someone else's passion. If you're passionate about your own soap, it will shine through on every level and your enthusiasm will draw people in. As for being patient – experiment, see what recipes and techniques work for you, test, research, learn, network and share ideas. As they say, more haste, less speed.

What is your favorite type of product to make?
Cold process soap is my absolute favourite.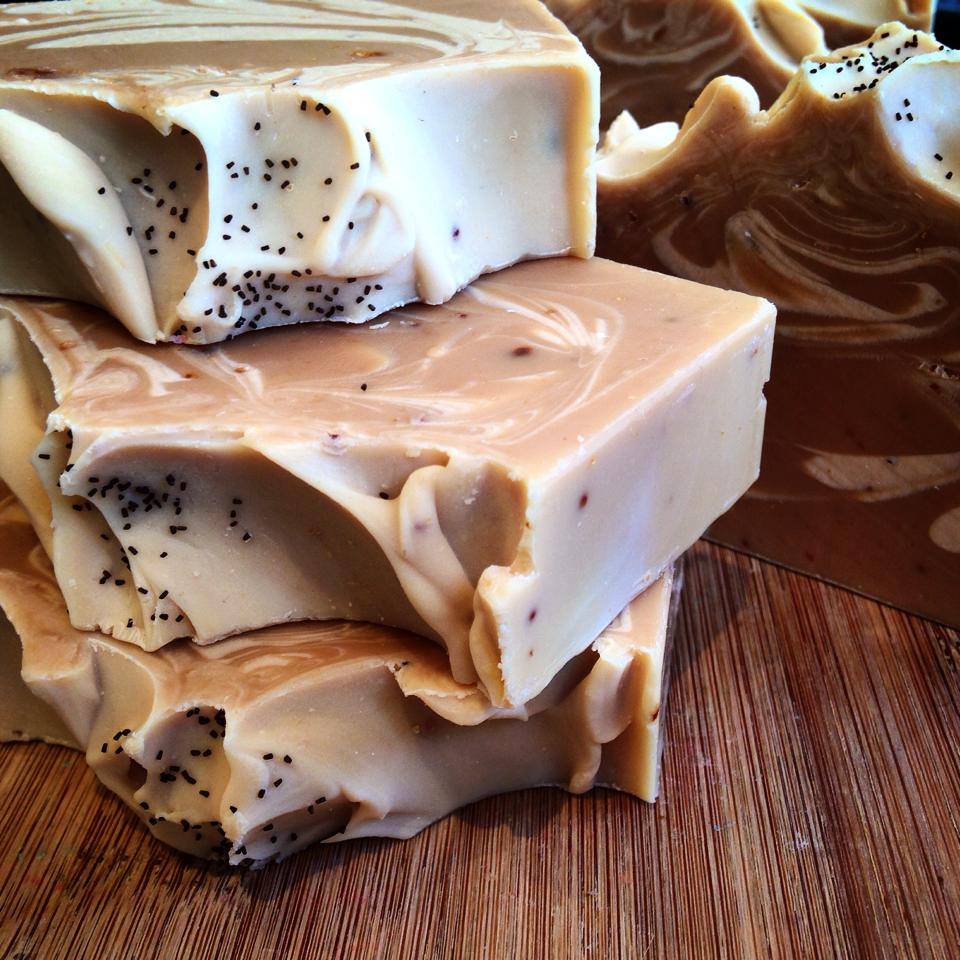 Fig Jam cold process soap, scented with Autumn Fig Harvest Fragrance Oil.
What inspires you to create?
Anyone who has made cold process soap will relate to the 'Christmas Day' feeling you get when you cut a soap open and you have just nailed that swirl. Or even if you haven't, or even if there's no swirl, or you've used a single cavity mould, there's still that sense of achievement in seeing the process through, seeing something that a day or so ago was just regular olive oil is now a gorgeous creamy solid something else entirely! And you made that!
Your soaps are so vibrant and colorful. Where do you find inspiration for your color palettes?
One of the themes I keep returning to when I make soap is the rainbow. It has become my go-to palette for almost every technique I have learned, and I never tire of it. Who could ever get tired of a rainbow? I really like to push the limits of that as a concept, and I love what I have learned along the way. But sometimes just a fragrance, a landscape, a flower or even the shape of a mould inspires a colour selection.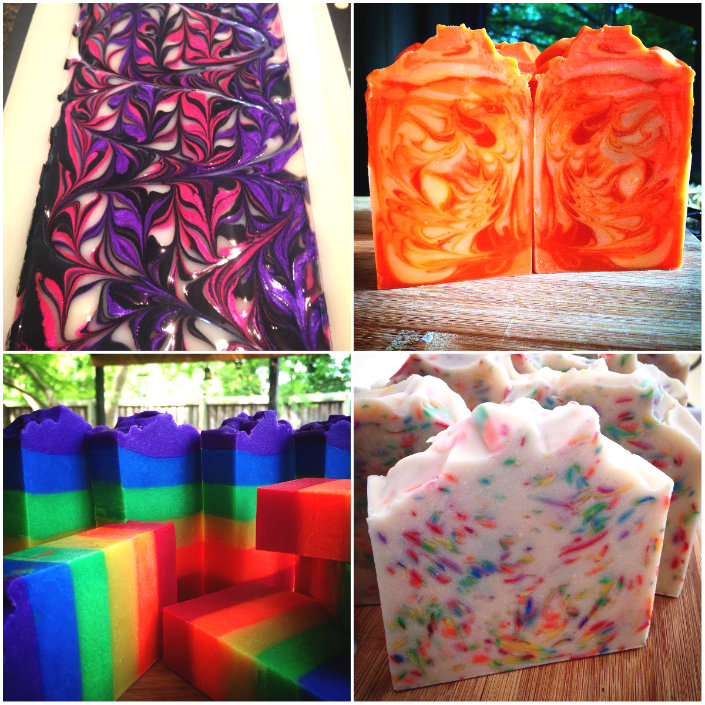 A collection of Lisa's extremely colorful and vibrant soaps. 
How did you come up with the name for your business?
Kangaroo Apple or Devil's Apple (Solanum) is a native Australian plant with medicinal uses, and is also used to denote seasonal change by Aboriginal Australians. Just like the lye used in making soap, it is dangerous until ripe, and should be treated with respect. The solanum flower has five petals, which to me represent earth, water, air, fire and spirit, all of which are crucial elements of the soap making process.
'Kangaroo' is of course quintessentially Australian. 'Apple' is an important aspect of the mythology of the British Isles, my ancestral lands. It is also synonymous with independent women who challenged authority and were depicted as 'bad' for it: Lilith, Eve, and countless 'wicked' fairy tale characters. These women, their independence and freedom of thought, inspire me. And my spiritual home is Tasmania, the 'Apple Isle,' itself blessed with an abundant kangaroo population.
'Kangaroo Apple' succinctly encapsulates the journey I am on, and so many of my influences and inspirations.
What is your favorite Bramble Berry product and why?
Hands down, the fragrance oils. It is hard for me to narrow it down because I have so many Bramble Berry citrus fragrances, but right now, I am a bit obsessed with Energy Fragrance Oil and Pink Grapefruit Fragrance Oil. And I also recently discovered the delectable Coconut Cream Fragrance Oil and sublime Wildflower Honey Fragrance Oil. (I feel so disloyal to my other favourites to leave them out!)
Tell us something unusual or unique about yourself!
That is funny, because usually when I am asked that question, the answer I give is that I make handmade soap! I also love foraging for wild medicinal plants, and I tend to remember the Latin names for many things – animal, vegetable and mineral.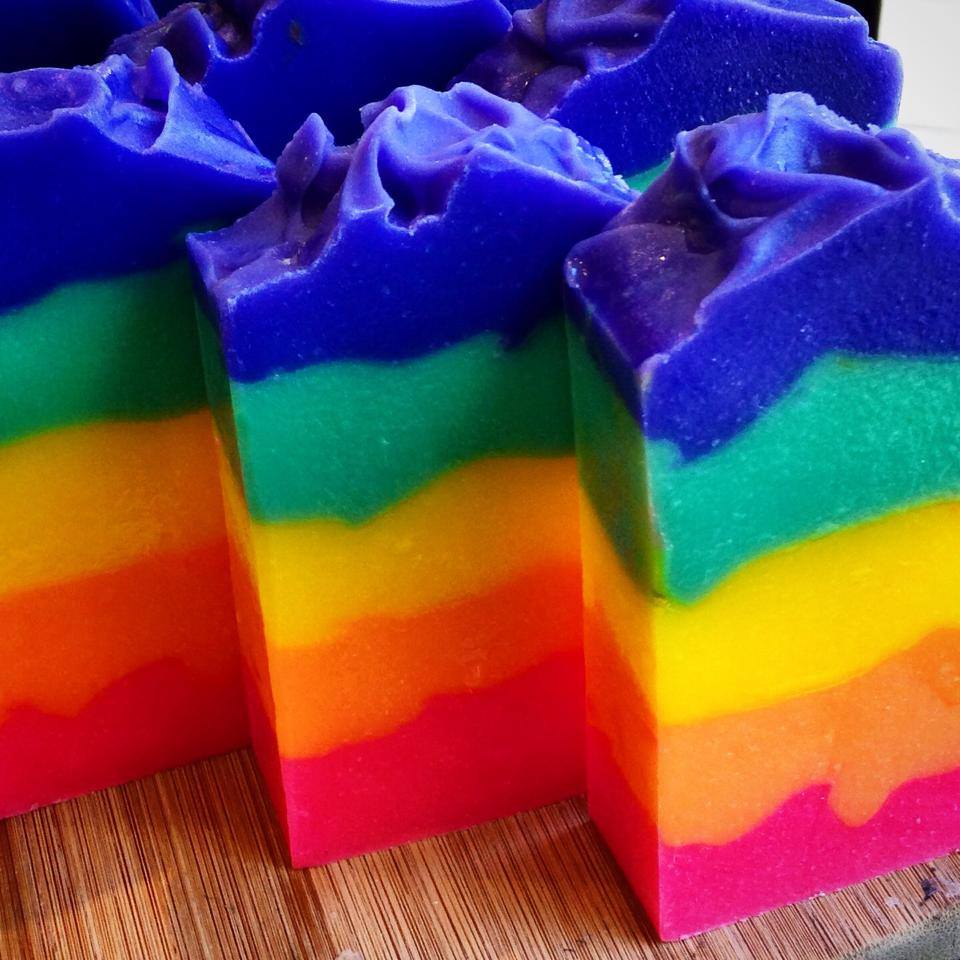 Lisa's beautiful rainbow soap. Each layer looks fantastic!
What are some of your other hobbies and interests?
I really enjoy photography, to the extent that good photography can be done with an iPhone. I love to visit beautiful wild places, swim in the ocean, and spend as much time as I can in the country as a silent refuge from my city lifestyle.
What is your number one soaping tip?
Above all else, keep notes!
Have you ever experienced a horrible soapy fail? How did you work through it, and what did you learn?
Oh, the honey soap separation craters I have seen! I learned to rebatch using my microwave, to not let the soap get quite so hot, and go a bit lighter on the amount of honey I add to the soap.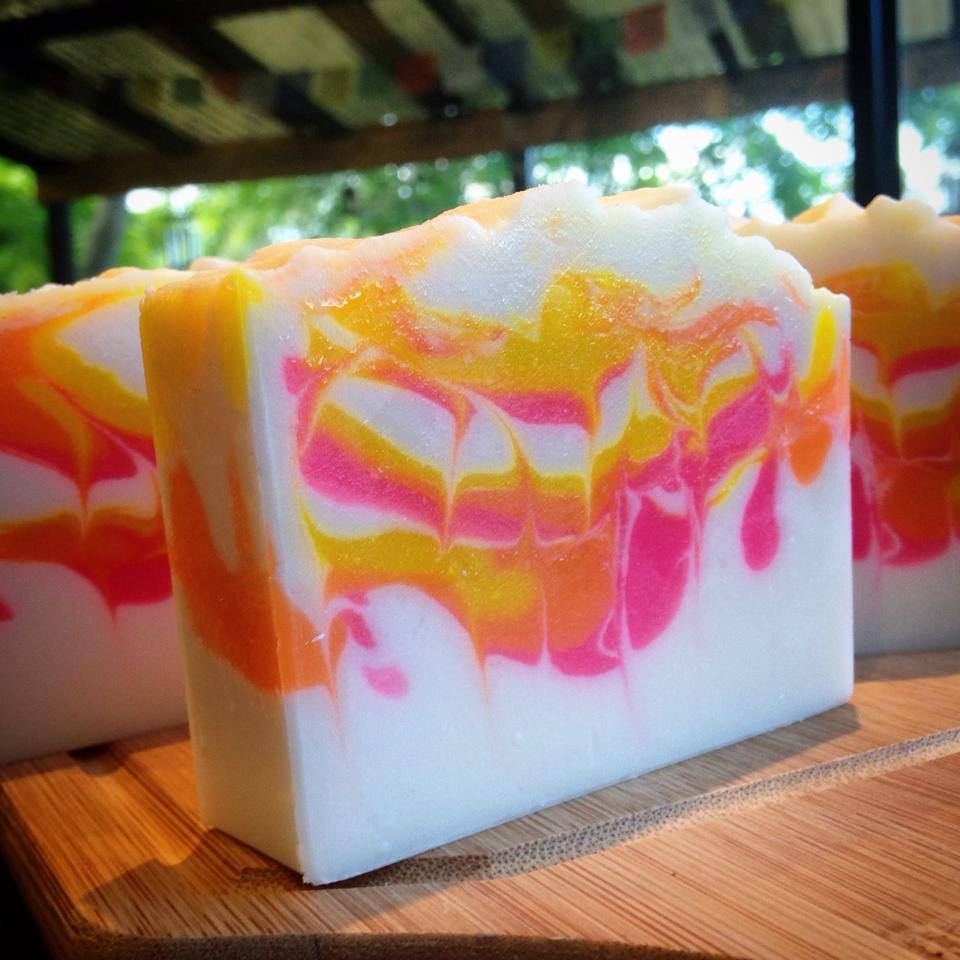 Kangaroo Apple Soap Studio's gorgeous Rosehip & Jasmine Coconut Oil Soap. 
What do you love most about creating bath and body products?
I love the alchemical nature of making soap. It is art, chemistry, magic and therapy all rolled into one. Nobody that has ever had a visit from the soap gremlins can argue there is no magic involved! I also love how handmade soap is such a beautiful luxury product, can be so environmentally sound, and can actually be made from stuff in my kitchen.
Find Kangaroo Apple Soap Studio
On Facebook