Even with all the fun and explosive (haha, punny!) personal drama lately, I couldn't miss the Central Soapers Workshop. Man, what an amazing line-up of speakers! It's been 4-5 years since some of us were in the same room together. It was great to catch up with friends. Soapmakers are the most warm and friendly community of people that you'll find anywhere and hanging out with them is always a blast (sorry, can't stop with the explosion references).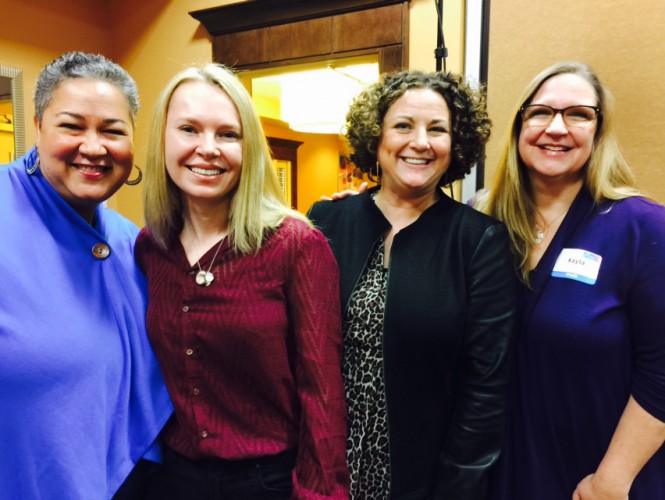 Big thanks to my amazing and always-patient husband for letting me leave him with the two toddlers, living out of suitcases in a friend's guest room. He is a trooper and a strong support for me and our family.
The conference was incredible. Having now experienced the Kenna-run Central Soapers Workshop series, I am hoping that someone takes up the mantle (yes, this was technically the last year). I was especially impressed with the pre-workshop soaping bootcamp for new soapers. This helps everyone because it cuts down on confusion during the (mostly) advanced soapmaking sessions. The goody bag was super generous with many vendors providing generous samples of product. Bramble Berry provided an exclusive mini soapmaking kit that makes a recipe from my upcoming book (due Spring 2016).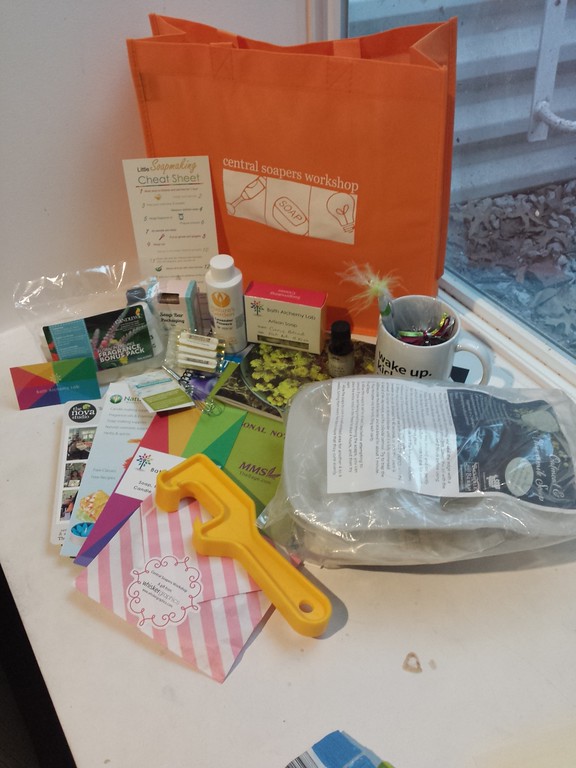 It was also nice that the sessions were smaller and more intimate. It ensured that everyone who wanted to learn how to make more intricate designs in their soap had plenty of time to ask questions and could get up to see the actual soapmaking process. There were two tracks; a business track and a soapmaking track. Both tracks had superstars of the industry – it was virtually impossible to pick one. I spoke in both tracks. For soapmaking, my talk was all about using alternative liquids in soapmaking. I also did a live demonstration of two types of soaps. In the business track, I spoke about the Six Steps to Social Media Success.
Some of the highlights and takeaways from the conference speakers: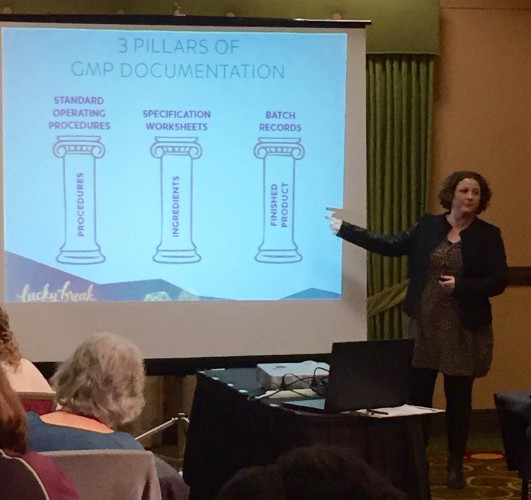 Lela Barker of Lucky Break Consulting – Lela gave two talks at CSW – The Seven Deadly Wholesale Sins and one on GMP (cleverly titled, "You down with GMP? You know me"). I attended the GMP session and had two big takeaways:  It is possible. You absolutely can (and should) be GMP compliant for the peace of mind it gives. In addition, it's a huge selling point if not only for the confidence it gives you. This was a great opportunity to learn from Lela about GMP, in person. Her style and delivery is always on point and she is an engageing speaker. Can't make it to a class she's speaking at in person? Do the next best thing. Take her self-guided class! Bramble Berry sells Lela's GMP class here. It will literally cut your process of becoming GMP compliant by 90%. You'll still have to do the work but the roadmap is laid out perfectly for you with this class.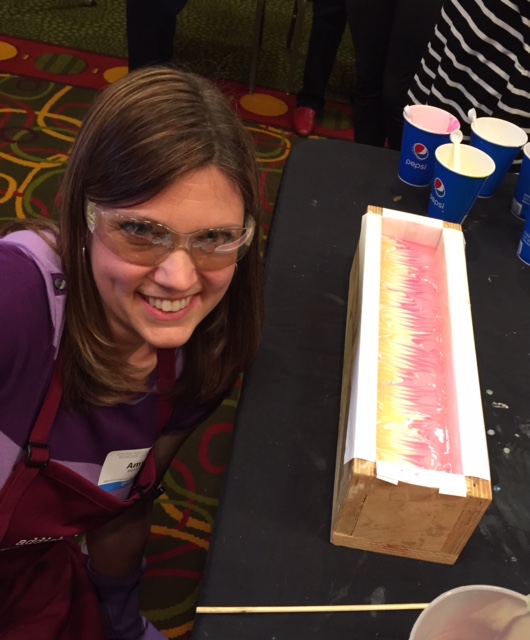 Amy Warden from Great Cakes Soapworks taught swirling, swirling and swirling! She demonstrated a drop swirl, a hanger swirl, a in-the-pot swirl and a Taiwan swirl.  She did an amazing Gradiant soap as well. She said: "I blended Bramble Berry Lavender 40/42 with some Litsea (also yours) and it smelled like Fruit Loops according to the front row of the class.  🙂  Still smells rather divine! "
She had these Gradiant Soap Tips (from the soap below!) to share with Soap Queen readers: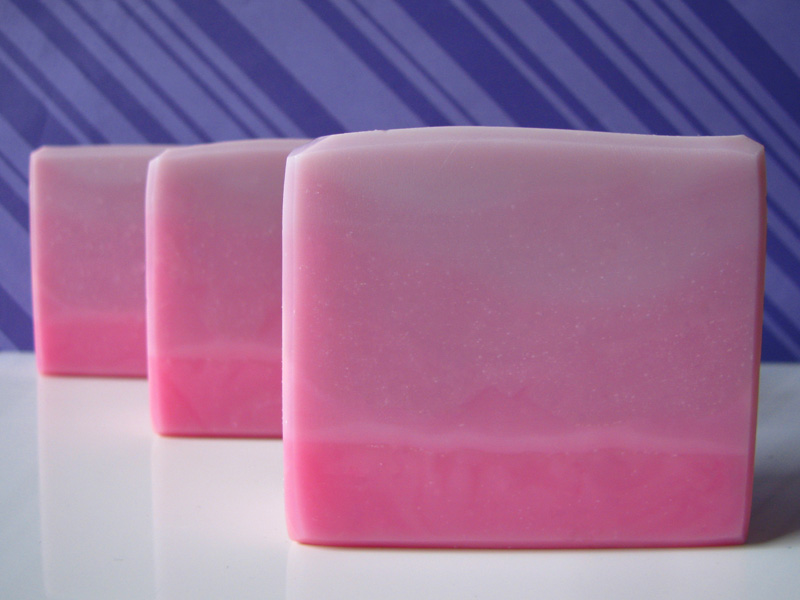 It's a gradient soap.  If you want the colors to bleed, use labcolors.  I used red and blue for this one.  The red is on the bottom and the blue morphed to purple on the top.  If you want more distinct layers, use pigments or micas.  You can make a really pretty ombre soap with one color and titanium dioxide.  Divide your soap evenly into your two colors and pour a layer of one of them into the mold.  Add some of the second soap to the first one for the next layer, and so on.  To get even layers like the one I did on the bottom, cover the mold while you prepare for your next layer to help it set up.  When you are ready to pour another layer, be sure to drizzle a little bit of soap on top first.  If it breaks through, it's not set up enough yet.  If it sits on top, you can carefully pour the next layer, but be sure to pour over a spatula to help deflect the soap from pushing through the layer beneath.  I had to rush a couple of the layers so I could finish before the class was over!
Anne-Marie Faiola from Bramble Berry – I demonstrated a beer soap and a soleseife bar (brine soap bar) live – as well as gave a basic overview on how to use purees, teas, and alcohols in your soap. Both live demonstration batches turned out beautifully (thankfully; it would be awkward if they hadn't!) and were raffled off to CSW attendees.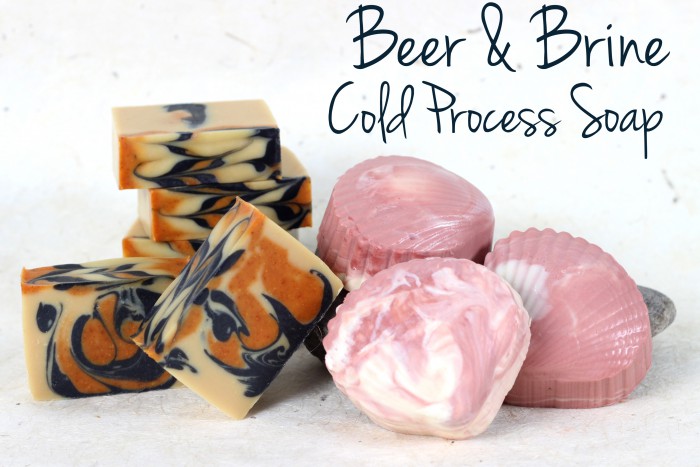 I also gave a talk on social media. If I had to sum it up, it would be this: doing the right thing produces tangible results. What I mean by that is that if you're blogging to connect with your customers, eventually Google will pick up your content and help spread it far and wide to even more people. Financial results from social media come after you do the right things (meaty content, connection, consistency and authenticity).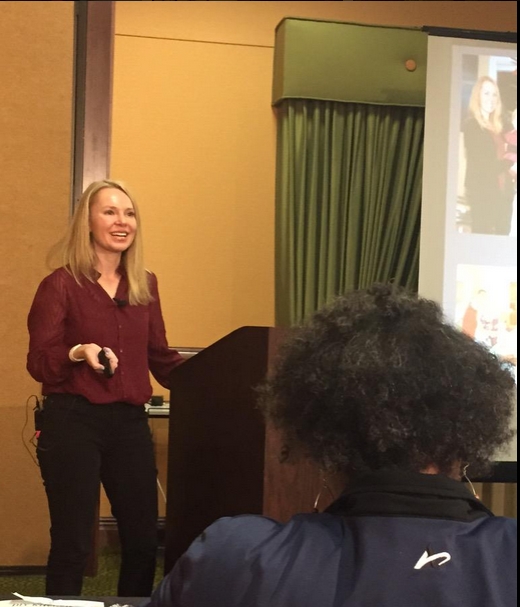 Social media needs to be connection. If it's not about you being authentic, telling your whole story, and connecting, then you won't get meaningful long term results with social media. I wrote about social media here if you'd like to learn more about what I spoke on.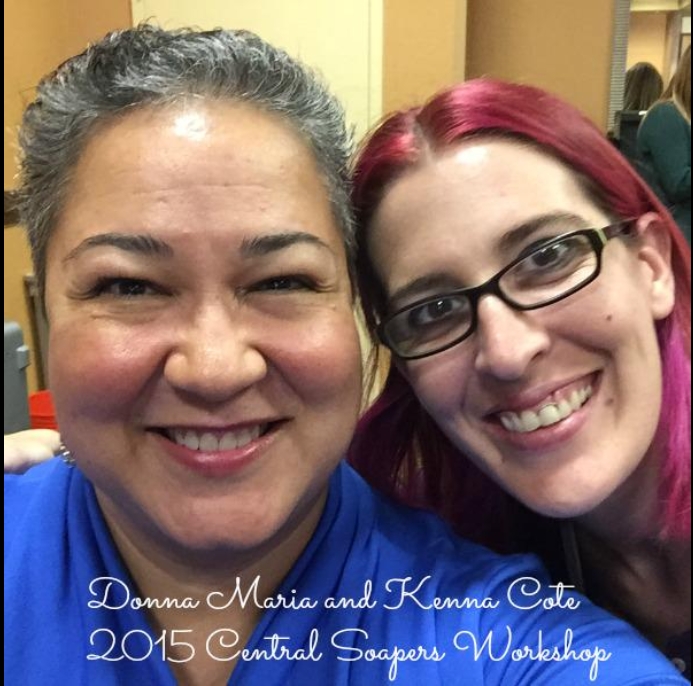 Donna Maria of Indie Business Network – dM is a fabulous speaker; full of energy, verve and passion. As always, her  talks are planned out well and executed with an authenticity that can't be faked.  Donna Maria said that everyone that is self-employed, even if you're running a single-person shop, is a leader. Her thoughts on what leadership is? "The act of serving others from a place of integrity." Here is a link to learn more about her talk, including the slides. And, a plug from the Soap Queen: You can join IBN for $175 per year and get way way more in value than $175. Additionally, IBN has affordable insurance options for handcrafted soap and toiletry makers.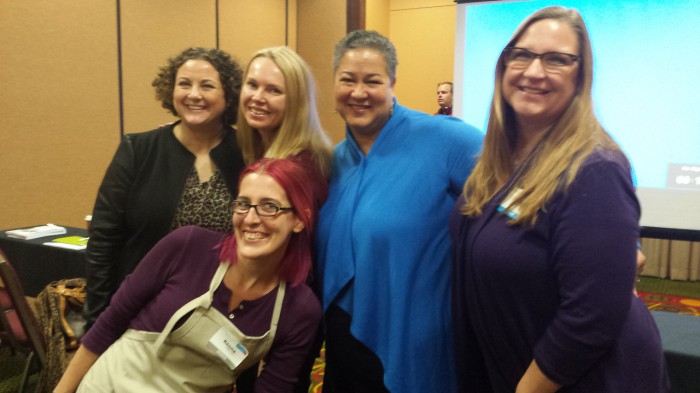 Kayla Fioravanti, Author and Aromatherapist– Kayla (the one in the purple, closest to the camera, in the above photo) has been in the handcrafted industry for literally, decades. Since selling her supply business a few years ago, she has been working on diversifying income streams, including becoming an expert on publishing and writing. Here are some notes from her "Crafting Compelling Copy" talk:
Here is an exercise to help you write compelling copy for your brand.
1. Research your target customer. Know them inside and out. Learn what hashtags they use to talk about companies like yours and what keywords they would use to search for you on Google. You can do this free on Google Keyword Planner.
2. Set some quiet time aside and then write as if there was no FDA or FTC. Write what your your company story would be if there were no limitations. Start there and then tame it back. Don't write tame – write wild. The number one piece of advice I give aspiring writers is to write without editing. Writing and editing are two completely different actions. The same is true when you sit down to write compelling copy for your brand.The secret to great writing is to just write – without censorship, without editing, and without holding back. Pour your passion onto the page. Be authentic – the you inside your mind – not the you that censors themselves to be polite, have proper etiquette, follow the rules and such. In the written word be the real you on paper. After you write uncensored you can work out the FDA and FTC compliance and the SEO details.
To see an example of Kayla's uncensored writing read Puffy & Blue: The Chronicles of Nine Lives Together . To learn more about writing read Kayla's book How to Self-Publish: The Author-preneur's Guide to Publishing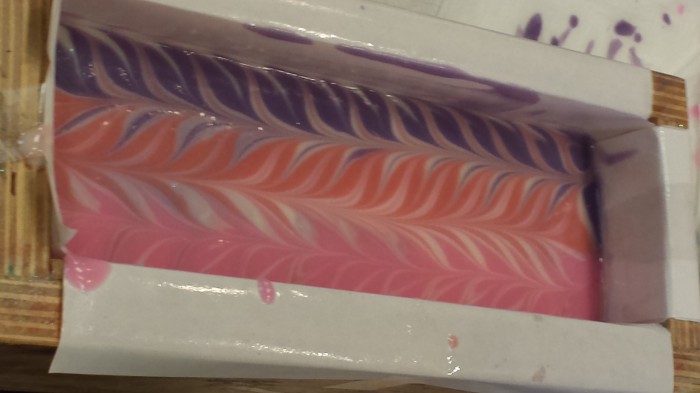 I was sad to miss most of the soapmaking track (including the above awesome soap made by Amy Warden) because I was mostly in the business track, but was thrilled that there were many networking and friendmaking opportunities in between classes. It was a joy to meet so many soapers that I only had seen on social media and I hope our paths cross again soon. Thanks Kenna and all the CSW volunteers. It was a great conference!