Jodi from Lakehurst Farms creates both melt and pour and cold process soap that is full of color, creative embeds and beautiful swirls. Just one look at Jodi's soap, and you can see Jodi has a keen eye for design. Jodi's sister Renee also creates soap, specializing in melt and pour. Together, they are quite the dynamic soaping duo! Read on to hear Jodi's great soaping advice, along with what inspires her to create such show-stopping soap.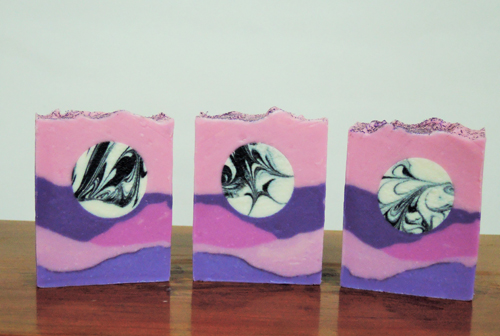 How long have you been soaping for and how did you get started?
I've been soaping for almost two years. One day while perusing a goat supply catalogue I happened past the soaping section. I took one look at the molds and the bottles of FO and it was love at first sight.

What sort of advice would you give to those soapers just starting their businesses?
Make sure you're having fun! It's quite hard to make money selling soap, you have to put in a tremendous amount of time. So I think the most important thing is to enjoy what you're doing. A lot of my soap and other handmade products end up being gifts.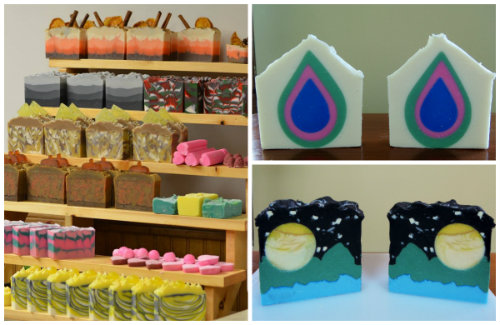 Renee's soap on the curing rack, cold process made by Jodi.
You make both cold process and melt and pour soap. What do you like about each soaping method? Do you find one more challenging than the other?
My all-time favorite thing to make, hands down, cold process soap! I love choosing my oils, extracts and additives. Mixing micas is like a natural mood brightener. I dare you to try and be cranky while mixing micas. Melt and pour has its perks too. I love working with clear bases. You can't get that kind of color pop in any other soap medium. Plus those crisp, clean lines are hard to beat. A lot of the gorgeous melt and pour soaps on our site are done by my sister Renee. She's got me beat in the M&P department!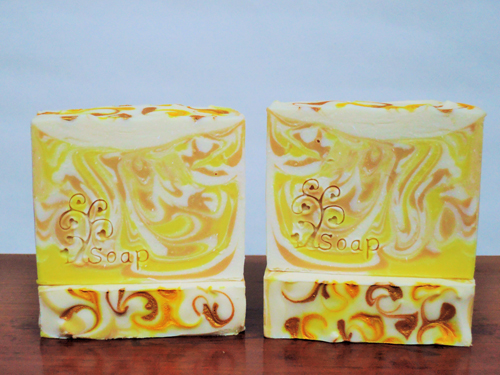 Your cold process soap is full of challenging and beautiful techniques, including swirls and embeds. Do you have a favorite soaping technique?
It's so hard to pick a favorite technique, I'm pretty infatuated with top swirling at the moment, that and cutting up swirled loaves to make embeds with. It takes two pours but it's by far one of my favorite soaping processes. I'm always happy with the results.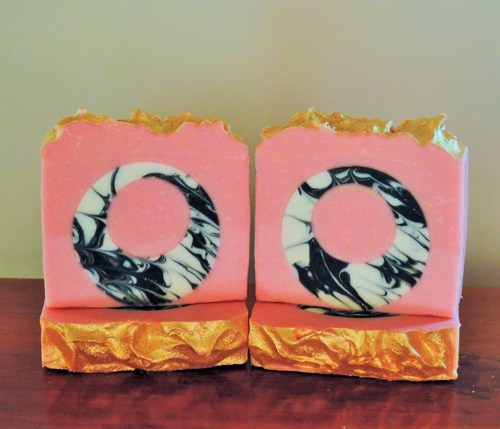 What inspires you to create?
I'm inspired by odd things. My daughter's Sippy cup has this off set circle on it and I've made two loves based on that design. I also had a box of paper cups with a lovely vine design that inspired a hand carved soap series. Another big source of inspiration for me are things like birds and flowers, natural landscapes. Quite often my loaves are inspired by just playing with my micas!
How did you come up with the name for your business?
The property I live on has been named Lakehurst since it was my grandfather's. So when I started my little hobby farm it seemed like a natural choice. 
What is your favorite Bramble Berry product and why?
I'm not sure I can pick just one product, my husband bought me your amazing cutter for mother's day. I don't think I could live without it, that or Energy Fragrance Oil. It just such an amazing FO. So bright and fresh plus it's such a gentleman to soap with!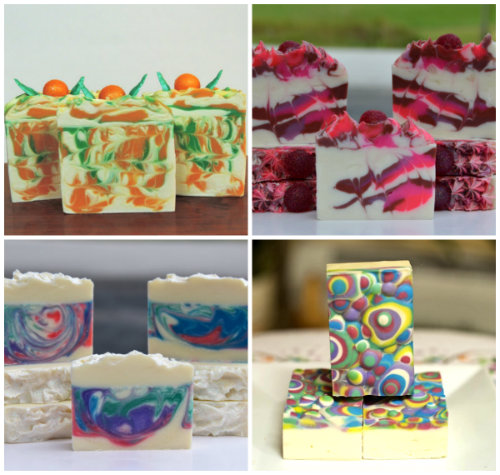 Soap made by Jodi and Renee of Lakehurst Farms.
Tell us something unusual or unique about yourself!
I LOVE animals! I keep goats and chickens, I recently started keeping bees. Before I had my daughter I did tons of animal rehabilitation. I've hand raised, birds, mice, raccoons, skunks and squirrels.
What are some of your other hobbies and interests?
I'm a crafting addict. If it's a craft I've tried it. Lately I'm learning to make candles and I'm about to try translating my top swirling into acrylic painting. We'll see how all that goes…..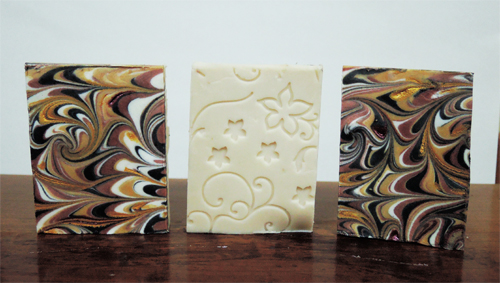 What is your number one soaping tip?
Don't be afraid to ride the thin trace train. I don't usually go past a good emulsification until I've colored and scented everything. By the time I'm done with all of that business the soaps usually at a light trace which is perfect for all those fun swirly results we want.
Have you ever experienced a horrible soapy fail? How did you work through it, and what did you learn?
I've been plagued for nearly two years by the curse of the lemon chamomile. Every lemon chamomile soap I've made has been terribly ugly. They smell gorgeous but have all been well….visually challenged. This was really discouraging and it happened so many times, I almost gave up on the ideal. About two weeks ago I finally nailed a lemon chamomile. Sweet victory was mine. I think struggling makes us better, no question. We learn from our failures, push through and try again!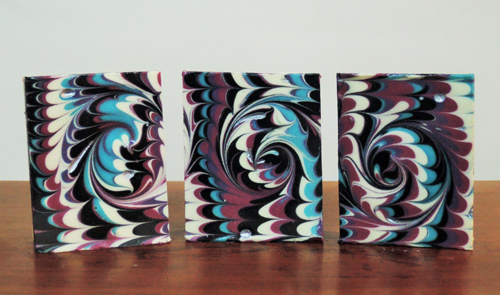 What do you love most about creating bath and body products?
Getting to customize my own products is so much fun, choosing your favorite oils, additives and scents. I thinks it's a healthier product as well. You never go wrong when you use less chemicals on your family's skin. I just need to come up with a good everyday shampoo and conditioner!