Carmen of Earths Raw Beauty has been soaping for less than a year, but you would never know it by the number of techniques she has mastered. I first stumbled on her colorful soap on the #SoapShare tag on Instagram, and was in awe of her abilities. Each soapy design showcases a different technique, whether it be her precise layers, perfect rainbow hues or skillful swirls. If there is one consistent factor in Carmen's soap of Earths Raw Beauty, it is that each each bar is completely distinct. Read on to find out more about Carmen, including how she got started soaping and her unique method of using goat milk. -A.M.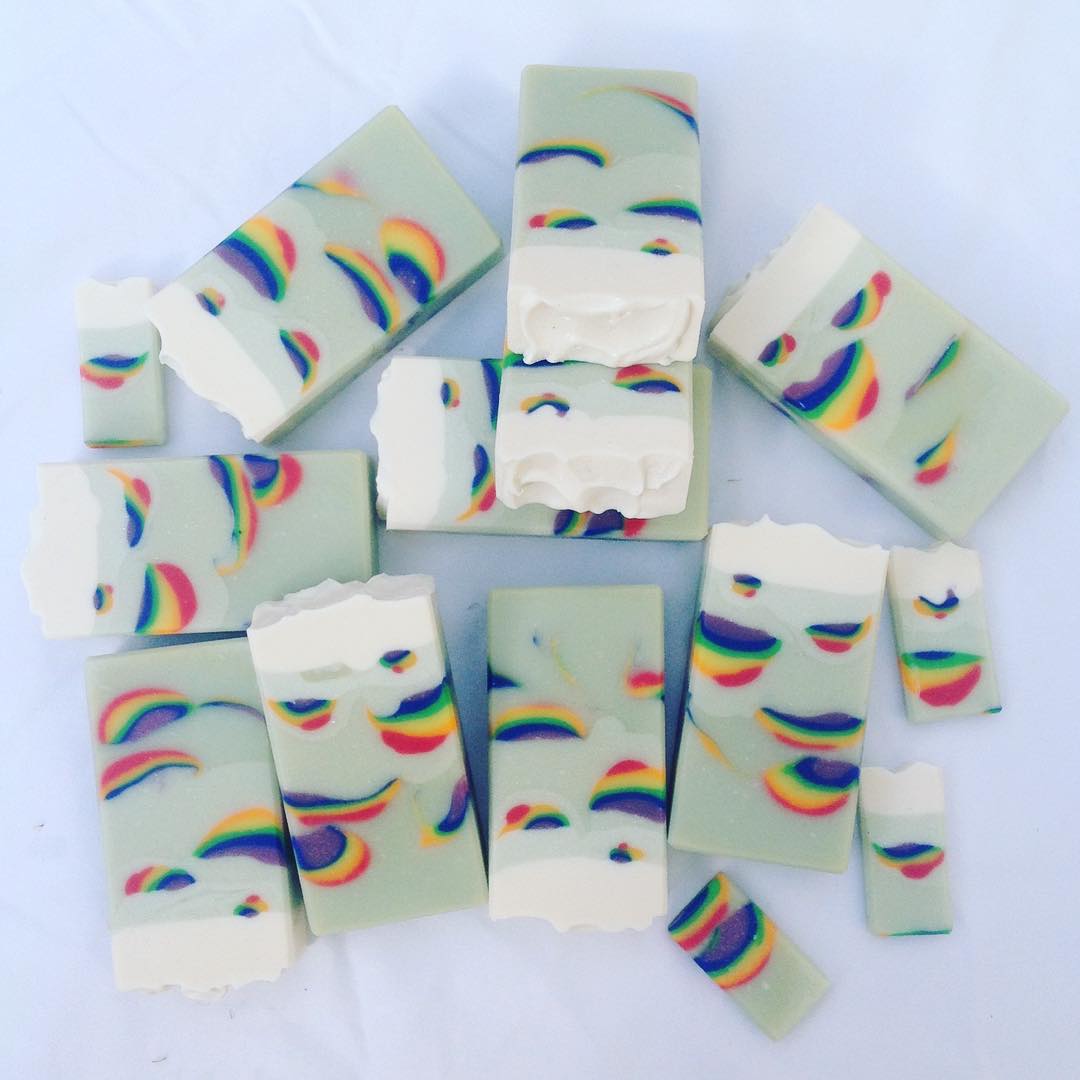 Carmen's beautiful Spectrum Bits Cold Process Soap, scented with bergamot and white tea. 
How long have you been soaping for and how did you get started?
I've been soaping for 7 months now. To be more precise it's been 7 months and 2 weeks and I'm looking forward to many, many more. Every time I get asked this question I answer "Texas did it to me!" and it's true! I was in Texas for a week at the end of July last year and I swear, there was something in the air. I actually started off by making skin care products in March of last year. Soap was never on my mind. While in Texas, during my very first day, I found myself watching soap making videos. Don't ask me how I started watching them because I seriously have no idea. I just remember being fascinated by the action of a stick blender going through the melted oils and lye solution. Even now I could watch someone stick blend soap for 10-15 minutes.
Most soap makers started because they wanted a natural solution, or they wanted to give homemade gifts. I started because I was fascinated by a stick blender in action. Little did I know that the stick blender was only the beginning of the magic. I spent that entire week in the hotel room reading and watching videos about soap making. I watched all the Soaping101 and Soap Queen TV videos, and I read as much as I could. Then I ordered a silicone mold and lye from Amazon because I wanted to make sure I had them in my mail box when I got home. I got home on July 31st (yes, I remember because it's the first day I ever made soap) at 7 p.m., and as soon as I got home I made my very first batch of soap. It was all it took for me to fall in love with soap, especially after I cut the first slice. I've been hooked since.
What sort of advice would you give to those soapers just starting their businesses?
When it comes to business I can't really give any advice, I have a lot to learn in that department. It's been less than 8 months since I made my first batch, therefore I didn't start selling until 2 months ago. For now I sell on Etsy, and of course to my friend's friends and their friends, the word of mouth spreads really fast.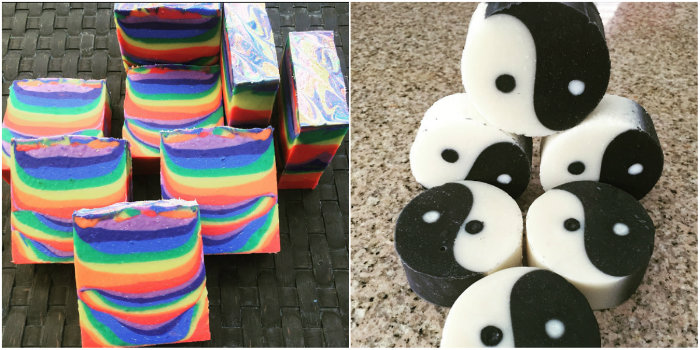 Left to right: Rainbow Cold Process Soap, Balanced Energy Natural Soap
What is your favorite type of product to make?
Now this is a very easy question. I make all kinds of skin care products: salves, butters, balms, creams, lotions, scrubs, bath bombs (my worst enemy), etc. By far, cold process soap is my favorite product to make.
What inspires you to create?
Most of the time I get ideas out of nowhere; like while I'm doing dishes, cleaning soap, or while packaging soaps. A lot of my ideas also come to me while I sleep. It might sound weird, but a lot of my designs are from my dreams. I know, I know what you're thinking but let me assure you, they are real dreams not hallucinations. 😉 I guess the soaping muse loves Vegas nights because she keeps visiting me, haha.
Nature also inspires me. Birds, insects, animals, plants, trees, water, they all inspire me. I also get inspired by soaps made by other soap artists, there's so much beauty out there. I love going through #soapshare on Instagram, it's like I'm visiting an art museum.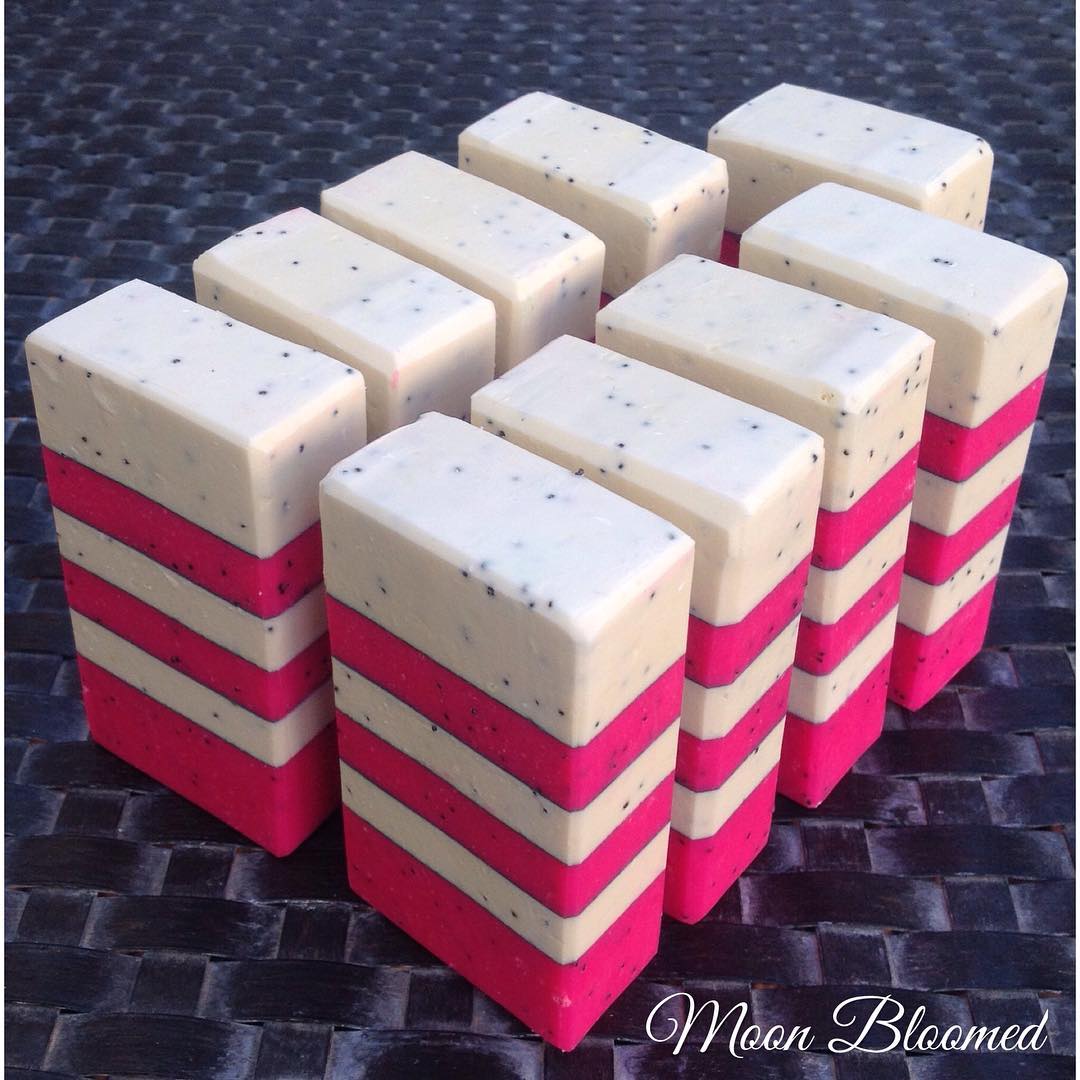 Carmen's stunning Moon Bloomed Cold Process Soap. Her layers are so straight and crisp!
How did you come up with the name for your business?
Sophie is my friend's 4-year-old daughter and she's the most beautiful child I've ever seen. She has an angelic beauty, white almost translucent skin, green eyes and a heart shaped little mouth. Her face has a unique brightness and I always called her Raw Beauty. When I started making skin care products I wanted to use what earth provides us with as much as I could. I use lots of plants, dry flowers, roots, etc. So I combined Earth with Raw Beauty (Sophie's nickname) and I came up with Earths Raw Beauty. I like it because the initials form ERB, which is pronounced like "herb," something I use a lot to infuse my oils. And secretly, I wish my products would make everybody's skin look like Sophie's skin if I called them the same name I call Sophie. Well, that was a joke, but  wouldn't that be nice?
Your soapy designs are so creative and beautiful! How do you think of your designs? What advice do you have for other soapers looking to experiment with new techniques?
Thank you! As you can see from my Instagram page, I love colors and layered soaps. I also love using more than one technique in a soap. There are plenty of colors and techniques, so the sky is the limit.
Don't be afraid to try new techniques even if they seem impossible to achieve. Believe me, none of them are impossible and all of them can be achieved by any soap maker. If you don't have a one pound mold, consider any small plastic container and attempt new techniques in small batches. Also consider using 25/35/40 coconut oil, lard, and canola oil if you don't want to waste good expensive oils. Not only that, lard and canola oil are cheap but they make a pretty good bar of soap, ask me how I know. 😉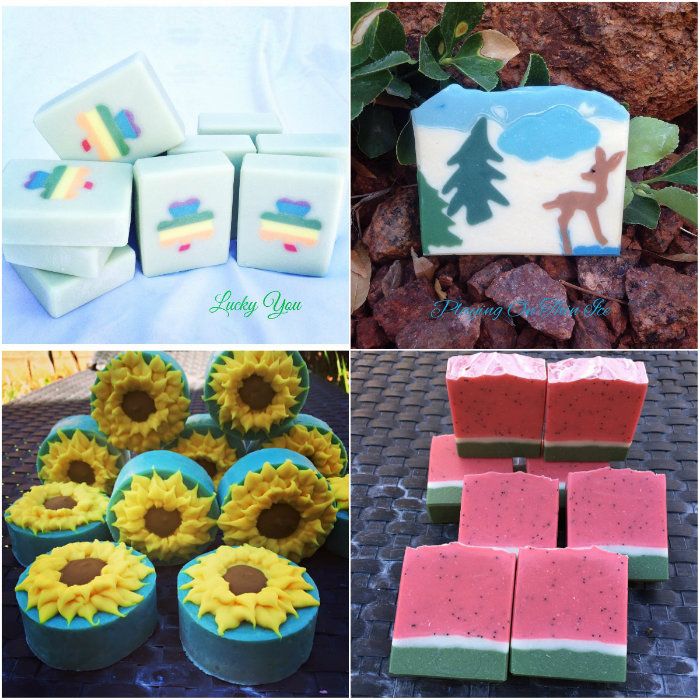 Top left, clockwise: Lucky You Cold Process Soap, Winter Landscape Cold Process Soap, Sweet & Juicy Cold Process Soap, Rise and Shine Cold Process Soap
Your Instagram page features lots of lovely photos. What tips do you have for taking product photos on Instagram?
Oh, boy! I was hoping I wouldn't have to give out my picture taking secrets. I'm lucky enough to have a very sophisticated photo lab consisting of 3 vital components: natural light in the back yard, an old white satin sheet, and my very old "first edition" iPad. But with a lot of movement on my part, positioning and re positioning the soaps in different angles and lots of screen shots I always manage to take a decent picture.
What is your favorite Bramble Berry product and why?
Now this is not fair! You cannot limit me to just one product. The best I could do is list two, one of which is fragrance oil. When it comes to fragrance oils I need to mention three. I can't let myself run out of Energy Fragrance Oil, Made to Measure Fragrance Oil, and Orange Peel Cybilla Fragrance Oil. They soap beautifully and the scent lasts forever. I have bars made with these fragrance oils 6 months ago and they still smell like when I made them. The other product is the Hanger Swirl Tool, I just love how the length can be adjusted.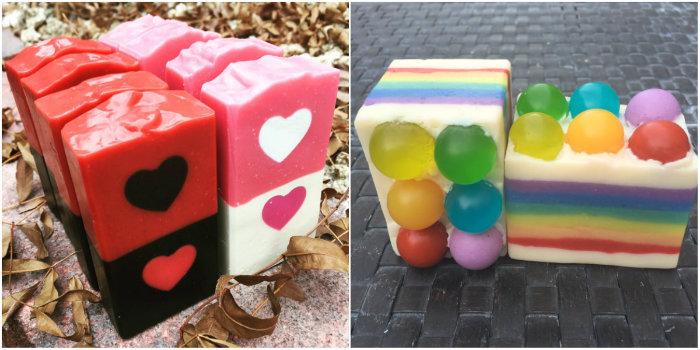 Left to right: House of Hearts Cold Process Soap, Spectrum Goats Milk Cold Process Soap
Tell us something unusual or unique about yourself!
Seriously, there's nothing unique about me, I'm just a regular person. I can only see one thing that may be unusual about me, unusual to others but not to me. I sometimes watch TV while sitting in the splits position. I'm very flexible for my age and I don't mind revealing that I'm 44 years young. 😉 I also do handstands every day, I go upside down a few times during the day. Maybe the frequent rush of blood flow to my brain explains some of my soap inspirations, haha.
What are some of your other hobbies and interests?
Honestly, I did not have a hobby before I started soaping. I had many interests like reading, hiking, yoga, flying trapeze, gymnastics, acrobatics, and obstacle running, but not a hobby.
What is your number one soaping tip?
Nobody can make soap without lye, but I cannot make soap without lye and goats milk. All of my soaps are made with fresh goats milk (not powder). I often get asked how my goat milk soaps are so white. I experimented a lot with goats milk; after so many experiments my goat milk goes to the oils, it does not get mixed with the lye. I always have 1:1 lye solution ready. Then I substitute the remaining quantity of water the recipe asks for with goats milk and add it to the oils before mixing the lye in (I soap at room temperature). I just don't like the idea of lye directly interacting with the precious goats milk, even if it's frozen. It saves not just time, but also protects the milk from going from one extreme temperature to another too many times. So, my tip for those who make soap with milk would be to mix the milk with oils instead of mixing it with lye or with the lye solution.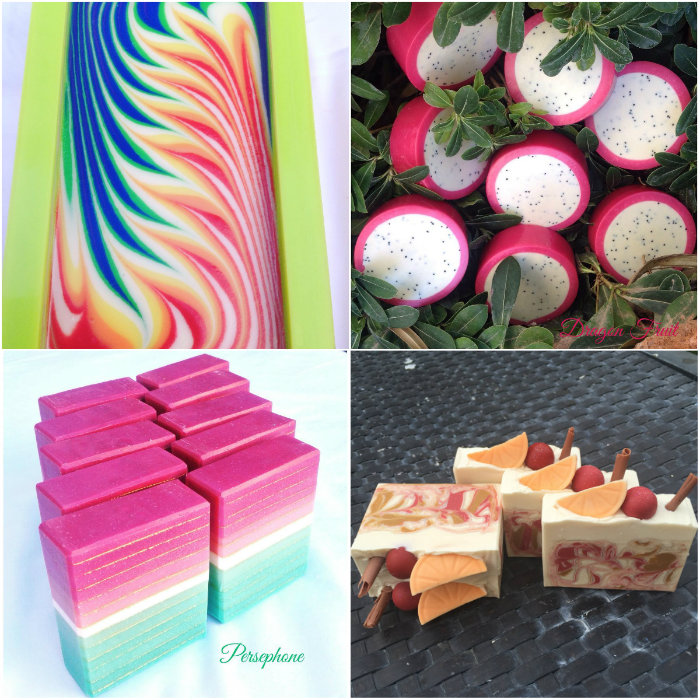 Top left, clockwise: Rainbow Lily Cold Process Soap, Dragon Fruit Goat Milk Soap, Christmas Sweetness Cold Process Soap, Persephone Cold Process Soap
Have you ever experienced a horrible soapy fail? How did you work through it, and what did you learn?
Of course, haha! It was about 3-4 weeks after I started soaping and the first time I used a fragrance oil. It was Bramble Berry's Celestial Waters, but that wasn't the cause of my soap fail. I live in Las Vegas and it gets over 110 ° F during the summer. I cut my nicely swirled blue soap and took it outside for a photo session, all 10 bars got nicely aligned side by side on a chaise lounge. I took the picture and it got posted on Instagram, the usual soapy ritual. Maybe a couple hours later I went outside and I noticed a pretty blue puddle on the chaise lounge. I forgot to take the soap inside and the sun melted it, I almost cried. But, I used 2 oz of Celestial Waters and I couldn't let that get wasted. I ran inside, I grabbed the mold, scooped as much soap as I could and threw it back in the mold. Next day I cut it again and it looked just fine, the swirls weren't as defined as the first time but it was nice and smooth and smelled fantastic. I still have a bar and I think I will keep it forever. What did I learn? That a "Sun Milled Soap" can be just as good as a French Milled Soap. 😉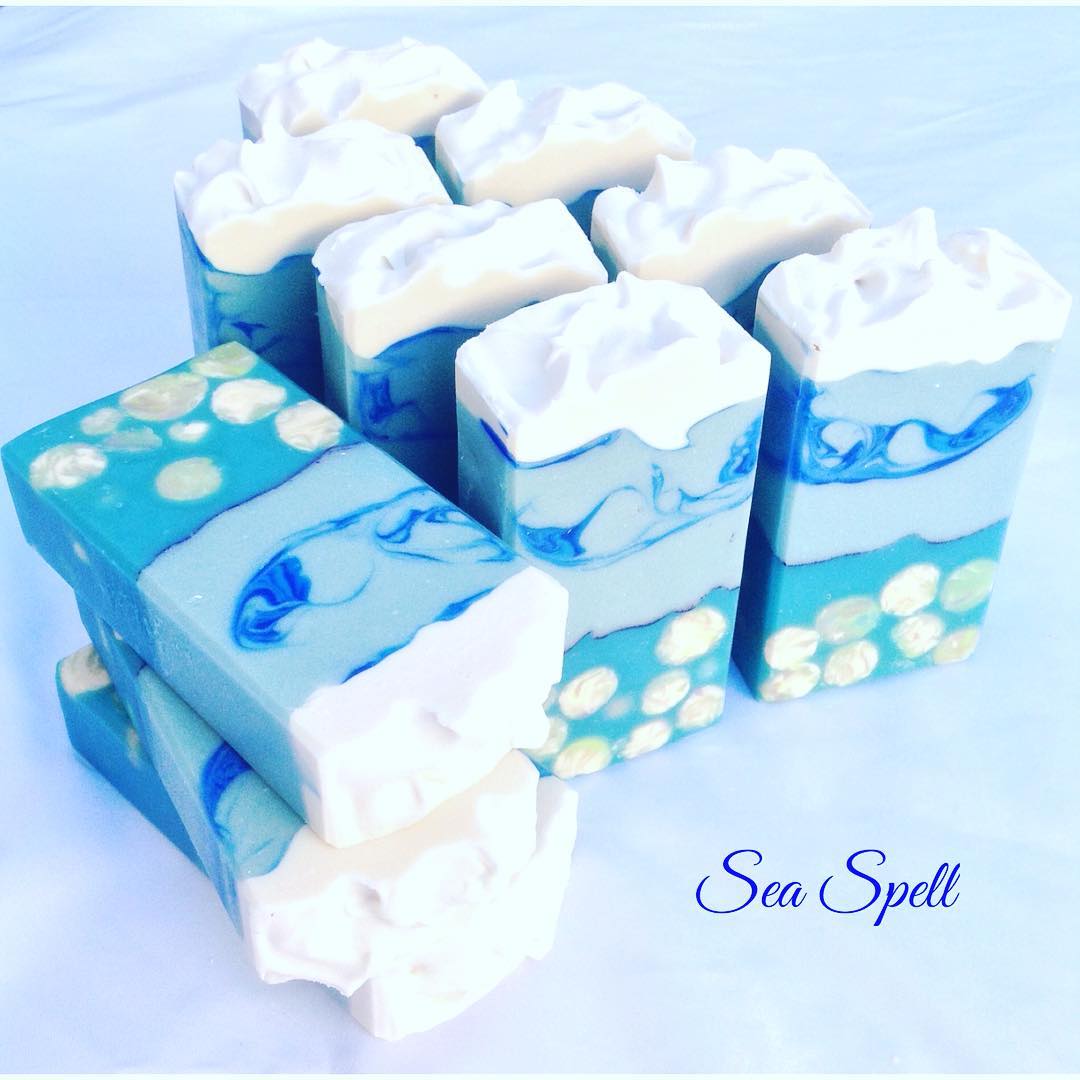 Sea Spell Goats Milk Cold Process Soap, featuring gorgeous swirls, layers and embeds. 
What do you love most about creating bath and body products?
The freedom of individualizing each product with different ingredients and scents. And of course seeing the final product, especially the soap. This craft feeds my soul and I'm so happy I can create products other people can enjoy and benefit from.
Find Earths Raw Beauty
On Etsy
On Instagram