A few weeks ago, we received a kind message on Facebook from Shana of Bathvs (pronounced Bath-us). Shana was the winner of our Facebook Photo of the Week in June of 2014, and explained to us how the win encouraged her to push forward with her business. Nearly a year and a half later, Shana has turned her business into a full-time job. It's easy to see why Shana has had so much success; her products are stunning, her photography is gorgeous and her branding is instantly recognizable. Read this interview to learn more about Shana and her soaping journey below! -A.M.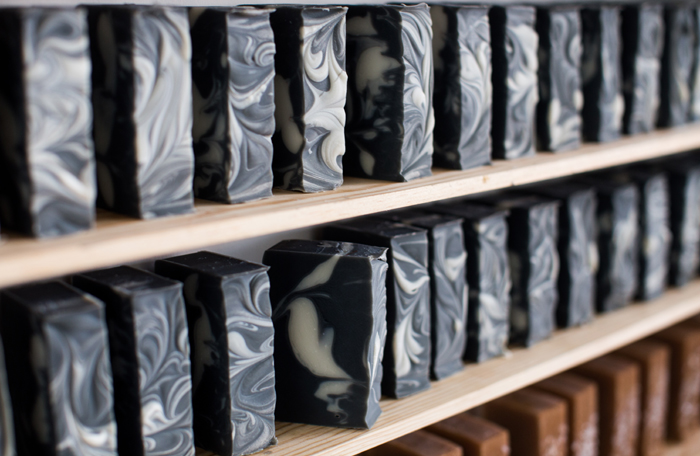 These gorgeous Obsidian bars are the soaps that led Shana to win Facebook Photo of the Week in 2014. 
How long have you been soaping for and how did you get started?
My first experiences with soap making were when I was around 11 or 12 years old. At that time I was limited to only doing melt and pour soaps, since other methods were not accessible to me. I was absolutely obsessed, and had even done a market or two with success. Since I was still just a kid, I moved away from it and had to focus on other aspects of growing up, like friends and school. Over the years I periodically would research cold process soap making and dream about all the cool soaps I could make. After I graduated from college in 2013, I had a 6-month grace period before loan repayment, so I decided to get back into touch with some of the things I had enjoyed years before. That was the summer I had placed my first Bramble Berry order and jumped into the world of cold process soap making, not quite knowing at the time where I would end up going with it.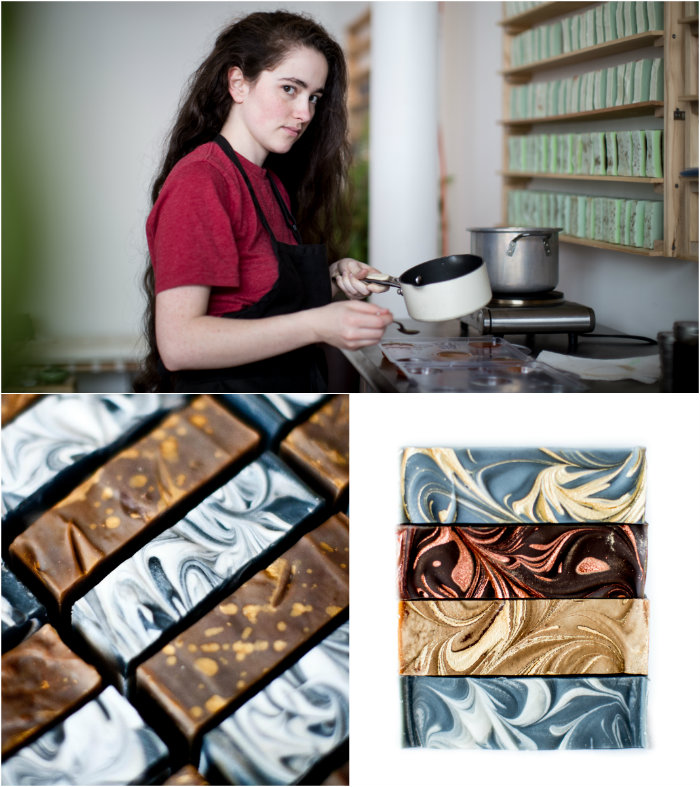 On the top, Shana is soaping up a storm! On the bottom are a variety of gorgeous cold process bars. I love the mica painting.
What sort of advice would you give to those soapers just starting their businesses?
Making goals is so important. I keep multiple notebooks just for my goals. They can be simple to-do lists, as well as lists of shops and companies to contact in the future about selling my products, etc. I also find it helpful to write down goals that seem far away; you'll find that as you complete the easier goals, you will become that much closer to the more difficult ones.
Also, stay tough. Some people will try to take advantage of you along the way; just remember that you are calling the shots and get to dictate the direction of your business. Being a 25 year old woman that looks 16, I have come across people who have thought that they could take advantage of me. Don't be afraid to say "NO."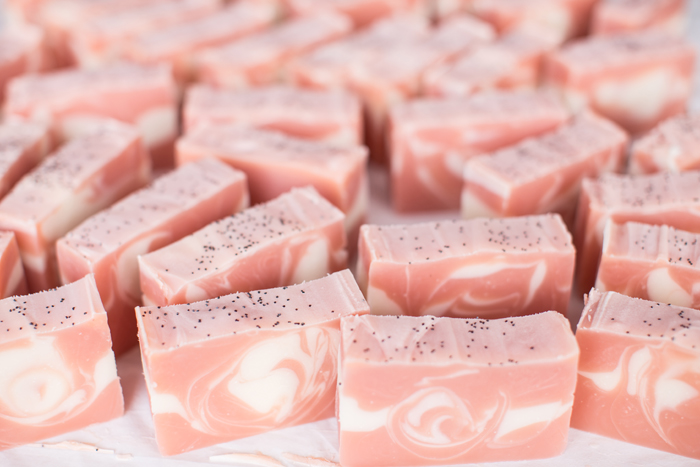 Shana's Lychee Tea bars, made with a soft pink swirl and topped with poppy seeds. 

What is your favorite type of product to make?
Definitely cold process soaps. There are just so many visual and scent possibilities when making them, and when working with swirls, you never know exactly what you are going to get when you cut a loaf of soap. The absolute individuality of each bar is really awesome.
What inspires you to create?
So many things, whether it be the seasons, a certain scent I want to work with, or I might even have an abstract name for a soap that I need to create a scent for. Other times it might be a good cause that inspires me. For example, each year for the holidays I donate a bunch of soaps to a non-profit cat spay/neuter clinic in my city for them to sell and take all of the proceeds. All of those soaps are cat themed, "Catnip" (peppermint with catnip), "Sunbath" (citrus), and "Whiskers on Kittens" (chamomile & lavender). To me, it is important to form these sorts of community relationships, and if I have an opportunity to make a positive difference, I'll take it.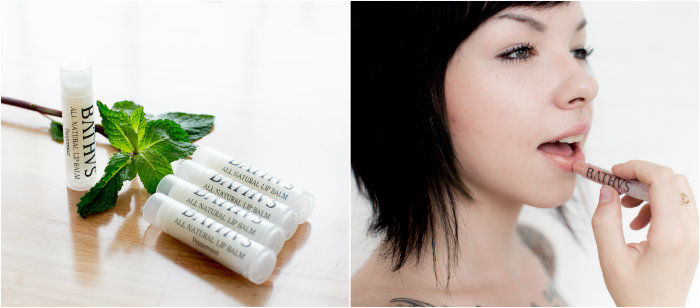 On the left are a collection of Peppermint Lip Balms. On the right, Shana's beautiful lip tints are applied. 
How did you come up with the name for your business?
I know a lot of people go back and forth with trying to figure out business names, but by a stroke of luck BΛTHVS (pronounced Bath-us) just came to me and I went with it. BΛTHVS is my own Frankenstein of a word that combines "bath" and the Danish word "hus" meaning "house," together meaning "bathhouse." I used Roman lettering for the "A" and the "U", since they were ancient pioneers of the bathhouse, and I really liked the symmetry of the typography. The name of my business is also a nod to my education, as I studied archaeology and ancient languages (Latin & Hebrew) in college. Since it was my own made up name, there were no other businesses or entities that claimed it. It made registering my business and buying my website name super easy.
Your branding is incredibly coherent. Everything from your packaging to your website is crisp, clean and beautiful! What branding advice do you have for soapers just starting out?
Have a clear vision of what everything should like from the moment you pick a name for your business, and then you should try to be as consistent as possible. Your brand will evolve and change over time though, which is absolutely fine. I really like the clean look of black and white; on the website my products stand out on top of it, and photos never clash with it.  I don't want any visuals to be fighting with each other.
I think it is also important to take good pictures, people cannot smell your products online, so the visual appeal will make up for the inability to smell them. Cell phone photography has come a long way, but nothing beats a good digital camera setup that you can deduct from your business taxes.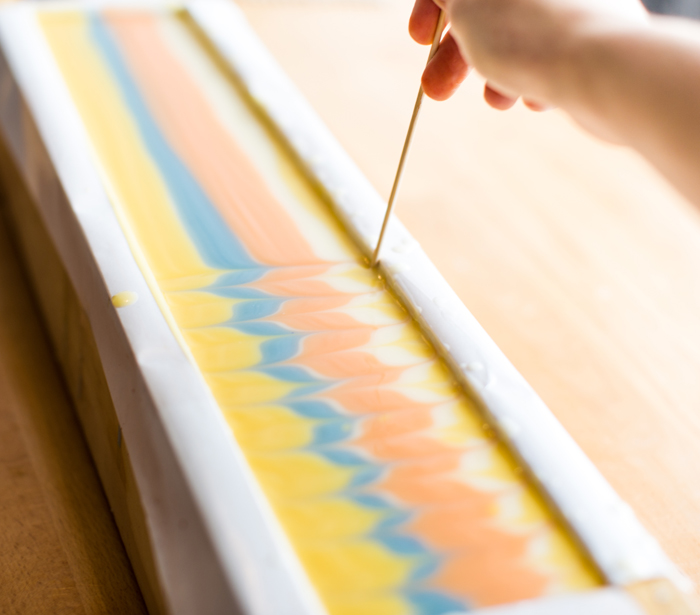 Shana's photography really makes her creations shine. Here, Shana swirls her Wake Up! bars. 
You also have a blog where customers can find tutorials and product spotlights. Why did you decide to start a blog, and how has it helped you in business?
Since I launched my website in August, I have been trying to keep my blog current and updated. At first I was stumped about what I would write about, but really, the more you blog, the more ideas you will get to keep at it, and as you create new products there's always something to write about. I didn't want all of my posts to be "buy this" or "buy that" either, people that shop handmade products are more interested in the process of creation, the human aspect, that is what they want to support. Blogging is a way to show your customers that you are confident in what you are doing as well.
When it comes to driving people to your site, blogging is a huge help too. Google notices when you update your site and blog. If you blog regularly, the Google algorithm will notice and you will soar ahead when people search competitive search terms. You can't stop blogging either, because if you do, search engines will not see you as relevant. Maintaining your blog and website is paramount to your online success.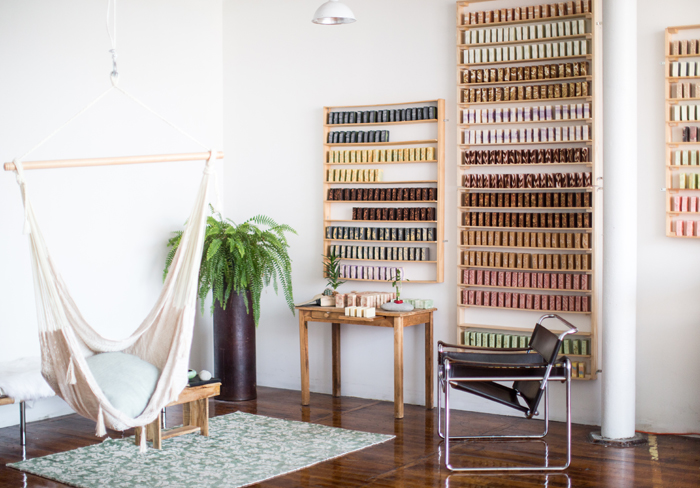 Shana's curing racks look like they are straight out of a magazine!
Tell us a little bit about your gorgeous curing racks, they are stunning!
When I first started making cold process soaps I was laying soaps on every unoccupied surface to cure, so my living situation quickly became cluttered. I am sure every soap maker has related to this at some point. My solution was to make racks with shelves about the width of a bar of soap. I can have thousands of bars on the walls and they don't disrupt my work space at all, in fact, they are quite decorative.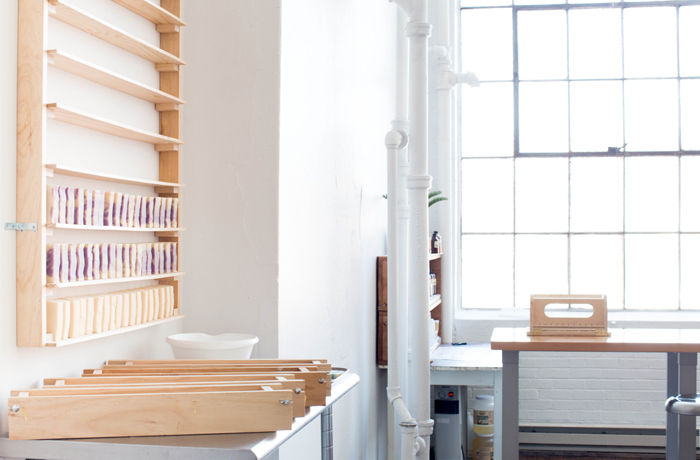 Shana moved her soap production into a separate loft space. 
What is your favorite Bramble Berry product and why?
Hands down, the Multi-Bar Cutter. I would be lost without it. It has seriously saved me so much time and frustration to be able to cut multiple bars at once without fear of cutting them crooked or underweight. I think consistency is so important when it comes to making a product and selling it. Overall, all of Bramble Berry's supplies are top notch and superior in quality. I've never been disappointed with anything.
Tell us something unusual or unique about yourself!
I pride myself on the fact that so far, everything that has went into my business has been my doing. Many customers think that I have a group of employees and are surprised to learn that I do everything by myself. Not only do I make all of my products, I take every single photo, and I built my entire website alone. I didn't study photography, and I definitely did not have any prior experience with web design or coding. I know that at some point I will need to hire employees, but for now, I am pretty happy with how things have moved along. To say that I have gotten to this point completely alone would not be 100% accurate though, I do have to thank my awesome customers for supporting my success, as well as Bramble Berry for their awesome supplies and their wealth of information.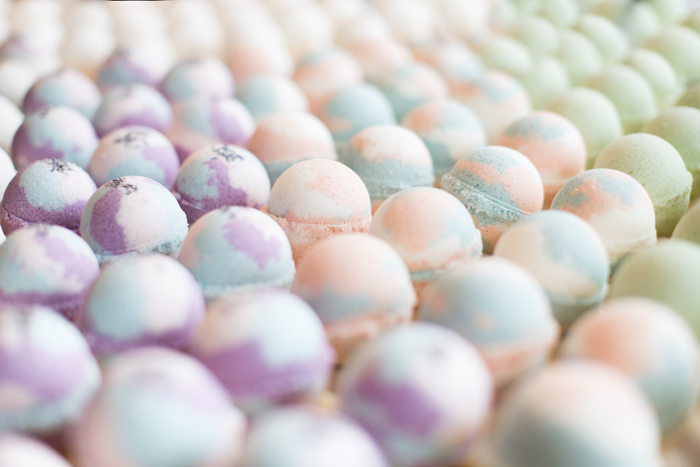 Shana sells a wide variety of bath bombs, find them here.
What are some of your other hobbies and interests?
I usually do not have time to do many other things, as soap making is my full time gig, and running my business and paying my student loans off as early as possible are my priorities, but I am a part of an amazing and creative artist community at a place called the Pajama Factory, a large revitalized factory that I rent studio space in for my business. There's always something to be involved with, and I design for a fashion show that is held there every year in May.
What is your number one soaping tip? 
Don't be afraid to try something new and experiment with color and design.  A mistake just might become your signature style!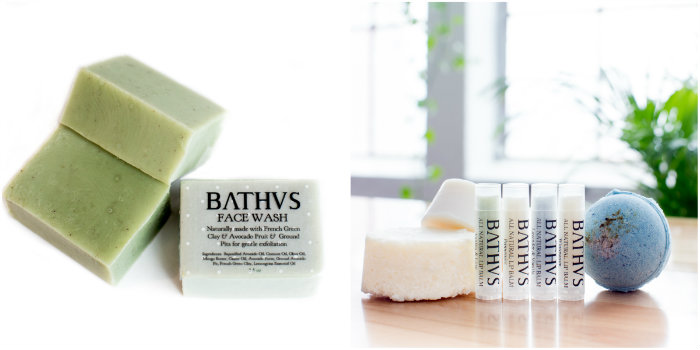 On the left is Shana's beautiful All-Natural Avocado Face Wash, and on the right is a variety of products including lip balms. 
Have you ever experienced a horrible soapy fail? How did you work through it, and what did you learn? 
I have not experienced too many failures, luckily. But a few months ago I was making a soap with some expensive essential oils, and I somehow forgot to add a half pound of oils in my 4 pound batch (luckily it was only 4 lbs and not one of my larger batches). It didn't completely fill the mold, so I knew something was up, but couldn't really know what oil I was missing.  I knew at that moment there was no fixing it and no selling it, since it was undoubtedly lye heavy. Sometimes you just have to accept your failures and move on, chalking it up to experience.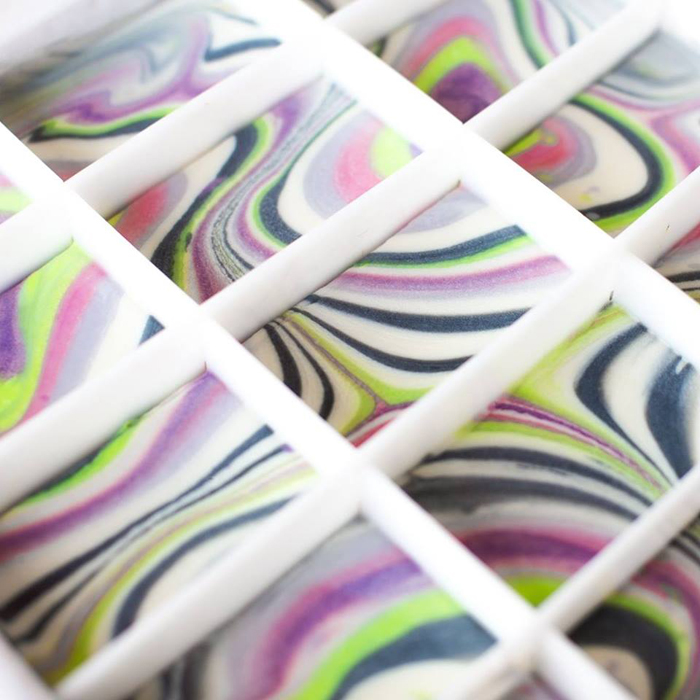 Stunning Sweet Orchid cold process soap, made using the spin swirl technique. 
What do you love most about creating bath and body products?
I really love feeling like some sort of master of alchemy when I am making something. I like the little surprises too, especially those in cold process soap making, when you cut into a loaf of soap and aren't sure what it will look like. Not only is the creation of the product exciting, but creating the photography and the branding around it as well. I never wanted a desk job, and I thought archaeology would be the answer when I had first enrolled in college, but it turns out that cutting a batch of soap is just about as exciting as finding a relic in the ground, while requiring less paperwork, and a lot less dirt.
Find BΛTHVS

On the Web
On their Blog
On Etsy
On Facebook