Today, Shana of BΛTHVS is sharing her tips for creating a cohesive and thoughtful gift set. Shana is a pro when it comes to creating cohesive branding – take a look at her website and you'll see what I mean! These gift sets would be perfect for Valentine's Day, but Shana's tips apply to every type of gift. If you're a small business owner, Shana's tips are great for putting together collections of products for customers. – A.M.
——————
Hello! My name is Shana and I am the owner and creator of BΛTHVS. I started with cold process soapmaking and now make a bit of everything. I enjoy the packaging process almost as much as the making process. I typically favor clear packaging so that my customers know exactly what they are getting, but the gift boxes I make are the exception. Since the customer can't see or smell the products within, I have to make sure that every detail is visually appealing and well put together. I'm here to show you how I put together a professional, creatively curated Valentine's Day gift box! Perhaps you can take a few of my tricks and apply them to your products for your favorite gift-giving holidays or put a spin on your general everyday packaging!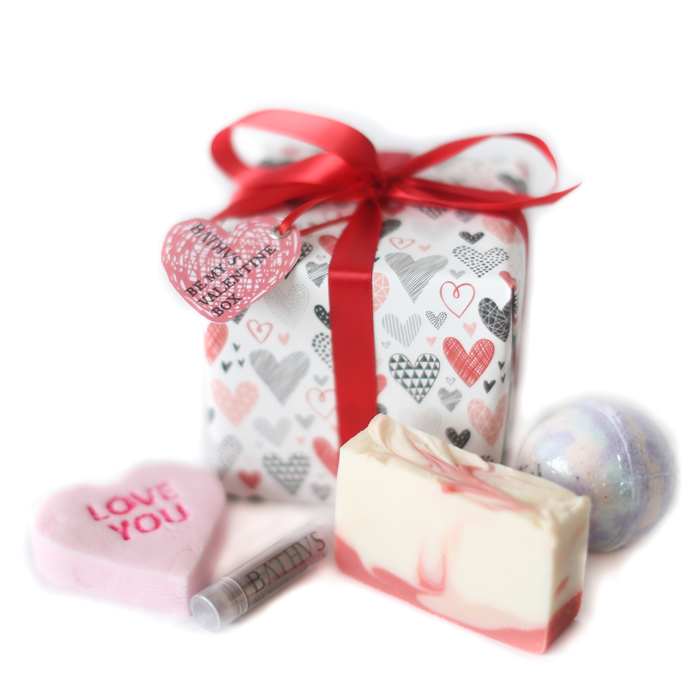 Curating the Gift Assortment

Proper curation is key when putting together anything that has a particular theme. Try to have a good idea of what you want to put together and the audience you want to please. For this Be My Valentine Gift Box, I am assuming that most recipients are going to be women and that this box would either be given to them by a partner, or by family and friends. Maybe someone would also purchase it for themselves in an act of self-pampering.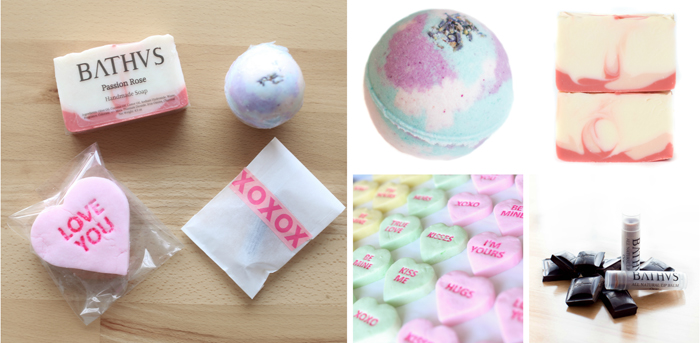 Above on the left is a photo of the final selection and packaging of products for the gift box. On the right is each product and their individual product shots – they don't necessarily look like they should go together on their own. I chose the more romantic of the pink, passionfruit scented Candy Heart Bubble Bars and set them aside for the boxes, and I also packaged the Cacao Lip Balm in a small glassine bag with XOXO themed washi tape to tie into the theme. To me, the Cacao Lip Balm sort of represents the classic Valentine's Day box of chocolates, so it had to be included! I packaged the Passion Rose soap like my usual soaps, and I put some shrink wrap around the Wife of Bath Bomb so it would not leave any crumbs in the gift box!
Picking the Perfect Paper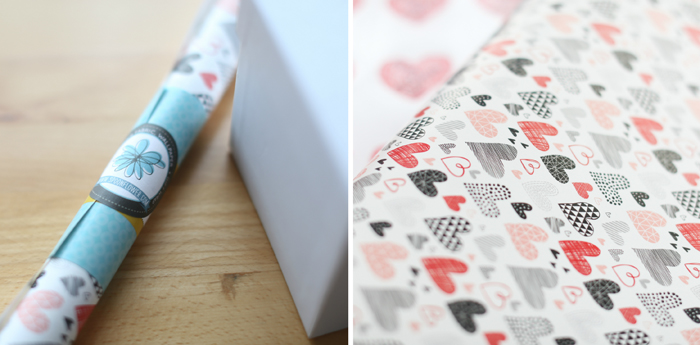 The gift wrap you choose is important, since it will be the first thing someone notices when they look at the box! I like to buy my paper from designers on Spoonflower.com. You can always find a design to fit your theme, and it is easy to reorder it when you run out! This is very important if you sell an item – if you buy your paper from a retail store, it's unlikely that you will find it again! Shoutout to Caja Wong-Chung from caja_design on Spoonflower for her beautiful design!
Putting it All Together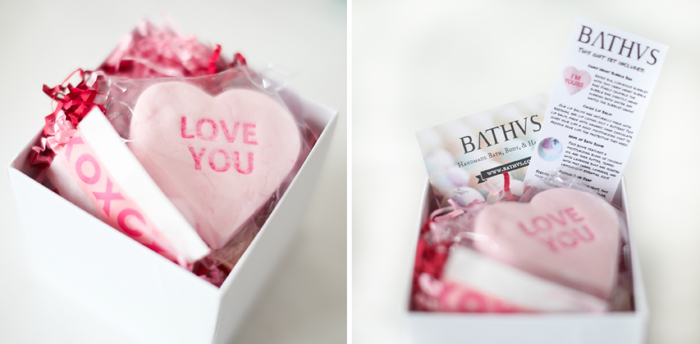 We got some pink and red crinkle paper to fill in the gaps and coordinate with our Valentine's Day theme. It also helps keep everything nice and snug so that each product is protected – if you've ever worked with bubble bars, you know they can be a fragile craft, and we don't want any broken hearts, both literally and figuratively!

For the inside of the box I also throw in a business card and a detailed card stock list of what is inside with descriptions of each item. I like to also add pictures of our most photogenic items on this list. When selling in person it is useful to tuck a matching list under the ribbon on the outside of the box so that your gifter knows exactly what is in the box!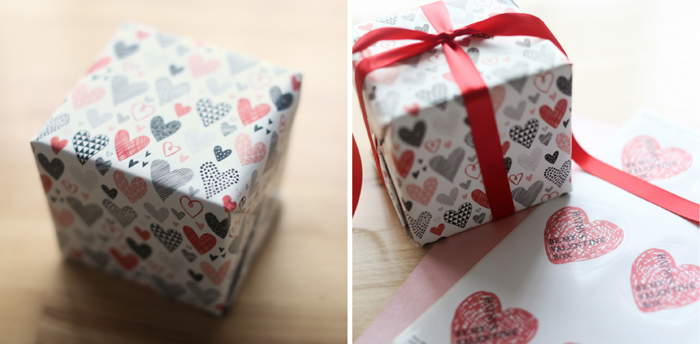 Wrap up that box and put a ribbon on it! Don't tie it yet though, because we need to make hang tags.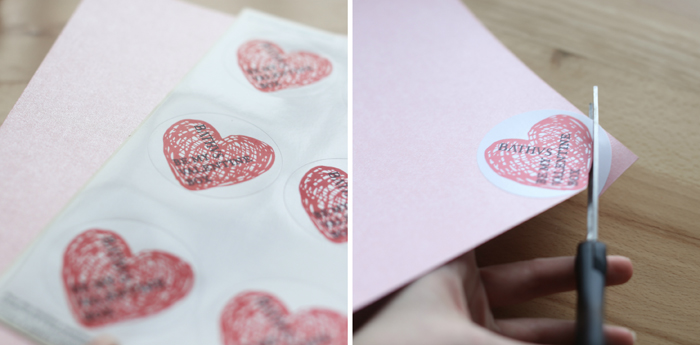 I like hang tags that are nice and sturdy, so I chose heavyweight stock paper and print my label onto a sticker. I can just put the sticker directly onto the paper and cut it out. One side has the name of the box and my brand, the other side will be a nice pearlescent pink that can be written on!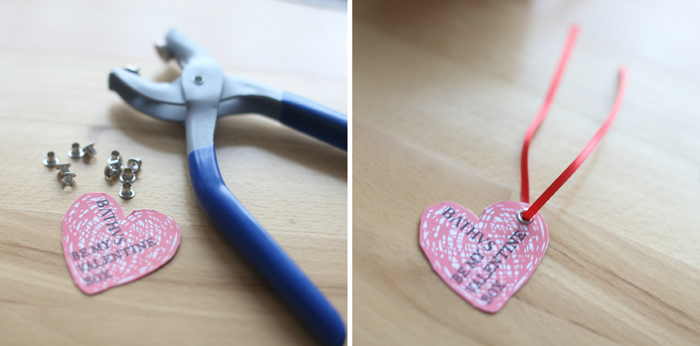 Instead of just punching a hole into the tag to run the ribbon through, I like to fasten metal eyelets into the tag—it just looks nicer and has a more professional look. Tie that tag into the ribbon on your box, make a pretty bow, and you're done!