Welcome to Wednesday, everyone! We're giving you the momentum to finish out the week strong with an interview with Rachel of The Daily Scrub. Rachel's positivity and excitement about soaping (and life in general) is infectious, and her creations match that enthusiasm. Her handcrafted soaps tend to feature her signature colorful soapy curls. Rachel has been a member of our soapy community for sometime, and last May she even won our Facebook Photo of the Week contest. Read on to learn more about this inspirational soaper — and her cute Boston Terrier pup Charlie!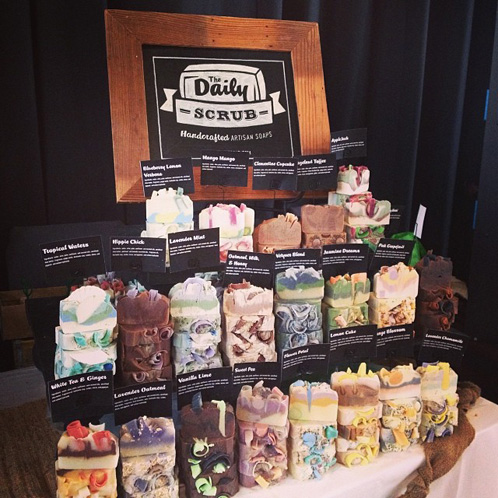 Soap Queen: What inspires you to create?
My biggest inspiration comes from a loving and supportive husband — Jeff is my biggest fan! Now don't get me wrong — my parents and his parents are right there too, but he's with me day-to-day, building my molds and displays and setting me up at this show or that. He believes in me and always encourages me to do what I love and be more. I'm so grateful to have someone building me up! He inspires me to be a better me. All you have to do to find inspiration is to look. All around us are beautiful colors and patterns!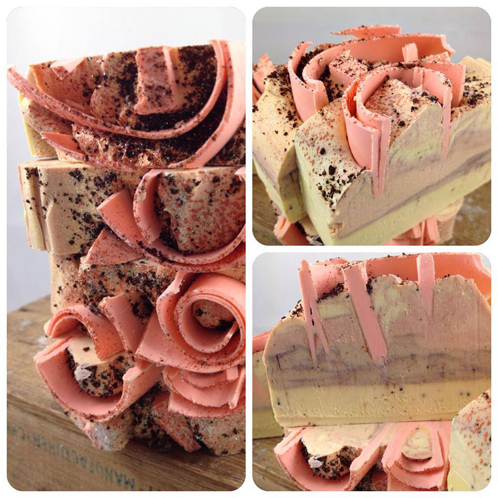 I'm so blessed to have been given an artistic gift. In the beginning I would always compare my soaps to other soapers. Sure, it's okay to admire someone else's work, but you have to come up with your own style and signature look. It was important for me to be different and unique. Other soapers inspire me just as other artwork does. I use it as a springboard to creating my own color combos and designs. And, I've always been the type of person who needed to create. It's important to have an outlet, whether it be drawing, painting, sewing, knitting, etc. It gets your mind thinking differently!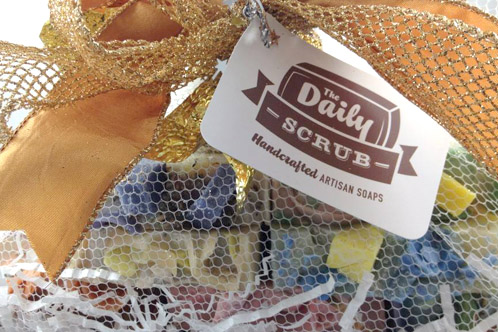 Soap Queen: How long have you been soaping for and how did you get started?
I've been soaping regularly for about 4 years. I've played with it off and on, but never got really into it until someone took the time to teach me the basics. My mom and I had a booth at our local farmers market for years selling cut flowers (we still do, but just added soaps to the mix). I bought soap from the nice soap lady next to us. We would chat and trade goodies, and I mentioned that someday I would love a lesson. But, I never wanted to compete with her, so I just continued to buy soap from her and wherever I saw it.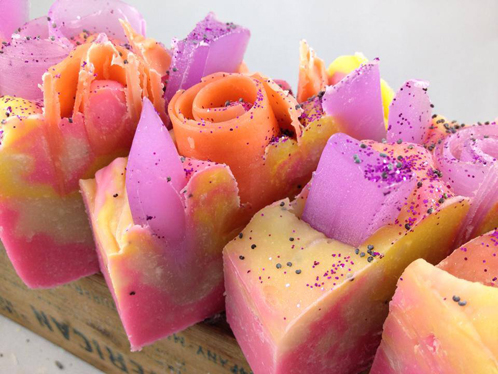 One day she told me that their family was being transferred (they were in the military) and she asked me if I wanted to come over for a lesson. She said that someone took the time to pay it forward and teach her, so she felt that teaching me was her paying it forward. So, the rest is history I guess! I was bit by the bug and never looked back! Now, there's soap curing all over our house.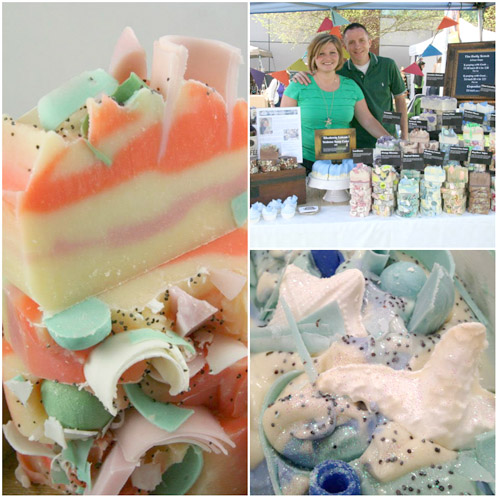 Soap Queen: What is your favorite Bramble Berry product?
Really? You have to ask? I love them all! The best part about Bramble Berry isn't just the fabulous high quality soap fragrance oils, essential oils, colorants, etc., but instead the people. The reason I continue to shop with your company is because I want to support another "small" business (even when it takes 4 – 7 days to get products to me on the East Coast), but mostly because I appreciate what your company stands for. Sure, your prices are good and that helps, but quality of service and product means the most to me. Your customer service is top notch. You answer any and all questions whenever I have one.  And, most of all, you believe in helping others. You set the example for how a business should run. I've learned a lot just from seeing how you do business. I feel like I know you all and all I see is what you post on the internet!
Soap Queen: What sort of advice would you give to soapers who are just starting their businesses?
The Daily Scrub is my part-time artist gig! I make soap because I LOVE to be creative. I've always been crafty, but never could find that thing that people wanted to buy. Until now! It's an opportunity for me to be artistic, but at the same time create a useful product. My biggest piece of advice would be to get "legal." And, yes, it does cost money to get "legal." Get all of your appropriate licenses and permits and register your business. Get insurance! (Soap Queen note: we recommend going through the Handcrafted Soap & Cosmetic Guild to purchase insurance for your soapy business. Learn more about it on their website here.)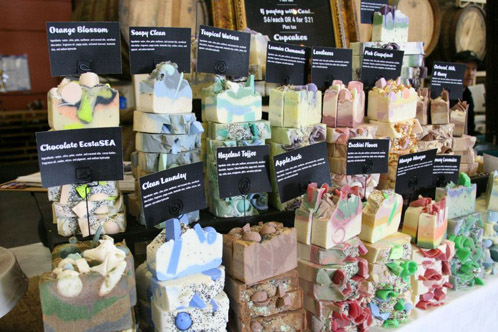 Take time to keep good records — yes, I know this is the not-so-fun part about making soap! I am here to tell you that 90% of my time is spent doing paperwork, packaging orders, communicating with customers, and marketing my products. Making soap is the easy part! Be realistic and know that when selling your product directly to the consumer you have to be personable and communicative (and it helps to have a dog like Charlie too! He's my sidekick at the farmers market). Respond promptly to emails and posts on your page – and, most importantly – get a Facebook page and post regularly! Be diligent! Facebook has done more for me than I could have ever imagined.
And, one last tip — always go above and beyond to make sure the customer is completely satisfied with your product!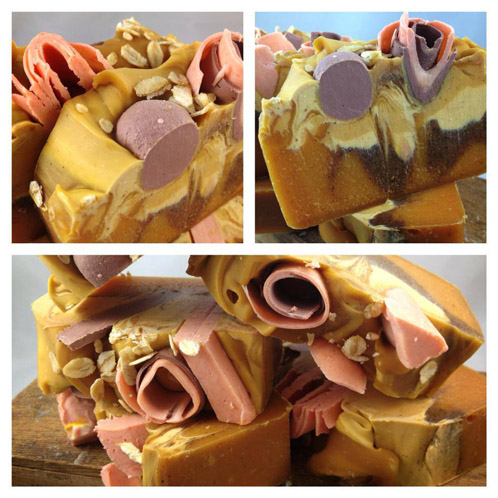 Soap Queen: What is your favorite type of product to make?
Right now I only make cold process soaps! I'd love to make lotions and lip balms, etc. but I have to be realistic with my time commitments. I make what I love to make, and I've found that there's something to be said for making one thing well.
 Soap Queen: How did you come up with the name for your business?
This makes me laugh because my husband and I spent lots of hours discussing the options! One day it just came to us — it just made sense! I think that was one of the hardest decisions. I didn't want my name or to make it location specific. So, The Daily Scrub was just right!
Find The Daily Scrub:
On the web
On Instagram
On Facebook