I have enjoyed seeing Josie's beautiful soap on the Bramble Berry Facebook page for some time. Right away, Josie showed immense talent and an eye for design. Josie began selling her soap on Ebay, and several weeks ago opened a brick and mortar store, Josie's Beauty Boutique, in Grants Pass, Oregon. Josie creates both melt and pour and cold process soap, as well as body butters and lotions. Josie specializes in colorful, feminine designs including her gorgeous soap cupcakes. Read more about Josie's soapy journey, including her tips for opening a store in the interview below! -A.M.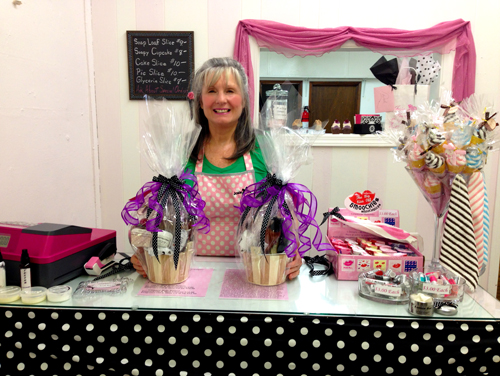 Josie in her store, Josie's Beauty Boutique, located in Grants Pass, Oregon.

How long have you been soaping for and how did you get started?
I have been making soap for 11 months, I made my first soap November 14th 2013. I had an Ebay store and was tired of having a middle man to purchase my beauty products from. A lady that worked at my post office wanted to know if I would buy her soap and sell it for her on my ebay store, again was having the middle man and not making any real profit. So I decided to see what soap making was all about, never really thinking it would go anywhere. I actually watched all the soap video's that Anne-Marie made on soap making, over and over and over again. 😉
I started researching more on the internet and purchased Soap Crafting by Anne-Marie. The next thing I knew I had Anne Marie in the kitchen with me when I made my first loaf of soap by way of my lap top :). I set my computer on the counter, turned on her video and went step by step with her. When I was done I thought "WOW that was so fun, and nerve racking at the same time." I made melt and pour for about 2 months before I started tackling cold process soap.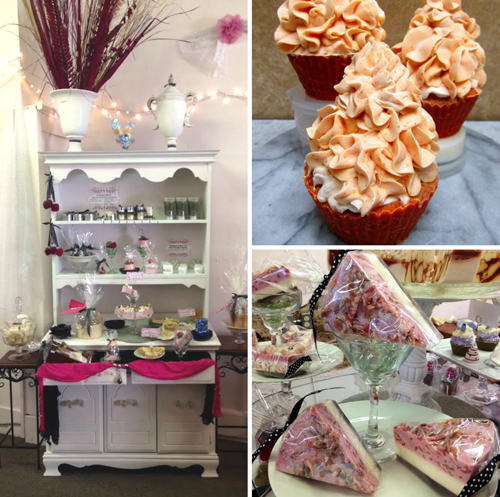 What sort of advice would you give to those soapers just starting their businesses? 
I have only been open for 7 weeks, but I would say to believe in yourself. If you are starting your own business and putting out a good product and it has been received well from the public already, then just believe in yourself! Look straight ahead and don't let negative comments get in your way, tell yourself that you can do this. On the other hand, be open minded to suggestions that come from those who care about you. Even though you think you have it all together, you may not see what others see, so be a good listener to those who care about you.
The most important thing that has helped me since opening: find out the hours that people get off work in your surrounding area. We found out our 1st week being open that we closed at the same time everyone else was closing. Well…that doesn't work well for customers to shop your store when they leave their workplace and see you have closed up also. So we are open until 6:00 PM every night all week because we found out that everybody gets off work around 5:00 PM. So even though I am staying open another hour longer, it has been well worth it. After all, the customers are the reason I opened my shop in the first place. So that has been key for me.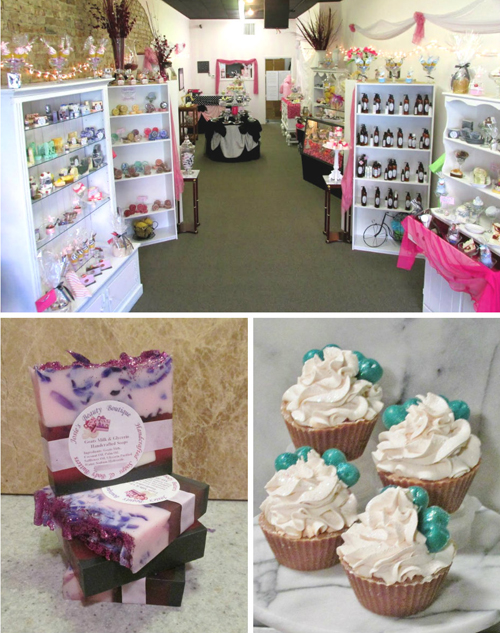 What have you learned from your first month of having a store?
I have learned people really like how I try to be as chemical free with my product lines. I didn't know there were so many people that felt like me about chemicals in products. Just about every person that comes in is overly happy when I tell them that I try to go as chemical free as I possibly can.
I learned it's really good to be diverse with my products. Not everyone likes heavily fragranced items. I learned this before going into the shop. So I decided that I would always have fragranced and unscented items. Because some people can't handle fragrances, but can handle essential oils or some do not like anything fragrance at all. Even though my soapy cupcakes are adorable along with my pies and cakes, not everyone wants that. So I make my soap loaves scented and unscented, some with herbs and spices in them and some with chocolate, cherry, and coconut cream fragrance inside.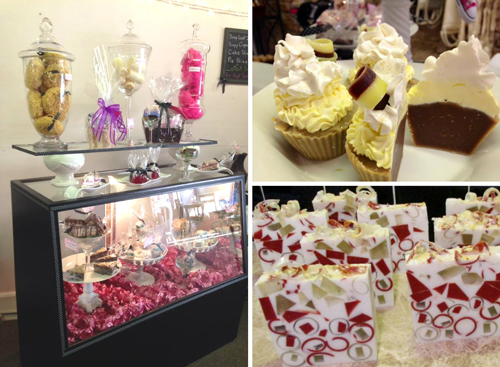 Before you open, make sure you have a little something for everyone, from the very natural bars of soap to the "WOW! What the heck? Is that soap?" I get that all the time. People say, "What the heck?? Is that really soap?" Haha, it is so funny. Its a kick. It takes lot of preparation getting a diversity but you will find it's well worth it because everyone is so different. Their wants and needs are different. Williness to do special orders for people will also help increase your sales and your customers feel special too.
What is your favorite type of product to make?
My body lotions are one of my favorite products to create. But I think my #1 most favorite is my soapy cupcakes. They are tricky and challenging for me because most of the time I like doing 3 to 4 different colors when piping. I always seem to learn something new when making them. Plus the "WOW" factor in my shop when people see them is so hilarious. What I hear everyday is, "It looks so good I want to eat it!"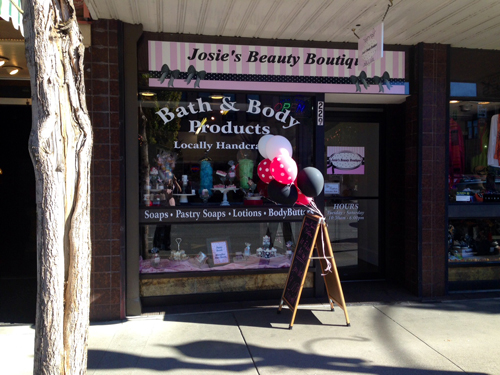 What inspires you to create?
My imagination is what inspires me, wanting to share all the designs that I have stored in my head that people have not seen yet. I have so many ideas that I have not yet created. I lay awake sometimes at night dreaming up my next soapy cupcake. Then sometimes I don't know what I'm going to make until I get into the kitchen and start. I also switch gears right in the middle and change the whole thing into a completely different design than what I started out doing.
What is your favorite Bramble Berry product and why?
Oh boy, that is a loaded question. Ok ALL!! Hahaha. I mean that. I have shopped with Bramble Berry from the very beginning.  The fragrance lines are out of this world. When people come into my shop and try my tester lotions & body butters or smell my bath salts… they are really wowed by the fact that they smell so outrageously good. And the fragrances last and last.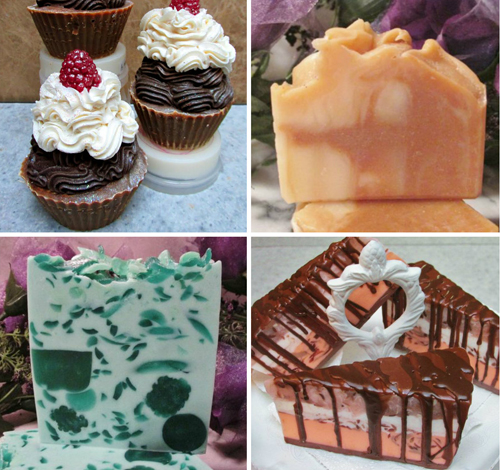 Tell us something unusual or unique about yourself!
I let my hair go completely gray last year. I cut off all my hair which was down to the middle of my back (I had like 3 different colors in it always). I got tired of doing my hair all the time and decided to let my gray hair take over. I use purple shampoos on my hair to keep the yellowing away, but I don't like all the chemicals that are in the shampoos. So I made a shampoo bar that is violet in color, and I use it in-between the Dark purple shampoo I get from the beauty supply, so I am doing something good for my hair in-between.

What are some of your other hobbies and interests?
In the spring/summer here in Oregon, my awesome husband Dale (who by the way has supported me in this from the very beginning, when I told him in our front room one night, "Dale, I'm going to start making soap"). Anyway, Dale and I love to go boating. We have a large bright yellow pontoon boat that we named Cove Hoppin, because that is what we do when we go the endless amount of lakes in our area. We are fully stocked on board to spend days out on the water. It is something we look forward to every year.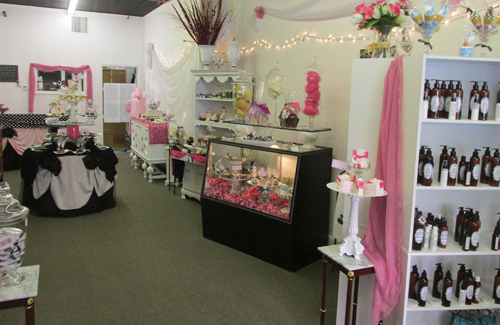 What is your number one soaping tip? 
This tip would be for those who are making melt & pour soaps. If you are doing layers in your design, don't forget to spray your layers with alcohol each time before you pour your next layer. If you are placing embeds into your soap, spray with alcohol also along with the layer you are placing them in or on. I use to forget to do that sometimes and end up with peeled layers separating. When you are going through all the time and effort to do layers it pays to spray, spray, spray! Be careful not to have your soap pour through the next layer, so pour into a large spoon and let that spill over on to the soap layer.
Have you ever experienced a horrible soapy fail? How did you work through it, and what did you learn?
This would be my soapy cupcakes. Not too long ago I was making cupcakes and I didn't let the soap batter set up enough for the pipe. I started  piping about 6 to 8 cupcakes. Everything seemed to be going along fine, or so I thought.  I looked back at my cupcakes I had finished, and the cupcakes I piped were all leaning. When I tried to touch them they were in a very melted like state. I did not wait for the batter to thicken up enough.
So what I did was I took a large spoon, and scooped all the tops off of them and put it back into the bowl I started with.  I took my stick blender to it again, but that wasn't helping which I know it can, but not this time. Well I didn't have any fragrance in this part of the batter at all. I wanted a white topping and didn't want to use vanilla stabilizer in this recipe, so  I grabbed some of my Bramble Berry Cherry Almond Fragrance Oil that was in the bottom of the cupcakes and poured it into the batter.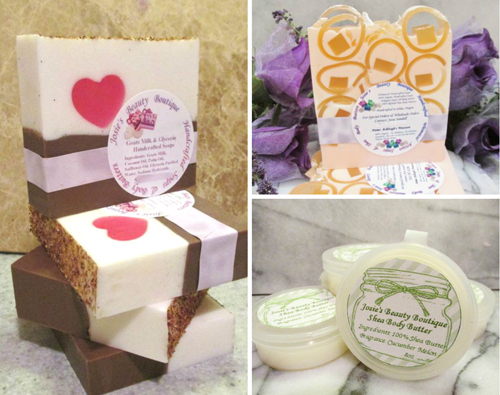 It started getting thicker right away, yay! Saved! I knew this fragrance oil would make it accelerate. I was able to put it back into my piping bag and pipe away without any more problems. Some of the paprika bottom got mixed into the topping when I used the large spoon to scoop the tops off, so instead of white topping I ended up with a very light peach like color. They smelled great and wash wonderful. Sometimes when you are in the moment and you don't have time to figure out what the heck you're going to do, you just have to do something quick!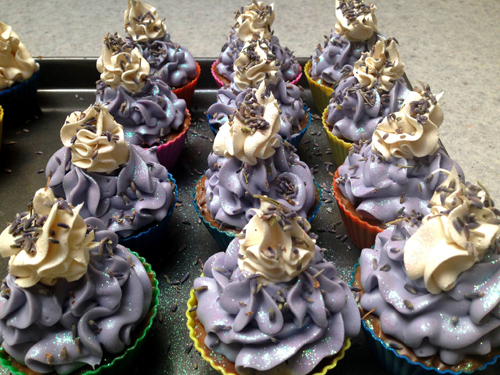 What do you love most about creating bath and body products?
I just love everything about it. Everyone tells me, "Josie you finally found your nitch." I would have to agree. What I love is seeing the lil' soapy treasures when they are finished. Its so gratifying. And when someone uses one of my bars of soap and loves it. Oh man, it is just so fun for me to know that I have made someone happy with something I have created.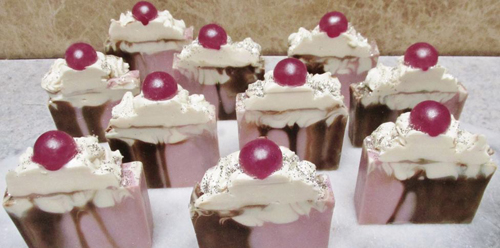 Find Josie's Beauty Boutique
Facebook
YouTube
Pinterest
Twitter
Ebay