This is the first of a three part series on selling soap.  Part One will discuss general topics like packaging and labeling, where to sell, licenses, taxes, etc.  Part Two will discuss issues specific to cold process soap and Part Three will discuss issues specific to melt and pour soap.
You're excited!  You love soap and you want to sell yours. You love your product, you love making it, your friends love it!  Now what?
There are several considerations:
How will you package it?
Where will you sell it?
What does the government want from you or require of you?
Where can you get insurance?
We'll take one at a time.
Packaging: If you're selling your soap, people will be picking it up, smelling it, passing it to friends and family, dropping it and so forth.  If you're doing markets and fairs, you'll be packing and packing, transporting and displaying your product.  In a nutshell:  It's going to get battered.  When you package your soap, you should think about how you can best protect it and how you can best get information to the buyers on your package.   One of the cheapest ways to wrap your soap is with what's called a cigar band.  It's just a strip of paper that goes around the bar.  You can use plain or fancy paper, you can print them yourself or have them printed.  In the photo below, you can see my soap with cigar band wrapping.  The logo and soap scent are listed on the front; ingredients, etc., are on the back.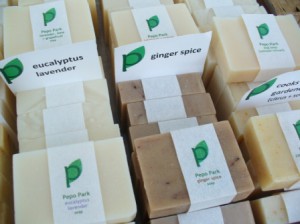 Cigar band-style labels indicate brand and scent
You can wrap vertically or horizontally.  The bands on my soap are quite narrow, but most people still place their fingers on the paper when they pick up the bar.
Obviously, you can go beyond the cigar band.  You can use paper or fabric to wrap the whole bar, you can shrink wrap the bars, use boxes, fabric bags….  The list goes on.  Bottom line: Protect the bars.
Labeling: Labeling is important.  It may be the only chance you have to communicate with your buyer.  In addition, it may be a legal requirement. There is a great book called Soap and Cosmetic Labeling that will help you make sense of all of the rules.  For true soap, it's simple.  True soap does not require ingredient labeling.  Your soap is true soap if it is made of fats and an alkali (lye). However, it's never that simple so you should get the book mentioned above or read this page on the FDA site.  If you decide that your soap is true soap, your customers will appreciate you listing the ingredients even if it's not required.
What goes on the label:
Product name and scent
Starting ingredients listed in order by percentage, starting with the highest percentage.
Weight
Contact information including your full address
Selling: Once you get packaging and labeling sorted out, you need to find a place to sell your soap.  First, tell ALL of your friends and family that you're in business.   You can do that through the various social media outlets. Anne-Marie wrote a great article about social media.  Do you want to sell your soap on the Web?  You can get a Web site of your own or use a service like Etsy or Artfire.  Or, do both. If you want to sell in stores, you should create a wholesale price list before you start talking to shop owners. Do you want to sell at craft fairs and markets?  To find fairs and markets, talk to other crafty people in your area, do Web searches, check the Craigslist events section, etc.  You can also keep your eye out for fairs and markets then stop in to see if they look like a good fit for your product.  Ask organizers how to apply and when the next show is.
Sales tax: Finally, if you sell your soap, you'll probably have to collect sales tax unless you're selling in Delaware, New Hampshire, Montana, Oregon or Alaska. And, you have to know the sales tax rate for the place you're selling.  It can vary by city even within the same county.  Your state's Department of Revenue Web site will have all of the information you need.
Licenses: You may also need a business license from the state you live in and any city you sell in. Again, a Web search is your best friend.
Insurance: Anything else?  Yes! Insurance!  You want to protect yourself from losses related to being in business.  The Handcrafted Soap Makers Guild and the Indie Beauty Network both offer insurance for members. The company you use for homeowners or renters insurance may also offer coverage.
Good preparation before you start selling will pay off in the long run.  Stay tuned for Part Two and Part Three, coming soon!
Kim Wilton of Pepo Park.