It's really incredible how fast word spreads on the internet, and exciting to see how contagious inspiration can be!  Last month my husband showed me a video posted on Facebook, originally uploaded by "Non ci posso credere."  (Click here to view the video.  It's SOOO cool!)  It showed artists pouring paint down a column creating the most amazing swirled designs.  Then on March 14 I shared it on the Soapylove fanpage, and the response was thrilling!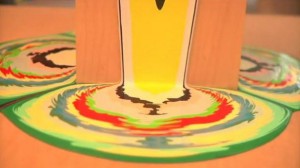 The very next day Amanda Griffin, author of the great CP eZine "Lovin' Soap", posted a FULL TUTORIAL showing how to do it with cold process soap (including her recipe), and coined the term "Column Swirl."  She will be posting it for The Soap Queen very soon, but here's a sneak peek.  I love all of her beautiful colors!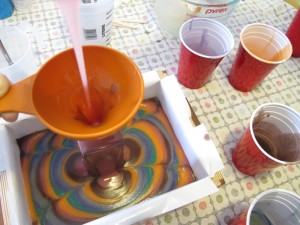 The next week, Erin Pikor of Naiad Soap Arts posted her soapy experiment using this method, using all natural colorants.  More gorgeous results! (Click here for her post).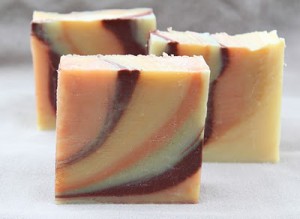 Then Holly Port of Lotion Bar Café (click here for her post),  and finally David Fisher, writer for About.com wrote about this new technique here.
Not only is it super cool how exciting it is to get inspired, but also how great the soap community is!  Everyone wanted to share their discoveries and projects with each other, and keep spreading the word about this new method.  Now if someone can just figure out how to do a column swirl with MP!  😉