I know I always say this (um, like a lot), but I think I just found my new favorite mold! There are a whopping 25 cavities in this bad boy. It has a glossy finish, which I love, and the cube shape fits perfectly into the palm of my hands. Plus, they are the ideal size for stamping with our new acrylic stamp line. They're perfect! Ok…enough gushing about the molds. Check out my specially formulated recipe  below. Why specially formulated? The cube mold works best with super hard recipes. Since no air flow gets into the mold, it can take forever and a day to get the soap to release. The Sodium Lactate, low (4%) superfat plus water discount all contribute to being able to get this soap out of the mold with no sticking. Because of this, the recipe will move fast. Experienced soapers will still be able to swirl but if you're a newbie? Stick to one color.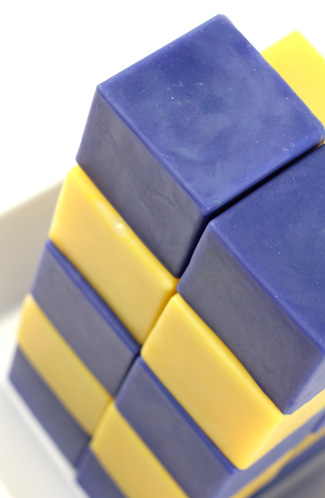 Recipe:
24.5 ounces Coconut Oil
39.2 ounces Olive Oil
24.5 ounces Palm Oil
9.8 ounces Palm Kernel Flakes
14.3 ounces Lye
27.4 ounces Distilled Water
2.2 ounces Sodium Lactate
6.7 ounces Energy Fragrance Oil
4 teaspoons Blue Mix LabColor
4 teaspoons Canary LabColor
Buy everything you need for this project in the click of a button!

If you have never made cold process soap before, I strongly suggest getting a couple of  basic recipes under your belt before diving in. Check out Soap Queen TV on Cold Process if you want to get started with cold process. It's a 4 part series that will take you through the basics (and be sure to watch the episode on Lye Safety). If you're a book worm, Bramble Berry also has some helpful reading on the cold process technique.
ONE: Suit up! Make sure you're wearing long sleeves and put on your goggles and gloves. Carefully add the lye to the water (never the other way around!) and mix until the water is clear. Set aside to cool.
TWO: Melt and mix the Coconut Oil, Palm Oil, Olive Oil, and Palm Kernel Flakes. Add Sodium Lactate to cooled Lye water. Slowly add the lye water to the oils, stick blending for about 10-15 seconds or until you reach a light trace.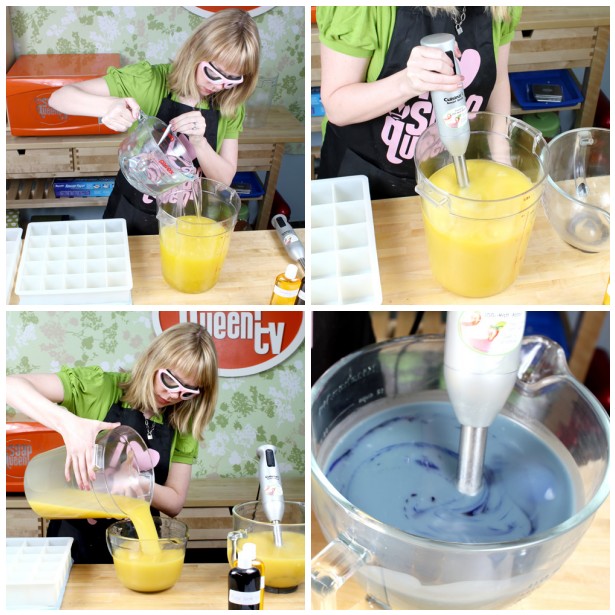 THREE: Add your fragrance oil and stick blend for a few seconds. Keep a whisk close at hand. We won't be stick blending after this.
FOUR: Split your batch in half. Color one half with Blue Mix LabColor, and the other half with Canary LabColor.
TIP: When working with LabColors, it's all about the WYSIWYG (What You See Is What You Get). The amount of colorant in the recipe is a good starting point, but you may find that you want to add more that's totally fine! If you've never worked with LabColors before check out the blog post we did and learn how to properly use them to their full potential.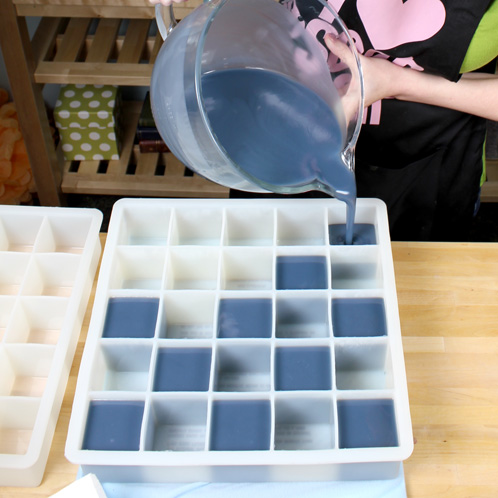 FIVE: Pour the Blue Mix colored batch into the mold. It should fill about half the cubes. For a fun visual appeal, I did a checkerboard pattern with the Blue Mix batch! As I filled each cavity, I made sure to leave about ¼ of an inch at the top to ease unmolding.
SIX: Fill in the remaining cavities with the Canary LabColor batch, leaving ¼ of an inch of room at the top.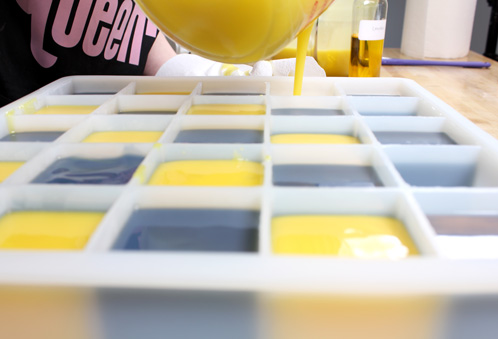 SEVEN: Allow the soap to sit in the mold for at least 7 days. Yes, 7 days! We found that because of the self-insulating tendencies of the mold, the soap just isn't ready to come out until it's been sitting for a full 7 days.
EIGHT: Unmold your soap and allow to cure for 4-6 weeks. When it's time to unmold, pull gently away from the sides of the mold and carefully ease each cavity down. It is a slow process but the results are worth it!
EXTRA BONUS PROJECT
Since I had a little bit of yellow and blue soap batter left I did an "In The Pot Swirl". Pour your blue soap into the yellow soap and stir it one time. You'll want to swirl it more but trust me…just do it once. Then pour the soap batter into an extra mold. Want to learn more about In the Pot Swirling? Check out THIS video from Bramble Berry.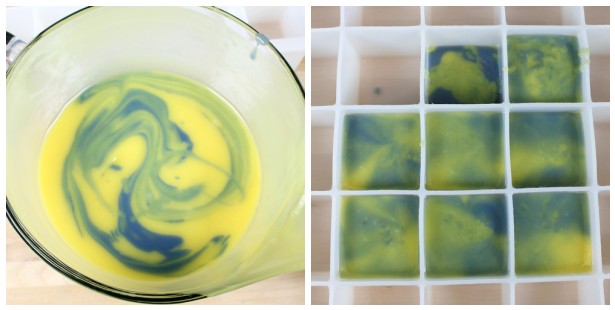 I can't wait to get feedback on this mold. Let me know what you think!